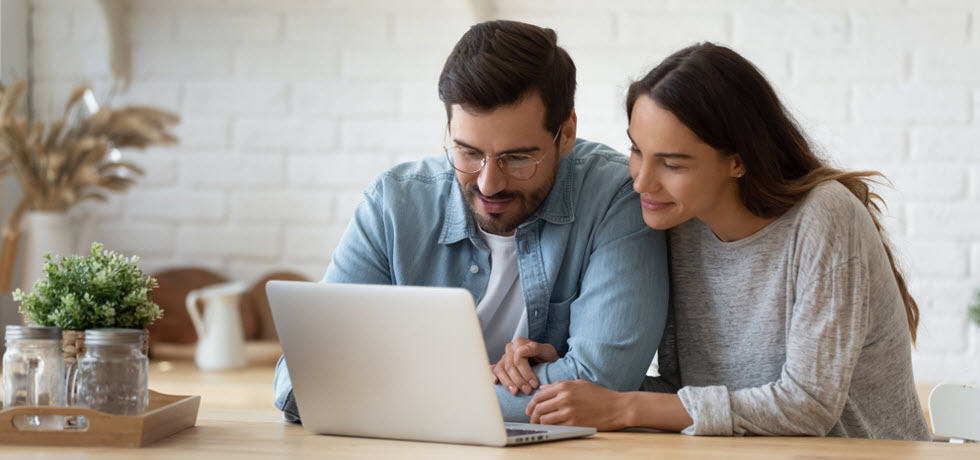 In today's highly competitive business environment, customer loyalty gives companies a competitive edge and helps them thrive. Why is building loyalty so crucial?
Naturally, loyal customers shop regularly. Also, 36.5% of them will spend more on a product even when they can find it at a lower price elsewhere. Also, 59.3% of loyal shoppers will strongly recommend the brands they love to friends and family.
Winning a first-time customer requires investing 5 times more than keeping a loyal one.
Therefore, many businesses recognize that keeping their repeat clients is a top priority in their marketing strategy. We'll share three effective ways to build relationships of trust and loyalty with your customers.
Let's start by discussing the very concept.
What is customer loyalty?
Customer loyalty is the emotional attachment customers have to a brand, making them return again and again long after they've made their first purchase. Loyalty results from positive experiences with a brand that build engagement and trust.
Customer loyalty can be seen as five stages, each one increasing the level of commitment a client manifests to your brand:
Awareness: The customer knows about your brand and your product.
Research: They have visited your company website, studied your resources, and started considering buying from you.
Purchase and use: The first-time purchase is completed, and the customer is actually using your product or service.
Retention: They return to you and purchase repeatedly.
Advocacy: The customer becomes your brand ambassador.
Your goal is to guide your customer from the Awareness stage to the Advocacy stage. This means increasing loyalty and requires understanding where your customer is along their journey and what they need.
Types of loyal customers
Meet the following six types of your loyal customers:
Happy customers: They like your products and have repeatedly bought from you. However, such clients are likely to change brands for a better deal and form a new relationship with another company.
Price-loyal customers: They stay with your brand only because of low prices and will leave if they see an opportunity to save elsewhere.
Loyalty program-loyal customers: They're only loyal to your loyalty program.
Convenience-loyal customers: They're loyal only because of the convenience of location, communication, and purchase your offer.
Loyal-to-freebies customers: Attracted by the different perks you offer, they aren't engaged by your brand and products.
Truly loyal customers: These are your true brand advocates.
Thus, segmenting customers will enable you to address them effectively in your loyalty marketing. To develop effective strategies to increase your client's engagement and commitment, you also need to quantify loyalty.
How can you measure brand loyalty?
You can gain valuable and actionable insights by combining operation metrics and experience data. Let's go through the metrics that can help you measure customer loyalty:
Net promoter score (NPS)
NPS determines how many customers are satisfied with their experience and will promote your products or services to others.
To measure NPS, create a simple customer satisfaction survey. Ask your clients to mark their level of satisfaction or willingness to recommend your business on a zero to ten scale. Then, send the survey out, and use the Touchpoint NPS Calculator to determine your NPS based on the survey results.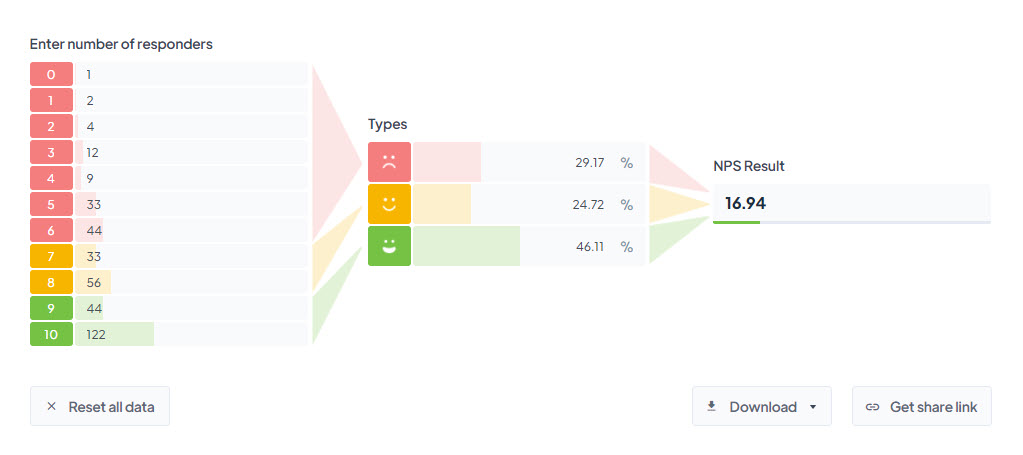 NPS determines how many customers are satisfied with their experience and will promote your products or services to others.
To measure NPS, create a simple customer satisfaction survey. Ask your clients to mark their level of satisfaction or willingness to recommend your business on a zero to ten scale. Then, send the survey out, and use the Touchpoint NPS Calculator to determine your NPS based on the survey results.
Customer churn rate
This is the percentage of customers that have stopped using your service or purchasing your product.
The Touchpoint Churn Rate Calculator allows you to determine the churn rate of your SaaS and gain an understanding of your customers' level of loyalty.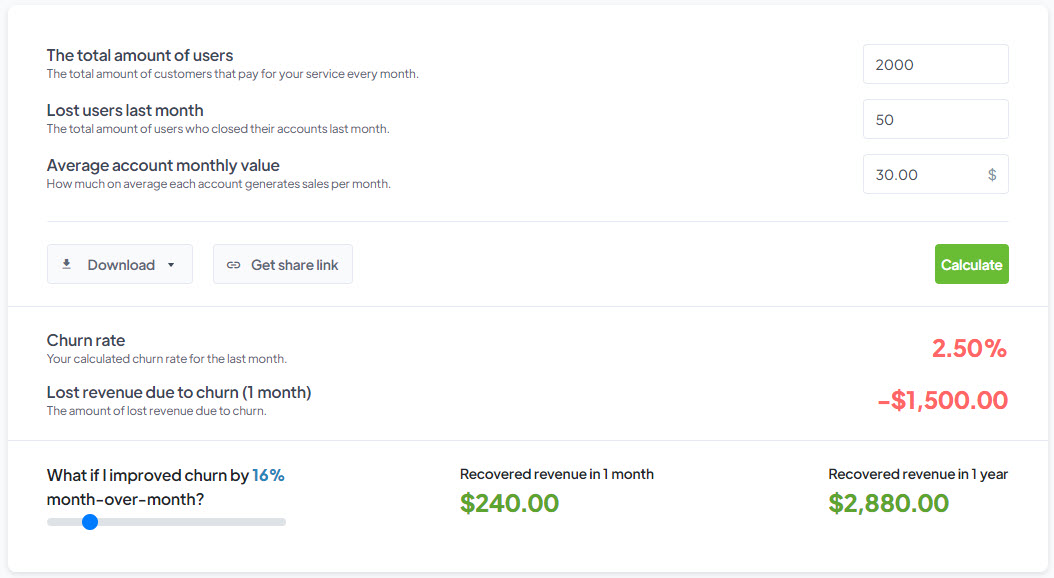 Customer loyalty index (CLI)
CLI helps track loyalty over time. A CLI survey is like an NPS survey but collects additional data about repeated purchases. It uses a one ("Definitely Yes") to six ("Definitely No") scale and is based on questions, such as:
How likely are you to recommend the brand?
What is the chance you buy from this brand again?
Would you try other products of this brand?
A CLI survey repeated from time to time helps you follow changes and better tailor your loyalty strategy.
Repeat purchase rate
It shows the average number of returning customers.
To calculate the repeat purchase rate, divide the number of customers who made a repeat purchase over a given period by the total number of customers for the same period.
This figure helps you track retention and loyalty over time and predicts the future purchases of your current customers.
Customer lifetime value (CLV)
CLV measures the total average profit margin one customer generates over their entire lifetime or business relationship with your company. This is one of the key indicators of loyalty for businesses.
Calculating CLV is based on the following figures:
The total number of your current active customers,
The monthly recurring revenue, the total average dollar value your business earns for each account monthly,
The profit your company keeps from each dollar of revenue as a percentage,
Your churn rate.
To simplify the process, you can use the Touchpoint Customer Lifetime Value (CLV) Calculator, which does the tedious calculations for you.
How to build customer relations of trust and loyalty
Inspiring customer loyalty and trust is an ongoing process that a business should be focused on. The most effective approach is considering both operational and emotional factors and using a combination of strategies.
Here are three valuable ideas you can implement to boost loyalty and retention:
1. Deliver excellent customer service
Going the extra mile or even two for your customers correlates to increased satisfaction and loyalty.
Anticipate any issues and questions and help clients solve them before they have arisen.
While selecting and hiring your customer support team, think of their soft skills like empathy and not the technical expertise only.
Finally, revise your KPIs to apply a customer-centered and personalization-focused approach.
Providing unparalleled customer service positions your company as a valued and preferred partner.
2. Build an emotional connection and trust
Our purchase decisions are driven by emotion, and getting your customers emotionally attached to your brand is essential.
To do so:
Show understanding of their pain points.
Respect their needs.
Personalize customer experiences.
Ask for customer feedback and show them it matters.
Prioritizing your customer needs will help build trust and connect with your clients emotionally.
3. Launch your loyalty program
Once you've built an emotional connection with your customers, you can start loyalty programs to nurture loyalty further.
This marketing approach focuses on offering benefits, such as rewards, access to limited collections, coupons, or other perks, to clients who regularly engage with a company.
However, you have to know that your customer loyalty will probably fall when your loyalty program offers rewards that don't bring value to clients. So, selecting the type of program and benefit to offer is crucial.
For your inspiration, we've collected eight loyalty program ideas:
8 Types of loyalty programs
1. Point-based programs
These are the most popular and come with rewards, such as cash, free products, or gifts.
Example: Blume enables buyers to earn points (Blume Bucks) that can be redeemed for gifts.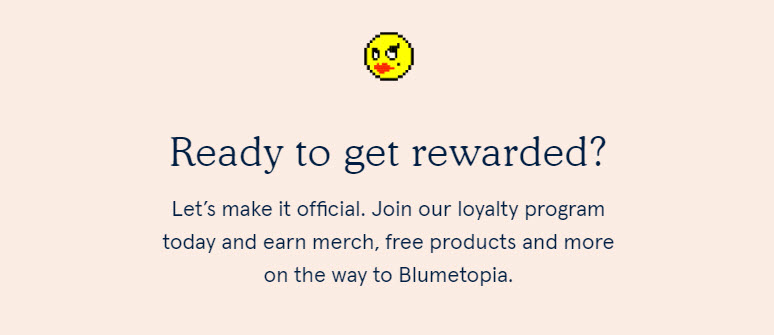 Image source: blume.com
2. 'Refer a friend' programs
Customers are rewarded for bringing in a new client.
Example: With Wise, users get a reward as soon as the three new subscribers they have invited make a qualifying payment.

Image source: wise.com
3. 'Make the switch' programs
Customers get special offers and discounts when adding to the services they use.
Example: Alliant gives customers that open a new account or switch banks a cash reward if they meet some eligibility requirements.
Image source: alliantcreditunion.org
4. Tiered programs
The rewards offered to customers depend on their tier level, which is achieved by buying from a company.
Example: Sephora offers a three-tier point-based loyalty program. Customers are grouped into three Beauty Insider tiers based on their average purchase threshold.

Image source: sephora.com
5. Paid programs
Customers pay a fee and get benefits from a company.
Example: At $119/year (plus tax) or $12.99/month (plus tax), users of Amazon Prime get free, two-day shipping on products with no minimum purchase threshold.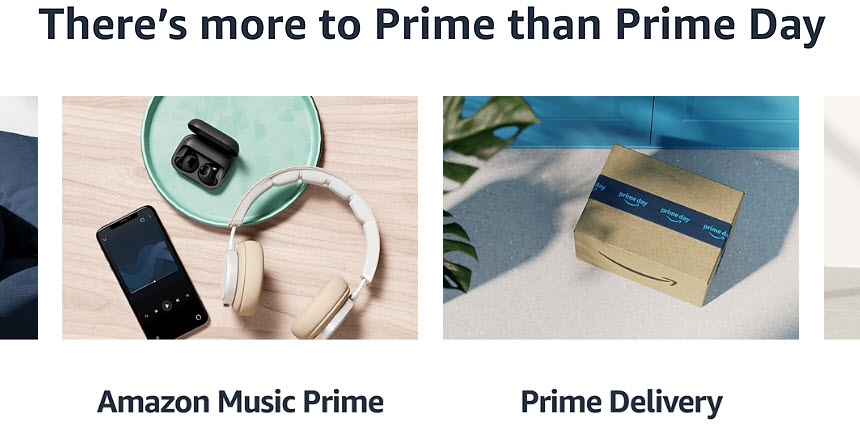 Image source: amazon.com
6. 'Join our community' programs
Customers receive benefits for becoming members of a company community.
Example: Outdoor merchandiser REI offers membership benefits (an Annual Dividend) as a share of the company's annual profit. The more they spend, the greater the reward.

Image source: rei.com
7. Value programs
They offer non-financial rewards to customers, such as enabling customers to contribute to social causes and charities.
Example: The Love Your Body Club of The Body Shop offers members the chance to make monetary donations to charities using their loyalty points.
8. 'Shop at our partners' programs
As the name suggests, clients get discounts when buying products and services offered by the company's partners.
Example: AAA offers fringe benefits to members that use their automobile insurance services.
Image source: discounts.aaa.com
You can combine these types to come up with a loyalty program that will best work for your brand.
Invest in building customer loyalty to let your brand flourish
While acquiring new customers is important, keeping your repeat clients means you can rely on higher profits, loyal brand ambassadors, and company growth. With the right metrics at your fingertips, you'll be able to understand your customer base and build an effective loyalty marketing strategy.
Inspiring customer loyalty is based on outstanding customer experience, building trust, and creating a sense of belonging.
All you need to do is put the customer in the center of your marketing model and go through the steps we've just discussed.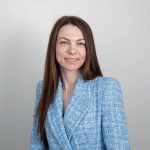 Alexa Lemzy
Customer support person. Interested in customer success, growth, marketing and technology. Passionate about content, reading and travel.
Get the latest news from us
Subscribe to our newsletter to get all updates to your inbox.
Related articles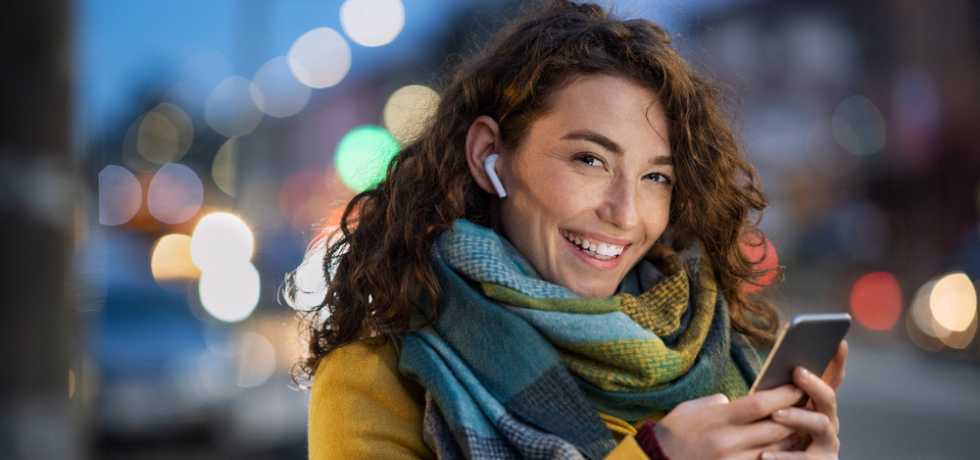 ---
---
---
---
---