Many businesses don't know how to answer negative reviews or even address positive ones. This negatively impacts the perception of their potential and existing customers.
Poor ratings, a lack of trust, and reluctance to buy soon follow. You can easily increase Google reviews using the tips and strategies we are about to list.
When people want to make a purchase, they rely on other people's opinions, which are reflected in online reviews. It is no secret that Google factors the quantity and quality of reviews into its local ranking algorithm.
This article will show you how to make the most of those reviews and boost your company's reputation, Google ranking, and, ultimately, your revenue. We will also share examples of how to interact with customers and their feedback.
Benefits of increasing Google reviews
To provide a smooth customer journey and excellent customer support, you need to understand how customer reviews work. Google reviews increase your company's visibility. They also boost local traffic across every platform your brand is present on.
Google is the go-to platform for brand research and ten is the average number of reviews that customers check before buying a product.
Let's see why Google reviews are so important, how you can manage them, and how they help grow your business.
Boosting brand trust and credibility
Brands that address every type of review, including negative ones, are considered more trustworthy. An increasing number of reviews not only boosts brand credibility, but also makes it 92% more likely that customers buy from you.
Google reviews can also be embedded directly into your website to build customer trust.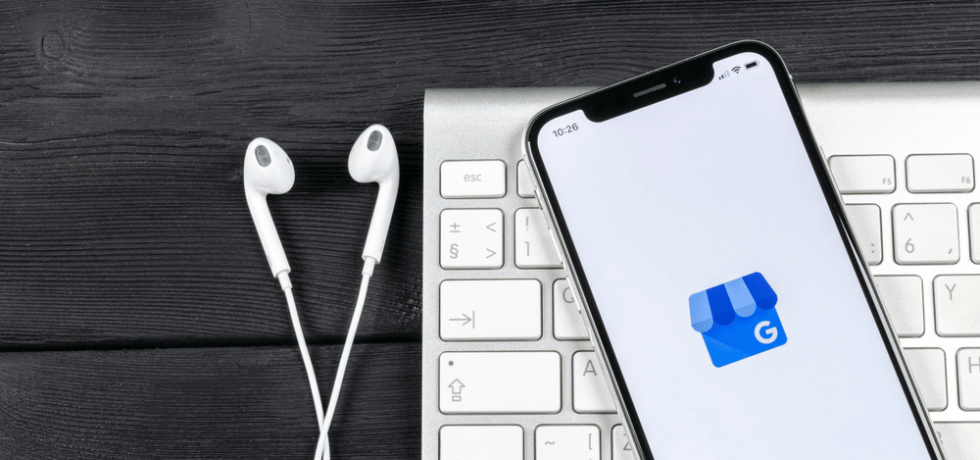 Increasing online exposure
Whenever you answer a review, you can achieve higher Google rankings and boost your brand's online visibility. Google's algorithm is partly based on signals issued by Google Reviews.
This has a major impact on both SEO and online visibility, and what will set you apart from your competition is a higher number of reviews. Ideally, a company should have 40+ Google Reviews to stand out.
Improving SEO rankings and CTR
Google rewards companies that are fulfilling, or even exceeding client expectations. As the trust in your brand increases, so does your SERP ranking. Organic local searches are especially impacted by this fact, and, the higher you rank, the more likely you are to attract new customers.
When it comes to reviews, it's all about:
Quantity: the more reviews you get, the higher you rank;
Velocity: if you manage to get a lot of reviews in a short time period, your company's visibility increases significantly;
Diversity: the occasional negative review helps boost brand authenticity, so make sure to offer replies, especially to negative reviews.
How to get more Google reviews
Let's tap into the countless ways you can get reviews on Google and then see how each one benefits your business.
1. Create your Google Business account and review page
It only takes a couple of clicks to get started with Google Business. The reviews section is included on the page, which acts as a virtual business card.
After you finish creating your profile, you have to verify it by entering the code sent by Google to your physical address.
To optimize your profile and make sure clients get the info they need, do the following:
Use your real business name; (no acronyms or additional characters/emojis will do);
List a local number for clients to get in touch;
List your actual operating hours;
Write an accurate description for your business profile; (keep it short and relevant, not just cram keywords in);
Add high-res photos of your local headquarters, products, etc.
Include a brief video – up to 30 seconds, compressed to fit the 100 MB limit.
2. Use free marketing materials
A very good way to increase Google reviews has to do with the free materials Google provides. Not sure how to incentivize clients to leave reviews?
Google offers free stickers, posters, and even content for companies that are looking to increase their review numbers but are unsure how to proceed.
You can customize your messages, images, etc., to increase your chances of getting a bigger review number. And the best part is that all of this is free.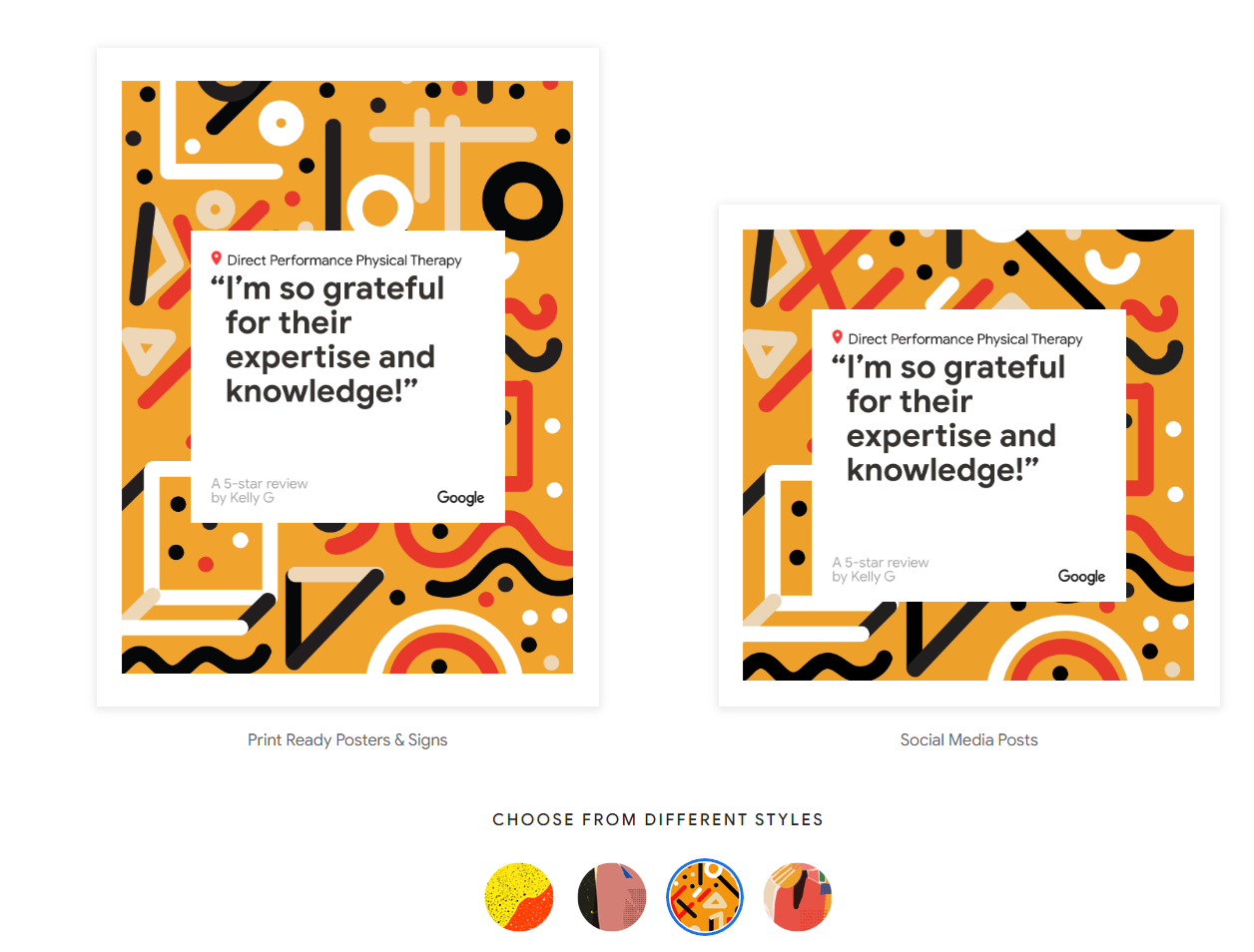 3. Create a feedback loop
If you're looking for signs that your business is on the right path or are concerned about how to improve your product, then look into reviews. When collected on a regular basis, they help improve your product and enhance its use cases. Here are the main stages of a feedback loop:
Customer feedback collection;
Data analysis;
Feedback implementation and testing;
Follow-up.
You can easily collect feedback using survey tools, review platforms, live chat, and social media. Every customer touchpoint is a potential source of information you haven't tapped into.
4. Make it easy for customers to leave reviews
You'd be surprised how many customers are willing to leave reviews if the process is a bit easier. The good news is that you can simplify review submission using the following effective strategies:
Get acquainted with the review process
Before asking for reviews, create an account yourself and go through all the review steps. See how much time it takes to answer questions, how fast the pages load, and if the links work properly. Do this every now and then to spot potential issues early on.
Create a link shortcut to your reviews page
Make it easier for clients to leave a review and place link shortcuts across your social media platforms. Also include them in your site, in newsletters or any other type of written communication that you send.
Create a QR code that takes users to your reviews page
QR codes are highly interactive and engaging. They allow clients to access the info that they want instantly from any device. This saves them time and effort, while also promoting engagement with your brand. It is a simple way to increase Google reviews using tools that draw customers in.
Anything that works as fast as QR codes is bound to trigger the desired response from your target audience. So make sure to incorporate them into your marketing strategy.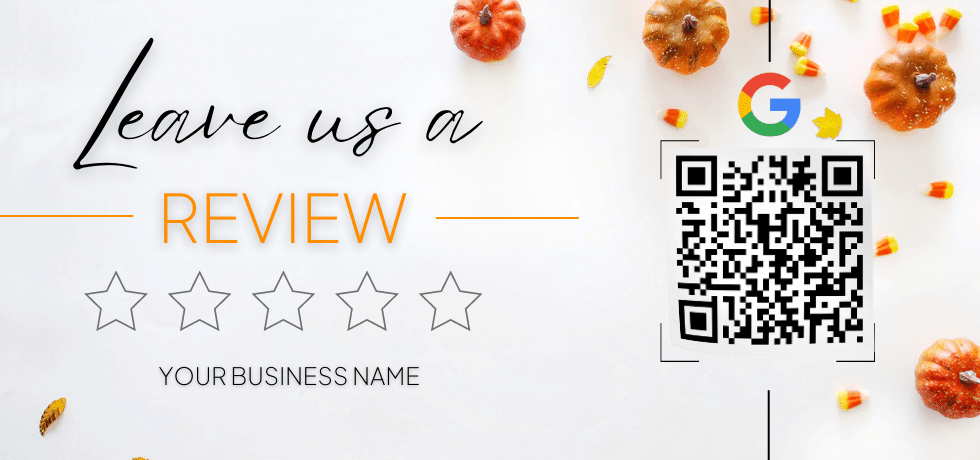 5. Interact with customers at your location
Your store or company headquarters is not just a place of business. It's the first and most important customer touchpoint. Whenever you give clients insight into how you conduct your business, they are more inclined to offer feedback and reviews.
Verbally ask them to leave a review
This is the easiest way to interact with and engage clients. They will surely appreciate that you made time to personally ask for a review, especially if the request comes directly from the business owner. This works especially well for small businesses.
Give them a "leave us a review" card
Sometimes, setting yourself apart from the competition means going back to what worked in the past. Our increasingly digitized environment can lack value for clients, not to mention genuine connection.
Combining the digital with the factual triggers more reactions because it is more stimulating to the senses. It also requires a more personal type of consent. Unlike emails, which can be intrusive, receiving a card from someone is a choice most clients are happy to make.
Ask customers to sign up for your email or SMS marketing campaign
When clients sign up for your promotional campaigns, they start receiving constant info about your company, new products, future discounts, etc. This instills a feeling of loyalty and anticipation. They start to look forward to your texts/emails, which become part of their online routine.
When they feel valued, clients want to give back. The best and easiest way to do that is by leaving reviews or testimonials. Place a "Review us" sign on your door.
Sometimes simpler is better: every time a client leaves your shop, they are reminded to share their experience. To make it more interactive, you can include a QR code on the sign. This way, clients can immediately access the review section of your site without having to look for it.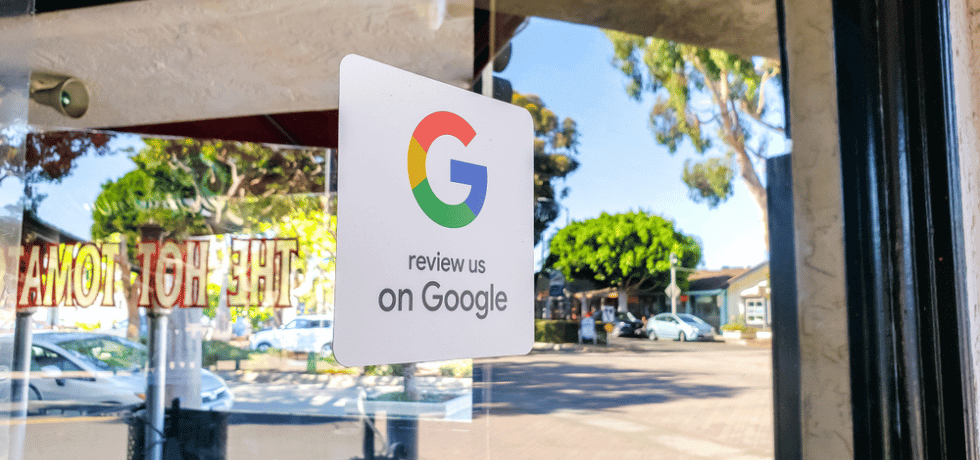 The code can also lead to one of your social media profiles, if you're more interested in collecting product feedback.
Put the reviews page link at the bottom of receipts and on the menu
Reviews that come from staff and partners are seen as more genuine. There's nothing like inside tips to get clients curious about a company's products or services.
Placing a review link at the bottom of a menu, or even on a receipt, can be quite effective, especially if it includes a QR code for quick access.
6. Promote your Google reviews page
You can easily promote your Google Business page, including the reviews section, with tools that are within everyone's reach. Here are some effective ways to achieve that without going over budget:
Mention your review link in email and SMS marketing campaigns
Synchronizing email with SMS is very powerful. Together, these channels provide valuable insight into customer behavior, have endless automation potential, and are incredibly cost-effective.
Insert a review link in your automated SMS and email campaigns to encourage happy customers to review your product.
Ask for reviews on your brand's social media pages
Social media is great for company-customer interaction, especially since it's a less formal medium. Clients are often excited to leave reviews. They just need that extra incentive to interact with your company's page. You can ask for reviews directly in a post, or even include existing ones on your page.
Try not to offer financial incentives for client reviews; because it is a frowned-upon practice that can lead to low-quality reviews and poor ranking from Google. Remember that reviews help customers make informed decisions. They serve customers, not your best interest.
Offer perks for leaving a thorough review
Detailed reviews deserve some form of compensation. When people make time to evaluate a product, they expect something in return. If you combine a simple "thank you" with early bird access to your next product line, for instance, you get a customer who is pleased with the way that you conduct your business and who is likely to become a loyal client.
Place your review link in your company email signature
A well-placed link is a very effective way of gathering the info you need. Clients don't have to look for links themselves. Plus it sends the message that your company is professional and cares about its clients' points of view.
Run SMS or online feedback surveys and ask for a review at the end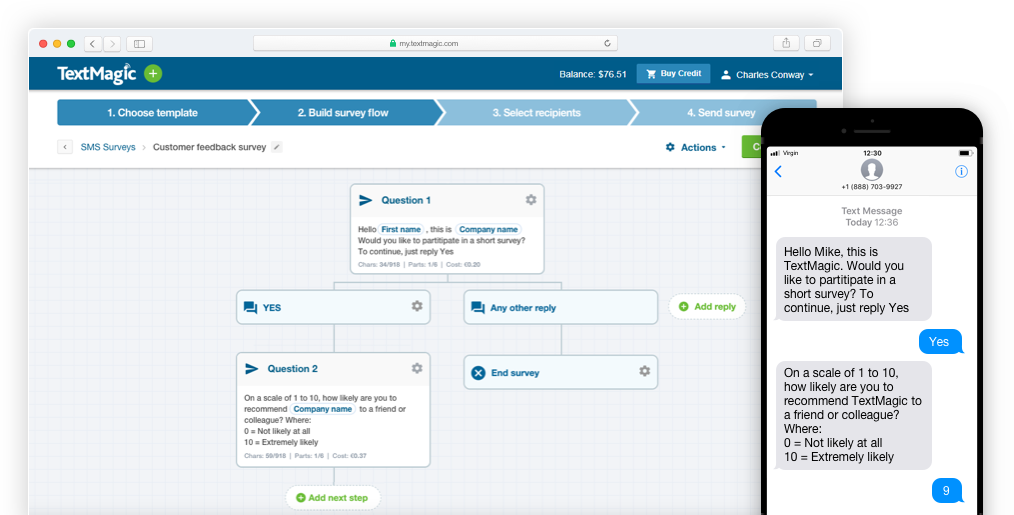 Surveys are great for boosting customer engagement because they register high response rates. Asking clients for feedback shows that you value their opinion and appreciate the relationship they established with your brand.
How do surveys help increase Google reviews? If you keep your surveys short and to the point, chances are your customers will also leave feedback at the end.
Make sure that your reviews include short, relevant questions that do not take up too much of their time. Sign up for a TextMagic trial account and create your first SMS survey for free!
Link to your Google reviews page from your website
You can create a Google reviews page (there are platforms and plugins that aggregate your Google reviews) on your website or simply place the review link on your homepage or footer (if you want to be more subtle).
Examples of how to ask customers for reviews
If you don't know how to get started with Google reviews, we thought you might appreciate some content examples of what works best for different platforms. We also have included real-life examples of how best to approach customers when asking for reviews:
1. SMS review request template
2. Email review request template
Subject line: How was your experience with TextMagic?
3. Social media post example
We want to welcome 2023 with a product that exceeds expectations. Your opinion means the world to us, and it will help us build better software. Review us today and be among the first to discover the new TextMagic interface.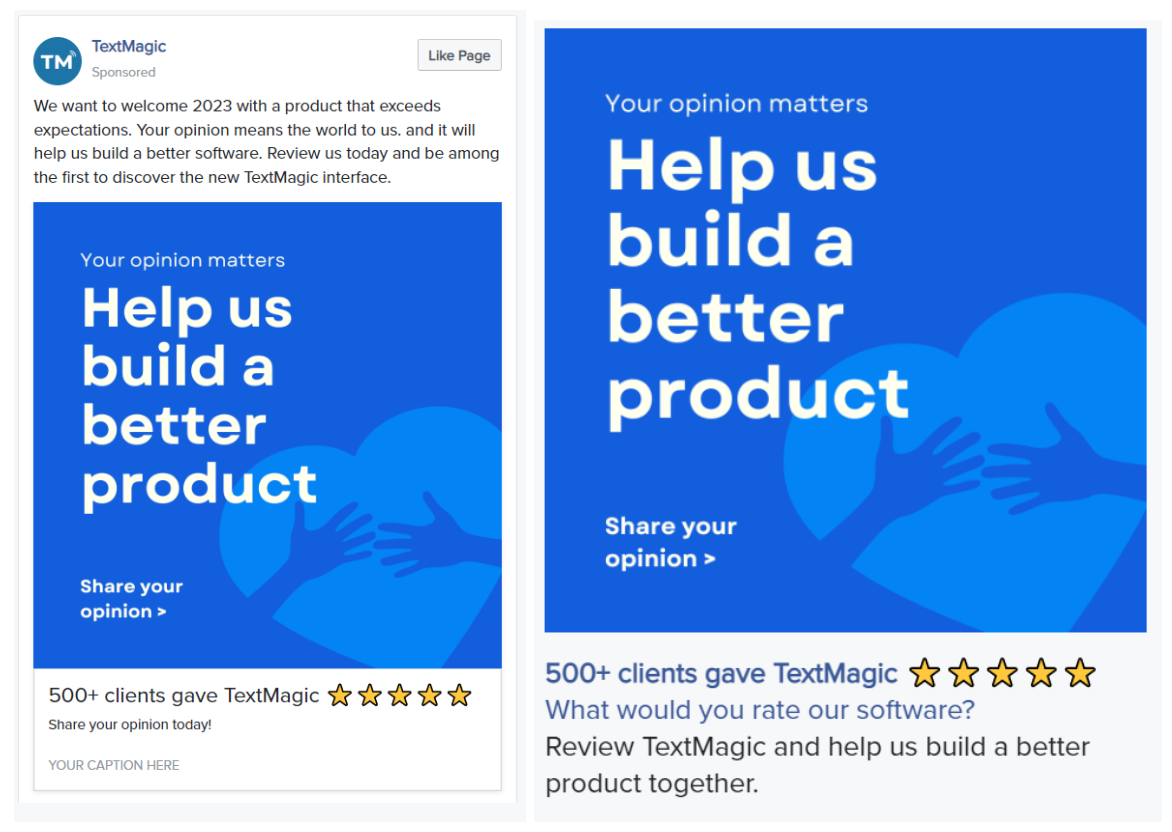 4. Conversational examples (for real-life situations)
Company rep: Hey, I just noticed you purchased one of our products. Any specific reasons for choosing that one?
Client expands on why he/she made that choice.
Company rep: So happy to hear all about your positive experience. We're doing our best to keep clients happy. Any thoughts on how we could do even better?
Client offers feedback
Company rep: It would be awesome if you could offer that exact feedback in writing. This helps other clients and customers like yourself make informed choices. Here's a card containing all the details that you need if you decide to leave a review.
Why asking for reviews should become a habit
Reviews matter more than sales copy. But you only get reviews using a copy that is valuable for the end-user. The key to increase Google reviews is in how you ask and what you offer. Don't take customer feedback for granted: it costs people time and effort.
Make them feel valued by throwing in exclusive access to new product features, for example, or by engaging them with interactive requests. Use technology to your advantage (QR codes), but make sure to personalize it by adding a human touch (printed requests, cards, etc.).
The key lies in combining multiple tactics and stimulating their imagination. Use eye-catching visuals and personalized copy to incentivize action through innovative technology. This way, your brand will stand out on every channel, and reviews will come not as a bonus but as a part of the package.
---