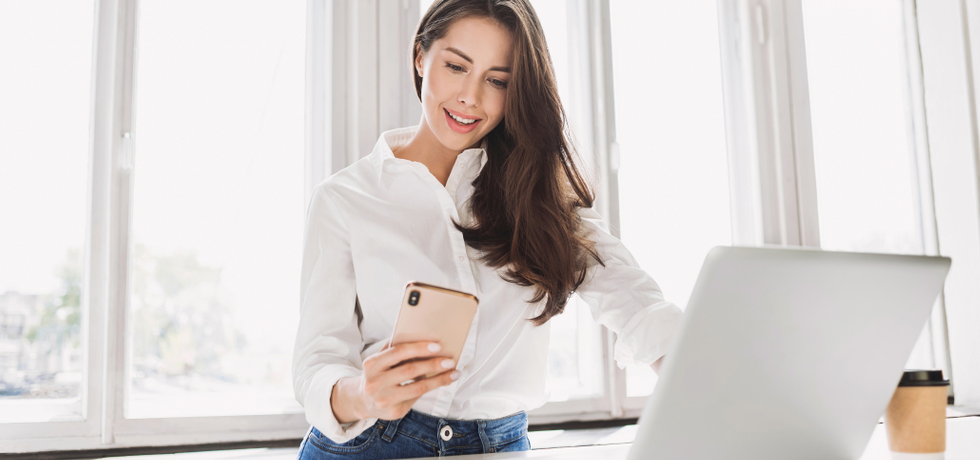 Text messaging is an increasingly vital part of business communication. However, you can't manage messages from your mobile phone effectively. Thankfully, there are several ways to send text from computer to phone.
This has many potential uses for businesses, from improving the speed and reliability of your text responses to creating SMS marketing campaigns and offering automated customer service.
There is a wide range of ways to use text messaging in your business, so it is important to find the right method for your needs:
3 Ways to Send a Text From Computer to Phone
1. Email to SMS
Some service providers offer an email to SMS service in their call plans.
This lets their customers send texts by emailing a mobile number followed by the service provider's email domain. If a recipient replies to a text sent this way, you will receive it as an email.
However, this method has some drawbacks. It only works for some service providers and can be a hassle to use for mass messaging. This is because you need to manually enter the numbers and lookup service providers. As a result, it is easy to make data entry mistakes when texting groups.
2. Texting via Messaging App
Apple and Android devices both enable texting via their instant messaging apps on your computer.
iMessage for iPhone users and Messages for Web and Android users let you access your inbox and send texts through the messaging app. Although, this is not covered by all mobile plans and only works when your texts sync with the cloud.
3. SMS Marketing App
An SMS marketing app such as TextMagic allows you to schedule messages to large groups, track their responses, and set up automated replies. Besides direct conversation with customers, this enables a wide range of business communications.
Benefits of Sending Text from Computer to Phone
Customer Service
Managing your texts via a computer app makes it much easier to keep track of customer contacts and handle tickets as a team.
Trying to manage lots of customer contacts through personal phones and inboxes can cause dropped conversations, slower response times, and other issues.
By scheduling follow up messages and automating replies, you can provide customer service via text even when your team is offline.
Marketing Campaigns
Using an app to send text from computer to phone makes it possible to create SMS marketing campaigns to send to a wide audience. SMS marketing has the highest response rate of any digital messaging, making this a highly cost-effective way to boost sales.
Because of this high response rate, text is also a great way to get feedback fast. Using an SMS marketing app lets you automate feedback requests and surveys after customer interactions and easily track the results.
Urgent Communication
The average text is opened in less than 3 minutes and can arrive without the recipient needing an Internet connection. This makes them a vital tool for sending urgent alerts such as last-minute changes or emergency information.
The rapid response time can also speed up your projects by getting faster responses and approvals from clients, reducing downtime, and improving their customer satisfaction.
Sending Text from Computer to Phone Using TextMagic
1. Using the web app or downloading it
You may log into the TextMagic web app, skipping the need to download and install the software.
However, if you wish, you can also download the TextMagic desktop app for PC or Mac and run the installer after it has downloaded. Once the app has installed, the login screen will appear, and you can enter your username and password.
2. Composing a text and choosing recipients
Click Compose in the left-hand column. Here you can write your text, attach files, select a sender ID, and choose your recipients.
Contact numbers can be entered manually and separated by commas for multiple recipients. You can also click Contacts to select individual numbers from your contact list or click List to add entire mailing lists to the message.
3. Checking your inbox and sent messages
Click Chat in the left-hand column. You will see tabs for Received SMS, Sent SMS, and Forwarded Calls.
Messages can be sorted by delivery status and date to help you spot customers that are waiting for a response or haven't replied to you yet. You can also download your texts from this screen, which can enable further tracking and analysis of customer messages.
4. Importing mailing lists
Click Contacts in the left-hand column, then the New Contact button. Choose the Import Multiple Contacts option.
You can import your existing contact list from an Excel or CSV file, or paste the numbers in manually. To upload a mailing list click, Choose File and browse to the correct file on your computer, then click Continue.
On the next step, you will need to select the country your numbers are from or select the option showing your numbers are from multiple countries. If your mailing list includes multiple countries, make sure the file you upload includes the country code in each number. Then click Choose List to add the numbers to an existing mailing list, or create a new one.
The next page will show you a preview of the imported list.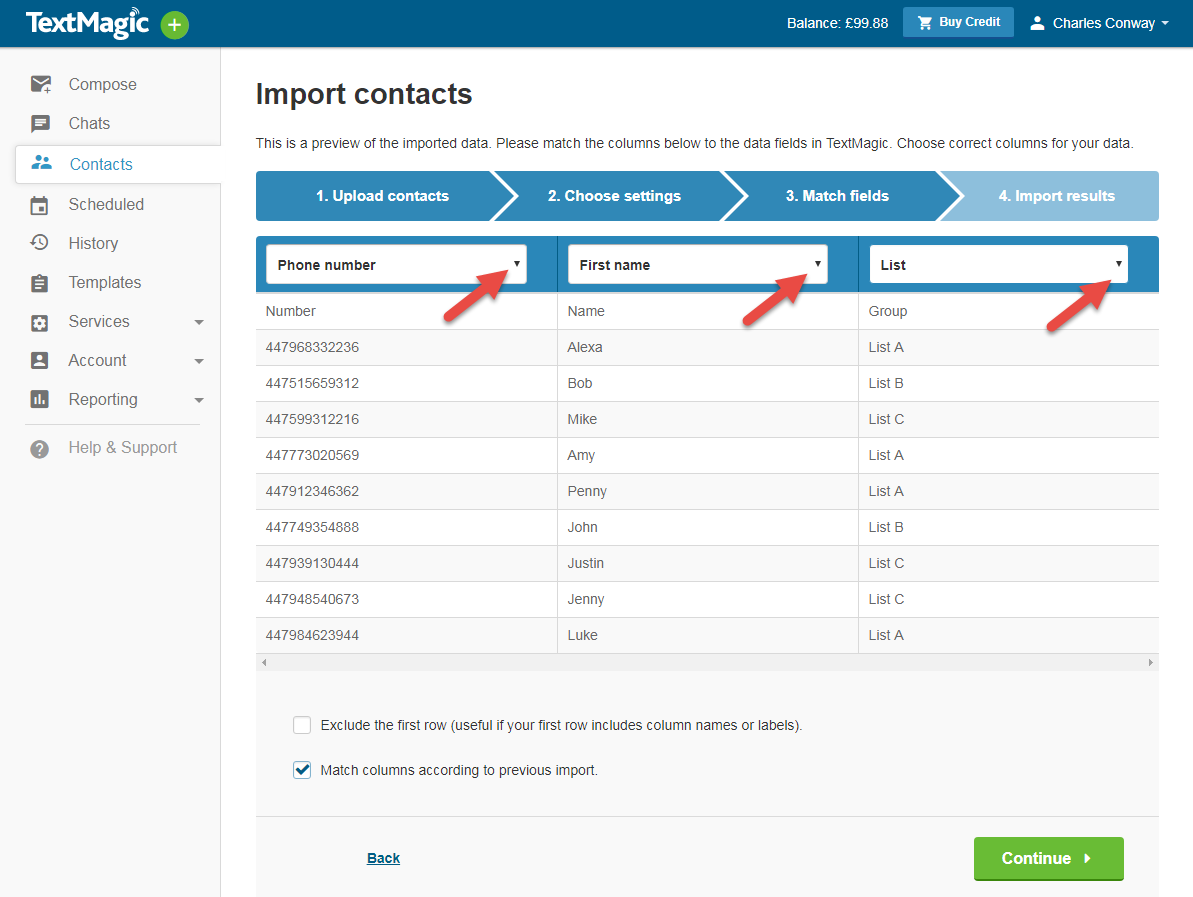 Make sure each of the columns is correctly identified, then click continue and the importing will begin. For long lists with a lot of custom fields, this could take a minute.
Once complete, you can view the imported numbers, automatically exclude duplicate contacts and check any contacts that failed to import. You can manually enter details in the Failed tab to correct the contacts.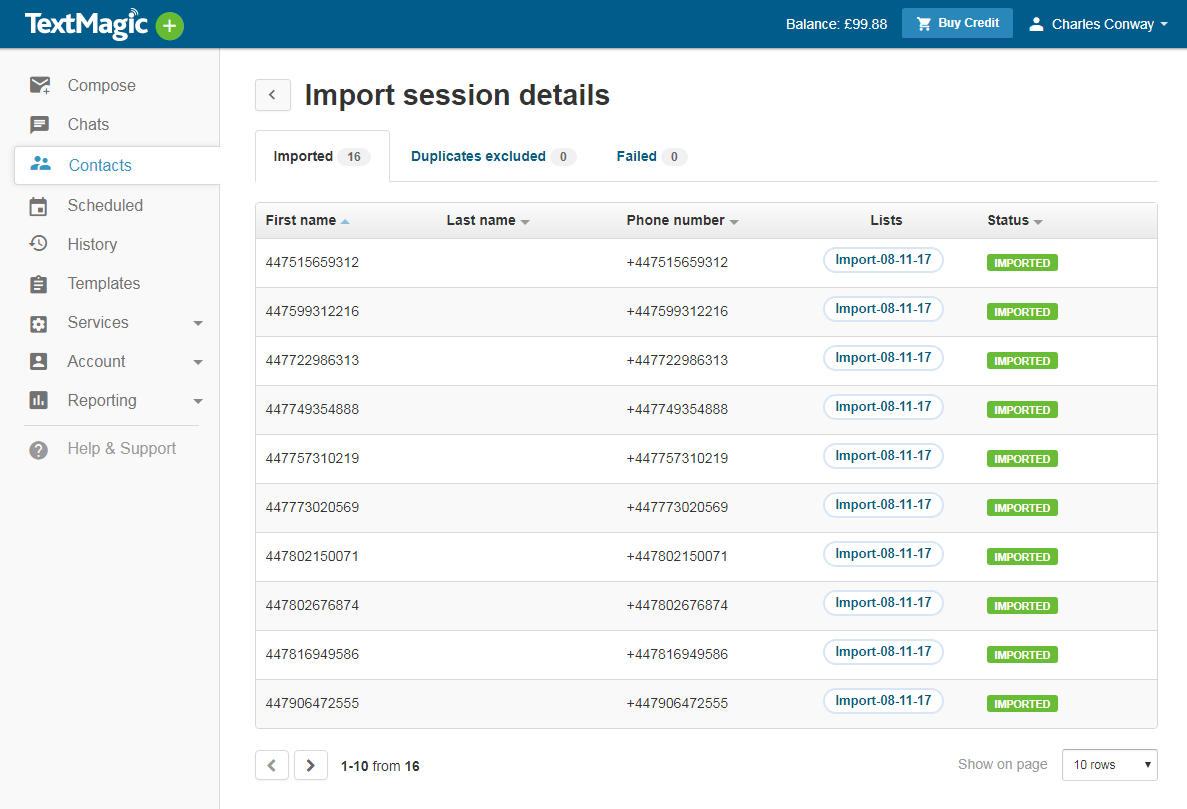 5. Creating and using templates
When you import your contacts from a file, any custom fields attached to those numbers will be added as mail merge tags, and you can also manually add custom fields and tags to contacts or lists.
To do this, click Contacts in the left-hand column and go to the Custom Fields tab. This is also where you create your mail merge templates for each custom field.
Mail merge templates enable you to send bulk texts using personalized information such as your customers' names. To use a mail merge tag, select Insert Tag when composing a message.
Conclusion
Sending a text from computer to phone is easier than you think, and businesses can benefit from doing this in many ways.
Besides improving customer service speed and availability, it can also improve your internal communications and client discussions.
Customers expect a seamless texting experience from modern businesses, and an SMS marketing app is an ideal way to deliver it.
---