Boost your outreach using
email marketing
Unlock the potential of your campaigns with our email marketing tools, ensuring higher engagement and more meaningful connections.
Request early access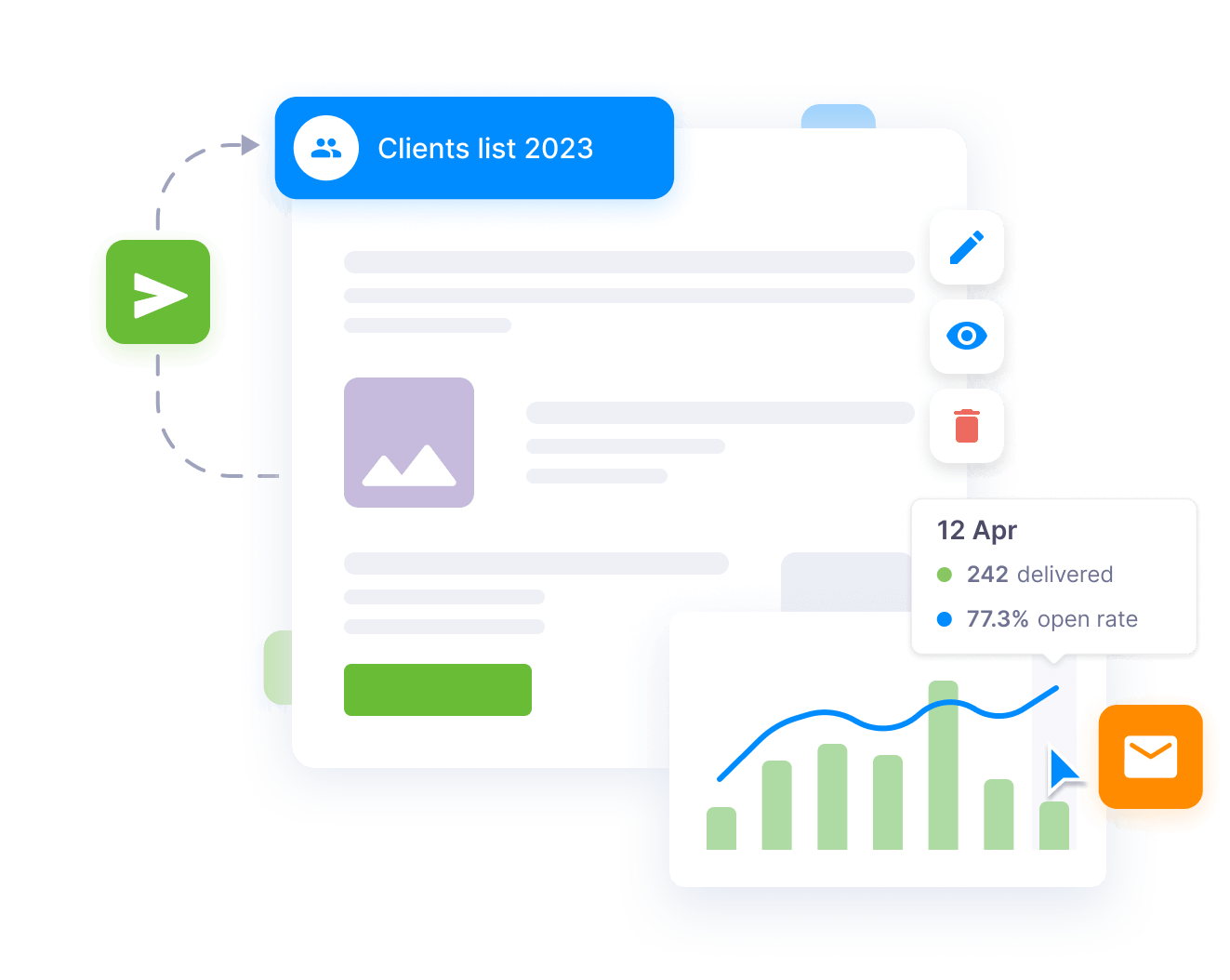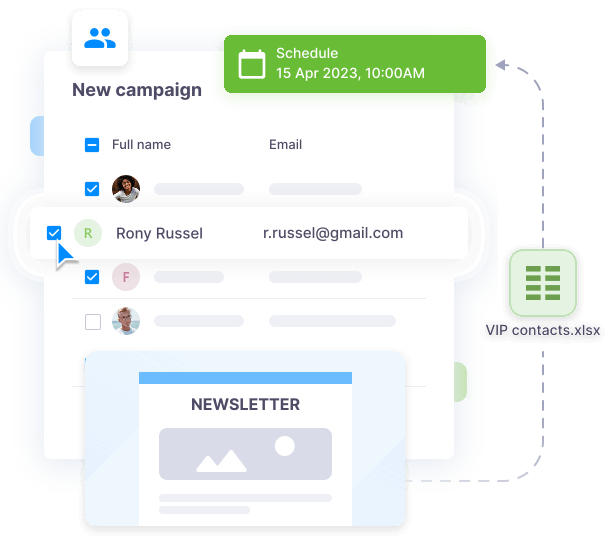 TARGETED EMAIL CAMPAIGNS
Craft and manage powerful email campaigns effortlessly
Struggling to engage your audience effectively through emails? Our email marketing tools are designed to simplify the process and boost your outreach. Here's how you can transform your email marketing:

- Engage your audience with personalized and relevant content.

- Track campaign performance with real-time analytics, ensuring optimal results.

- Simplify campaign management with user-friendly tools and seamless integrations.
Request early access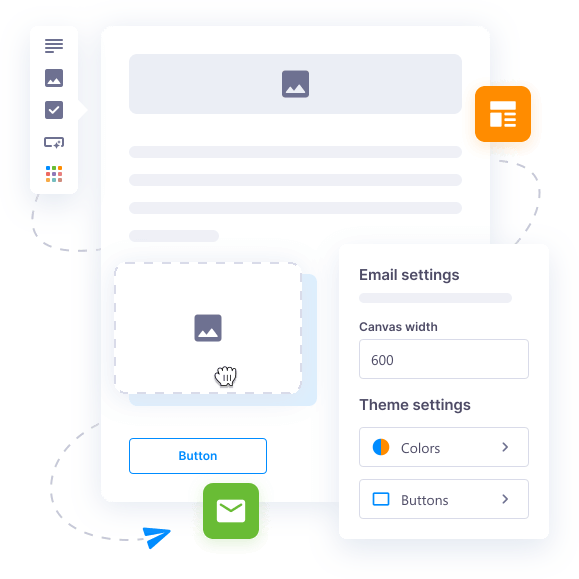 Email marketing templates
Design professional customer templates
Our platform allows you to design stunning, professional-grade templates for your customer emails and newsletters completely free of charge. With our intuitive drag-and-drop editor, you can easily customize the layout, colors, and images to create a cohesive brand identity that resonates with your audience.
Take advantage of pre-designed templates tailored for various industries, ensuring you're always on trend and relevant.
Request early access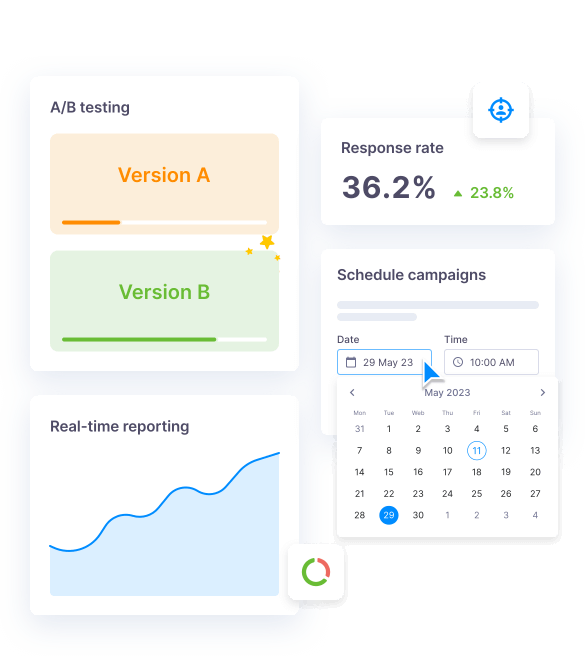 Features
Unlock the full potential of your email campaigns
Campaign analytics: Dive deep into your campaign's performance with metrics like open rates, click-through rates, and conversion tracking.
Segmentation and personalization: Target specific audience groups and tailor content to individual preferences, ensuring higher engagement.
A/B testing: Test different versions of your emails to find out what resonates best with your audience and optimize for success.
Scheduled campaigns: Plan your campaigns in advance and set them to be sent at optimal times, reaching your audience when they're most likely to engage.
Responsive designs: Ensure your emails look stunning on any device, from desktops to mobile phones, maximizing reach and readability.
Request early access
Email marketing for business FAQ
Haven't found what you were looking for? Contact us now
What makes your email marketing tools different from others on the market?
Our platform not only offers intuitive drag-and-drop template design but also provides robust analytics, segmentation, and personalization tools. This ensures that you can craft targeted campaigns and measure their success with ease.
Do I need design experience to use your email template editor?
Not at all! Our intuitive drag-and-drop editor is designed for users of all skill levels. Plus, with a range of pre-designed templates tailored for various industries, you can easily customize and go live in no time.
How do I integrate my email provider with your platform?
To utilize our platform, you'll need an API key from a third-party email provider like Mailgun, Sendgrid, or similar. Our platform easily integrates with these providers, ensuring a seamless experience without the need to switch between different platforms.
Why do I need an API key from another email provider?
While our platform offers robust tools for designing, managing, and analyzing email campaigns, we don't send out emails via our own servers. This ensures greater deliverability and flexibility for our users. By integrating with trusted email providers, you can benefit from their expertise in sending emails while leveraging our powerful marketing tools.
Which email providers are supported by your platform?
Our platform is compatible with a range of widely-used email providers. Some of the most popular ones we support include:
Sendgrid
Mailgun
Amazon SES
Mandrill (by Mailchimp)
Postmark
SparkPost
SMTP2GO
Elastic Email
Pepipost
Mailjet
We're always updating our integrations, so if you use a provider not listed here, please reach out to our support team for assistance.
Can I switch between different email providers once integrated?
Yes, our platform is designed with flexibility in mind. If you decide to switch your email provider or have multiple providers, you can easily update or change the API key within our system without losing any of your campaign data or templates.
How can I measure the success of my email campaigns?
Our platform provides detailed campaign analytics, including open rates, click-through rates, and conversion tracking. This ensures you have a clear understanding of your campaign's performance and areas of improvement.
Try our fully featured business texting platform today
Grow revenue and improve engagement rates by sending personalized, action-driven texts to your customers, staff, and suppliers.