Operational SMS for logistics companies
Logistics companies can use SMS to send delivery notifications, payment reminders, streamline warehouse management, and so much more.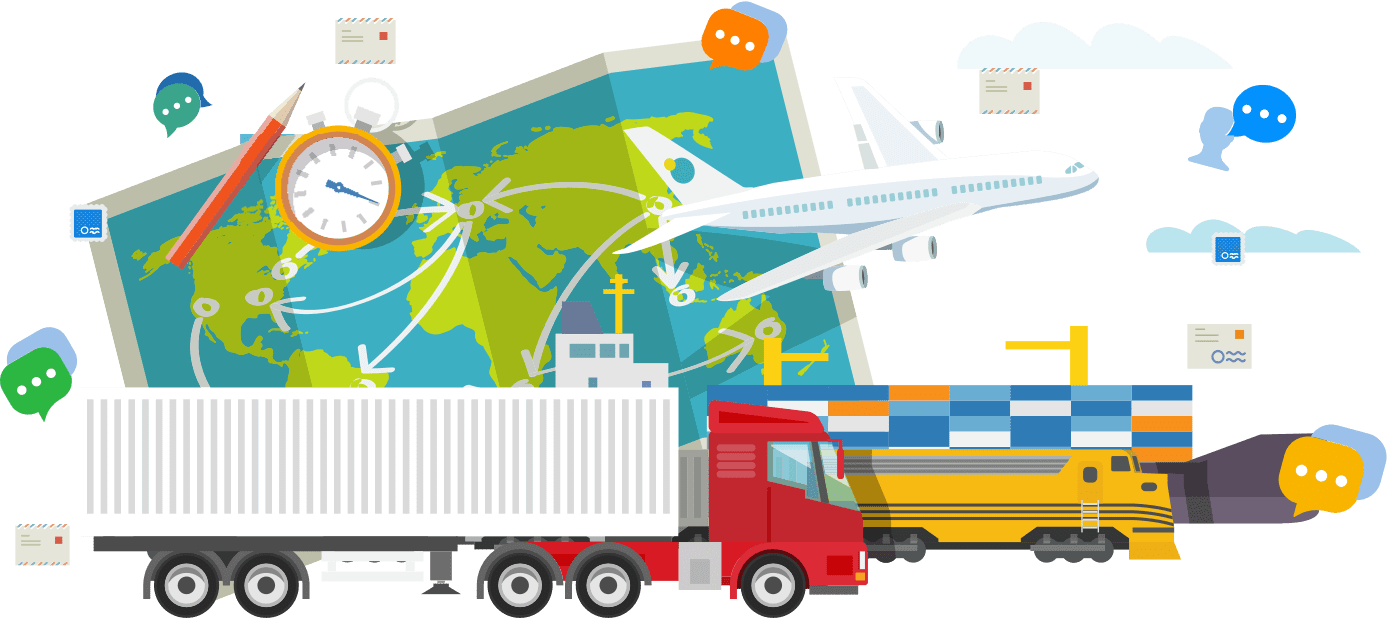 Automated delivery notifications
Integrate your order processing software with Textmagic to send delivery notifications, order changes, and more.
Send SMS to staff members
Improve your warehouse & supply chain management with operational SMS. Inform staff members of last-minute changes and order delays.
Delegate tasks & simplify logistics
SMS can be used to quickly delegate tasks to drivers, to organize shifts, to communicate inventory shortages or deliveries.
SMS templates for transport & logistics companies
Attract more customers and increase sales with our cost-effective SMS templates.
Order confirmations
Hello [name], thank you for shopping at [store]. Your order nr. 8282191 has been confirmed and is scheduled for delivery on [date]. To track your package please click this link bit.ly/track-package.
Delivery status updates
Hello [name], Your package is on its way and should arrive today between 9AM and 5PM.
Please be available at [address] for pick-up.
Emergency texts for drivers
[name],
A car accident has been reported on [street name]. Please use an alternative route for faster delivery.
Updates for drivers
[name],
Client [name] has requested his package nr. [number] be delivered tomorrow instead of today.
New shipment notifications
Hello [name],
A new shipment is scheduled for warehouse 3 at [time]. Please stand by for reception and inventory.
SMS Infoline with auto-responders
Hello [name],
Thank you for contacting [company]. How can we help you?
Key benefits of operational SMS for logistics & transport
SMS transportation and logistics solutions are instrumental to the success of your business.
Cut down costs and improve efficiency
Picking up the phone for every problem is time-consuming, expensive, and frustrating. Logistics SMS is easy to integrate into daily operations.
Improve customer satisfaction
SMS transportation and logistics solutions allow you to send timely order confirmations, delivery updates and payment reminders that will keep your customers happy.
Reduce human error through automation
Automatically sending sensitive information such as time of arrival, address, or other delivery details reduces the chance of human error.
Automate customer service
Use keywords to automate common customer service inquiries, and sync Textmagic with your company's CRM system.
Avoid calling your drivers while they're on the move and let them decide when to respond to a request by integrating logistics SMS into your delivery flow.
Handle deliveries like a pro
Reduce mistakes, send automatic updates, and handle problems faster by automating the entire supply chain management process.
Transport and logistics SMS solutions for your business
Improve communication and increase efficiency with our powerful text messaging features.
Set up automation rules for processing invoices, delivery notifications, order status changes, driver schedules, and more.
Integrate your favorite apps
Integrate with thousands of apps, including Shopify, WooCommerce, BigCommerce, and payment processing solutions.
Scale your transportation and logistics management with role-based access, audit logs, and other enterprise SMS solutions.
Integrate our SMS API into your logistics systems to send & receive texts, manage contacts, schedule recurring texts, and much more.
Reach customers and staff members in 190+ countries and over 1,000 mobile networks and benefit from the best SMS rates.
Grow your business by scheduling reminders and updates for your customers, staff, and partners, and by receiving timely responses.
Frequently asked questions
Haven't found what you were looking for? Contact us now
How can I automate order notifications or changes?
You can use Zapier integrations to automate order notifications and improve your logistics management. Textmagic integrates with several retail apps, including WooCommerce, Shopify, Lemonstand, SamCart, and BigCommerce, that allow you to trigger automated texts whenever an order is placed, confirmed, or changed.
Here's the step-by-step tutorial:
Step #1: Log in to your Textmagic account, and navigate to the Zapier Integrations page. Search for the eCommerce platform that you are currently using. Open the dedicated integrations page to view possible integrations.
Step #2: Click on "Connect Textmagic + *Your Platform*" or select a pre-defined Zap (e.g. "New order → Send SMS confirmation"). Some Zaps have to be configured in two or more steps (e.g.: "New order → Create Contact" then "New Contact → Send confirmation").
Step #3: You will be redirected to the Zapier creation page. From here you can name your Zap and customize the trigger and action. Zaps can be tested every step along the way. As soon as you're ready, save your Zap and test it.
If you're having trouble configuring your integration, please contact our support team!
How can I improve customer support for my logistics company through SMS?
Our transport and logistics SMS solutions are also designed to simplify customer support. There are several ways to improve support with Textmagic:
Automate replies to common customer queries with our "Incoming SMS Automation" feature. Find detailed implementation instructions on our service page.
Integrate your ticketing or CRM software with Textmagic and set rules for processing customer queries. Textmagic integrates with support tools (e.g., SupportBee) as well as several CRMs (e.g., HubSpot, Zoho, Agile, etc.).
Add a Click-to-text widget on your website to provide support to visitors 24/7.
Set-up voice call forwarding for advanced support.
What are the advantages of enterprise SMS for my logistics company?
If you are running a large-scale operation you should opt for a solution that can scale with your business. Textmagic has over 15 years of experience with large companies. Here are some of the enterprise SMS transportation and logistics services we offer:
Custom Pricing
Custom Integration
Single Sign-on
Audit Logs
Role-based Access
Advanced Reporting
Automated SMS Campaigns
Top-notch Security
Premium Support