Turn Text Messages into Voice Calls 
Create a text message and let Text to Speech feature turn it into a call to any mobile phone or landline
around the world.
Simply Better Communication
Make it possible for your recipients to receive voice calls.  
Conquer the Language Barrier
19 supported languages and your choice of voice: male or female.
Works with Mobiles & Landlines
No matter who you're texting, we turn your words into calls.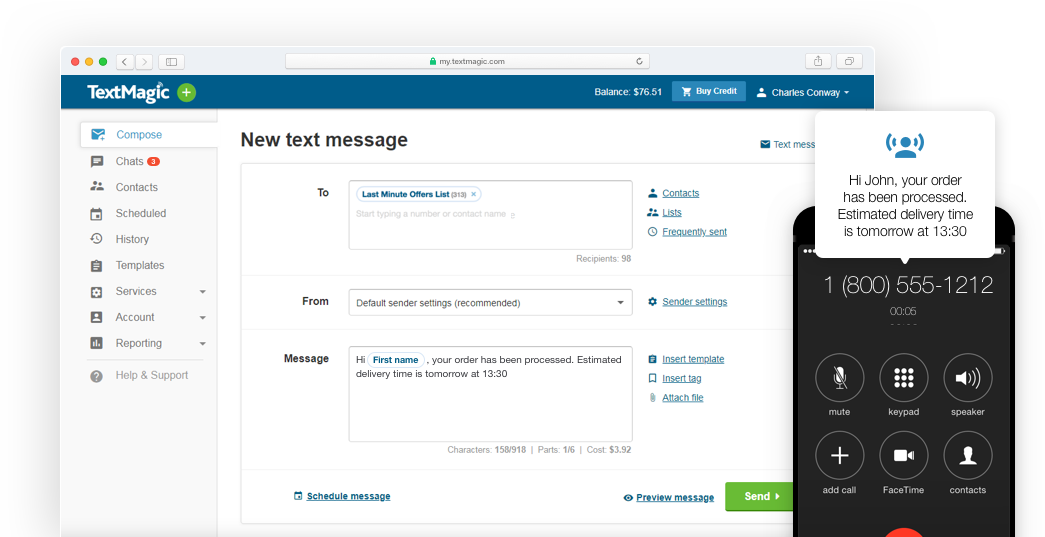 Activate TextMagic's Text to Speech Feature
All your SMS messages are automatically converted into phone calls. Your recipient hears the spoken message immediately upon answering the call.
You send a regular text message through our TextMagic web app.
We convert the text into a spoken message in your preferred language and deliver it as a call.
Your recipient hears the voice message upon answering it.
Endless Possibilities of Text to Speech
Reach your customers in a personal and unexpected way – the possibilities are endless with our Text to Speech feature.

Simple Pricing Model
Our pay-as-you-go pricing makes it easy for you. We simply deduct your balance for every Text to Speech message, just as we do with SMS.



Choose from 19 Languages
Increase your conversion rate by getting closer to your target audience. We help you communicate with your customers in the language they understand.


Track Every Message with SMS Reports
We help you control your budget by letting you access and track your Text to Speech history and delivery rates on the SMS reporting pages.

Choose from 19 Languages – Male or Female Voices
We can customise your voice messages to precisely match your needs.
Dutch, Netherlands
English, Australia
English, UK
English, US
French, Canada
French, France
Icelandic, Iceland
Italian, Italy
Japanese, Japan
Korean, Korea
Polish, Poland
Spanish, Spain
Spanish, Mexico
Spanish, US
Portuguese, Portugal
Portuguese, Brazil
Romanian, Romania
Russian, Russia
Swedish, Sweden
How Text to Speech Can Improve Your Business Processes
There are several reasons you should turn on text to speech for your SMS marketing campaign. Here are some of the most important benefits that you should consider:
Reach all your customers
Regular text messages can only be sent to mobile devices. But when you turn text into speech, you can get your message across to landline numbers as well.
Expand your reach
TextMagic allows you to turn text into speech for different languages, including English, German, Spanish, French, Romanian, Polish, Italian, Japanese, Korean, Dutch, Portuguese and Russian.
Better comunication
Some customers prefer listening to SMS messages. Text to voice phone calls can be used as an alternative to traditional texting.
Frequently Asked Questions
Not quite sure how text to speech works? Below are several frequently asked questions from our customers.
---
---