Email Lookup Service
Stop wasting time contacting invalid email addresses. Check the status, deliverability, and risk level of email addresses with our email validation service.
 Instantly Check Email Status 
Emails are validated instantly. We also show the risk level and status of checked emails.
Remove Fake Emails
Only contact relevant emails and remove fake or inactive ones from your mailing list.
Validate in Bulk or via API
Validate many email addresses using CSV upload or one by one via an API call in a matter of seconds.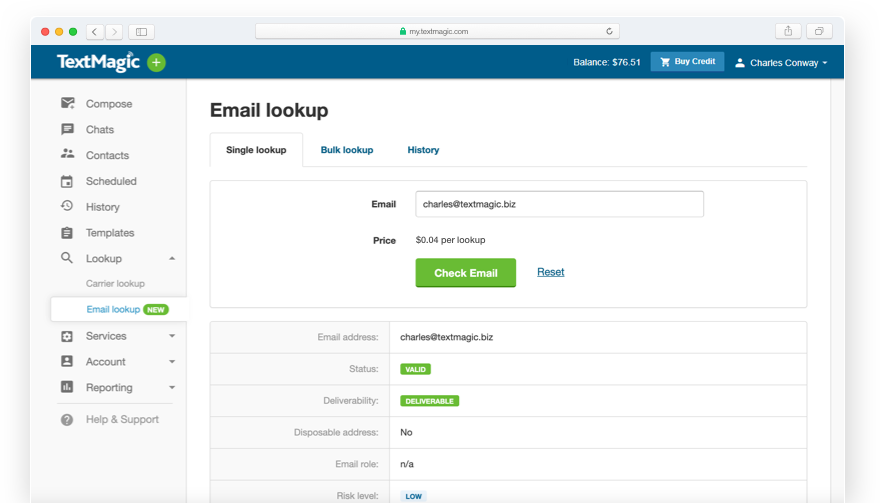 Improve Your Outreach & Marketing with Email Lookup
With our email validation service, you won't waste your budget on email addresses that don't exist.
Save Time & Budget
Validating emails will significantly reduce the time spent contacting invalid addresses and thus help you control your budget.
Check Email Deliverability
Email deliverability is the ability to deliver mails to a subscriber's inbox. Analyze it with our tool and gauge your outreach efforts.
Improve Your Marketing Campaigns
There's no point in contacting hundreds of inactive emails. Our email validator takes the guesswork out of your marketing campaign.
Purge High-Risk Emails
Email risk assessment analyzes a contact's reputation using multiple factors, such as IP, provider, and other info that validates identity.
Control Email Validation Costs
TextMagic offers full financial control over your account by providing cost estimations for bulk checks before you perform them.
View Historical Data
All email address validations are saved to your account for 60 days and can be accessed at any time later, or exported to CSV.
---
Benefits of Using the TextMagic Email Lookup Service
Reduce your bounce rates by removing temporary and disposable emails from your campaigns.
Integrated Solution
We provide full access to our API. Get more details about any email address instantly, by integrating our API into your software. Check out our API documentation.
Protect Your Email Sender Score
Consistently check and remove email addresses from your list to preserve your email sender score. Rejected emails and your unknown user rate negatively impact this score.
Free Trial Period
Experiment with the email address lookup service and many other useful features by signing up for a free trial. Paid plans start at $10 per month with 0% transaction fees.
Relevant Contact List
Use our email address tester together with the Carrier Lookup service and SMS Lists to update your contact list and segment your targeted audience.
Frequently Asked Questions
Here you can find our most popular answers about our Email Lookup service.
---
---