Two-Way Conversations with SMS Chat
Deliver quick responses to urgent questions with our two-way SMS chat panel.
Sound Alerts for New Texts
Never miss an important message with sound alerts for new texts.
Search Old Messages
Search SMS chat logs if you need to find old messages with info.
Optional Email Alerts
Activate optional email alerts about new inbound text messages.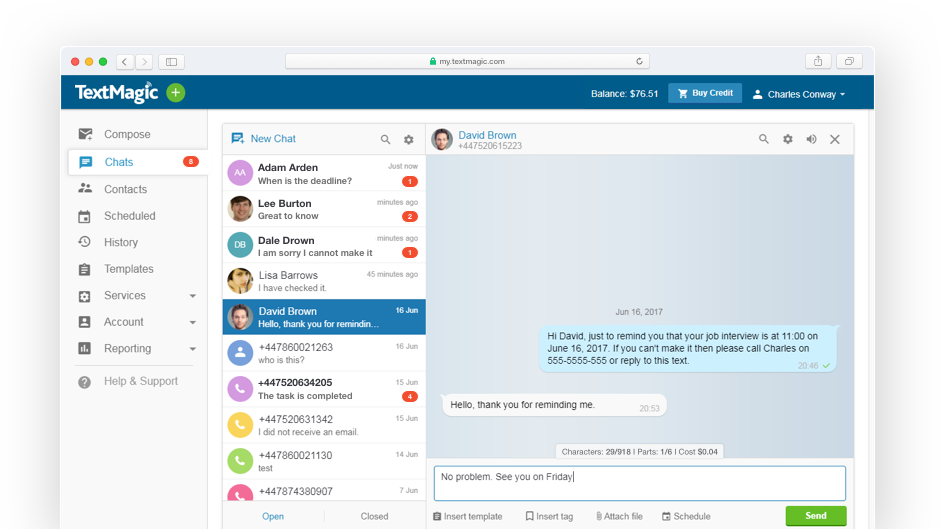 TextMagic has helped us to send the required information to our truck drivers with little effort.

I recommend TextMagic services to any business that is interested in receiving a quick response from their clients.

Barry Clark
Managing Director
Respond Fast to Your Customers, Staff & Leads
Our online SMS chat lets you manage inbound text messages at the click of a mouse.
Customer Service via SMS Chat
Our SMS chat enables you to instantly deal with your customers' queries and support issues as they text them in.

Save Time with SMS Templates
Never write the same message ten or hundreds of times. Quickly create a template and send the same message again and again.
Communicate with Staff in the Field
Got a team of employees who regularly work in the field? Use our SMS chat to keep up to date with what they're doing and give them relevant updates.

Track Every Message with SMS Reports
The delivery status of every online text message is kept up to date; use SMS reporting to analyse and improve your SMS communications.
The Benefits of Using Two-Way SMS
Believe it or not, most customers actually want to communicate with companies. The great thing about two-way SMS is the fact that you can actively engage with your prospects and customers. Here are a few ways in which you can benefit from two-way texting:
Real-time communication
No delays or interruptions. All your texts will be delivered instantly, thus allowing you to follow up in a timely manner.

Encourage product reviews
Two-way SMS chat makes it easier for customers to communicate. You can follow up a delivery status text with a product review request because the recipient will know what you are talking about.
Improve customer service
Two-way SMS services make it easier for companies to provide convenient and personal customer support.

Actually listen to your customers
Text messaging is a two-way street. The TextMagic SMS Chat is designed to improve customer engagement.
Frequently Asked Questions
---
---