Serve your customers and leads
on
WhatsApp
Reach 2 billion active users and give your customers the best possible communication experience with the
WhatsApp integration powered by Textmagic.
Request early access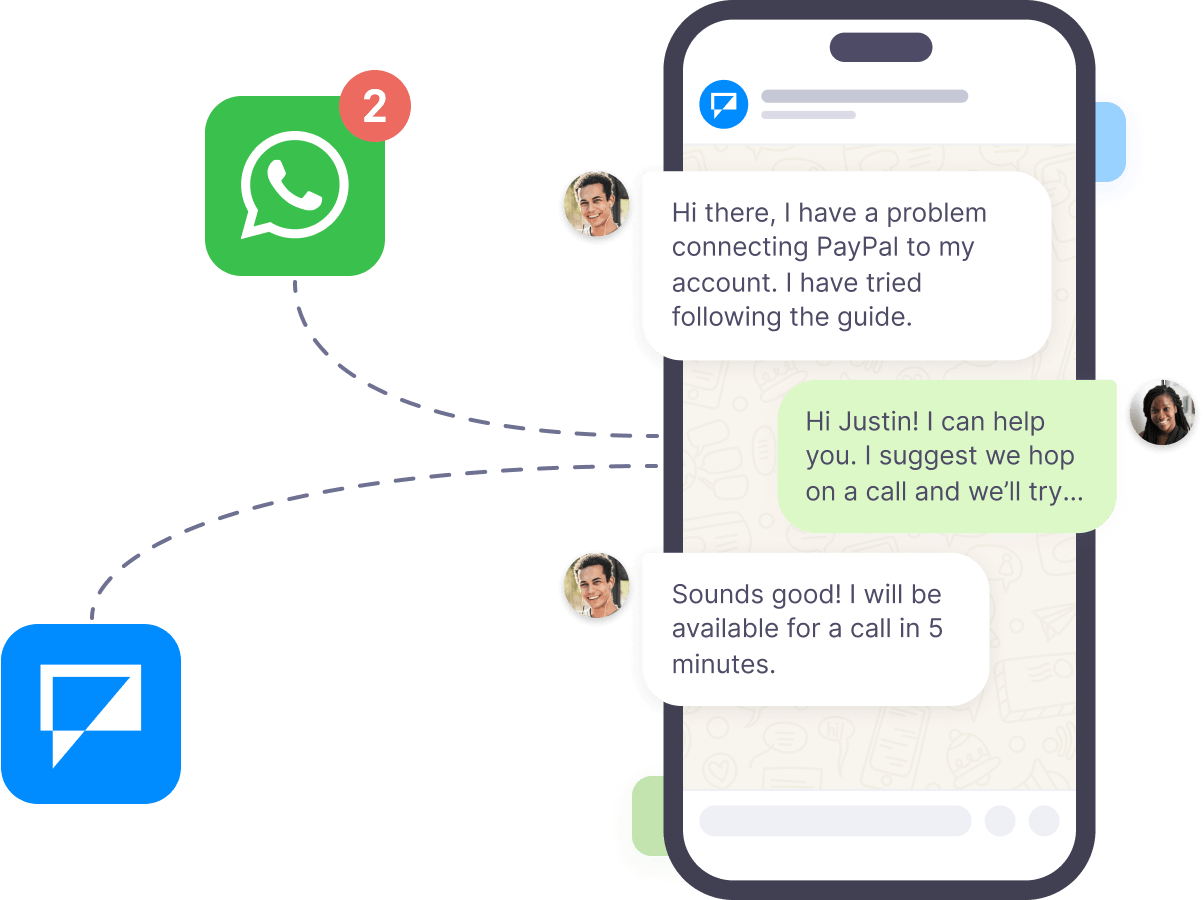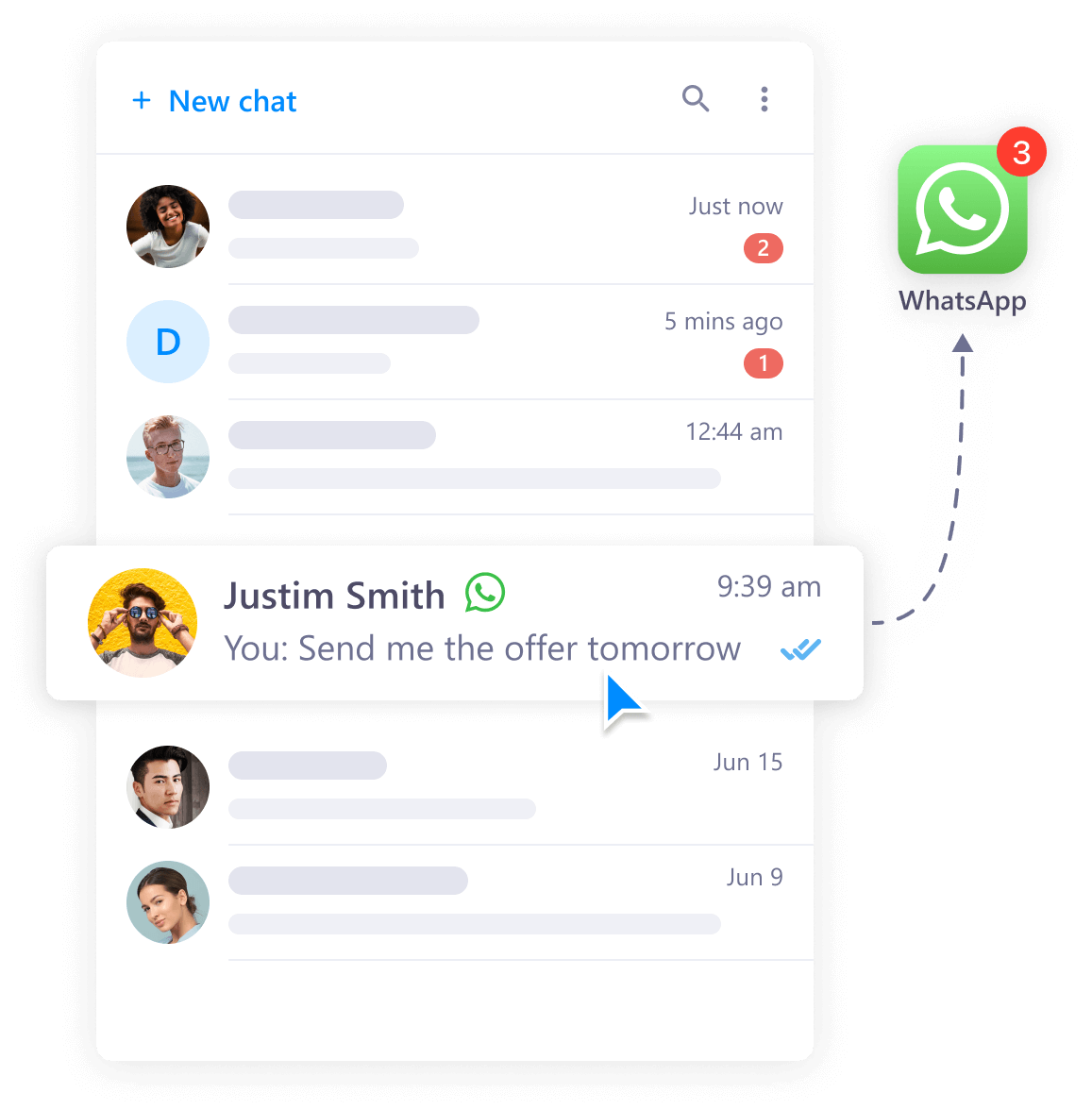 WHATSAPP INTEGRATION
Connect WhatsApp with the Textmagic platform
Tired of switching between different apps? Textmagic-WhatsApp native integration helps you bring all team interactions into one omnichannel platform. Here is what you can do with the WhatsApp business integration:

- Improve customer service using a unified omnichannel communication platform where you can manage all your messages centrally.

- Sell more to WhatsApp 2 billion-strong user base, connecting with clients globally via Textmagic omnichannel messenger.

- Enhance customer engagement and brand presence with smart features, delivering timely and personalized service.

Request early access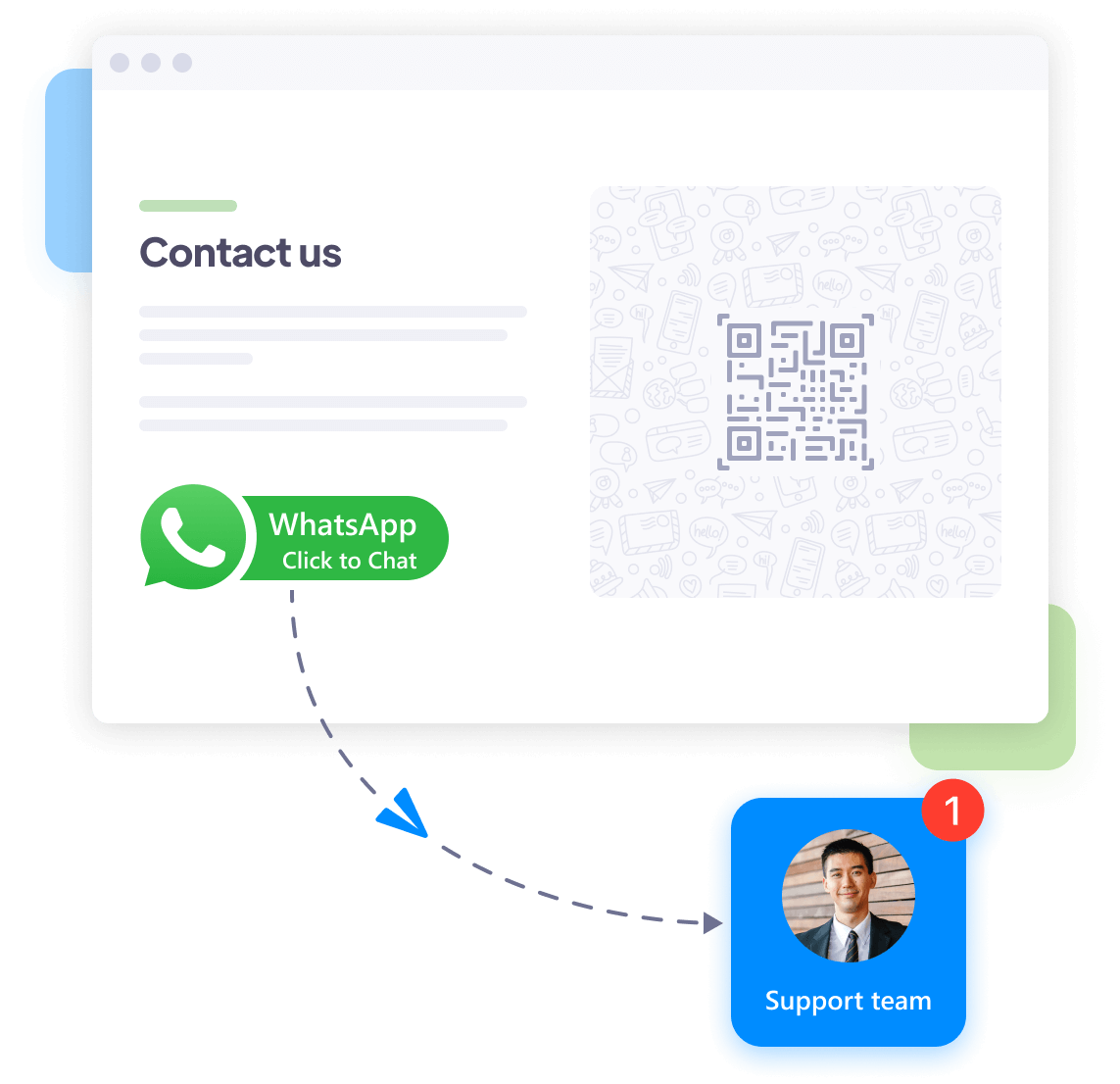 WHATSAPP CLICK-TO-CHAT
Turn visitors into leads with the Click-to-chat widget
Make it easy for customers, partners, or staff to chat with your business using the WhatsApp click-to-chat feature. Add your WhatsApp contact link to logos, images, or as a widget to your website.
Greet users with pre-filled messages, capture their contact details, and enable them to create bookings or request support, all within a single chat window.
The WhatsApp Click-to-chat widget acts as the missing puzzle piece, empowering you to deliver meaningful customer experiences directly from the Textmagic platform.
Request early access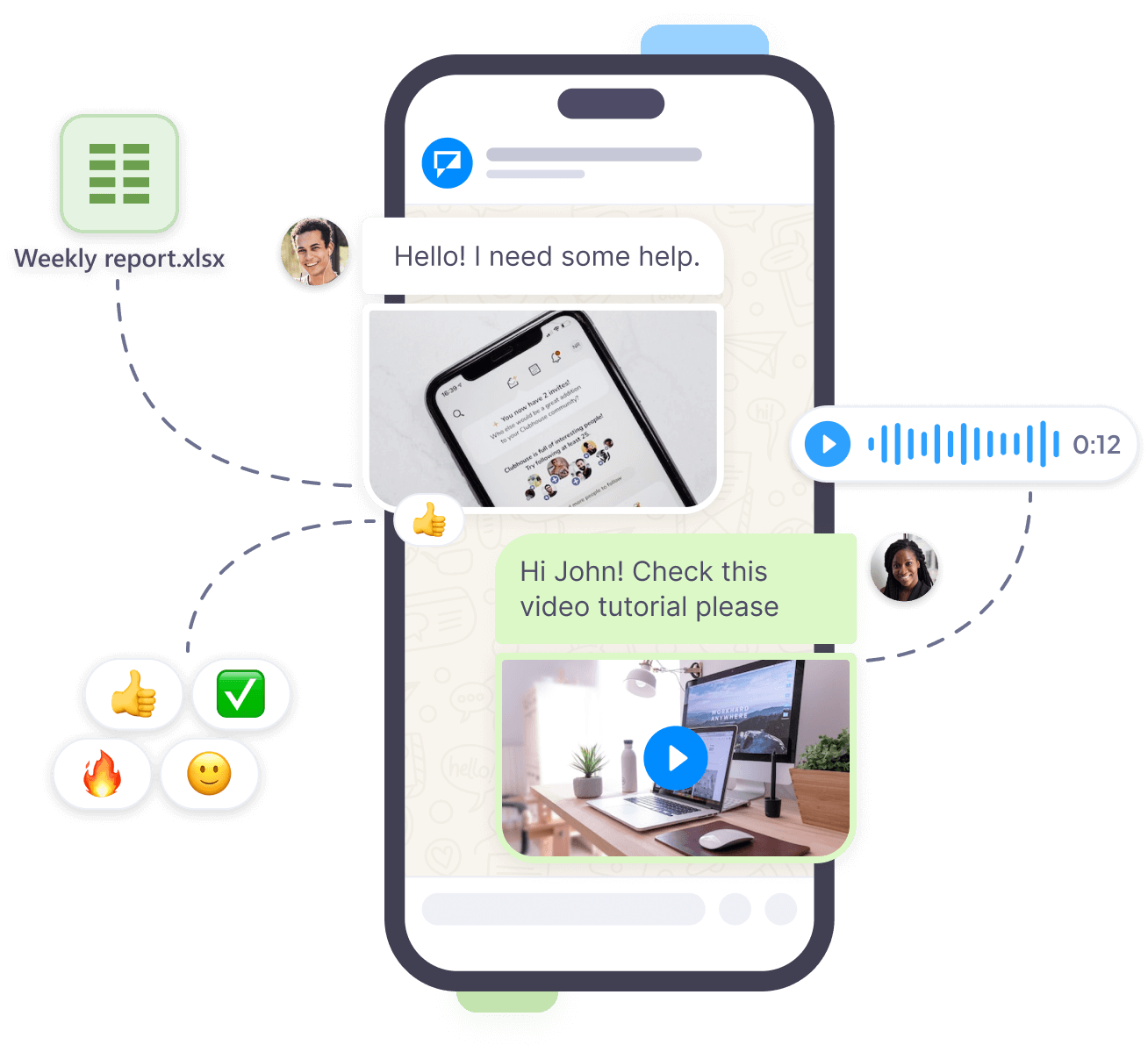 FEATURES
Elevate your customer experience using WhatsApp:
Global reach: Connect with a vast global audience, expanding your customer base beyond geographical boundaries.
Instant two-way communication: Enable real-time communication with customers who primarily use smartphones.
Multimedia messages: Add the power of multimedia messaging (photo and videos) to your daily customer engagement activities and improve sales.
360° customer view: Gain a complete 360° customer profile view to understand better your clients' preferences, behaviors, and needs.
Notifications: Receive browser or desktop alerts on new incoming messages and check message delivery statuses to stay on track.
Request early access
WhatsApp for business FAQ
Haven't found what you were looking for? Contact us now
How does WhatsApp benefit my business?
Using WhatsApp for Business offers several benefits:
Business profile: Improve brand awareness by creating a business WhatsApp profile with essential information, making it easy for customers to find and connect with you.
Real-time communication: WhatsApp enables you to communicate with your customers in real-time, fostering immediate interactions and responses.
Customer support and engagement: Using WhatsApp as one of the customer support channels, allows customers to ask questions, seek assistance, and receive timely responses.
Global customer reach: WhatsApp has a vast global user base, providing your business with the opportunity to connect with customers worldwide.
Personalized communication: WhatsApp allows businesses to personalize their communication, addressing customers by name and tailoring messages based on their preferences and interactions.
Media sharing: Share a variety of multimedia content, such as images, videos, and documents, to enhance the richness of your communication
Secure messaging: WhatsApp uses end-to-end encryption, ensuring the security and privacy of customer messages.
What are the features available in the WhatsApp integration for business?
WhatsApp allows businesses to create conversational experiences with customers.The most popular WhatsApp integration features include:
Shared omnichannel inbox: Your team members can manage incoming WhatsApp messages via a single Textmagic platform.
360° customer view: Seamlessly track customer information and interactions through the Textmagic platform via advanced activity logs.
Personalized WhatsApp messaging: Send personalized messages via WhatApps channel using the data from the Textmagic platform.
Verified business account: Gain a verified green checkmark next to your business name to enhance trust and credibility among customers.
Multimedia sharing: Share various forms of multimedia, including text, images, videos, voice messages, and documents.
What are the requirements for using Textmagic-WhatsApp integration?
Textmagic-WhatsApp integration works only if you are on the Bring Your Own Carrier (BYOC) plan.
To use BYOC, you need to have an account with a compatible telecommunication provider or CPaaS (Communication Platform as a Service). Integration with your chosen CPaaS provider requires following their integration guidelines and utilizing their APIs or other provided integration methods. The specific technical requirements and integration steps may vary depending on your CPaaS provider's platform and services.
It's important to note that BYOC integration typically requires some level of technical expertise or developer involvement to establish the connection between Textmagic and your chosen CPaaS provider.
Which CPaaS providers are supported by Textmagic for the WhatsApp integration?
Textmagic supports integration with several CPaaS (Communication Platform as a Service) providers, offering flexibility and compatibility for your messaging needs. The supported CPaaS providers for integration with Textmagic include:
Twilio
Vonage
Bandwidth
Sinch
MessageBird
Infobip
Plivo
Amazon SNS (Simple Notification Service)
These supported CPaaS providers allow you to leverage their services, features, and infrastructure while integrating seamlessly with Textmagic's platform for efficient message delivery and enhanced communication capabilities.
Are there any limitations or restrictions for using WhatsApp for Business?
While WhatsApp for Business offers numerous benefits, there are certain limitations and restrictions. For instance, you can only communicate with customers who have opted to receive messages from your business. Additionally, there are guidelines to adhere to, ensuring compliance with WhatsApp's policies and avoiding spam-like activities.
Try our fully featured business texting platform today
Grow revenue and improve engagement rates by sending personalized, action-driven texts to your customers, staff, and suppliers.