SMS STOP Command
Subscribers can text STOP to unsubscribe from your lists at any time. The SMS STOP command will save money and perhaps your company's reputation.
Multiple Opt-Out Words
STOP, STOPALL, UNSUBSCRIBE, END, QUIT and CANCEL
Optional Email Alerts
Get email alerts when people unsubscribe from your lists
Manually Clean Your Lists
If someone asks to be removed from your lists – do it manually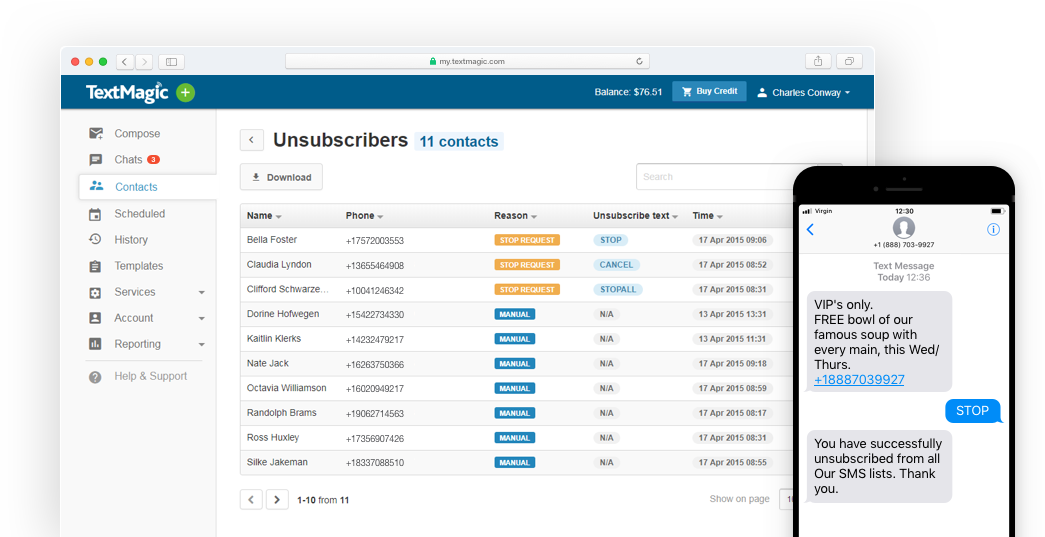 Be Compliant with Anti-SPAM Guidelines
Only Target Real Prospects
There is no point repeatedly sending messages to people who will never buy. The SMS STOP function allows you to target your real prospects effectively.

Be Polite to Your Recipients
By giving your customers an opportunity to unsubscribe from your messages, you show your company in a better light.

Comply with Anti-Spam Guidelines
Unwanted messages can damage your company's reputation; opt-out management protects your brand from accusations of spam or unethical practices.

Offer Extra Value with Your Text Message
When your message is not needed, it will never give extra value to the recipient. Do not waste resources; let people unsubscribe.
---
How SMS Opt-out Features Improve Your Business
Losing SMS subscribers isn't necessarily a bad thing. Here are a few benefits of SMS opt-out features for your business:
Comply with all legal & regulatory requirements
Customers are not required to opt in to your SMS feed as a condition of purchasing products or services. It is a privilege that is given to you and can be revoked at any time. For more information about texting restrictions, please read the Telephone Consumer Protection Act (TCPA).

Avoid penalties for sending unsolicited texts
Did you know that the penalty for spam is $500 to $1,500 per unsolicited message? Companies like Papa John's, Coca-Cola and Steve Madden have faced expensive class-action lawsuits because they sent unsolicited text messages to customers. The SMS Stop command will help you avoid such a situation.
Keep your subscriber list clean
Subscribers who won't subscribe to SMS are usually not interested in your product, either. There is no point in spamming them with SMS messages if they are not interested in making a purchase. The SMS Stop command is one of the best ways to clear your subscriber list.

Save time & money
Sending text messages to indifferent subscribers will decrease ROI. All you're doing is blasting hundreds of text messages to people who aren't going to make a purchase. Using the SMS unsubscribe feature, you can quickly distinguish viable leads from unresponsive ones.
Frequently Asked Questions
---
---