Increase Sales with SMS Marketing
Run effective text message marketing campaigns with our SMS marketing software.
Import Contacts Easily
Upload thousands of mobile phone numbers with our import wizard.
Personalise Your Message
Use merge tags and send personal texts to your target groups.
Send Campaigns Quickly
Quickly write your text campaigns online and launch in seconds.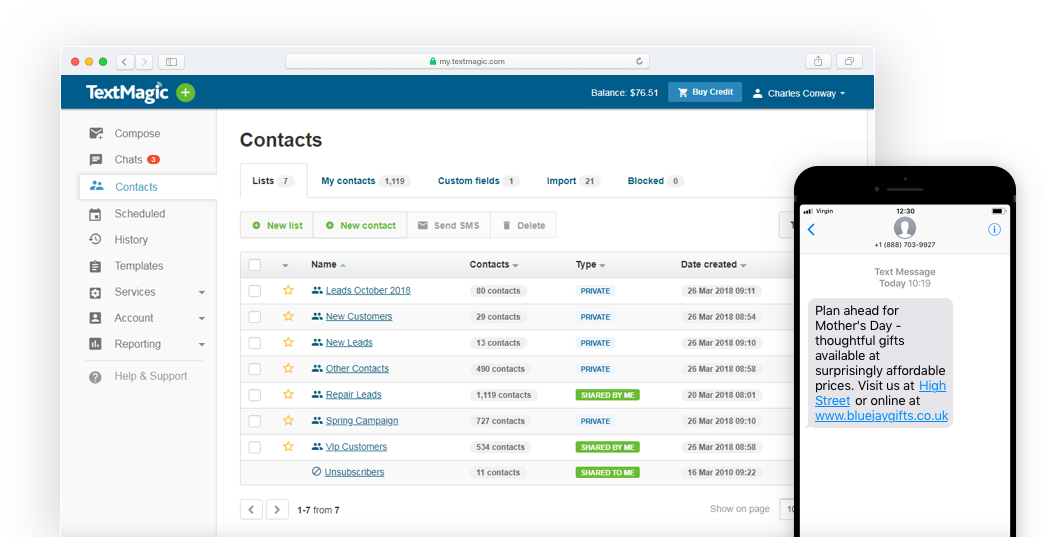 Six Ideas to Grow Your Business Using SMS Marketing
Remember - SMS messages can be received by any mobile phone on the planet (unlike email).
Schedule Campaigns in Advance
Schedule your text message campaigns in advance and send the right message at the right time.

Drive Traffic to Your Website
Promote your mobile websites and landing pages and get more clicks and conversions.


Advertise Limited Time Offers
When the clock is ticking, your customers will be more eager to convert and buy.
Distribute Discount Coupons
Send out discount coupons and drive more foot traffic to your club, bar or restaurant.

Announce New Products
Launching a new product or feature? Why not announce this to your customer base via text?

Promote Conferences & Events
Get more visitors and sell more tickets by promoting your events and conferences.
Frequently Asked Questions
How TextMagic can help you with your SMS marketing campaigns?
TextMagic offers a plethora of tools that will help you achieve your text message marketing goals. Here are some of them:
1. Bulk SMS Feature
The bulk SMS feature will make it easier for you to send hundreds of texts in a matter of seconds. Combine your mass texting efforts with contact list personalisation to send targeted texts to different prospect or customer groups.
2. Message Automation
SMS automation will help you immediately follow up with customers and prospects. Message automation rules can significantly improve your SMS marketing efforts by instantly adding or removing subscribers from your list when certain keywords are used, sending details about products, events or offers and solving common customer problems.
3. Reporting & Analytics
To guarantee the success of your text message marketing campaign, you must constantly monitor its performance. TextMagic makes it easy for you to measure the scalability and success of your SMS marketing strategy with its reporting and analytics tool, which gives you detailed information about your delivery rate, number of texts sent, costs and more.
4. Sub-accounts
TextMagic allows you to create multiple sub-accounts for team members. This means that you can delegate different SMS marketing tasks to your co-workers. You can also monitor their activity using the Reporting & Analytics tool
5. Virtual Mobile Numbers & Sender IDs
You can purchase one or more virtual mobile numbers for your SMS marketing campaign. These numbers will be reserved for your company as long as the monthly fee is covered. Virtual numbers can be personalised with unique sender IDs (e.g., the name of your company) to help you increase brand awareness and conversion rates.
Other useful features: Email to SMS (send text messages directly from your email account), languages and Unicode SMS (send and receive texts in any script or language), SMS software (send and receive texts on your desktop app), scheduled texts, voice call forwarding, SMS attachments, subscribe forms for your website and more.
What are the benefits of SMS marketing campaigns?
SMS is becoming an increasingly essential element of multi-channel marketing. Still, text campaigns remain underutilised despite their incredible potential. If you're not completely sold on the idea of investing in a text message marketing campaign, you should take a look at its most important benefits:
Direct, immediate communication channel. Did you know that over 98% of text messages are read within 15 minutes of being delivered? SMS provides a direct and immediate communication channel with your customers, enabling you to reach out to them at critical moments.
Build a loyal customer base. SMS marketing represents a great medium for engaging with customers and increasing their loyalty. You can send offers, promotions, coupon information and exclusive information about your company to make them feel appreciated.
Integrate SMS into your marketing campaigns. One of the greatest benefits of SMS marketing is the fact that it can easily integrate with other campaigns (social media, traditional media, etc.).
Better time management with SMS. Needless to say, every text message marketing campaign should be supported by a capable SMS web app. This will save you a lot of time and enable you to focus on areas of your business that require your expertise.
Easy way to obtain customer feedback. SMS is a very personal channel with which customers are more likely to engage. Studies show that 31% of customers will respond to surveys conducted via text. Furthermore, customer service via text messaging is more effective and less time consuming.
SMS is reliable. Unlike other marketing channels, such as email, SMS doesn't have to battle with spam filters.
Infinite market potential. Do you have any idea how many mobile phones are out there? An obscene number. Some people own two or three phones. Mobile phones and texts represent the primary means of communication for people. This means that SMS marketing has infinite marketing potential.
Are you ready to take your SMS marketing campaign to the next level? Sign up for a free TextMagic trial today.
---
---