Secure Text Messaging
Secure text messaging services for businesses around the world. All your text messages and data are safely stored and managed by professionals.
Secure Data Transfer
All our sites and web services are secured with SSL / HTTPS.
We Value Your Privacy
We will NEVER share or sell your data, texts or numbers.
Delete Your Data
If you wish you can delete all your data in a few clicks.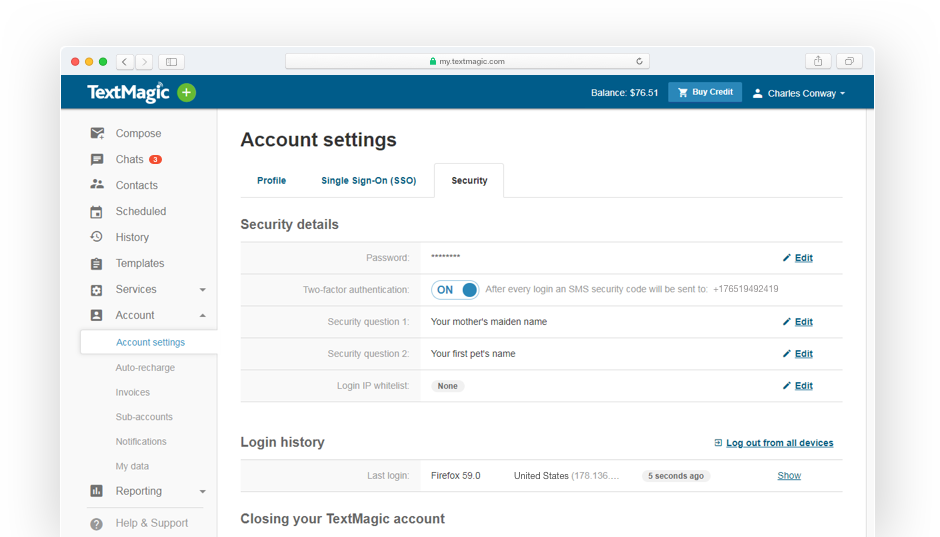 Use a Secure Service for Your SMS Communications
You don't have to worry about your data safety anymore once you've signed up to TextMagic.
Your Data is Backed Up 24 / 7 / 365
In the unlikely event of a problem with one of our secure servers none of your data will be lost and your business will not be affected.

Daily Server & Website Scans
The McAfee Secure service scans our website every day and looks for any exploitable weaknesses, allowing us to keep our security as tight as possible.
Secure Physical Location of Servers
Our servers are located in a secure data centre in Europe, in restricted areas with absolutely no physical access available to third parties.

Secure Billing & Payments
TextMagic does not store credit or debit card details on this website. All payment data is securely stored by a third-party PCI-compliant payment gateway.
---
How TextMagic Safeguards Your Online Security
Security is a top priority for TextMagic. We have taken steps to safeguard the security of text messages sent through our SMS gateway, as well as online payments and actions that you conduct through our web platform.
Personal information usage
Any personal information provided when using TextMagic services will be used in accordance with our Data Protection & Privacy Policy. We will never disclose personal information to third parties.

Secure physical location & protection of servers
The TextMagic servers are located in a secure, restricted area of Central Europe. The physical address is not available to third parties.

Data backup & website scans
We take the security of your account very seriously. We perform deep scans and back-ups for the site every day to eliminate any weaknesses. This decreases the chances of being targeted by hackers.
Account data
Data is available only to the user (or anyone who has access to the username and password). Text message data, phone numbers, credit card information and other personal data is stored securely with the help of SSL and HTTPS encryption.

Secure text messaging.
Text messages are encrypted by network providers while in the air. Furthermore, mobile operators put very strict controls in place to prevent the misuse of SMS technology. This means that they can only be read by the sender and recipient. It's highly unlikely for your texts to be intercepted or read while being delivered. Nevertheless, we advise you not to send sensitive information that would, in isolation, compromise your security and accounts.
---