Phone Carrier Lookup Service
Identify invalid phone numbers and carriers instantly and get better results with your SMS campaigns 
with the help of our carrier lookup tool.
Validate Numbers Instantly
Verify numbers, find cell phone carrier information, and extract useful contact data immediately from the TextMagic dashboard.
Look Up Numbers' Data in Bulk
Import hundreds of phone numbers as
CSV data or in an Excel file, extract carrier information and, add valid numbers
to your contact list.
Integrate Lookup into Your App
Validate mobile and landline numbers automatically, without logging into any software, by integrating the carrier lookup service using the TextMagic API.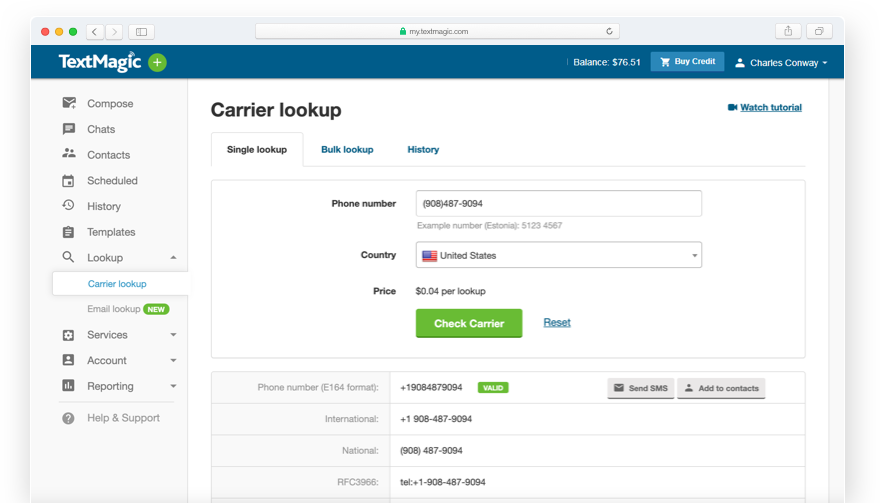 Find Out More About Our Carrier Lookup Service
 Find detailed phone number information within seconds and at a low cost. 
Better SMS Marketing
Remove invalid contacts from your messaging lists and segment your SMS contacts with the help of useful carrier data. Target your audience in a more precise way.
Instant Validation
Phone number lookups within the TextMagic app happen instantly, within milliseconds, thus saving you precious time. All the results can be exported or imported as contacts to TextMagic.
Historical Data
TextMagic's web app saves all cell phone carrier information in your account for 60 days. You can also export all your results as CSV or in an Excel file whenever needed.
Separate Mobile Numbers from Landlines
Separate mobile numbers from landline ones to avoid sending text messages to numbers that cannot receive them and remove outdated mobile numbers from your list.
Affordable Price
Bulk lookup estimates the total cost before validation. This tool helps you avoid useless costs of sending text messages to non-existent phone numbers.
Automatic Lookup via API
We offer full access to our API. This allows you to perform phone carrier lookup automatically within your app or website without any additional actions needed by yourself.
---
Benefits of Using The Carrier Lookup Service
Text messaging has a huge reach, which means you can reach a wider audience than with other channels.
Reduce Messaging Costs
With a business phone number lookup tool, you can ensure you send your messages only to existing and relevant contacts only, thus you will save both time and money.
Remove Invalid Numbers
Moreover, you can easily check if a number is valid or not, to avoid wasting time on invalid numbers, which further, can be easily removed from your contact list.
Export Your Lookup Results
After your bulk lookup has been completed, you can easily export the results to an Excel file or as CSV for further research and analysis of the received data.
Import Only Valid Numbers
Once you have checked your numbers with the carrier lookup, you can choose to import only the valid numbers directly to TextMagic and to send them a text message. 
Frequently Asked Questions
Here you can find some answers to the most commonly asked questions about our Carrier Lookup service.
---
---