Send SMS Surveys and Collect Feedback
Improve the customer experience and get valuable feedback on your services instantly and from any audience with our easy-to-use yet powerful SMS survey tool.
Quick Setup and Send
Use our predefined SMS survey templates and flows to configure auto-responder polls super-fast.
Schedule SMS Surveys
Forward your text surveys whenever you want. Receive more feedback with scheduled texts.
View Analytics and Export Results
Carefully analyze received feedback using SMS survey analytics or export the replies.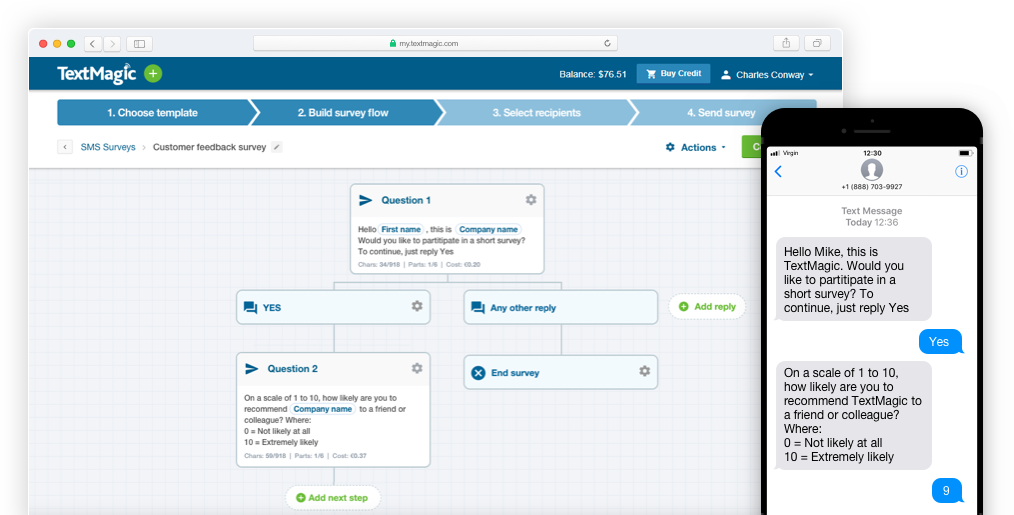 Find Out More About Your Audience With SMS Surveys
Our SMS survey tool is designed to easily fit your existing workflows and processes.
Save Time with Templates
Choose from six pre-defined templates, including customer feedback, team performance, and brand awareness templates.
Analyze SMS Survey Responses
Check the deliverability, responses, and performance of your text survey directly from the TextMagic dashboard.
Personalize Your SMS Survey
Keep your text survey personal by adding merge fields, attaching files, or utilizing pre-defined SMS templates for your questions.
Create a Response for Every Situation
Our SMS survey flow provides full control over the process. Generate different responses for essential keywords and to control the user flow.
Preview and Test Your Flow
Easily complete your created SMS survey yourself using our preview tool to find any typos or mistakes and to improve your reply rates.
Use SMS Survey Flow Templates
We have created several templates that can be used in all business areas and that you can utilize to speed up your survey flow creation.
---
Benefits of Using SMS Surveys to Gather Feedback
Text messaging has a huge reach, which means you can reach a wider audience than with other channels.
Get More Feedback with SMS
Statistics show that people are more likely to respond to SMS than to the email or online messaging. Texts have a 98% open rate and a 209% higher response rate.
Engage Your Audience
Clients want to be valued. It is a good way to make them feel important by directly involving them in your decisions. SMS survey is efficient in engaging audiences.
Analyze Text Survey Results
Check individual replies to your text surveys directly from the dashboard or evaluate overall performance using our comprehensive analytics tool.
Improve Employee Performance
SMS surveys are a great way to get feedback, not only from customers but also from your employees. Create employee SMS surveys using our templates.
Frequently Asked Questions
Here you can find some answers to the most commonly asked questions about our SMS Survey tool.
---
---