Dedicated Virtual Mobile Numbers
With a dedicated virtual SMS number, you will be able to receive text messages from anyone. Your customers and staff can text you whenever they like.
Promote Your Number
Having a dedicated text number is a fantastic promotional device.
Reduce Cost to Reply
When people text you they just pay their normal texting costs.
No Contracts or Hidden Fees
You can cancel your virtual SMS number any time you want.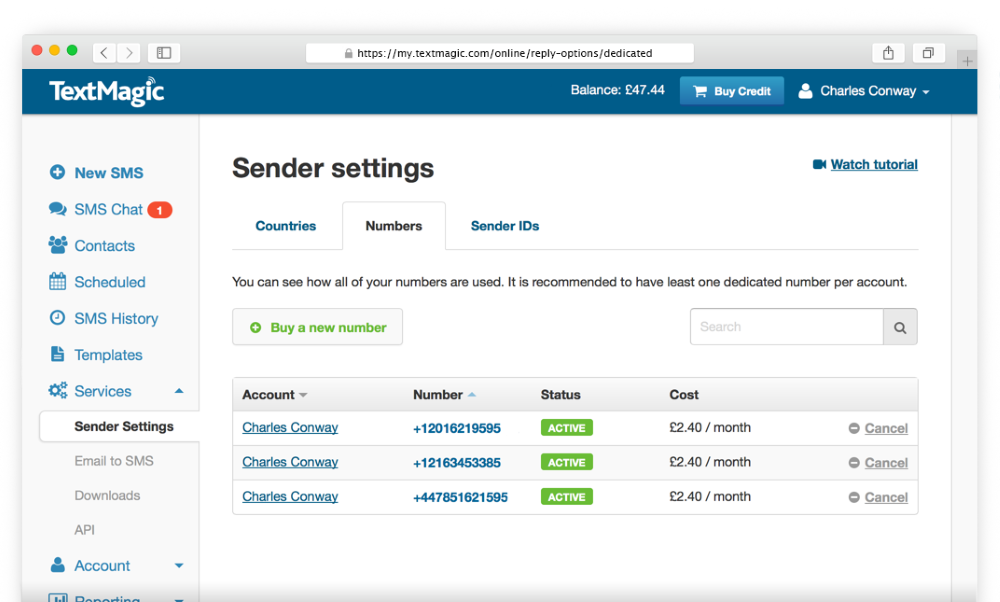 TextMagic has become a key part of our business offering enabling us to interact effectively with our clients who prefer to communicate via text.

TextMagic is definitely a robust service in which users can create effective and reliable communication routines using text messaging services.

Jorge Guillen
Senior Developer
Easy-to-Use Numbers
Having two-way conversations with your customers via SMS is quick and easy.
Unlimited Use Cases
You can use numbers in promotional competitions for quick text answers, or simply for potential customers to provide contact details.

A Competitive Monthly Price
Numbers have a very affordable price starting from just £2.40 / month with no contracts or hidden fees. You can cancel it anytime.
Inbound Messages Delivered to Email
You will not miss an incoming SMS message, as they will all get delivered to the email addresses you specify.

Block Unwanted Inbound Messages
If you do not want to get messages from certain countries or individuals, you can easily filter the flow of incoming texts using our security features.
Local Dedicated Numbers Available in 33 Countries
When people text you they just pay their normal texting costs – there are no additional fees.
| | |
| --- | --- |
| Australia | £4.90 / month |
| Austria | £4.00 / month |
| Belgium | £2.40 / month |
| Canada | £2.40 / month |
| Chile | £2.40 / month |
| Costa Rica | £2.40 / month |
| Croatia | £4.90 / month |
| Czech Republic | £4.00 / month |
| Denmark | £4.90 / month |
| Estonia | £3.20 / month |
| Finland | £4.00 / month |
| Germany | £5.70 / month |
| Hong Kong | £5.70 / month |
| Hungary | £4.00 / month |
| Indonesia | £2.40 / month |
| Ireland | £5.70 / month |
| Israel | £5.70 / month |
| | |
| --- | --- |
| Latvia | £3.20 / month |
| Lithuania | £4.00 / month |
| Malaysia | £2.40 / month |
| Mexico | £9.70 / month |
| Netherlands | £4.00 / month |
| Norway | £3.20 / month |
| Poland | £9.70 / month |
| Puerto Rico | £2.40 / month |
| Romania | £5.70 / month |
| Slovakia | £5.70 / month |
| South Korea | £2.40 / month |
| Spain | £2.40 / month |
| Sweden | £2.40 / month |
| Switzerland | £5.70 / month |
| United Kingdom | £2.40 / month |
| United States | £2.40 / month |
---
Main Benefits of Virtual Mobile Numbers
There are a number of considerations that you should take into account when choosing a virtual phone number, ranging from costs and location to future proofing and service options. Nevertheless, virtual SMS numbers have many benefits that make the setup process well worth it:
Productivity on the move
TextMagic's virtual mobile numbers can be used anywhere. You can use them to send and receive SMS messages or forward calls to your email account.

Feature richness
Most dedicated numbers are set up through various systems or SMS services that offer a plethora of features such as call forwarding, SMS automation, bulk SMS services, two-way free texting online, etc.
Separate personal & professional life
Many small business owners make the mistake of using their personal number for professional needs. Renting virtual mobile numbers can solve this problem.

Cost-effectiveness
Setting up virtual phone numbers for local markets is a lot cheaper than using traditional carriers or sending text messages internationally.
Popular Text Messaging Destinations
You can send messages to 200+ countries
Frequently Asked Questions
Below is a list of frequently asked questions regarding virtual mobile numbers.
How to purchase & use virtual mobile numbers?
Setting up virtual mobile numbers for your business is as simple as 1, 2, 3. At the moment, TextMagic provides virtual text numbers for 30+ countries. Here's how you can purchase and configure your own:
Step #1: Log in to your TextMagic account and navigate to Sender Settings -> Numbers.
Step #2: Click Buy New Number. Select the country you need and choose your number. The monthly cost will be displayed automatically.
Step #3: Choose the number that you want to assign your number to and finalise the purchase.
Step #4: Click on Activate number and then Finish to complete the setup process.
Pro tip: To ensure that you never lose your virtual mobile number, we recommend that you enable the Auto-recharge feature from your account settings.
How do virtual mobile numbers work?
Local dedicated numbers were designed for the local market. This means that you can send and receive SMS messages from local numbers, not globally. TextMagic offers dedicated numbers in over 30 countries.
Using a dedicated number you can:
Send text messages
Receive replies to messages you have sent
Receive incoming text messages
What is auto-recharge and how does it work?
The auto-recharge feature will automatically top up your TextMagic SMS account every time your balance falls below a set amount. Activating this feature will ensure that you never lose your virtual mobile number.
To enable auto-recharge, simply navigate to Account -> Auto-recharge. Select the payment method of choice (PayPal or credit/debit), enter your details and save changes. Click on Activate auto-recharge and Save.
Do I really need a dedicated number?
This depends on your business needs and location. If you're trying to send messages in North America, you will most definitely need to purchase a dedicated number because of carrier restrictions. The good news is that some countries can use shared numbers for two-way text messaging.
What can I do if my country isn't on the list of virtual mobile numbers?
For countries we don't offer dedicated numbers in, you can try using a global UK number. If the number works, you can use it for your business needs, but you will be charged the international rate of mobile operators.
How much does it cost for someone to send a message to my dedicated number?
The cost for sending the SMS is just the standard charge made by your client's mobile operator for sending a message.
TextMagic never charges your client for sending a message.
Can I use a dedicated number for verification purposes, i.e., bank confirmations, Google account verifications, etc.?
No, you cannot.
Verification text messages are usually sent via SMS providers, like TextMagic, while a dedicated number can receive text messages only from regular mobile subscribers, not SMS providers.
Can I block incoming text messages from specific numbers?
Yes, you can. You can add specific numbers to a blacklist.
---
---