Dedicated Virtual Mobile Numbers
With a dedicated virtual SMS number, you will be able to receive text messages from anyone. Your customers and staff can text you whenever they like.
Promote Your Number
Having a dedicated text number is a fantastic promotional device.
Reduce Cost to Reply
When people text you they just pay their normal texting costs.
No Contracts or Hidden Fees
You can cancel your virtual SMS number any time you want.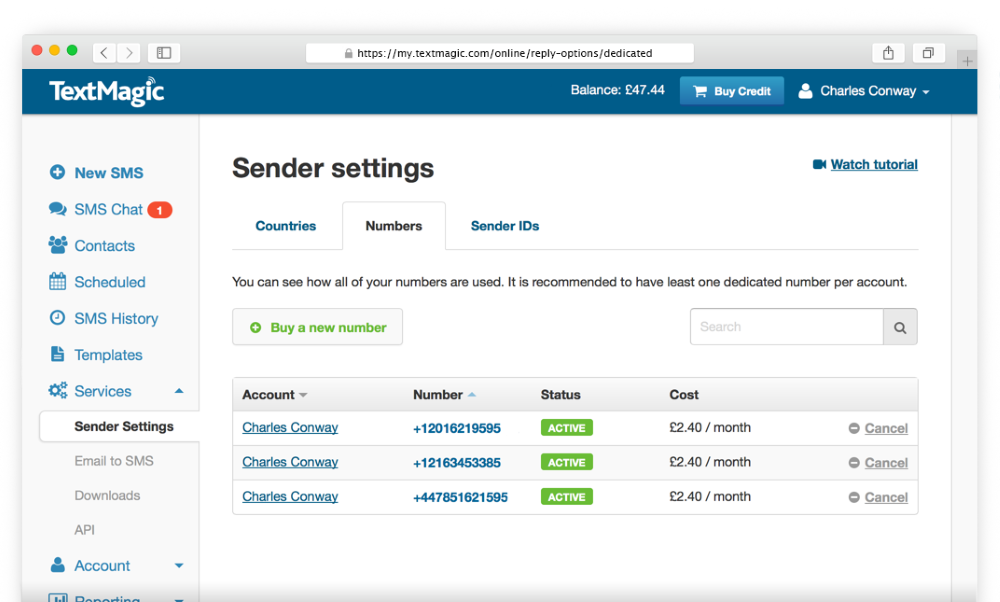 Easy-to-Use Numbers
Having two-way conversations with your customers via SMS is quick and easy.
Unlimited Use Cases
You can use numbers in promotional competitions for quick text answers, or simply for potential customers to provide contact details.

A Competitive Monthly Price
Numbers have a very affordable price starting from just £2.40 / month with no contracts or hidden fees. You can cancel it anytime.
Inbound Messages Delivered to Email
You will not miss an incoming SMS message, as they will all get delivered to the email addresses you specify.

Block Unwanted Inbound Messages
If you do not want to get messages from certain countries or individuals, you can easily filter the flow of incoming texts using our security features.
Local Dedicated Numbers Available in 33 Countries
When people text you they just pay their normal texting costs – there are no additional fees.
| | |
| --- | --- |
| Australia | £4.90 / month |
| Austria | £4.00 / month |
| Canada | £2.40 / month |
| China | £2.40 / month |
| Czech Republic | £4.00 / month |
| Denmark | £4.90 / month |
| Estonia | £3.20 / month |
| Finland | £4.00 / month |
| France | £2.40 / month |
| Germany | £5.70 / month |
| Hong Kong | £5.70 / month |
| Hungary | £4.00 / month |
| Indonesia | £2.40 / month |
| Ireland | £5.70 / month |
| Israel | £5.70 / month |
| Lithuania | £4.00 / month |
| | |
| --- | --- |
| Malaysia | £2.40 / month |
| Mexico | £9.70 / month |
| Netherlands | £4.00 / month |
| Norway | £3.20 / month |
| Poland | £9.70 / month |
| Puerto Rico | £2.40 / month |
| Romania | £5.70 / month |
| Russia | £2.40 / month |
| Slovakia | £5.70 / month |
| South Africa | £2.40 / month |
| South Korea | £2.40 / month |
| Spain | £2.40 / month |
| Sweden | £2.40 / month |
| Switzerland | £5.70 / month |
| United Kingdom | £2.40 / month |
| United States | £2.40 / month |