Brand Texts with Your Company Name
Your SMS Sender ID can turn a simple SMS message into a powerful branding tool.
Increase SMS Open Rates
Displaying a company name as a sender can increase open rates.
11 Characters in Sender ID
Include up to 11 characters in your custom SMS Sender ID.
Disable Replies with Sender ID
Prevent recipients from replying to your messages with a Sender ID.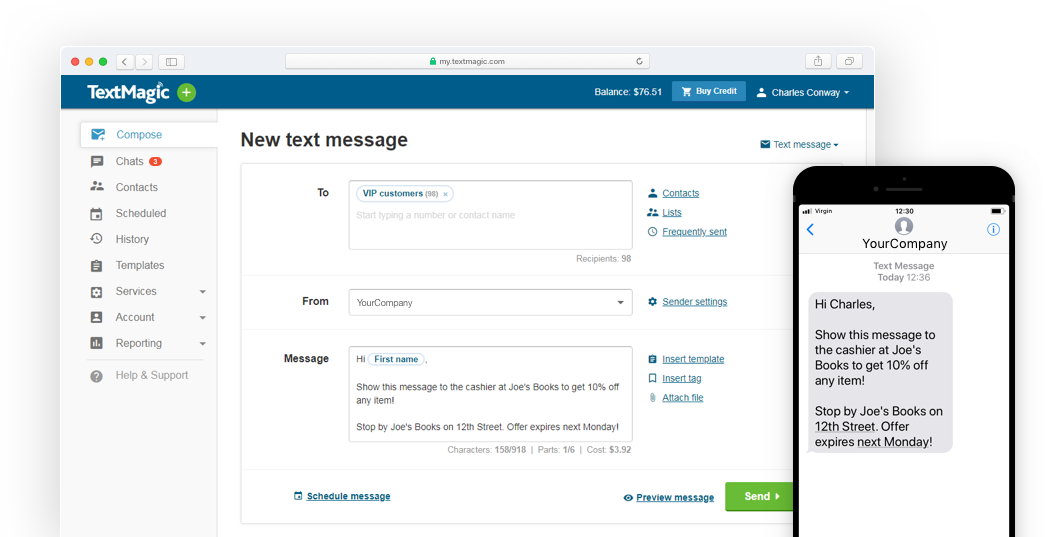 We have been using TextMagic for our SMS needs since 2012 and they have always provided a reliable and good value service.

TextMagic ensures we are notified of any network traffic or high loads on our servers from our monitoring software no matter where we are.

Control the Branding of Your Company Communications
When people receive a text message from a sender with a name, they are generally inclined to trust it more than if it had come from an 'unknown number'.
No Extra Charge for a Sender ID
You can apply for a Sender ID for free. We charge nothing for your SMS Sender ID.

Get up to 10 Sender IDs per Account
Send messages from different names to various customer segments and increase conversions.
Easy & Quick Activation
Get your Sender ID activated in five minutes. Just choose the name and specify your use case.

Share Sender ID with Sub-Accounts
All your sub-accounts can use the same Sender IDs for all their communications with customers.
Improve Your Business Processes with Sender IDs
Alphanumeric sender IDs let you send texts with the brand name instead of a phone number. For many countries outside the United States and Canada, this is the norm and has enabled many brands to reach out to customers more effectively.
Improved brand awareness
Recipients will instantly know whom the message is from because your sender ID will be displayed instead of the phone number.
Increased open & response rates
A message from a familiar sender ID has a greater chance of being opened than one from an unknown number.


Frequently Asked Questions
Not sure whether you want to send SMS with name of your company? Maybe these frequently asked questions about SMS sender IDs will help you make up your mind:
---
---