Send Texts Online with Our Web App
A complete online SMS texting solution that enables you to quickly and cost-effectively send texts online from the web to anywhere in the world.
Send Bulk SMS Online
Send out text promotions, alerts, notifications and reminders
Receive Texts Online
Receive text messages from your customers, staff and suppliers
Works in 200+ Countries
Reach your mobile workforce or customers wherever they are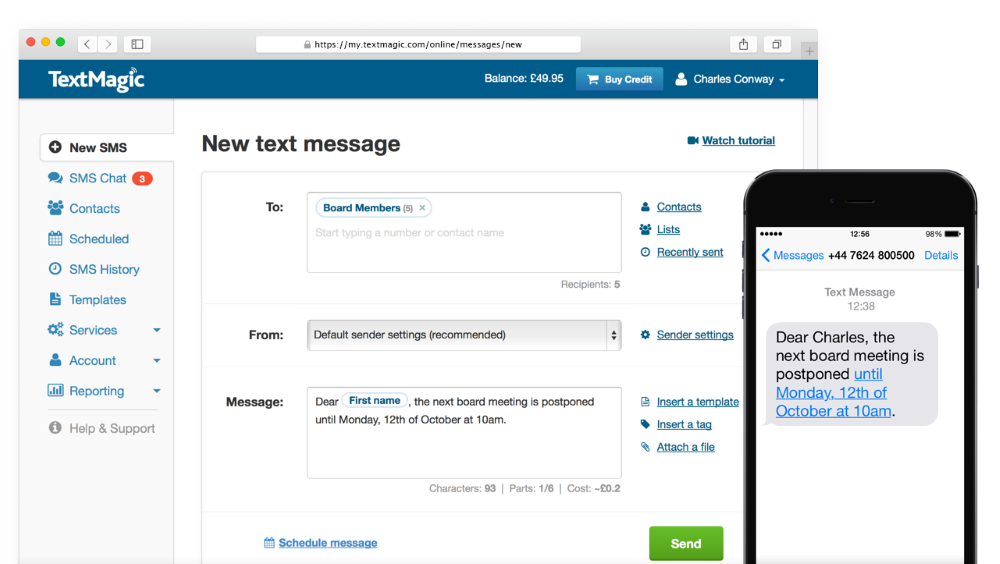 TextMagic has helped 1st Citizen Lawyers drive client retention, satisfaction and attendance with its branded, professional and cost effective text messaging system.

We have tried other solutions but only TextMagic offered the functionality we were looking for and stood out with their easy-to-use interface and compelling price structure.

Manage Your SMS Communications Online
TextMagic's online SMS service lets you send bulk text messages at the click of a mouse. Use it to build successful text-messaging campaigns or to support your sales and customer service departments.
Two-Way SMS Chat
Use SMS chat to start and manage two-way text conversations with customers or staff members.

Easily Manage Contacts & Lists
Manage recipients effectively by sorting your contacts into different lists.

Schedule Your Texts in Advance
Write text messages days or months in advance and schedule them to be sent out automatically.
Conversation History
Search SMS chat logs to find the right message or export texts in popular Excel formats if needed.

Track Every Message with SMS Reports
Track the delivery status of your sent text messages and monitor delivery rates and quality.

Personalise Your Texts with Tags
Look more professional by merging custom fields and sending personalised texts to your customers.
---
Improve Your Business Processes by Sending Texts Online
Our online SMS solution will help you reach out to hundreds of contacts in a matter of seconds. Here are the main benefits of sending text messages online:
Send & Receive All Your Texts in One Place
The TextMagic online SMS app enables you to securely store all your messages, templates and contacts in one place.

Stop Wasting Precious Time
Sending SMS messages online through our web app means that you will never have to waste time responding to texts from your smart-phone again.
Communicate Effectively with Your Contacts
Our tags and templates will help you personalise text messages easily, thus increasing the effectiveness of your mobile campaign.

Streamline Team Efforts
A quick text message sent directly from the web app will make certain that tasks are no longer overlooked and crisis situations are resolved.
Frequently Asked Questions
Before you send a text online, you should take a look at these frequently asked questions:
How to send a text online with our web SMS app?
The TextMagic app makes it easy for you to send SMS messages online to customers, prospects and co-workers. Here's what you need to do to quickly send texts online:
Step #1: Register a TextMagic account or log in to your existing account and click on 'New Message'.
Step #2: Enter the recipient's number, or add it from your contact list.
Step #3: Select the number/sender ID you want the message to be delivered from. (Learn more about sender settings.)
Step #4: Type your message or use a template. Once the message is ready, click Send or Schedule message.
What web browsers are compatible with TextMagic's web app?
Our web app works on the latest browser versions of the following:
Internet Explorer
Mozilla Firefox
Google Chrome
Apple Safari
Check whether your browser needs an update.
How much does it cost to send a text online?
When you send a bulk message, your account balance is deducted in accordance with the following:
Text message length
Text message destination
Number of recipients
The TextMagic web app automatically calculates the cost of your message as it is edited. You can view it underneath the Message box, next to the number of characters and parts.
How do I schedule a text message?
By clicking on the Schedule message option in the bottom-left area of the screen, you will be able to schedule your online SMS message. You can set the text to be sent only once, on a predefined date, or to be sent repeatedly every hour, day, week, month or year.
How do I check the delivery status of my text messages?
After you send a text online, you can check its delivery status on the History page. All your sent and received texts are recorded here.
Can I send the same text online to multiple recipients?
Of course! You can send messages in bulk by adding multiple recipients manually, from your contacts, or by creating personalised lists. You can also use tags to customise your messages.
---
---