Enterprise SMS Solutions
Enterprise text messaging solutions are made to scale up with your business. Audit logs, role-based access, and SSO are just some of the features that help you grow.
Focused to Enterprises
TextMagic offers a range of enterprise SMS products designed specifically for corporations.
Over 15 Years Experience
Over the last 15 years TextMagic has helped hundreds of companies across the world to grow.
Corporate Security
Security is a top priority for us. We made all steps to safeguard the security of our customers.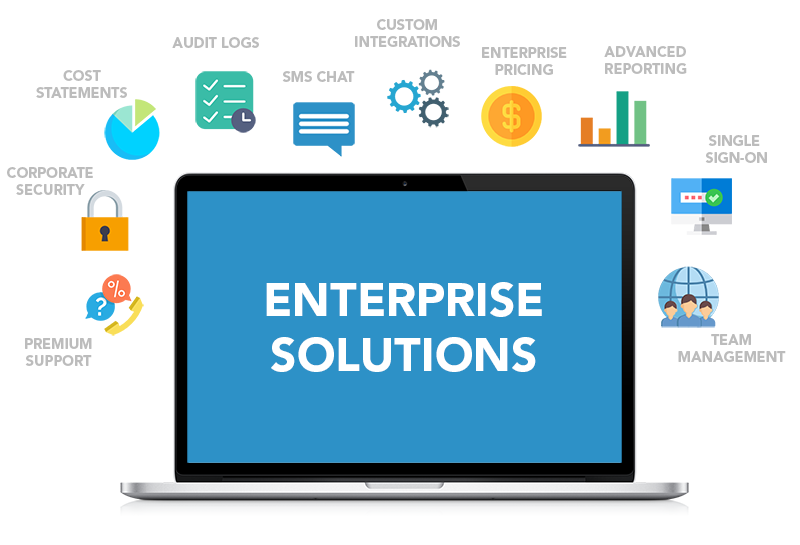 Enterprise SMS Platform Features
 We have produced a scalable business SMS solution that integrates into your existing workflows.
Enterprise SMS Solution Benefits
Here are just some of the ways how our enterprise SMS solutions can help you:
Easy Scalability
We make it easy for you to grow, as our business SMS platform is designed to handle any level of customer, employee, compliance, and continuity needs.
Corporate SMS Software
Tell us which text messaging features are the most important to your business, then we'll offer an enterprise package that's customized to your needs.
Simplified Employee Experience
You can give your  team members access only to the features they need, thus avoiding confusion and maximizing productivity of your large team.
Automated SMS Campaigns
TextMagic offers robust functionalities such as bulk SMS, merge tags, and automated SMS responses to help you simplify your SMS campaigns and communication.
Data Across All Departments
The advanced reporting and monitoring capability enables different departments within your enterprise to pull out the data they need and export it if needed.
Streamline Internal Operations
Our team-centric features give more power and independence to your team members, helping you to streamline your internal processes and flows.
---
TextMagic Enterprise SMS FAQs
Frequently asked questions about our enterprise SMS solutions:
---
---