Enterprise SMS Solutions
Enterprise text messaging solutions are made to scale up with your business. Audit logs, role-based access, and SSO are just some of the features that help you grow.
Focused to Enterprises
TextMagic offers a range of enterprise SMS products designed specifically for corporations.
Over 15 Years Experience
Over the last 15 years TextMagic has helped hundreds of companies across the world to grow.
Corporate Security
Security is a top priority for us. We made all steps to safeguard the security of our customers.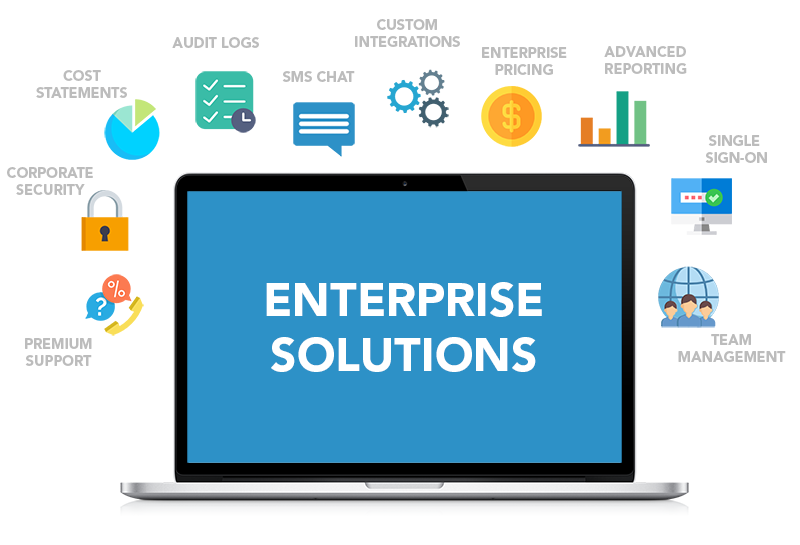 Enterprise SMS Platform Features
 We have produced a scalable business SMS solution that integrates into your existing workflows.
Our business SMS pricing plan can be customized to meet your needs. You can maximize product value and enjoy advanced functionality by requesting a custom quote.
Our detailed audit logs give you full control of all your business SMS activity. The logs are unchangeable and feature accurate time stamps, search filters, change logs and more.
We offer more than just export and API integrations. We have partnered with Zapier to provide advanced integrations. We are also open to developing new integrations.
You can manage your corporate text messaging collaboratively through our team management feature. This allows you to create, invite, and remove accounts, and change profiles.
You can set different permission levels, so that your team members only have access to the features they need. This avoids confusion and ensures you maintain a high level of business SMS security.
Quickly login to TextMagic using your secure identity provider credentials and easily give access to business text messaging to the unlimited amount of team members in your enterprise.
You can manage your corporate text messaging collaboratively through our team management feature. This allows you to create, invite, and remove accounts, and change profiles.
Upload from Excel file or copy from clipboard – it only takes one minute to get started with your text messaging campaign and setting up your team even if it consists of many team members.
Our enterprise SMS solution offers robust and highly customizable reporting and analytics, which can help all your departments: sales, development, marketing, finance, and more.
Enterprise SMS Solution Benefits
Here are just some of the ways how our enterprise SMS solutions can help you:
Easy Scalability
We make it easy for you to grow, as our business SMS platform is designed to handle any level of customer, employee, compliance, and continuity needs.
Simplified Employee Experience
You can give your  team members access only to the features they need, thus avoiding confusion and maximizing productivity of your large team.
Data Across All Departments
The advanced reporting and monitoring capability enables different departments within your enterprise to pull out the data they need and export it if needed.
Corporate SMS Software
Tell us which text messaging features are the most important to your business, then we'll offer an enterprise package that's customized to your needs.
Automated SMS Campaigns
TextMagic offers robust functionalities such as bulk SMS, merge tags, and automated SMS responses to help you simplify your SMS campaigns and communication.
Streamline Internal Operations
Our team-centric features give more power and independence to your team members, helping you to streamline your internal processes and flows.
---
TextMagic Enterprise SMS FAQs
Frequently asked questions about our enterprise SMS solutions:
My enterprise has unique needs – how will you meet them?
We know every business is unique, so we'll put together a bespoke plan that's tailored to your needs. All the enterprise SMS features listed above are highly customizable and can be adapted to suit your business.
Can I talk to you about SMS for businesses?
We'd love to share more information about our enterprise SMS solutions. Please contact us through our contact form, or call +44(0)845 299 4125 to talk to a sales representative.
How much detail do your audit logs provide?
Our audit logs feature key functionalities, such as:
Real-time syncing: all important events feature accurate time stamps from NTP synced servers.
Unchangeable: all audit log data is permanent. All activity is recorded and can only be read – not changed – by external APIs.
Other features: the audit log is searchable, filterable and has document log time and change logs.
Is business SMS a viable solution for my industry?
Almost certainly. A huge number of sectors have successfully used enterprise SMS solutions. At TextMagic we have corporate SMS partnerships with companies involved in retail, automotive, travel and tourism, delivery and logistics, entertainment and leisure, IT and hardware monitoring, customer services, events management, utilities, hotels, banks, hospitals, emergency services, and more. Check out our blog for strategies tailored for your industry.
How secure is your platform?
Security is a major concern for us and one of the key foundations of our corporate SMS solutions. Our web portal is secured with https and all our data is stored in restricted data centers across Europe. We also mitigate security risks with multifactor SSO authentication, security monitoring, constant back-ups and 24/7 support. For more information please read our security page.
---
---