SMS Distribution Lists
All emails sent to your SMS distribution list email addresses will be immediately forwarded as text messages to all mobile phone numbers saved in the list.
Send Alerts & Notifications
Reach your mobile workforce or customers wherever they are.
Send to Large Groups
Forward your emails as texts to just one or even hundreds of people.
Add & Remove Recipients
Add mobile phone numbers in bulk or just one by one.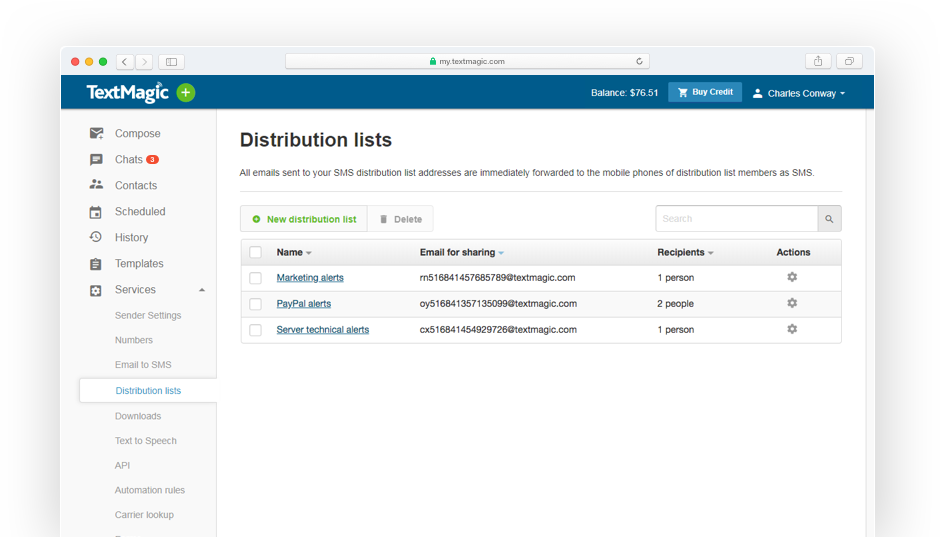 We found that TextMagic´s text messaging service is a valuable tool to increase our donation income.

We are a small company and using TextMagic makes a huge difference. We recommend it.

Works Like a Regular Email Distribution List
For example, your server monitoring system sends an email to your SMS distribution list address and the contents of that email message are then forwarded as a text message to all your SMS distribution list recipients.
Third party application sends out a normal email
Email is sent to your SMS distribution list email
Email contents will be instantly forwarded as texts
---
Never Miss Another Alert or Notification
Send text message alerts with unlimited recipients spread across multiple distribution lists.
Hardware Monitoring Alerts
When a server crashes at 2 a.m. and an email alert is unlikely to get read, forward it as a text message.
Business-Critical Emails
Get a text notification every time you receive an important email that needs special attention.
Team & Staff Alerts
Quickly send emergency text alerts to an entire team from any email app using SMS distribution lists.
The Benefits of Using SMS Distribution Lists
Below are the main benefits of SMS distribution lists:
Save time
As we already mentioned, using distribution lists saves you the effort of having to manually type in each contact. This is a huge time saver.
Send a bulk text via email
SMS distribution lists will enable you to send targeted texts to different groups of contacts. Segment your marketing and personalise messages.
Receive SMS notifications
You no longer need to check your emails. You will receive a text notification from a third party via a distribution list.
Frequently Asked Questions
---
---