SMS Distribution Lists
All emails sent to your SMS distribution list email addresses will be immediately forwarded as text messages to all mobile phone numbers saved in the list.
Send Alerts & Notifications
Reach your mobile workforce or customers wherever they are.
Send to Large Groups
Forward your emails as texts to just one or even hundreds of people.
Add & Remove Recipients
Add mobile phone numbers in bulk or just one by one.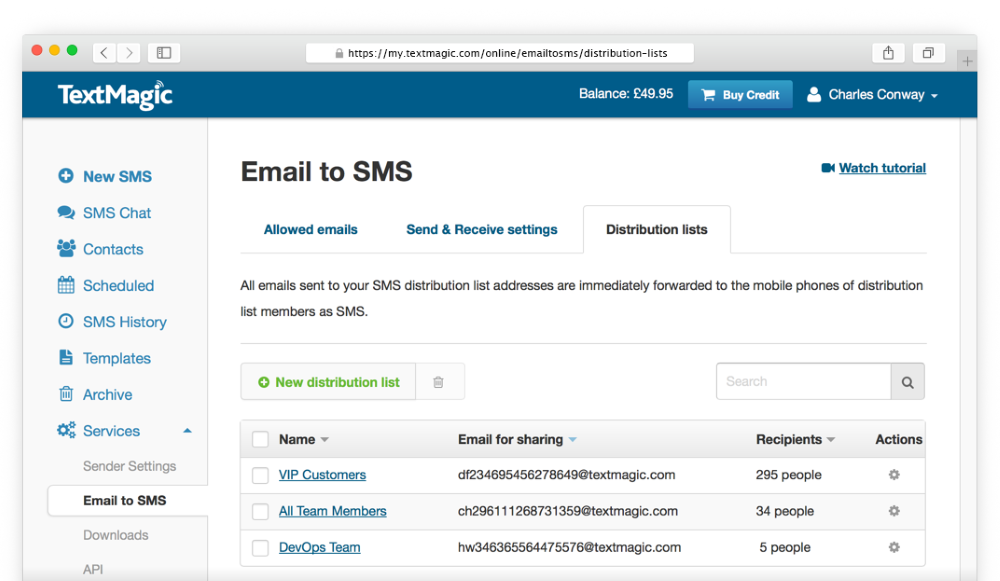 We found that TextMagic´s text messaging service is a valuable tool to increase our donation income.

We are a small company and using TextMagic makes a huge difference. We recommend it.

Works Like a Regular Email Distribution List
For example, your server monitoring system sends an email to your SMS distribution list address and the contents of that email message are then forwarded as a text message to all your SMS distribution list recipients.
Third party application sends out a normal email
Email is sent to your SMS distribution list email
Email contents will be instantly forwarded as texts
---
Never Miss Another Alert or Notification
Send text message alerts with unlimited recipients spread across multiple distribution lists.
Hardware Monitoring Alerts
When a server crashes at 2 a.m. and an email alert is unlikely to get read, forward it as a text message.
Business-Critical Emails
Get a text notification every time you receive an important email that needs special attention.
Team & Staff Alerts
Quickly send emergency text alerts to an entire team from any email app using SMS distribution lists.
---
The Benefits of Using SMS Distribution Lists
Below are the main benefits of SMS distribution lists:
Save time
As we already mentioned, using distribution lists saves you the effort of having to manually type in each contact. This is a huge time saver.
Send a bulk text via email
SMS distribution lists will enable you to send targeted texts to different groups of contacts. Segment your marketing and personalise messages.
Receive SMS notifications
You no longer need to check your emails. You will receive a text notification from a third party via a distribution list.
Frequently Asked Questions
How to create & use SMS distribution lists?
SMS distribution lists make it easier for you to send bulk SMS to multiple contacts at the same time. Instead of manually sending the same text to your contacts, you can forward the message to a distribution list, thus saving precious time.
Step #1: Create a new distribution list.
Step #2: Add SMS recipients to your SMS distribution list by manually inserting numbers or contacts or by choosing from your pre-defined lists or recently sent texts.
Step #3: Select the information that you want to include in the SMS content, maximum length and sender information. Once the list is complete, click Continue.
Step #4: Now set up forwarding in your email application.
Step #5: You can also send the same SMS to your distribution list using TextMagic's email to SMS service. Simply copy and paste the dedicated email every time you create a new text message in your email service.
Is there a limit to how many SMS distribution lists I can create?
No. You can create as many distribution lists as you need.
How can I delete a distribution list?
Simply click on the wheel icon in the Services -> Distribution Lists tab and click Delete.
Can I check the delivery status of texts sent to contacts in my distribution lists?
Yes! The text messages will be displayed in your dashboard, on the History page. The latter displays the sending status as a percentage. For example, if your text was sent to all the members of your distribution list, you will see a '100% DELIVERED' report.
For more details on delivery status, simply click on the report. Delivered, accepted, failed and rejected texts will be displayed in corresponding tabs.
Where can I check the cost of sending texts to my distribution list?
Navigate to the History tab from the TextMagic dashboard and click on the Status report. You can view the total cost in the Summary tab. You can also check out the cost of each SMS from the Delivered, Accepted, Failed and Rejected tabs.
---
---