Why do people opt in to text messaging campaigns? A staggering 57.4% of them are looking to save money. But that is just one of their many reasons for doing so. This article will cover everything you need to know about SMS opt-in and opt-out categories, best practices, and regulations, so that you can devise fully-compliant marketing campaigns.
1. What does "opt" mean in text messaging?
In text messaging, to opt can mean either of two things: that a client has chosen to receive regular texts from a chosen company (and so has opted in), or, having previously opted in, has now chosen to stop receiving their texts (and so has opted out).
SMS opt-in definition
In SMS marketing, clients that "opt in" provide their phone numbers in order to receive exclusive offers from companies they are interested in. This is one way for companies to improve sales and brand awareness, and for clients stay up to date with a company's latest promotions, events, numbers, etc.
SMS opt-out definition
Opt-out is the reverse of opt-in: it means unsubscribing from a company's marketing campaigns via SMS. To unsubscribe, clients usually text a phrase such as QUIT, OPT-OUT, UNSUBSCRIBE, CANCEL, or STOP. The SMS STOP command feature makes bulk SMS opt-out easy, enabling you to maintain self-cleaning subscriber lists.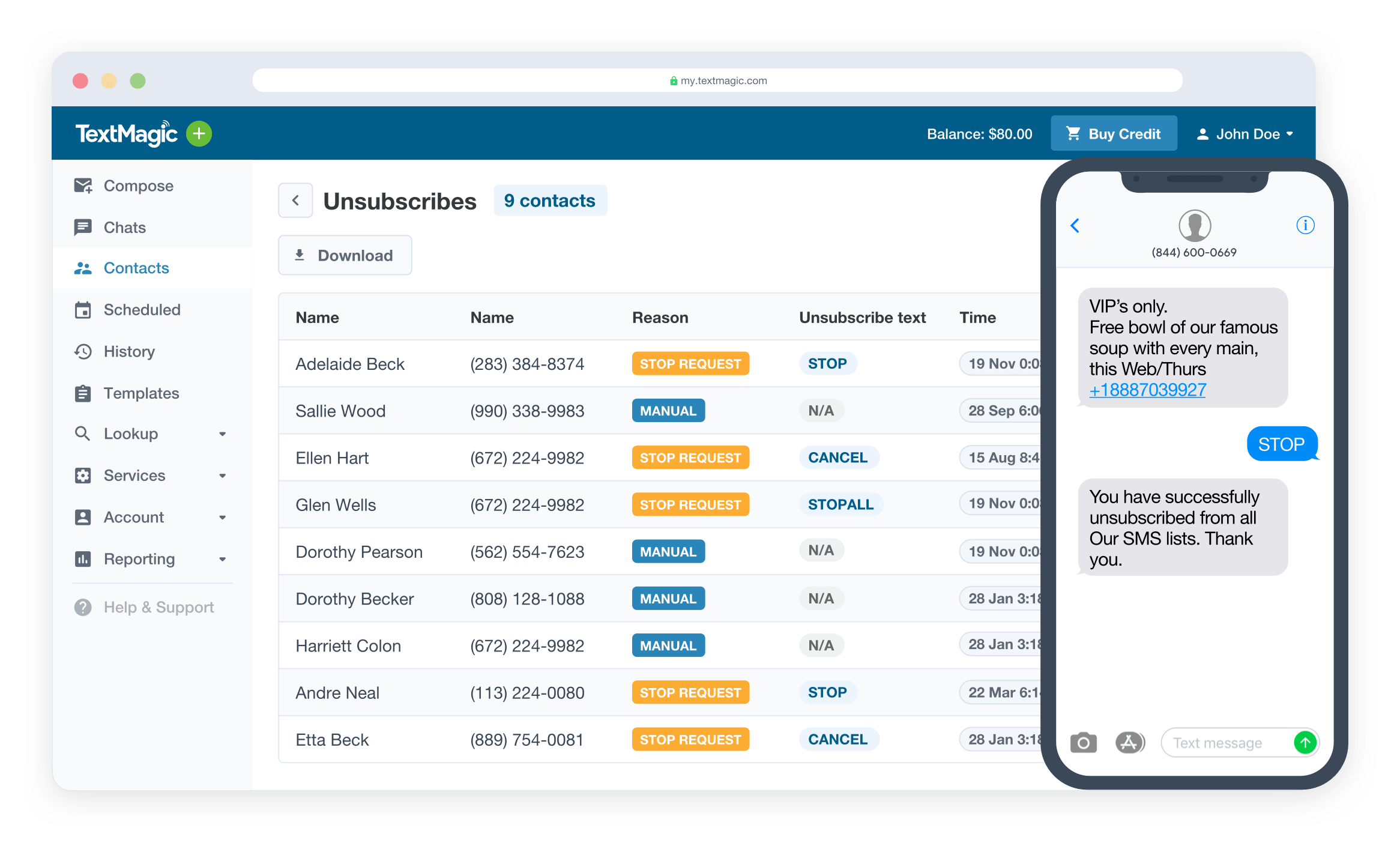 2. SMS opt-in categories
Next let's see how many opt-in categories there are, and what sets them apart.
Double SMS opt-in
In SMS marketing, a double opt-in is when a company asks customers to reply "YES" via text to confirm that they want to be included in its future marketing campaigns. This is not a standard practice required by texting laws , but it is recommended. This is how to gain subscribers that are genuinely interested in your product and won't report you for spamming them.
Soft SMS opt-in
The soft opt-in is an exemption under the Privacy and Electronic Communications Regulations. It states that you can send marketing messages using the customer data you collected when an individual bought your product or showed interest in your products or services. It mainly targets customers who have already established a relationship with your brand. It is, however, highly ambiguous, so it is best to ask for consent before sending any client communication.
Simple SMS opt-in
With a simple opt-in, also called a single opt-in, you need no confirmation from your client before you start sending marketing communications. The disadvantage of this opt-in strategy is that it leaves no room for error. People might accidentally give incorrect phone numbers, without being given a chance to correct their mistake. This method works best if you are pressed for time and need a large contact list right away, but the list might be of poor quality.
Medical business opt-in (HIPAA)
HIPAA stands for the Health Insurance Portability and Accountability Act , and its main purpose is to ensure the privacy and security of a patient's health records. Here is an example of optimal SMS opt-in practices:
3. Best practices for SMS opt-in
Always ask for consent
Every successful SMS marketing campaign starts with full legal compliance. Following best opt-in practices can boost your response rates and maximize engagement. It's not merely a tedious administrative task you want out of your way. Getting consent protects you against potential lawsuits, extra fees, or a poor company image.
Enhance the value you are offering
If you want customers to stay engaged, it's best to offer some type of educational content. Include links to tutorials on how to make the most of your product, or links to live webinars. One great tip is to add a CTA in your text, which will make customers interact with your brand. For example:
Keep messages short and to the point
Tell clients why you're asking for their consent (marketing purposes, updates, etc.). Don't go overboard by listing all the advantages your company has. You want to reel them in, not make an immediate sale.
Integrate opt-out and help options
The final choice should always be in your clients' hands. Include an opt-out line at the end of each message, such as: "Send STOP to unsubscribe."
You should also provide various contact options, in case customers need help with your product or simply want more details. Add a phone number, email address, or WhatsApp number at the end of your text.
Fix one problem at a time
Don't give too much information in your SMS opt-in messages. Your first message should include one incentive, and nothing more. Clients often view texts with multiple promotions as too good to be true, and might ignore your message altogether. Focus on one selling point. Save the others for later campaigns.
4. Examples of innovative SMS opt-in strategies
Text-to-win campaigns
This is a basic, effective way to get more opt-ins via SMS. Clients simply text a code to enter a contest, after which they receive an SMS in which you ask for consent before sending future campaigns. It's a great incentive because it's similar to offering coupons via SMS. You have to pick the right prize to get subscribers hooked; your potential customers take care of the rest.
Free coupons
Nothing engages an audience better than a freebie. This is why coupons work best when you need to grab your audience's attention. Offer your potential clients a discount, a free trial period, or free product samples, depending on the type of product you sell.
Use QR codes to spark interest
People on the go don't want to subscribe using codes. They want an easier, faster way to do it, and QR codes are ideal for them. They are not only easy to use; they're a novelty.
QR codes also send a message: people who use them are young, like to stand out, and are always up-to-date with the latest trends. Clients simply scan the code and are instantly added to a list of subscribers.
5. How to set up SMS opt-in and opt-out with TextMagic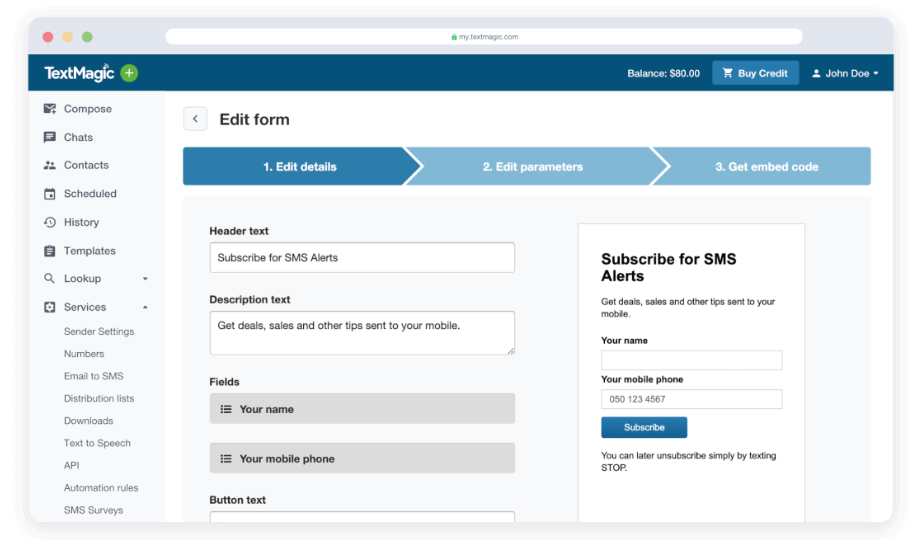 You can easily place a TextMagic form on your website to grow your list of mobile subscribers. We provide fully customizable subscribe and click-to-text forms.
To create a new form, log in to your TextMagic account or sign up for a free trial. Go to the Form tab under the Services menu. Follow the step-by-step instructions to configure your first form in minutes. Then copy the code on your website to activate it.
Another option is to create an automation rule, so that people opt in by sending a designated keyword to your dedicated number. Remember to include the opt-out option at the end of any communication.
6. SMS opt-in and opt-out legislation
The Telephone Consumer Protection Act (TCPA) regulates SMS opt-in and opt-out practices. It was enacted in 1991 to put a stop to annoying telemarketing calls. It stipulates that businesses must get written consent from their clients before sending them texts of any kind.
The TCPA states that you must cover the following points before sending marketing messages to your clients and potential clients:
Offer Opt-out and Help options;
Mention how often you will send texts;
Give your company's name;
Receive their explicit consent;
Be transparent about possible carrier costs.
If you don't comply with these rules, you risk fines of up to $1,500 per text and even lawsuits. Make sure you do everything "by the book" before sending your text communications.
Conclusion
Before establishing rewarding relationships with your clients, you must know the boundaries of company–client communication. SMS opt-in and opt-out regulations are the foundation of your future marketing campaigns and your guarantee of compliance.
---