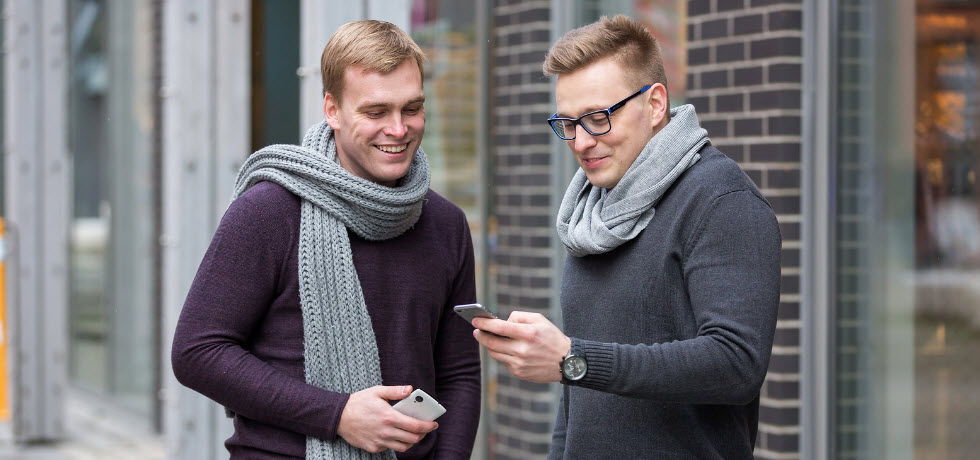 Nowadays, staying connected with clients requires more than just traditional emails or phone calls. SMS outreach presents a dynamic and direct way to engage with your audience. Offering immediacy and personal touch, text messages have transformed client interactions, ensuring businesses remain at the forefront of their clients' minds.
On top of all that, you're pretty much guaranteed to reach your customer at any time, since 65% of US smartphone users check their phones within 15 minutes of waking up and 64% check their phones within the last 15 minutes before going to bed. Of course, best practice texting rules suggest that you stick to business hours to send your texts.
Dive in as we explore how to harness the power of SMS to foster stronger client relationships.
Advantages of SMS for client outreach
Here's a closer look at why SMS could be your game-changer for client engagement:
1. Speed
Messages are delivered within seconds, making it an ideal choice for time-sensitive communication. This rapid delivery ensures that important information or updates reach clients promptly. For instance, a retail store can send out flash sale notifications, and clients will receive them instantly, maximizing the chances of quick engagement and purchases.
2. Direct engagement
Messages are delivered directly to the client's mobile device, avoiding the clutter often associated with email inboxes or social media feeds. This directness is particularly advantageous for critical updates, appointment reminders, or exclusive offers, as clients are more likely to notice and respond to a text message.
3. High open rates
SMS boasts exceptionally high open rates compared to other forms of digital communication. SMS messages consistently achieve an open rate exceeding 90%, whereas email open rates frequently remain at approximately 20%. This means that clients are more likely to read and engage with SMS messages, making it a valuable tool for marketing campaigns. For example, a restaurant can send out SMS promotions for a special event, confident that a significant portion of their client base will see the message.
4. Versatility
SMS is a highly adaptable tool that can fit numerous communication needs. It's not just limited to promotional campaigns; businesses can utilize it for appointment reminders, flash sales, alerts, and more. SMS can cater to various outreach purposes.
5. Cost-effectiveness
SMS campaigns can be more budget-friendly than traditional advertising or even some digital ad campaigns. When you factor in its high open and response rates, the return on investment (ROI) can be substantial.
Industries mastering SMS outreach
Healthcare

providers have adopted SMS for various

outreach

purposes. Appointment reminders, prescription refill notifications, and test result alerts are all effectively delivered via SMS. Patients receive timely reminders, improving appointment attendance rates and medication adherence.

Retailers and e-commerce businesses

leverage SMS for marketing campaigns and order updates. For instance, a clothing retailer might send SMS messages about new arrivals or limited-time discounts. E-commerce sites use SMS to provide order confirmation, shipping updates, and delivery notifications.

Hospitality and travel

: Hotels, airlines, and travel agencies have integrated SMS into their customer service and

marketing strategies

. They send booking confirmations, flight updates, and hotel check-in instructions via SMS.

Banks and financial institutions

utilize SMS for account notifications, transaction alerts, and fraud alerts. SMS is a secure way to keep clients informed about their financial activities, and clients appreciate the real-time updates. In case of a suspicious transaction, clients can take immediate action, minimizing potential losses.
How to build a robust SMS client database
Having delved into the potential of SMS outreach as a powerful engagement tool, the foundation of a successful campaign lies in building a robust SMS client database. A well-curated list ensures that your messages reach the right audience, amplifying the impact of your outreach efforts.
Next, we'll walk you through the essentials of constructing a reliable and effective SMS client database that serves as the backbone for your outreach initiatives.
Strategies for collecting and maintaining client phone numbers
Collect phone numbers at physical locations

, such as stores or events, by having clients fill out forms or register using tablets or mobile devices.
Add a phone number field to your

website's registration and checkout forms

. Make it optional but incentivize clients to provide it by offering exclusive deals or updates.
Promote SMS sign-ups on your

social media profiles

and provide a link to a sign-up page. Share the benefits of subscribing, such as discounts or early access to promotions.
Host

online contests or giveaways

that require participants to enter with their phone numbers. Mention that they'll receive updates or results via SMS.
Encourage clients to

join loyalty programs

that require SMS registration for participation. Reward them with points, discounts, or special offers.
Send an SMS confirmation after a client makes a purchase and include a message asking if they'd like to receive

future updates via SMS

. Make

opting-in

easy and clear.
Implement a

referral program

where clients can refer friends and family. Reward both the referrer and the referred person with incentives, encouraging more people to join your SMS list.
During

customer service interactions

, ask if clients would like to receive updates or notifications via SMS. Record their consent and update their preferences accordingly.
How to ensure consent and compliance with regulatory requirements
Use a double opt-in process where clients confirm their subscription after providing their phone number.
Clearly state your SMS marketing practices in your

privacy policy

, including how often clients can expect to receive messages and what types of content they will receive.
Familiarize yourself with

relevant SMS marketing regulations

in your region, such as the

Telephone Consumer Protection Act

(TCPA) in the United States or the

General Data Protection Regulation

(GDPR) in the European Union. Ensure full compliance with these regulations.
Make it easy for clients to opt-out of SMS messages at any time by including

clear opt-out instructions

in every message. Honor opt-out requests promptly to maintain compliance.
Tools and platforms for efficient SMS contact list management
Use reputable

SMS marketing platforms

that offer features for managing contact lists, segmenting subscribers, and automating campaigns.
Segment your SMS list

based on client preferences, demographics, or purchase history. This allows you to send targeted and relevant messages, improving engagement.
Set up

automated campaigns for birthday wishes, abandoned cart reminders, or post-purchase follow-ups. Automation streamlines SMS marketing and ensures timely messages.
Conduct

regular audits

of your SMS database to remove inactive or unsubscribed contacts. This helps maintain a clean and engaged subscriber list.
How to craft compelling text messages
After establishing a strong SMS client database as part of your outreach strategy, the next pivotal step is the crafting of the messages themselves. The power of SMS lies not just in its reach, but in the content you convey. A compelling message can make the difference between an engaged client and a missed opportunity.
In this section, we'll guide you through some useful guidelines for creating impactful text messages that resonate and drive action.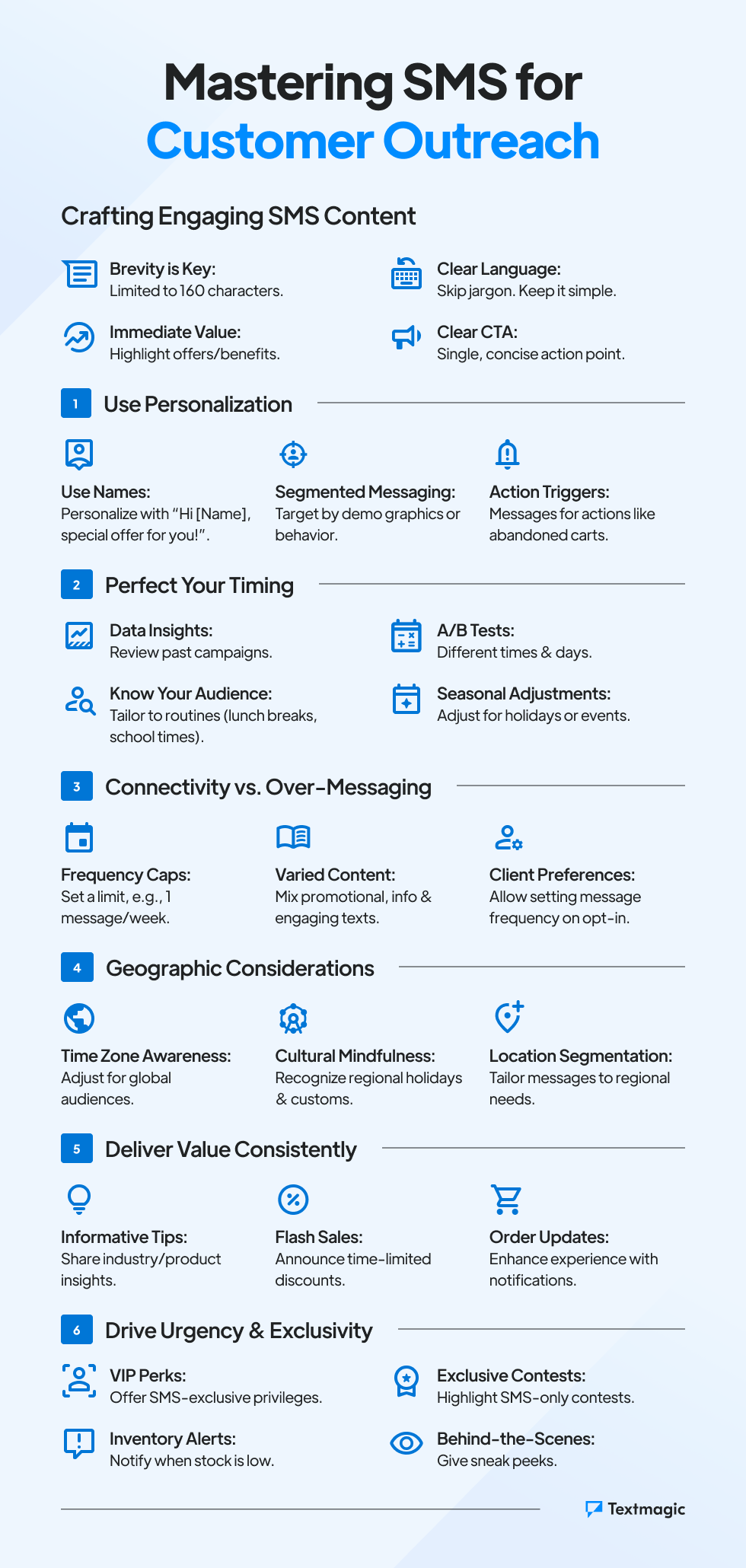 Tips for creating concise and engaging SMS content
SMS messages are limited to 160 characters, so get to the point quickly. Aim for brevity and clarity.
Avoid jargon or complex sentences. Use simple, everyday language that everyone can understand.
Make sure the message communicates the immediate value to the recipient. What's in it for them? Be explicit about benefits or offers.
Focus on one specific action you want the recipient to take, whether it's making a purchase, visiting a website, or attending an event. Make the CTA concise and actionable.
Leverage personalization and segmentation
Use the recipient's name

when appropriate to make the message feel more personal. For example, "Hi [Name], we have a special offer for you!"
Divide your SMS list into segments

based on demographics, past behavior, or preferences. Tailor your messages to each segment's interests and needs. For instance, you can send different offers to new customers and loyal customers.
Send SMS messages

triggered by specific actions or behaviors

, such as abandoned carts or previous purchases.
Determine optimal times for sending SMS messages
Review past SMS campaigns to

identify patterns

in terms of open rates, click-through rates, and conversion rates at different times of the day and days of the week. This historical data can provide valuable insights into when your audience is most active and responsive.
Conduct

A/B tests

by sending messages at different times and comparing the results. Test various times of day and days of the week to determine when your audience is most engaged.
Think about the characteristics of your target audience. Are they predominantly professionals who might be more responsive during lunch breaks or after work? Are they parents who might check their phones during school drop-offs and pickups? Tailor your timing to their

daily routines

.
Be aware of seasonal factors that can impact the best times to send SMS messages. For example, holiday seasons or specific events may warrant adjustments to your timing strategy.
Balance connectivity without over-messaging
Implement

frequency caps

to ensure you don't overwhelm your clients with too many messages. Decide on a reasonable limit for how often you'll send SMS messages to each client, such as no more than one message per week or two messages per month.
Use segmentation

to send more targeted and relevant messages. Different segments of your audience may have different tolerance levels for message frequency. For example, loyal customers may be more receptive to frequent updates than new leads.
Allow clients to

set their message frequency

preferences when they opt in. This way, you can align your messaging with their expectations.
Mix up

the types of messages you send. Instead of bombarding clients with sales pitches, send a mix of promotional, informational, and engaging content. This variety can help maintain interest and reduce message fatigue.
Consider time zones and client preferences
If your audience spans

multiple time zones

, schedule your messages to be sent at times that are convenient for recipients in each time zone.
Occasionally survey your clients to understand their

preferred communication frequency

and timing. Ask for their feedback and make adjustments.
Segment your SMS

list by location

. This allows you to tailor messages and timing to regional preferences.
If you have an international audience, be mindful of

cultural differences and holidays

that may affect message timing and content.
Provide clients with valuable information, promotions, and updates
Share

informative content

related to your industry or products. For example, if you run a fitness app, send tips on nutrition or exercise routines.
Announce

surprise flash sales

with significant discounts. Keep the duration short to build anticipation and drive quick engagement.
Keep clients informed about their orders with

shipping updates

, delivery notifications, and order confirmation messages. This improves the overall customer experience.
Create a sense of exclusivity and urgency to drive client engagement
Offer an

SMS-based VIP program

with special perks for subscribers, such as early access to sales or exclusive product releases.
Provide subscribers with exclusive

sneak peeks

of upcoming products or behind-the-scenes glimpses. This builds excitement and a sense of being an insider.
Notify clients when popular items are running low in stock,

creating urgency

for them to make a purchase.
Host SMS-exclusive contests or

giveaways

with valuable prizes. Encourage participation by emphasizing the exclusivity of the opportunity.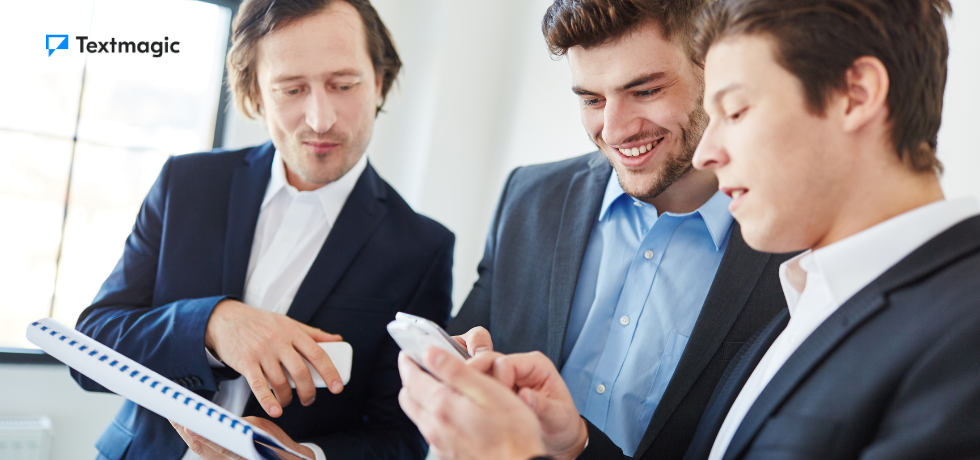 Managing client responses and engagement
The ability to adeptly manage client responses and engagement is essential to SMS outreach. It's not just about sending messages—it's about fostering meaningful interactions. The way you handle replies can make or break your campaign's success.
Efficiently handle client responses and inquiries
Use tags or labels

to categorize client responses based on the nature of their inquiries. Prioritize urgent or important messages to ensure they are addressed first.
Create a library of Frequently asked questions (FAQs) and pre-written responses for common queries. This can save time and ensure consistent messaging.
If your SMS marketing generates a significant volume of inquiries, consider having

dedicated support teams

or personnel trained to handle SMS responses effectively.
Use automation tools for managing SMS interactions
Implement

auto-responses

for common inquiries or greetings. For instance, you can set up an automated message that acknowledges receipt of a client's message and provides an estimated response time.
Integrate

chatbots into your SMS system to handle routine queries and provide instant responses. Chatbots can be programmed to answer common questions and gather initial information before transferring to a human agent if needed.
Set up

keyword triggers

that automatically respond or route inquiries based on specific keywords in the client's message. For example, if a client texts "order status," the system can send an automated response with their order status.
Use

automated appointment scheduling tools

that allow clients to book appointments or services via SMS. These tools can confirm appointments, send reminders, and handle rescheduling requests.
Encourage two-way communication and feedback to enhance engagement
Periodically send

SMS surveys or feedback requests

to clients to gather insights on their experience and preferences.

Create SMS campaigns that encourage clients to respond, such as polls, quizzes, or interactive contests

.

Acknowledge and thank clients for their feedback, whether it's positive or negative.
From texts to triumphs: Business SMS case studies
1. Uber
Uber utilizes SMS for various purposes, but one of the most significant is providing real-time updates to both drivers and riders. When a user requests a ride, Uber sends an SMS with important information such as the driver's name, car model, and estimated time of arrival. Throughout the journey, SMS updates are sent to keep users informed about the driver's progress and notify them when the driver has arrived.
How to implement this into your own business:
Implement a system that sends real-time updates to your customers through SMS. This can include order status, delivery tracking, appointment reminders, or any relevant information.
Personalize your SMS messages by addressing the recipient by their name and including specific details related to their interaction with your service.
Ensure that customers have the option to opt in or out of SMS notifications. Respecting their preferences is essential.
Include clear Call-to-Action (CTA) in your messages. For example, in Uber's case, they include a "Reply STOP to unsubscribe" option at the end of their messages.
2. Airbnb
Airbnb utilizes SMS to enhance the booking and stay experience for both hosts and guests. They send SMS notifications for booking confirmations, payment reminders, check-in instructions, and feedback requests. These messages are critical for ensuring a smooth and pleasant experience for users.
How to implement this into your own business:
Send an SMS immediately after a booking is made to confirm the reservation and provide essential details.
Send SMS messages with detailed check-in instructions, including directions, lockbox codes, or contact information for hosts.
After a guest's stay, send an SMS asking for feedback and reviews. Make it easy for customers to provide their input by including a link in the SMS.
Provide a contact number in case customers need assistance during their stay. Ensure that SMS messages are monitored, and responses are prompt.
Measuring SMS outreach success: Key Performance Indicators
When it comes to SMS outreach, sending messages and hoping for the best is not enough. Businesses need to monitor specific Key Performance Indicators (KPIs). These metrics not only gauge the effectiveness of your campaigns but also provide insights to refine and optimize future outreach efforts.
Below, we've listed the pivotal KPIs you should track to assess the effectiveness of your SMS outreach.
Open rates

measure the percentage of recipients who open your SMS message. A

higher open rate

typically indicates that your message was compelling enough to catch the recipient's attention.
CTR (Click-Through Rates)

measure the percentage of recipients who not only opened your SMS but also clicked on any links or calls to action (CTAs) within the message. It indicates how engaging your content is.
Conversion rates

track the percentage of recipients who take the desired action after clicking on your SMS link or CTA. This could be making a purchase, signing up for a newsletter, or any other goal you set for your campaign.
Response rates

show how many recipients replied to your SMS, which can be particularly valuable for two-way communication campaigns.
Unsubscribe rates

measure how many recipients opted out of receiving further SMS messages from you. A high unsubscribe rate might indicate issues with content, frequency, or targeting.
If your SMS outreach is sales-focused, tracking the

revenue generated

from your campaigns is a crucial KPI.
Leveraging data insights to optimize future SMS outreach efforts
Adjust the frequency of your SMS outreach based on unsubscribe rates and recipient feedback. Finding the right balance between staying in touch and not overwhelming your audience is essential.
Integrate SMS outreach with other marketing channels like email, social media, or your website. Cross-channel insights can help you create a more cohesive and effective marketing strategy.
Conclusion
As businesses adapt to evolving consumer preferences, incorporating SMS into their outreach strategies can help them stay competitive and meet the ever-changing needs of their clients.
Despite the emergence of new communication channels and technologies, SMS remains a reliable and effective way to connect with customers. Its direct and immediate nature makes it a valuable asset in providing timely information, personalizing interactions, and maintaining customer satisfaction.
Boost your SMS outreach with Textmagic!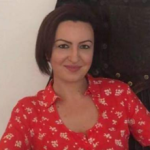 Raluca Mocanu
Raluca Mocanu is a copywriter at Textmagic and began her content writing journey in 2016. She loves traveling, reading, on-stage drama and recently discovered a deep interest in psychology.
Get the latest news from us
Subscribe to our newsletter to get all updates to your inbox.
Related articles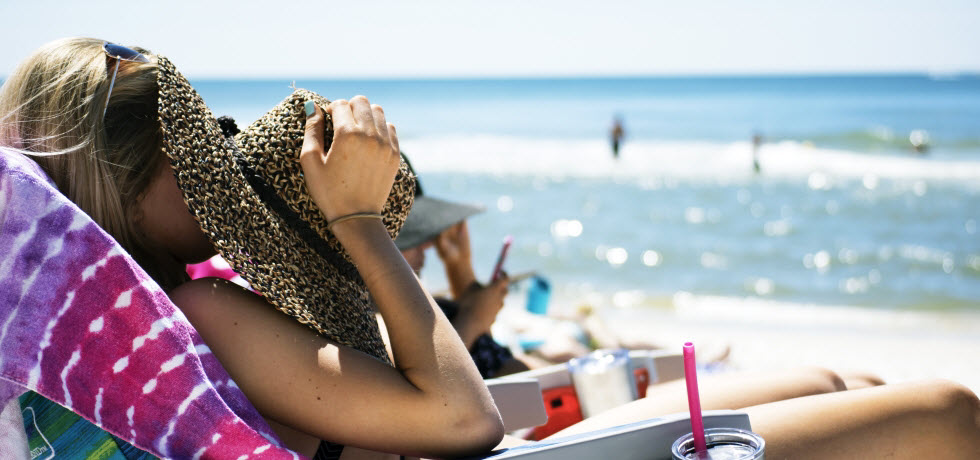 ---
---
---
---
---