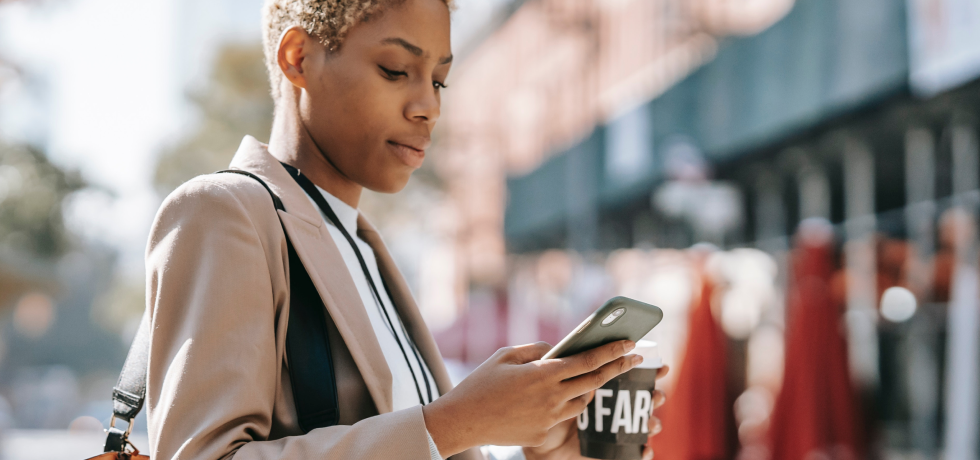 In today's rapidly evolving business landscape, sales teams are always on the lookout for innovative strategies to maximize their deal-closing potential.
With text messages boasting open rates as high as 98%, it's no wonder that more and more sales teams are turning to this powerful tool to boost their sales.
In this article, we'll explore how you can use text messages to close more deals and take your sales game to the next level.
What does SMS for sales mean?
By SMS sales, we refer to the use of text messages as a tool for selling products or services. It involves sending promotional messages or offers to potential customers via SMS, with the goal of encouraging them to make a purchase or take some other desired action.
With people spending more time on their phones than ever before, SMS provides a direct and highly effective way to reach potential customers where they are already spending their time.
Moreover, SMS sales can be highly targeted, allowing businesses to reach specific groups of customers based on factors such as location, interests, or past purchase history. This level of personalization can help increase engagement and conversion rates, as customers are more likely to respond positively to messages that are tailored to their needs and interests.
Why SMS is a game-changer for sales teams
Traditional sales strategies often rely on face-to-face conversations, phone calls, and emails to connect with customers. While these channels have their merits, they may not always resonate with all individuals, especially considering demographics and personal preferences.
However, with the emergence of SMS marketing, sales teams can revolutionize their approach and effectively engage with a broader audience. Text messages offer a unique opportunity to reach those who may not prefer in-person interactions or feel uncomfortable with the pressure of a phone call.
By leveraging sales SMS, businesses can tap into a new avenue of communication that is convenient, non-intrusive, and tailored to meet the preferences of modern consumers.
The advantages of using SMS for sales and customer engagement are numerous, including:
With high open rates and quick response times, SMS provides a highly engaging channel for sales teams to communicate with prospects and nurture leads.
SMS allows sales teams to personalize their messages to individual prospects, using their name and referencing past conversations or purchases.
Compared to other forms of marketing, such as print or television, SMS is a highly cost-effective channel for sales teams. With low set-up costs and no ongoing fees, SMS provides a high return on investment and can help sales teams reach their targets without breaking the bank.
SMS allows businesses to reach customers in a way that feels natural and convenient without interrupting their day or requiring them to take time out of their busy schedules to engage with the brand.
Due to quick response times and the ability to reach people on the go, SMS provides a timely and relevant way for businesses to communicate with customers.
Recent studies found out that incorporating SMS into a business's sales process resulted in a 45% increase in response rates and a 20% increase in conversion rates. This demonstrates the effectiveness of SMS as a sales tool and the positive impact it can have on any type of business.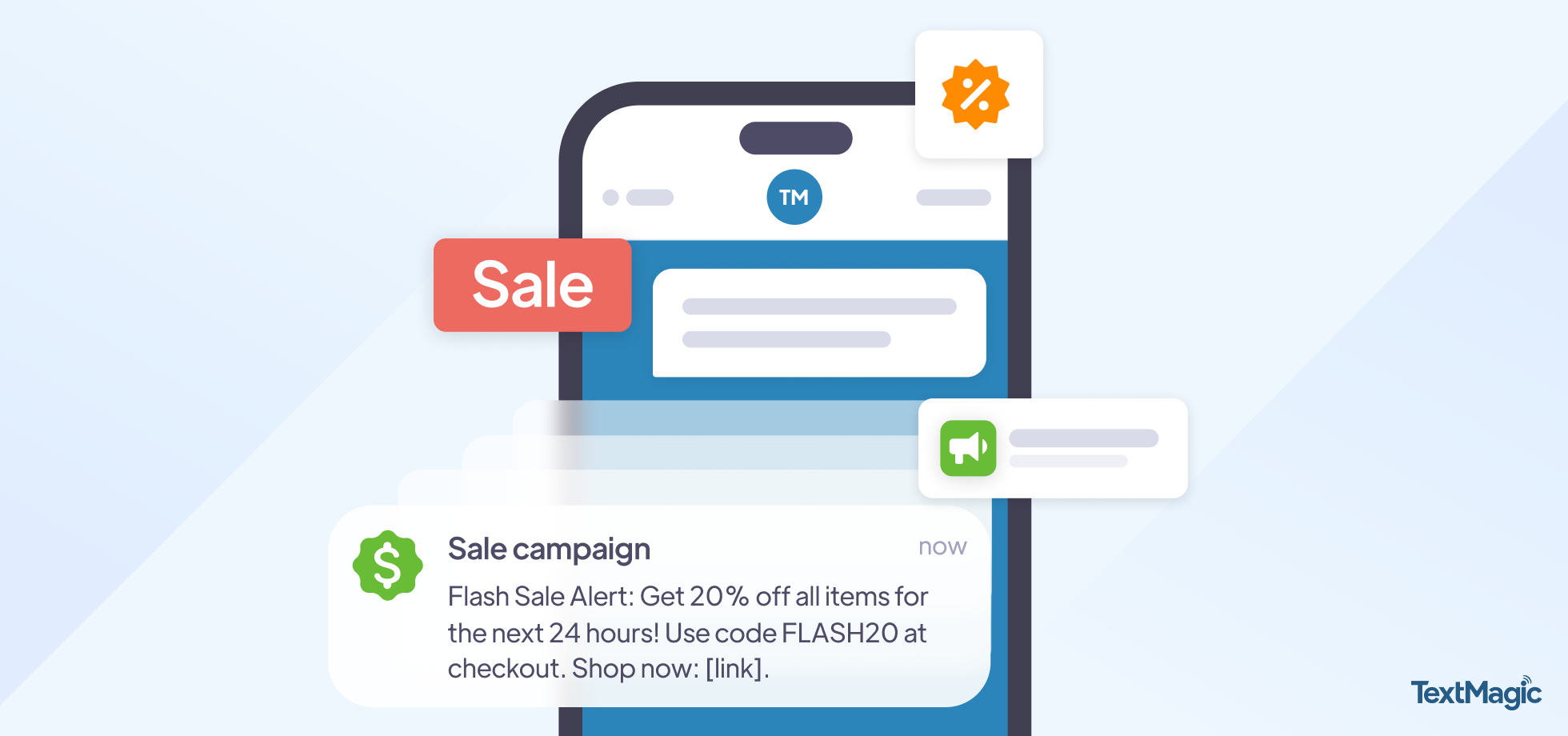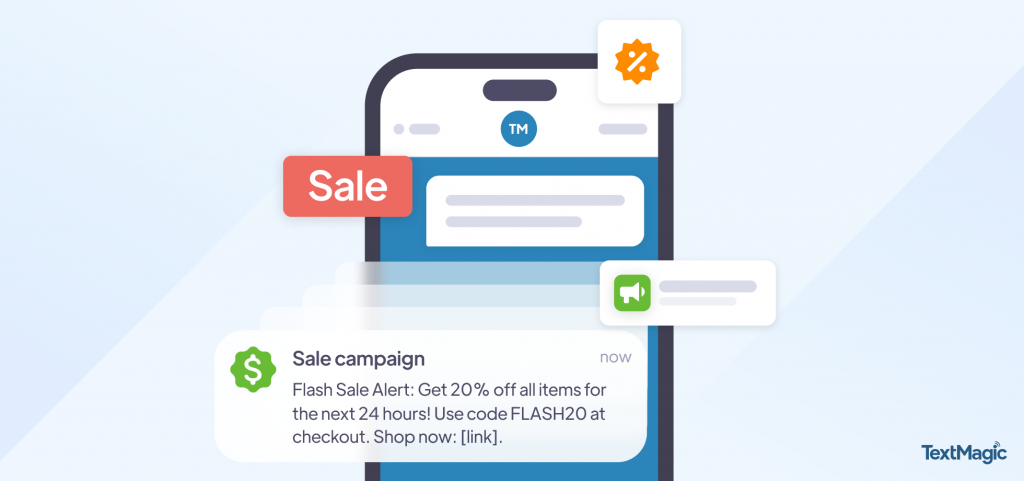 How to use SMS in your sales process
SMS can be a powerful tool for sales teams to connect with customers and close deals. However, it's important to approach SMS marketing with care to ensure that you stay compliant with regulations and protect customer privacy. Here are some key considerations for using SMS in your sales process:
Before you start sending SMS messages to customers, it's important to obtain their explicit consent. This can be done through a clear opt-in process by which customers provide their phone numbers and agree to receive text messages from your business.
SMS marketing is subject to a range of regulations, including the Telephone Consumer Protection Act (TCPA) in the United States and the General Data Protection Regulation (GDPR) in the European Union. Be sure to understand the rules and requirements that apply to your business and ensure that you're following them.
SMS messages can contain sensitive information, so it's important to take steps to protect customer privacy. Use secure messaging platforms, encrypt data, and ensure that customer records are not shared or sold to third parties without their consent.
To ensure that your SMS campaigns are effective and sustainable over time, consider the suggestions that we have found work best for our business:
Customers are more likely to engage with SMS messages that are tailored to their interests and needs. Use customer data to personalize your messages and make them more relevant.
Keep your messages short and sweet: SMS messages have a limited character count, so make sure that your messages are concise and to the point. Use clear language and avoid jargon or overly technical terms.
Keep track of your SMS campaigns and analyze the results to see what's working and what's not. This helps you refine your approach over time and improve your performance.
Three easy strategies for SMS sales
Whether you're a seasoned sales professional or just starting out, these strategies will help you maximize the potential of SMS sales for your business:
1. Cross-selling
Cross-selling is the practice of suggesting related or complementary products to customers who have already made a purchase. Here is how you can master this sales technique with little to no effort:
Use customer data to identify which products are frequently purchased together, and use this information to suggest complementary products.
Send messages that provide value to the customer, such as offering a discount on a complementary product.
Use clear and concise language in your messages, and make it easy for customers to make a purchase by including a link to the product page.
2. Upselling
Upselling involves encouraging customers to upgrade or purchase a higher-end product. Here are some actionable tips on how to achieve that:
Use customer data to identify customers who are likely to be interested in higher-end products and send them targeted messages that highlight the benefits of upgrading.
Amazon uses customer data to identify products that are frequently purchased together and then sends targeted emails and SMS messages to customers with personalized recommendations for complementary or higher-end products.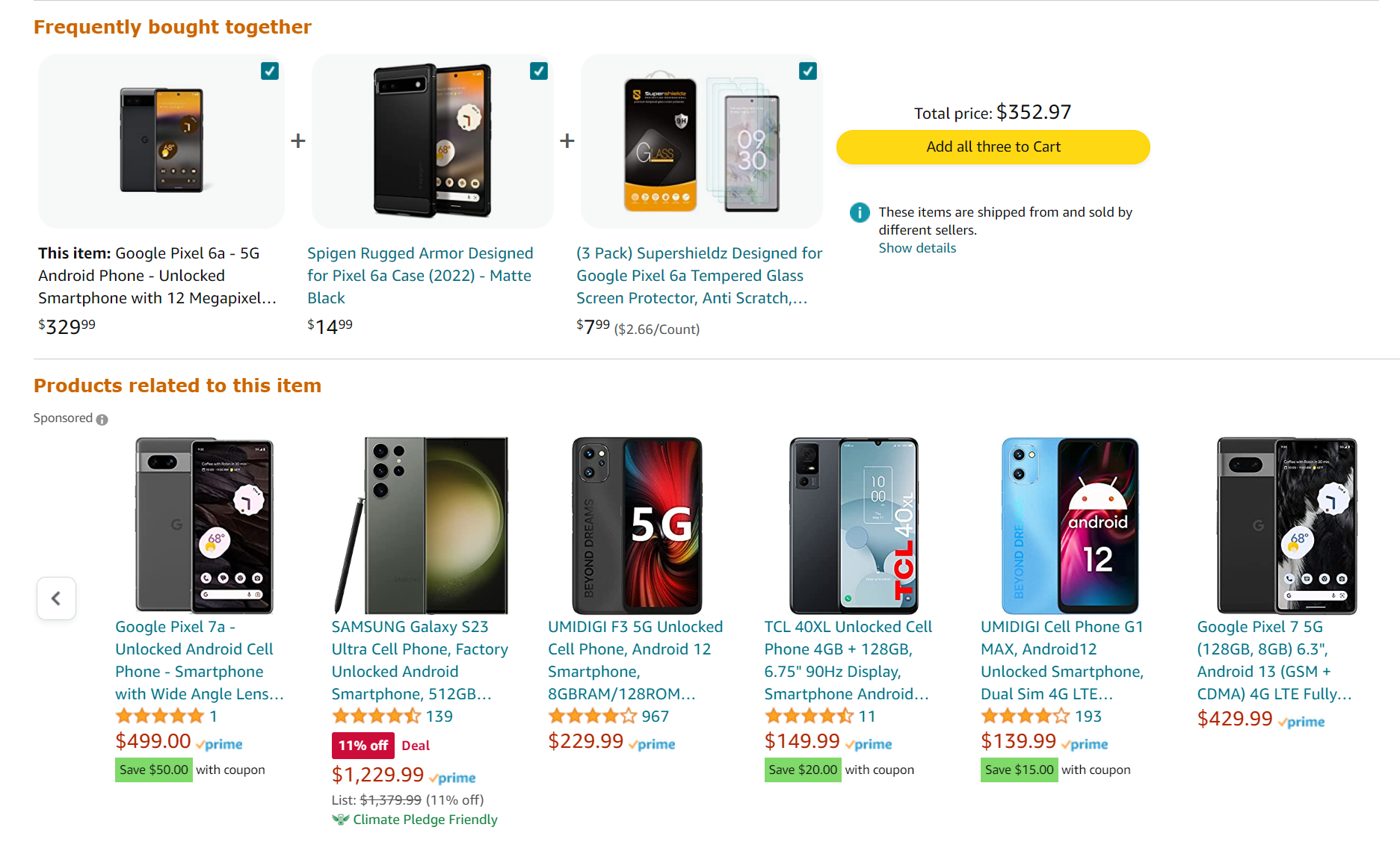 One example of this can be seen on their product pages, where they often show a section titled "Frequently bought together" or "Customers who bought this item also bought…"
By highlighting complementary or higher-end products in this way, Amazon is able to encourage customers to make additional purchases and increase their overall order value.
Offer exclusive discounts or incentives to customers who upgrade, such as free shipping or a free gift with purchase.
Make it easy for customers to upgrade by including a link to the product page and providing clear instructions on how to complete the purchase.
3. Lead generation
Identifying potential customers and collecting their contact information for future marketing efforts is known as lead generation. Here is how you can generate leads by offering incentives for customers to opt in to your SMS marketing list:
Use social media and other marketing channels to promote your SMS marketing list and offer an incentive for customers to opt in, such as a discount code or free gift.
Make it easy for customers to opt in by providing clear instructions and a short code or keyword to text.
Once customers have opted in, send targeted messages that provide value and encourage them to make a purchase.
Examples of successful SMS sales strategies

Crafting persuasive and engaging sales-related text messages can help you capture your customers' attention, spark their interest, and drive them to take action.
Below you can access compelling text message examples that help you boost revenue growth and client loyalty.
Flash sales
Flash sales are a great way to create urgency and incentivize customers to make a purchase. To effectively use SMS for flash sales, you should keep your message short and to the point and include a clear call to action.
Personalized messages
These sales-related SMS templates can help you build stronger relationships with your customers and increase engagement. Use customer data to tailor your messages and make them relevant to each recipient.
Product launches
SMS can be a great way to generate buzz and excitement around new products. Include a sneak peek or exclusive offer to incentivize customers to make a purchase.
Event reminders
To effectively use SMS for event reminders, you should provide clear details about the event and include a call to action to RSVP or purchase tickets.
Abandoned cart reminders
Abandoned carts are a common issue for online retailers, but SMS can be a great way to bring customers back to complete their purchases.
By leveraging ready-to-use SMS templates for sales, you can save time, maintain consistency, and deliver impactful messages that resonate with your target audience.
Best practices for implementing SMS sales strategies
Add value and create urgency
You can easily add value and create urgency by sending personalized and targeted messages that speak to the needs and preferences of your customers.
Offer time-limited promotions or discounts to create urgency and incentivize customers to take action.
Send personalized product recommendations or alerts based on customer browsing or purchase history.
Provide helpful tips, advice, and industry news that your customers will find valuable.
Integrate SMS with other channels and systems
The following strategies will help create a more seamless and consistent customer experience.
Include SMS as part of your multi-channel marketing campaigns, such as email, social media, and push notifications.
Use SMS to drive traffic to your website or social media channels or to promote events or webinars.
Integrate your SMS system with your CRM or marketing automation platform to track customer interactions and personalize messages based on customer data.
Monitor and optimize your campaigns
This way, you'll be able to identify areas for improvement and adjust your approach to maximize engagement and sales.
Monitor message open rates, click-through rates, and conversion rates to gauge the effectiveness of your campaigns.
Use A/B testing to compare different message content, timing, and frequency to determine what resonates best with your audience.
Analyze customer feedback and behavior to identify areas for improvement or new opportunities for engaging with customers.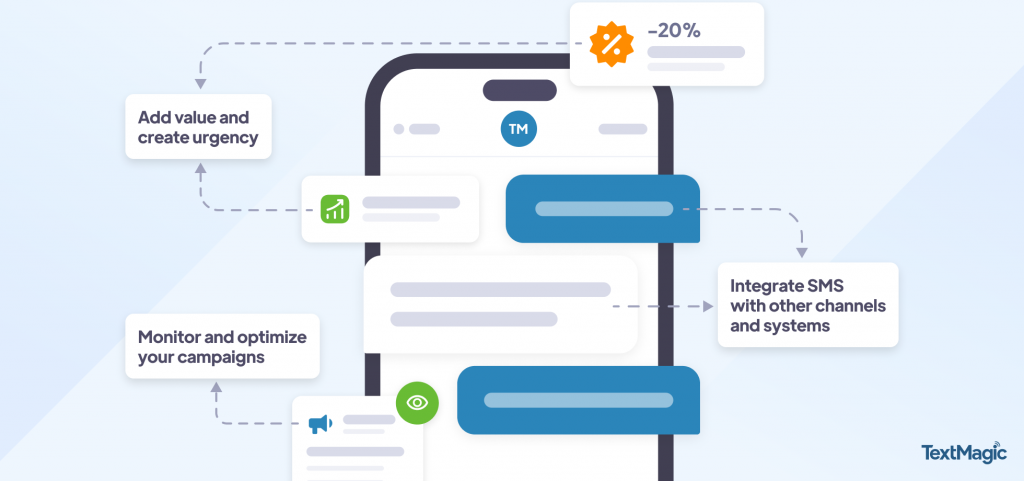 Challenges and solutions
In this section, we will discuss some of the common challenges associated with SMS sales and provide solutions for addressing them.
SMS message deliverability can be affected by various factors, such as carrier restrictions, spam filters, and even the time of day the message is sent.


Solution: Work with a reputable SMS service provider that has strong relationships with carriers and can ensure high deliverability rates. Test different message content, timing, and frequency to determine what works best for your audience. Avoid using spammy language or sending too many messages too frequently.

Another challenge is managing opt-in and opt-out requests from customers. Failure to promptly remove customers from your SMS list can result in complaints, reduced engagement, and even legal action.


Solution: Automate your opt-in and opt-out processes using a reputable SMS service provider that offers these features. Ensure that your customers have clear instructions on how to opt out and that your team is equipped to manage opt-out requests in a timely manner.

It's also essential to be aware of the legal considerations associated with SMS sales. In addition to regulatory compliance, businesses must also adhere to laws governing data privacy, advertising, and consumer protection.


Solution: Consult with legal counsel to ensure that your SMS sales practices comply with relevant laws and regulations. Ensure that you have appropriate data privacy policies in place and that your SMS messages do not violate advertising and consumer protection laws.
How TextMagic can boost your SMS sales strategy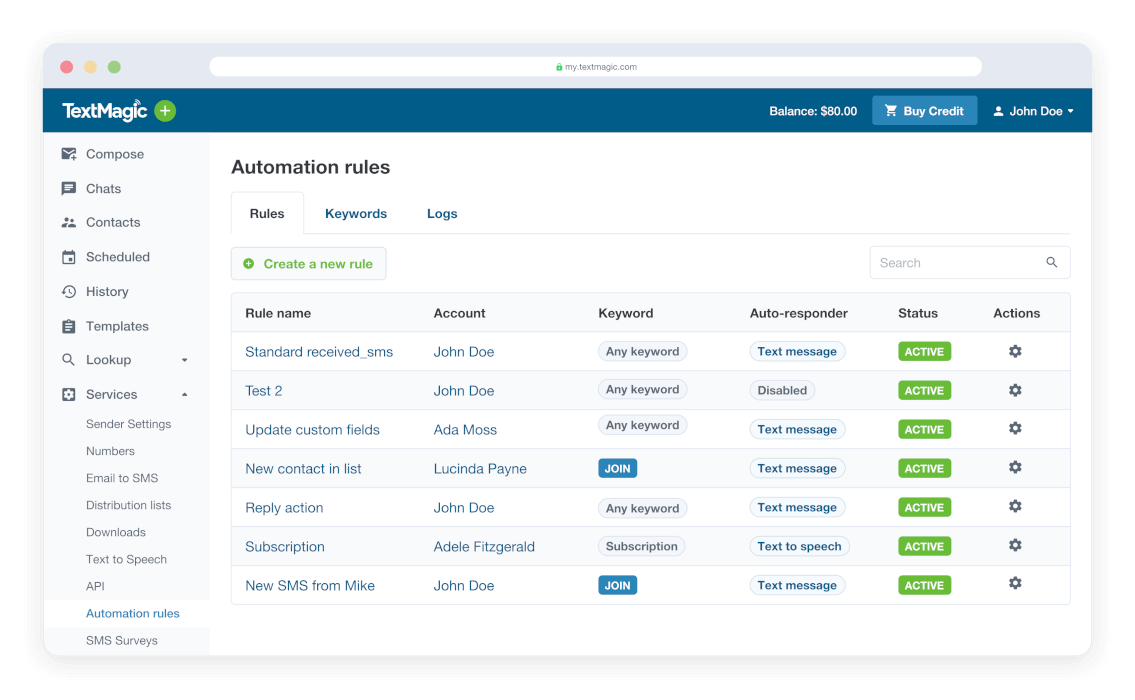 At TextMagic, we're dedicated to helping businesses like yours leverage the power of SMS to drive sales and efficiently engage with customers. Our platform offers a range of features that make it a powerful tool for increasing sales and driving customer engagement, including:
Automated messaging: Use our automated messaging tools to quickly and easily follow up with leads and keep your customers informed and engaged.
Two-way messaging: Our platform supports two-way messaging, allowing you to have real-time conversations with your customers and provide personalized support.
Integration with your CRM: Integrate TextMagic with your CRM system to streamline your sales process and ensure that you have all the information you need to close deals on the spot.
Don't miss out on the opportunity to boost your sales and improve customer engagement!
Sign up for TextMagic today and maximize your sales potential!
---