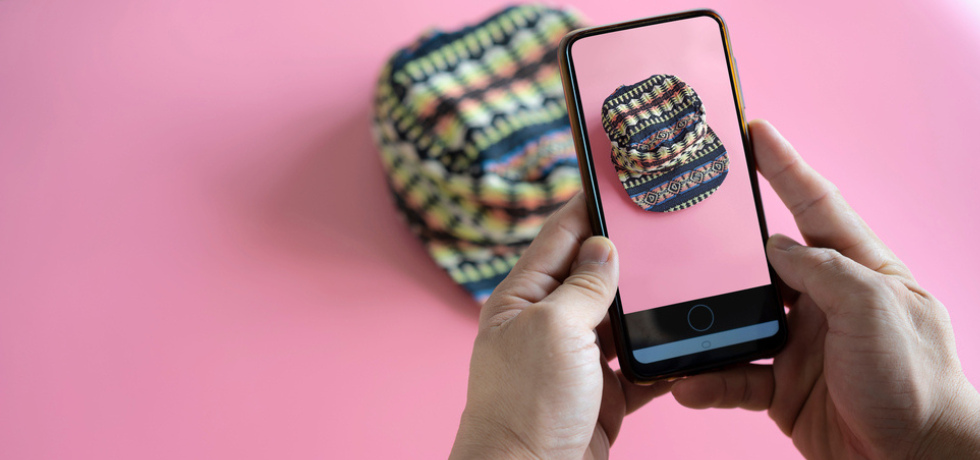 Launching a new product is exciting for any business, but it presents a few challenges. With so many marketing channels available, it can be difficult to know which one to choose to promote your product effectively.
SMS marketing is a powerful tool that can help you reach your target audience quickly and efficiently. In this article, we will explore the benefits of using text marketing to promote a new product launch and provide practical tips on creating a successful pre- and post-launch campaign.
We also include 15 SMS samples covering the most common launch situations you will encounter, using marketing hooks that draw customers in.
Whether you're a small business owner or part of a large marketing team, this guide will give you the knowledge you need to fully profit from the power of SMS marketing and launch your new products successfully.
SMS product launch checklist
To make sure that your campaign is planned well, properly executed, and achieves the desired results, you can use the following checklist. We included detailed info on staying organized, and it covers all the critical elements of a successful SMS product launch.
1. Create a product launch plan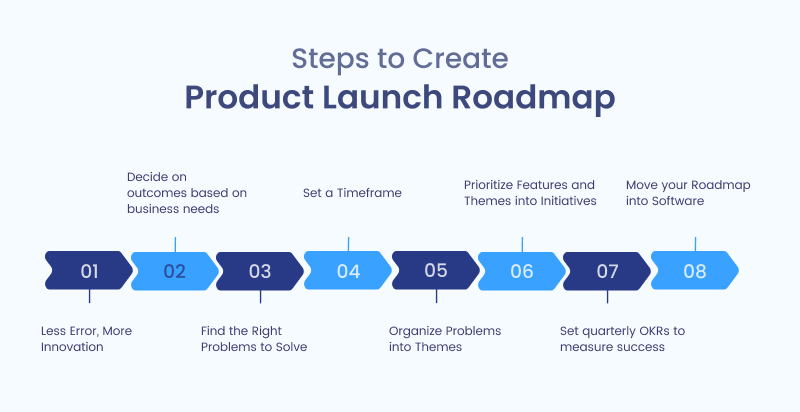 A great product launch is about creating awareness, engagement, and conversions. It requires a multi-channel marketing strategy that is mainly reliant on the following elements:
Research and planning – Conduct market research, analyze customer needs and preferences, and develop a product launch strategy that aligns with the company's goals and objectives.
Product development – This includes processes like design, testing, and refining the product to ensure that it meets customer needs and expectations.
Branding and messaging – This is where you develop a brand identity and create compelling messages that resonate with your target audience and also produce marketing materials such as logos, taglines, and product descriptions.
Testing and QA – To ensure the product functions as intended and meets quality standards, you must conduct product testing.
Launch execution – Execute the product launch strategy, including marketing campaigns, promotions, and events that generate awareness and interest in the product.
Post-launch analysis – Evaluate the product launch's success, identify improvement areas, and refine your product strategy based on customer feedback and market trends.
When creating the perfect product launch, SMS can be a highly effective channel for reaching customers, wherever they are, in a non-intrusive way. It works great too when combined with other channels, such as email, social media, and in-app notifications.
You can use SMS to send personalized and targeted messages to subscribers, reminding them of the upcoming launch and providing exclusive content, early access, or special discounts. It can also be used to send follow-up messages after the launch, thanking customers for their support and encouraging them to leave reviews or share their experiences on social media.
By integrating SMS into a multi-channel marketing strategy, companies can boost the impact of a product launch and maximize their reach and engagement with customers. Google states that consumers who shop using multiple touchpoints have a 30% higher lifetime customer value than those who use only one source.
Familiarize your audience with your new product/brand
Here are some actionable examples of how SMS marketing can be used to familiarize your audience with your new product/brand:
Create teaser campaigns by sending out a series of messages that gradually reveal more details about your new product or brand. For example, you can start by publishing just the product name, followed by its key features, benefits, and eventually a launch date. This creates curiosity and anticipation for the upcoming launch.
Give your audience an exclusive sneak peek of your new product/brand via SMS. This could take the form of a short video or images that showcase your product's design or features, creating a sense of excitement and interest among your audience.
Use SMS to provide educational content about your new product/brand. Send out messages that explain the problems your product solves, how it works, and why it's unique. This way, you're helping your audience understand your product/brand and building credibility at the same time.
Personalize your messages for each audience segment or individually. Include their name in the message, or send out messages that are tailored to their interests and needs to keep them engaged in the conversation.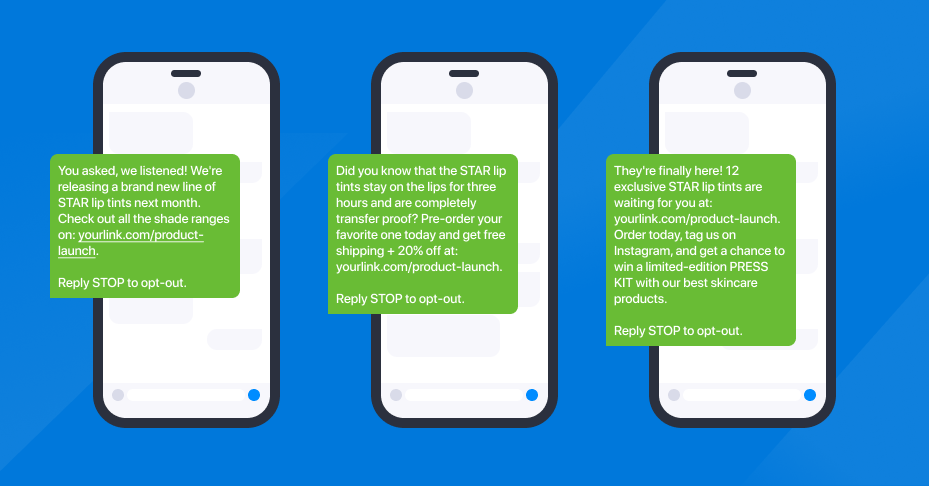 2. Generate awareness and engagement before the launch
Generating awareness is about creating buzz, building anticipation, and boosting interest among potential customers. Here is how you can easily achieve all that using SMS strategies that do the trick.
2.1. Promote the launch to existing subscribers
If you already have an email list or a social media following, send out a newsletter or post about the upcoming product launch. Include information about product features, benefits, and the launch date.
2.2. Create a dedicated landing page and gather new subscribers
Create a landing page that provides more information about the product and encourages users to sign up for updates. The landing page could also include a countdown timer to build excitement for the upcoming launch.
2.3. Create a custom or personalized SMS signup form
Provide a signup form where users can enter their mobile number and receive updates and notifications about your product. The signup form could be personalized to include their username or other details.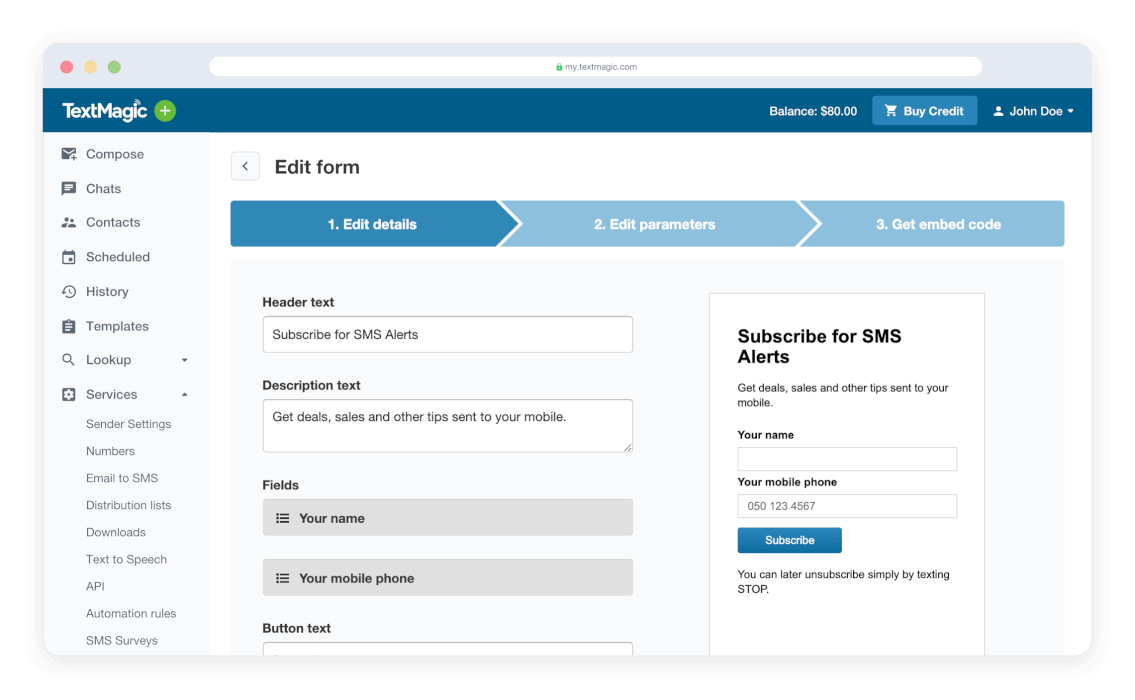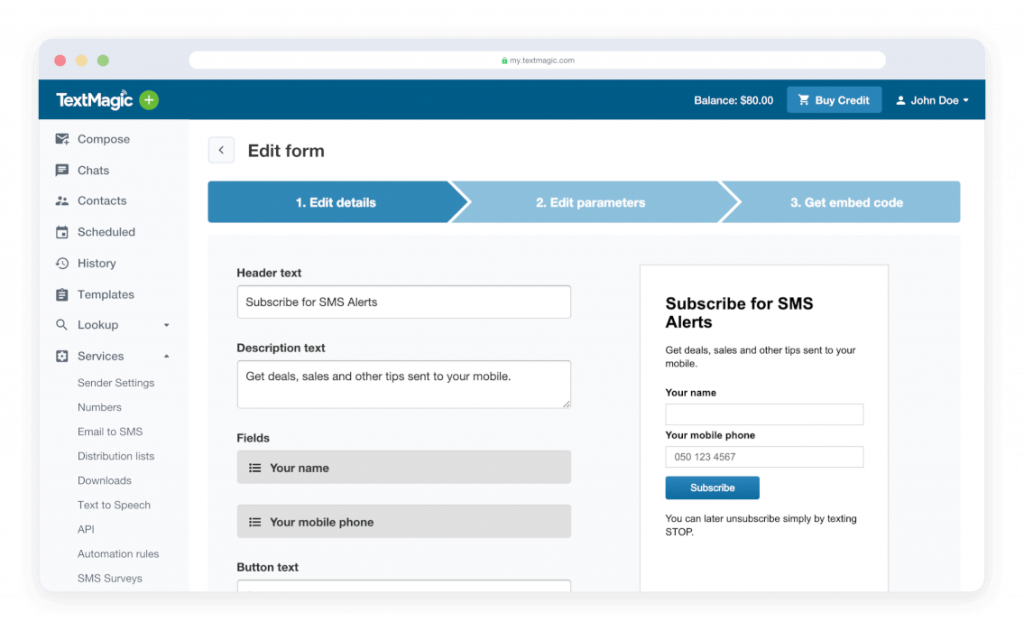 2.4. Incentivize your subscribers to follow the launch
Offer a special discount or bonus feature to users who sign up for updates and download the app on launch day. This could motivate users to stay engaged and help spread the word about your product.
2.5. Get influencers to promote your launch
Reach out to relevant influencers who have a strong network of followers on social media. Offer them early product access and ask them to share their thoughts and reviews with their followers.
2.6. Share behind-the-scenes or teaser content
To build anticipation for the launch, you could share behind-the-scenes photos or videos of the product development process. You could also create teaser videos that showcase some of the product's features and benefits.
3. Make an impression on launch day
Here are some SMS marketing strategies to help you make an impact on launch day and set your new product up for success.
3.1. Let your followers know first
Before launching the product to the public, give your followers and subscribers a heads-up. This could be through a newsletter, social media post, text, or email. Doing so creates a sense of exclusivity and can make your target audience feel like they are part of a privileged group.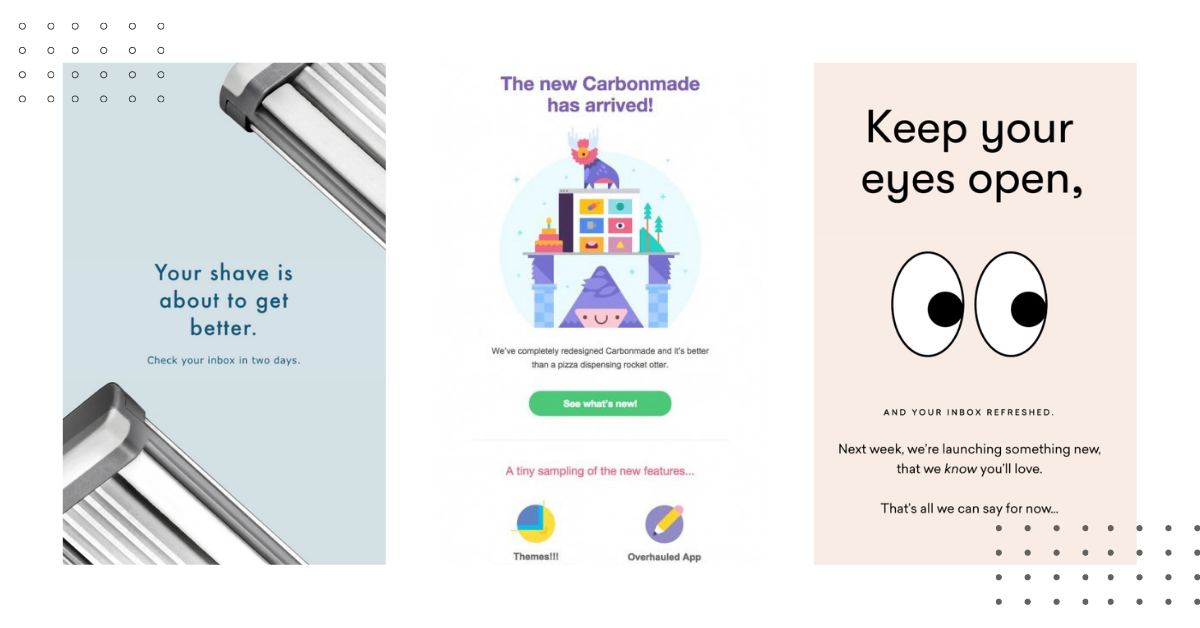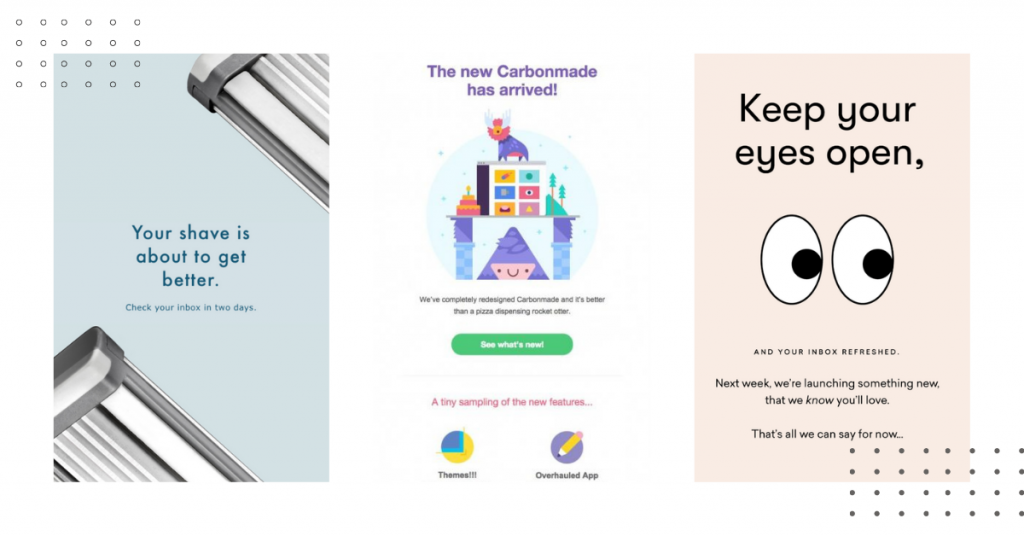 3.2. Introduce the product with a mass text campaign
Sending a mass text campaign is an effective way to get the word out about your new product. Make sure to include a call-to-action (CTA) in the text message, such as "Shop now" or "Find out more." This will encourage users to take action.
3.3. Send texts at the right time
Timing is key when it comes to sending mass text messages. Make sure to send the texts when your audience is most likely to be active and engaged.
For example, sending a text during the workday may not be as effective as sending a text in the evening or on the weekend. With TextMagic, you can easily schedule texts to be sent when your subscribers are most active.
3.4. Take advantage of FOMO
Fear of missing out (FOMO) is a powerful motivator. Create a sense of urgency by offering a limited-time discount or promotion. This will encourage users to take action and make a purchase before stocks run out.
3.5. Showcase your new product in creative ways
Showcasing your new product in creative ways can help generate buzz and excitement around your brand. Consider creating a video or social media post that highlights its unique features.
3.6. Respond to product questions in real time
Starting with launch day, it's important to be available to answer any questions your customers may have. Consider using a chatbot or social media platform to respond to questions in real time. This will help build trust and confidence in your brand.
4. Keep the excitement going post-launch
While the launch event itself will generate initial interest and excitement, it's essential to sustain that momentum over time to reach a wider audience and increase sales. This is how you can achieve that:
Implement SMS drip campaigns – Include messages that highlight different features or use cases for your product or messages that provide special offers or promotions to encourage sales.
Send SMS surveys – Use these to gather customer feedback to identify areas for improvement and provide insights that you can use to refine your product or marketing strategy.
Promote specific (new) products to smaller or more relevant audiences – If you've launched a new product variation, you can send out SMS messages to subscribers who have expressed interest in that specific product category.
Collect user-generated content and reuse it – Ask for reviews and provide links to review sites where customers can leave feedback. You can also collect user-generated content, such as images or videos of your product in use, and then reuse the content in your marketing campaigns.
Thank your subscribers – Send SMS messages to thank clients for their support and include exclusive deals or promotions to show your appreciation.
Analyze campaign results – Use SMS reporting features to analyze the results of your SMS campaigns. Identify what's working and what isn't to gain data-driven insights for future campaigns.
Prime for future launches – Send teaser messages or exclusive sneak peeks of upcoming products to build anticipation and generate interest.
New product launch message samples
Here are 15 sample texts for common product launch situations:
1. New Product Announcement:
2. Pre-order Launch:
3. Early-bird Promotion:
4. Limited Edition Launch:
5. Product Bundle Launch:
6. Product Upgrade Launch:
7. Seasonal Product Launch:
8. New Product Teaser:
9. Limited Time Offer:
10. Referral Promotion:
11. Exclusive Access:
12. Demo Video Launch:
13. Influencer Collaboration:
14. Flash Sale:
15. Giveaway Promotion:
Always remember to include a call-to-action (CTA) in your texts and an easy way for customers to order or learn more about your product.
Conclusion
SMS marketing is a powerful tool for promoting the launch of a new product and for connecting with your audience in a personal and effective way.
By following the strategies we've discussed in this article, you can create engaging SMS campaigns that build anticipation, generate interest, and ultimately boost sales.
All you have to do to achieve success is keep your messages concise, valuable, and action-oriented and use a mix of strategies to engage your audience at different stages of the launch process.
---