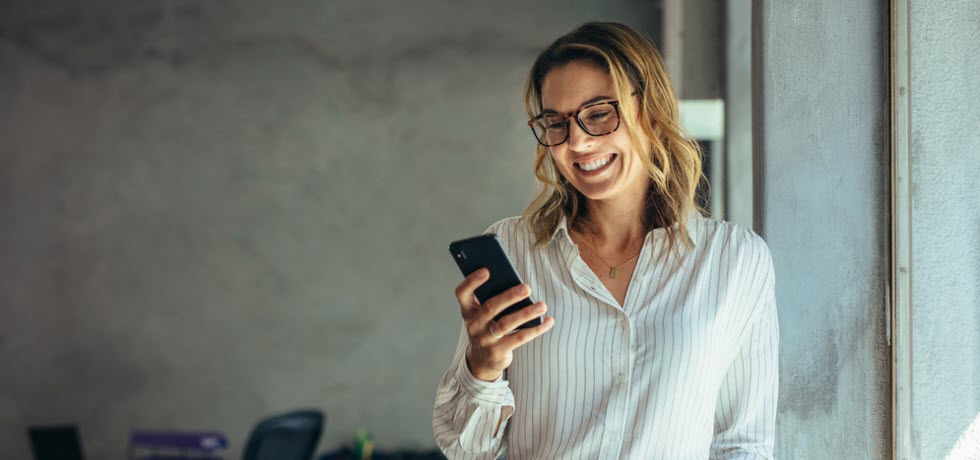 Whether you are contacting one person or thousands, your text can always benefit from personalization. Customized text messages make your recipient feel valued and your message more important.
Let's look at why customization works so well and how to do it effectively:
Why Personalize Text Messages?
People receive dozens of messages from businesses in one form or another. Yours needs to stand out for recipients to pay attention and remember it later.
People are more likely to absorb a message and respond when it looks like you wrote it just for them. In contrast, they are less interested when it is clear they are one of many recipients. More than half of consumers say they are more likely to buy when they receive personalized texts.
However, this improved response rate isn't only the result of giving your message a more personal and direct tone. Customizing your messages according to the interests of recipients means that more messages focus on topics that matter to their readers. This helps to grab their attention and to increase the chance of getting a response.
How to Customize Text Messages?
Customized messages that personalize with more than just the basic details like the recipient's name get the best results. To do this, of course, first, you need the information about your recipients that you can personalize with. When creating your SMS mailing lists, think carefully about which data fields to include and how you collect that data.
Plenty of personalization data comes from subscribers' opt-in forms when they sign up for your text messages. Opt-in forms usually attract more people when you keep them simple. Try to narrow it down to the most important details to ask for besides their contact information.
For example, if your opt-in form is used to generate B2B leads, ask for your subscriber's industry and job title. This can help you ensure that you message them about things that will affect their responsibilities.
You can reference any information in a mailing list using a mail merge tagging the relevant field. Doing this will automatically grab the correct information for each contact and insert it, letting you send fully personalized texts in bulk with no extra steps.
Data Collection
Contact forms are far from the only way to learn more about your contacts. Besides the information in your opt-in form requests, consider where and when they signed up for your text subscription service. For example, you can track other useful information, such as:
Which landing page did they enter their details on?
Which pages on your site did they view before signing up, mainly product or service pages?
If they have bought from your business before, which product categories did they show interest in?
These are just a few basic examples, and the right questions to ask will depend on your industry and typical buyer personas. Considering these factors will help you sort prospects into the right mailing lists, ensuring that they receive SMS campaigns focused on that group's interests and needs.
Maintaining accurate mailing lists is not something that you can do once and forget about it, however. People's contact details and other information can change, or they may have been misrecorded initially. Personalizing your messages with out-of-date or otherwise incorrect information can have the opposite of the intended effect and might leave a worse impression than a generic message would have done.
Just as importantly, not doing this could land you in legal trouble, as in most countries, you need to ensure that your customer (and employee) records are accurate and up to date. Thankfully, much of this work can be handled easily using automated validation and lookup tools to verify contact details, addresses, and other information stored in your mailing lists.
Audience Segmentation
Segmented messaging campaigns result in almost 15% more opens and 100% more clicks than non-segmented campaigns, according to a MailChimp survey.
Grouping your prospects into the right mailing lists is vital for making the best use of the data you collect. If the focus of your message is a topic that will only interest certain prospects, then no amount of personalization will lead to a conversion from people who have no interest in the subject.
Sending out every text to every prospect is not just a waste of time and money; it is detrimental to your efforts as your recipients will learn that most of your texts are not relevant to their needs.
Grouping your contacts according to their interests and demographic information lets you send texts that focus on their specific situations.
Examples of Great Personal Texts
Now that you know how SMS personalization works, here are some examples of great personalized texts that put these ideas into practice:
1. Follow Up With Extra Info
2. Appointment Reminder
3. New Feature Introduction
4. Content Promotion
5. Lapsed Customer Message
Custom SMS Messages Get More Responses
Personalized texts get more responses than generic messages, not just by feeling warmer and more human, but by focusing on what matters to each individual recipient. As a result, taking the time to set up personalized messaging can improve not only your business' texting experience but also your recipient's.
You need to support it with effective opt-in forms and mailing lists that collect and manage the data you need to get the best results.
---