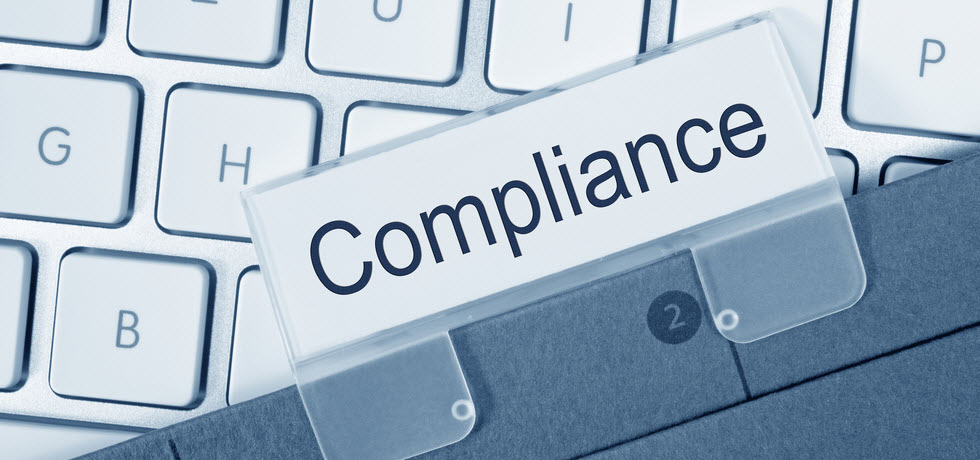 With an open rate of close to 100%, text messaging is a powerful marketing tool providing an unobtrusive yet direct and effective way to communicate your message to your existing and potential customers.
To be able to benefit from this solution fully, you need to avoid leaping without looking by understanding the relevant laws and regulations designed to protect all customers.
In this article, you'll find a straightforward explanation of SMS compliance, its importance, and the authorities that oversee it.
So, stay tuned and keep reading.
Text messaging compliance explained
SMS compliance is the adherence to a set of laws and regulations that businesses must follow when sending text messages to consumers. These rules aim to protect customers from unwanted messages and spam. The concept of compliance also covers acceptable content, the frequency of sending messages, and their format.
Why is SMS compliance important for businesses?
Text messaging compliance is critical for businesses as it helps maintain relationships and build customer trust by avoiding sending them unwanted and unsolicited text messages. This way, organizations can ensure that they only send messages to customers who want to receive and read them.
Moreover, text messaging compliance allows businesses to avoid legal complications and lawsuits. A complex web of laws and regulations governs SMS marketing. Failure to comply with these regulations can impose legal implications on a business. The latter, in turn, can be costly and damaging to its reputation. So, ensuring compliance safeguards companies against financial losses in fines and penalties and empowers them with an impeccable brand image.
Overview of the main laws and regulations
The various laws governing text messaging share common fundamental concepts, like the need for obtaining consent beforehand and providing an opt-out option. However, there are slight differences, and recognizing them could help you tailor your SMS marketing approach to different locations around the globe.
10 Tips to ensure SMS compliance
Follow the tips below to avoid facing legal, financial, and reputation implications.
1. Obtain proper consent
Before sending promotional text messages, obtain explicit written consent from all contacts part of the opt-in process , including those manually imported to the SMS service provider's platform. Use clear and straightforward language to explain the consent, so customers understand what they agree to. Failure to obtain proper consent violates the TCPA and can result in legal and financial consequences for the business.
2. Send the right confirmation message
No matter how you obtained a contact's phone number, your first message should confirm the customer's opt-in to receive text messages. Include important information such as:
Your business's identity
The frequency of messages you plan to send
A note that message and data rates may apply
Clear instructions on how to opt out of receiving future messages
The goal is to show that you comply with SMS regulations, prevent potential misunderstandings or complaints, and build trust with the recipient.
3. Provide opt-out mechanisms
All SMS marketing messages should include an easy-to-locate and -follow opt-out mechanism that allows customers to unsubscribe instantly. This could be a simple reply with the word "STOP," "QUIT," or "OPT OUT," as shown in the example below.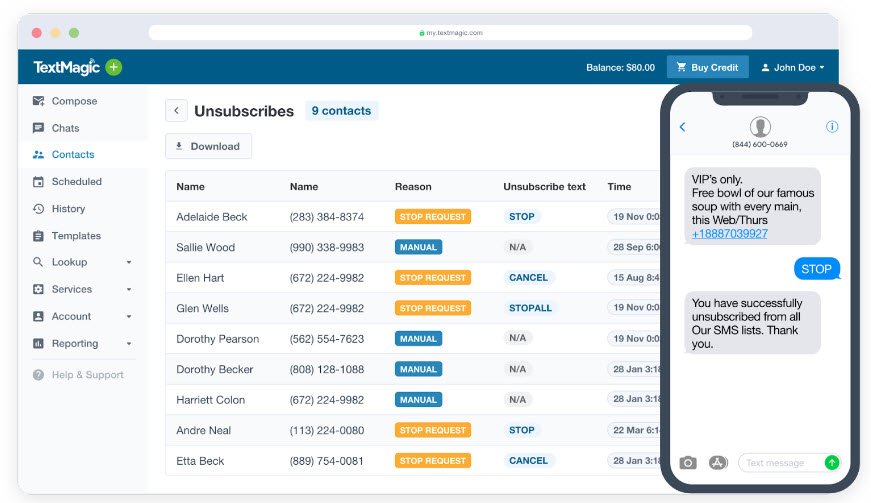 By texting "STOP," subscribers can unsubscribe from your lists anytime. Another option to enable easy opt-out is ensuring every marketing text you send contains a link to a landing page with an opt-out form.
4. Be careful when importing contacts
Before importing any list of subscribers, ensure that every person on the list has voluntarily provided their phone number and express consent to receive messages. The requirement to obtain express written consent from contacts is not limited to new contacts but applies to all contacts, including those imported to a subscriber list.
This is important for maintaining SMS compliance and avoiding unexpected violations, which can result in legal and financial consequences for your business. Doing due diligence in obtaining proper consent from every contact on the list is an essential step in text messaging compliance and can help businesses build trust with their audience.
5. Follow message content guidelines
The CTIA has established a set of content rules called SHAFT, which stands for sex, hate, alcohol, firearms, and tobacco. Avoid including content related to these topics in your SMS messages, as it can be considered a violation of SMS compliance guidelines. This can further result in legal and financial consequences for your business. The CTIA takes SHAFT violations seriously and may impose an immediate ban on the business for sending such messages.
However, there are some exceptions to this rule. For example, if you run a bar, there should be some possibility to send promotional messages about happy hour specials. In such cases, you must use a specially provided verified toll-free or registered local number. In addition, you must set an age gate that prevents individuals under 21 from signing up for the texts. Another good rule of thumb is to avoid SMS spam words in your texts.
6. Keep accurate records
Businesses should keep accurate records of customer consent and opt-out requests and other relevant data such as message content, send time, and delivery status. This can help businesses demonstrate compliance and respond to any complaints or inquiries.
7. Protect yourself with clear terms and conditions
As a business owner, protecting yourself and your customers is a top priority. To do this, ensure that your subscribers clearly understand and agree to your terms and conditions. So, ensure your terms and conditions are easy to find on your website and written in plain language. Additionally, consider tracking scrolling so that your customers have to read the entire document before agreeing to its terms. Also, notify your customers immediately if any conditions change.
Finally, enforce acceptance with a checkbox to click before proceeding. By taking these simple steps, you can help protect your business and your customers from any potential legal disputes that may arise in the future.
8. Ensure data privacy and security
Ensuring the security and privacy of customer data is your top priority, as it's a vital step to avoiding compliance issues. This includes using secure and encrypted platforms to transmit messages, protecting customer data from unauthorized access, and maintaining up-to-date security protocols and practices.
9. Train your staff
Teams that have received better training on the legal requirements for SMS marketing make much fewer mistakes and can save businesses from the serious complications brought about by non-compliance. Major areas to educate your staff include obtaining consent, sending confirmation messages, and handling opt-out requests. Employees should also be trained on how to protect customer data and maintain accurate records.
10. Monitor and review compliance
Finally, monitor and review your compliance with SMS marketing laws on a regular basis. This can include periodic audits of records and processes and ongoing monitoring of message content and delivery status. Regular review can help identify and address compliance issues before they become problems.
Conclusion: Stay SMS compliant to save your money, time, and reputation
The consequences of non-compliance can be severe, including lawsuits, fines, and reputational damage. To ensure they comply with the relevant laws and regulations, businesses must obtain proper consent, provide opt-out mechanisms, be careful when importing contacts, follow content guidelines, keep accurate records, protect data privacy and security, and provide clear terms and conditions.
Remember, respecting people's privacy is essential for building trust and long-term customer relationships. By being transparent about how you use their data and following SMS marketing regulations, you'll show your customers that you value their privacy and you're committed to providing them with a great experience.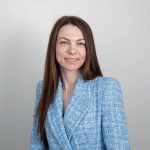 Alexa Lemzy
Customer support person. Interested in customer success, growth, marketing and technology. Passionate about content, reading and travel.
Get the latest news from us
Subscribe to our newsletter to get all updates to your inbox.
Related articles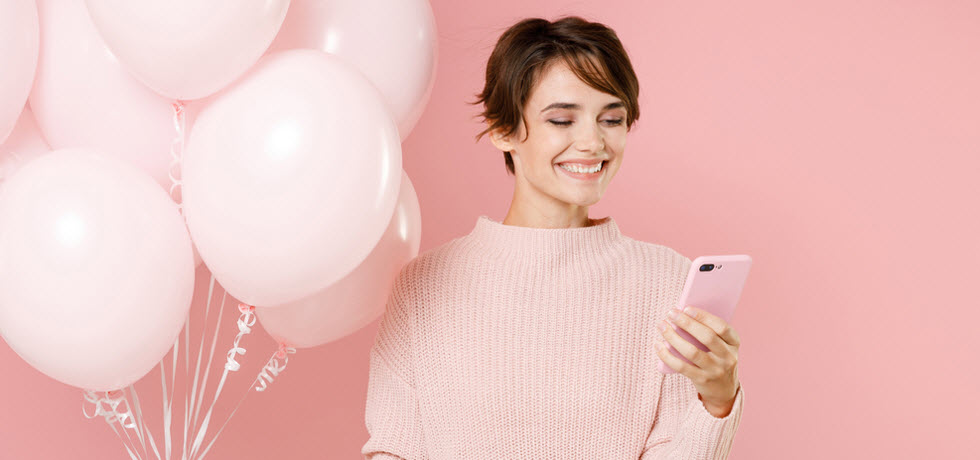 ---
---
---
---
---