Businesses all over the world lose approximately $20.5 billion every year because of spam. This issue applies to both emails and texts, and the numbers keep growing. In a few years, an estimated $257 billion will be wasted because of poor email and SMS practices.
Every business owner should know how to keep business messages out of the spam folder. Our list of common email and SMS spam words will ensure that most of your messages are delivered.
Click on the button to jump directly to the spam words, or continue reading for some basic tips that will improve your email and SMS deliverability.
How to ensure your email and SMS are delivered
Increase the chances of having your emails and texts safely delivered by following these tips.
Follow the CAN-SPAM rules
The CAN-SPAM act regulates how emails and messages are sent and to whom. It offers recipients the right to opt-out of business communications with a specific company and specifies what penalties apply if the company doesn't respect the recipient's request.
If you want your texts and emails to pass the CAN-SPAM inspection, you need to:
Be upfront about what you're selling or asking your clients. Don't lead them on.
Clearly state which company you represent.
Write a clear subject line.
Always offer recipients the option to unsubscribe from your written communications.
End every communication with a professional signature.
Always use double opt-in
A double opt-in policy requires clients to verify their email or phone number to confirm their interest in your written communications. This higher level of interest on their behalf should reduce spam reports and unsubscribe requests, ensuring that your company targets only people who are truly interested in your products.
Clients who are looking to block unwanted messages will no longer be part of your audience once you adopt a double opt-in policy.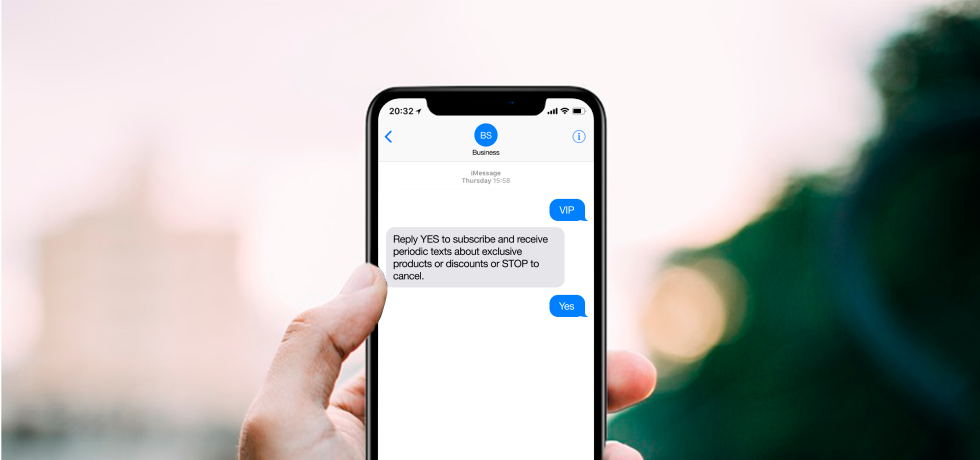 Avoid cold SMS/email marketing
Contacting people who have no prior relationship with your brand is intrusive and can seriously damage your company's reputation.
Here are a couple of alternatives to cold texting or emailing that will help you establish long-lasting business relationships with customers who truly value what you have to offer:
Boost your networking efforts and attend more industry events to increase brand visibility.
Produce content that turns you into a figure of authority in a specific field or niche – start with a blog and expand from there.
Stand out from the competition with offers they can't resist (create personalized marketing campaigns, use social media to boost marketing efforts).
Run A/B tests
People often think A/B tests only apply to subject lines. But you can also run A/B tests on headers and sender names or to see at what time of the day recipients are more likely to interact with your emails or texts.
Any piece of information can be tested, including introductory paragraphs or data that has the potential to make an impact on your readers (company results, testimonials, reviews, etc.)
Statistics are often included in emails to spark an interest. You can try sending an email that includes major stats and another that doesn't. Chances are, the first will be more engaging to your audience.
Monitor IP deliverability
Your IP and domain reputation are the first two factors that decide where your messages go: in the recipient's inbox or in the spam folder.
Your email service provider monitors deliverability to some extent but often fails to detect small issues that can make or break your marketing campaigns.
Here's how you can keep an eye on things yourself:
Monitor DNS (Domain Name System) records – recheck post-update configuration.
Watch out for IP address blacklists, especially if you're using shared IPs.
Use dedicated tools like Sender Score or SenderBase.
Top tips for writing content that passes spam filters
Apart from avoiding spam words, there are a few other things you can do to make sure your messages are delivered:
Always provide an unsubscribe link
This is a practice that should be the norm and is regulated by the CAN-SPAM act. Despite that, people still receive written communications they are unable to unsubscribe from.
Some have to access multiple pages to reach the Unsubscribe section, which can be frustrating and might drive recipients to submit complaints.
This is why you need an unsubscribe link for all your marketing communications:
Increases email deliverability.
Required by the law.
Protects you from heavy fines or lawsuits.
Filters out users who are not genuinely interested in your product.
Offers valuable feedback (you can ask recipients why they chose to unsubscribe).
Break down content using CTAs
CTAs are popular for helping boost conversions, but they can also help readers navigate extensive content as well. Large chunks of texts become easier to read and understand when you strategically place CTAs in-between the lines.
What does "strategically" mean? Whenever you're emphasizing your product's qualities, place a call to action that triggers people to try out your product.
Include an incentive, like a promotional offer or free trial, and you've significantly increased both reader engagement and product visibility. Like this:
Texts have 98.4% delivery rate.
Send SMS securely with TextMagic.
Optimize for mobile screens
Once you've made sure your copy is spam-free, including your subject line if you're sending emails, the next step is to optimize the user experience.
Because most users access content using their mobile phones and are looking for relevant information that is delivered instantly, your best shot at making an impression is through mobile optimization.
Here are some actionable tips on how to make your texts and emails more responsive and mobile-friendly:
Write short, spam-free subject lines (max. 25-30 characters).
Focus on copy rather than images.
Don't overuse CTAs – place them at the beginning and in the middle of your written communication.
Use shortened URLs for SMS campaigns.
Below is a list of the most common spam words that often appear in subject lines and decrease your text/email deliverability.
Avoid using CAPS and emojis
Using stop or spam words in your texts or emails is not the only common practice you should be avoiding. CAPS and emojis are also considered "too much" when it comes to the ideal communication etiquette.
Emojis often make recipients feel like your texts or emails are unprofessional; using CAPS is infuriating for readers and makes reading texts more difficult. Using stop words severely decreases deliverability, but using CAPS and emojis decreases your authority and reputation as a brand.
190+ most common Email and SMS spam words:
Please keep in mind that some of the following words are considered spammy only when used in a particular context.
Financial gain spam words
| | |
| --- | --- |
| Best price | Save up to |
| Billions | Cash |
| Big buck | Cheap |
| Cash bonus | Discount |
| Cents on the dollar | Deal |
| Lowest price | $$$ |
| Pure profit | Money back |
| Save big money | Clearance |
| Offer | Refinance |
| Lower your mortgage rate | Prize |
Freebies spam words
You can use "free" in your texts or emails if you do it in moderation. Do not overuse it and make exaggerated claims of financial nature, as it will most likely be caught by spam filters.
Take caution when inserting the following words in your email or SMS campaigns:
| | |
| --- | --- |
| Free access | Free consultation |
| Free gift | Free hosting |
| Free info | Free investment |
| Free membership | Free money |
| Free preview | Free quote |
| Free trial | Free $$$ |
FOMO & sense of exclusivity
| | |
| --- | --- |
| Take action | This won't last |
| Urgent | What are you waiting for? |
| While supplies last | Once in a lifetime |
| One time | Act now |
| Apply now | Call now |
| Get it now | Do it today |
| Get started now | Limited time |
| Order now | Don't delete |
| New customers only | 4U |
| You have been selected | Get in touch now |
Miracle workers
| | |
| --- | --- |
| Removes wrinkles | Reverse aging |
| You will not believe your eyes | Bargain |
| Guaranteed | Miracle |
| Risk-free | Instant |
| Cures | Certified |
| Fantastic | $$$ |
| Cure baldness | #1 |
| 100% more | 100% free |
| 100% satisfied | Incredible deal |
| Promise | Satisfaction guaranteed |
| Exclusive deal | Winning |
| You are a winner | Lifetime |
| Lose weight | Weight loss |
| Valium | Viagra |
| Vicodin | Human growth hormone |
| Xanax | Reinvent yourself |
| Unlimited | Join millions |
General use email and SMS spam words
| | |
| --- | --- |
| Top | Increase sales |
| Increase traffic | Sample |
| Avoid bankruptcy | Become a member |
| Click below | Click here |
| Information you requested | Important information regarding |
| Auto email remover | Please read |
| Bulk email | Direct email |
| Check or money order | Congratulations |
| Confidentiality | Dear friend |
| Buy direct | Direct marketing |
| Internet marketing | Multi-level marketing |
| Meet singles | Mass email / SMS |
| Obligation | Passwords |
| Requires initial investment | Social security number |
| Undisclosed | Unsecured credit |
| Unsolicited | Unsecured debt |
| Accept credit cards | All new |
| Ad | As seen on |
| Beneficiary | Billing |
| Cards accepted | Credit card offers |
| Claims | Debt |
| Compare rates | In accordance with laws |
| Loans | Luxury |
| Marketing Solution | Online marketing |
| Mortgage rates | Name brand |
| Message contains | Opt-in |
| Pre-approved | Quote |
| Removal | Reserves the right |
| Score | Search engine |
| Sent in compliance | Subject to… |
| Terms and conditions | Trial |
| Warranty | Web traffic |
| Work from home | XXX |
Financial freedom
| | |
| --- | --- |
| Additional income | Be your own boss |
| Consolidate debt | double your cash |
| Refinance home | Double your income |
| Earn extra cash | Earn money |
| Extra cash | Extra income |
| Eliminate bad credit | Expect to earn |
| Fast cash / fast return | Financial freedom |
| Full refund | Get out of debt |
| Get paid | Make money |
| Million dollars | Pennies a day |
No obligation, tricks, or hidden fees
| | |
| --- | --- |
| No catch | No cost |
| No credit check | No fees |
| No gimmick | No hidden fees |
| No interest | No investment |
| No obligation | No purchase necessary |
| No questions asked | No strings attached |
| Not junk | This isn't junk |
| Not spam | This isn't spam |
| See for yourself | We hate spam |
| Cancel any time | No BS |
Conclusion
Marketing your business can be done in a professional, non-intrusive way. If you stick to the guidelines and avoid using the spam words you find in the list above in the wrong context, clients are more likely to engage in valuable conversations with your company. They will also be more open to establishing long-term business relationships with your brand.
---