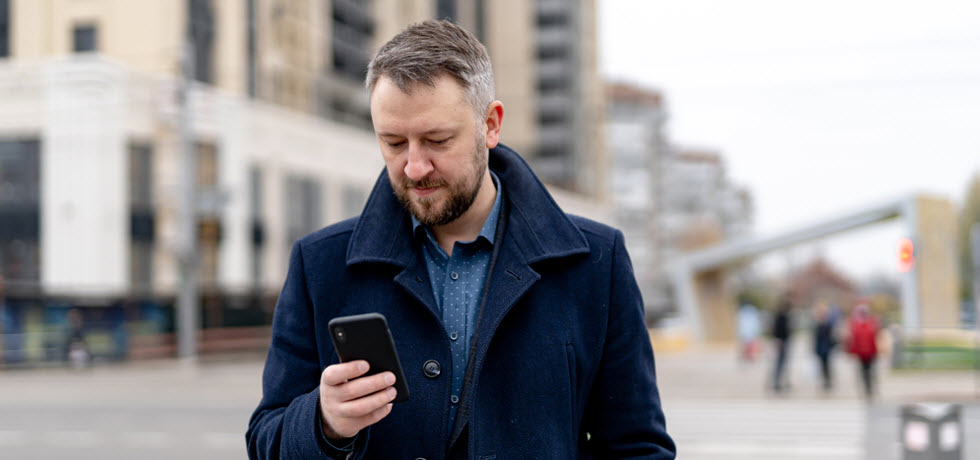 Scammers have identified myriad creative ways to steal from you, and SMS phishing—also known as smishing—is one of them. This involves sending you unsolicited text messages with the intention of defrauding you.
They also use SMS spoofing to impersonate someone you know or a company you use by rewriting their phone numbers or names to make them unsuspecting. All these they do to thousands of people via spam messaging.
This article will reveal some examples of spam text messages that are SMS phishing in disguise, how to identify them, and what to do when you receive them.
10 Examples of scam text messages
Spam text messages come in different forms and tones, but the intent is to steal money or sensitive information. Look at the examples below to help you identify SMS phishing from spam messages at a glance.
1. "Congratulations, you've won…!"
Congratulatory messages are often very enticing, especially when such messages say you have won a lottery or giveaway. Who wouldn't be ecstatic that they had won something? Scammers bank on this excitement to lure you into their trap—be it cash, shopping vouchers, or free event tickets.
So, be wary of messages that indicate you have won something you never opted for. However, if unsure about the authenticity of the message, contact the company directly as soon as you receive it.
2. Verify or update your account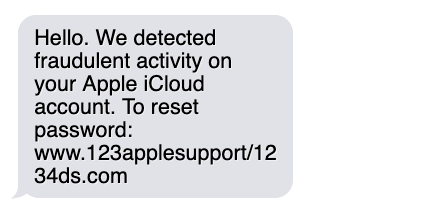 Scammers know that at least one of every 10 smartphone users has either an Apple ID or a Google account. Hence, they use these company names to carry out malicious activities. They claim your account has been compromised and the only way to retrieve it is by clicking on a specific link.
Apple or Google will never ask you to provide personal details or click on a link via a text message—and neither will third-party platforms like Netflix, Amazon, or your financial and network service providers.
3. Assist a family member
This is a popular spam text scheme that's difficult to ignore because scammers leverage vulnerability to bait their victims. They can often access information about a relative from your social media profile or via any other means and then use that info to impersonate the person.
And like congratulatory messages, they know a request to help a relative will most likely prompt an impulsive response. They use this psychology to trick you into thinking a family member is in danger, and they need money to resolve the issue.
When you innocently comply, they fleece you of your hard-earned cash. So, endeavor to verify such messages before taking any action.
4. Mine or claim a cryptocurrency
Besides business people and tech enthusiasts, the recent wave of cryptocurrency is also a lucrative venture for scammers. Their messages often ask you to click on a link to mine Pi or Ethereum coins.
They also ask their victims to download an app in order to claim cryptocurrencies from a giveaway pool. Scrutinize such messages very carefully—or better still, ignore them.
5. "You have received a scholarship fund"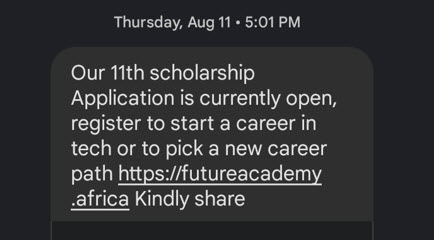 Scammers use fake text messages to take advantage of students' desperation to minimize the financial load of their higher education. They go about this by accessing a student list for a particular institution, and then send convincing messages to those students.
In such messages, they may ask you to click on a link to apply for a scholarship or they make you believe they can guarantee your eligibility for financial aid, like loans and work-study programs. Whatever the case, it is most likely a scam. Check with your school and scholarship provider for legit info before taking action.
6. Package delivery
In this spam text message example, scammers claim they have your package, prompting you to click on a link and request delivery. If you're a frequent online shopper, you may be tempted to click the link, redirecting you to a scam site.
On the site, they will likely request an advance payment for the delivery or ask you to resend a code accompanying the message. Hence, be sure of your online purchases before clicking on any link.
7. Two-factor authentication (2FA)
Two-factor authentication involves adding an extra layer of security to your accounts. It works by sending you a code via SMS to authorize access to your account. This makes it difficult for scammers to log in to your account, even if they have your email/username and password.
However, because they are relentless, their next attempt would be to get the code from you via SMS phishing. They construct text messages, making it look like such messahes have been sent from a legitimate company.
Then they reveal that your account is under attack and would need you to resend your 2FA code to recover it. Once you do this, you give scammers access to your account, which may then be difficult to reclaim.
8. Coronavirus messages
A lot of fraudsters are also leveraging the coronavirus disease to defraud people. They send text messages indicating that a certain agency offers financial support to people to help curb the virus, and then request your bank details to claim the funds.
Any third-party agency that wants to support Covid-19 patients does so through the government to ensure proper disbursement of funds. So, neglect such messages.
These fraudsters also go as far as accusing you of disobeying Covid-19 rules. Such texts claim that the government has fined you for not observing social distancing guidelines and that you need to pay a fine immediately to avoid the full wrath of the law.
9. From the government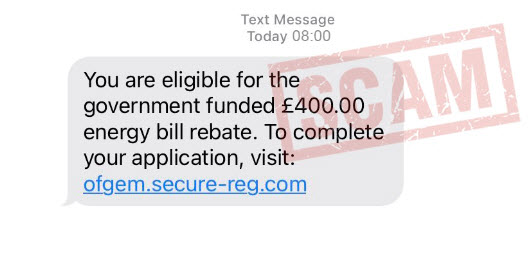 Scammers are skilled in impersonating the government. They often have information about you, like your name, home address, and next of kin. They may also provide an employee ID to pose as legit.
Furthermore, they may put you into panic mode, asking you to provide some confidential information or risk losing out on specific government benefits. Well here's the thing: it's all faux. The government will not cajole you into receiving any incentive.
10. Sudden job offers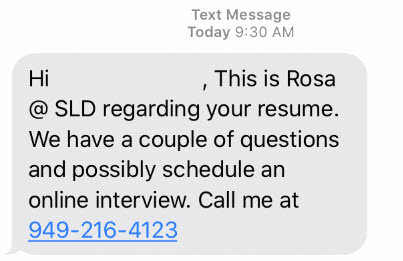 No doubt about it—the typical job search journey is a wild-goose chase. However, you should be wary of job offers that arrive out of the blue, whether you are job hunting or not. It could be a part-time or full-time job offer.
These employment-related scams trick you into clicking a link to accept a job offer, paying a specific amount to land a job, or even calling a number for more details. No matter how exciting the wages are, it is all shades of a scam. A legit recruiter will reach you via your contact details in your application.
How to identify spam text messages
No matter how much scammers try to come off as "real," so many signs give them away. Below are a few of those signs.
Spelling and grammar mistakes: Legitimate businesses seldom make spelling or grammar mistakes when interacting with customers via SMS. However, you can't say the same for scammers. Look out for words spelled and used wrongly.
Incorrect punctuation: It's quite easy to pick up several instances of incorrect punctuations in sentences in spam text messages. Scammers often don't know where to use exclamation marks, commas, apostrophes, etc.
Capitalizations: Fake text messages have awful capitalizations. You often find uppercase letters used in the middle of sentences and even a lowercase for the first letter of your name.
Shortened links: One of the easiest ways to identify spam text messages is by the frequent use of short links that are mostly incoherent. Some of them also have extra words and misspellings. For example, realworld.com may appear as reallworld.com.worldstop.com.
Reeks of urgency: There is always a sense of urgency in spam text messages. They try not to give you time to think through the message because they want you to make a decision immediately before you change your mind.
Incorrect branding: Scammers don't use the correct branding features of the companies they impersonate, especially when it comes to colors, logos, message tone, and how they address their customers. Albeit subtle, if you look carefully. you can identify the poor branding in spam text messages.
Unidentified mobile numbers: Phishing text messages are often from unidentified numbers not in your contact list. Sometimes, they don't correspond with your country's mobile number code either.
Lack of relevance: A text message with no focal point or that doesn't solve a pertinent issue is most likely a spam text message.
What to do when you receive spam text messages
There are various things you can do when you receive spam text messages. You can either stop the spam texts and block unwanted messages or use third-party apps. Additionally, you can leverage the following to avoid being a victim of scammers' malicious activities.
Never click on links, reply, or call the numbers included in spam text messages. If they are from familiar numbers, call the sender and confirm authenticity before taking any action. Scammers can hack your friends' or relatives' phone and send bulk fake text messages to their contacts, including you.
Exercise restraint when you receive a persuasive message—and verify it before taking any action.
Clear your browsing history, downloads, and cache to remove any malware that may have entered your phone while you surfed the web.
Delete phishing text messages as soon as you receive them. Don't keep them in your archive folder, either, so you're not tempted to return to them.
Enable a spam protection feature on your smartphone or download an app that filters spam messages. Examples of such apps are TextKiller and Spam Blocker—both available on Google and Apple Play Stores.
Report spam text messages to your network provider whenever you receive one. You can also report a phishing attempt to data and information protection agencies in your country, which may avail you of the opportunity to sue the sender. UK residents can report to Action Fraud, while US residents can report to FTC.
As you access third-party websites, be mindful of protecting your personal information to avoid further data breaches.
Conclusion
As the digital space keeps expanding, scammers will continue to create spam text schemes to make a living out of people's ignorance and vulnerability. It is up to you to stay vigilant and protect yourself.
Business people are also not exempted. Above all, you need to prioritize your customers' safety. Be aware that sometimes your bulk messages may come off as SMS phishing scams to most people, irrespective of your genuineness.
Therefore, activating our SMS STOP Command is necessary to allow customers to opt out of your SMS list anytime. This saves your company money and potentially its reputation too.
---