Not sure if business texting is right for you? Sign up for the TextMagic trial and test SMS for your company – no commitment, no strings attached.
We'll show you how to get the most value out of business texting in 10 minutes or less. 7 out of 10 TextMagic clients listed ease-of-use as their favorite thing about our platform:
"TextMagic is very easy to use and very powerful in use. No monthly fees – you just pay a fair price for what you need." – Andrew D.
Find out how you can improve real-time communication, generate more leads, automate replies to common questions, and more with TextMagic. This quick guide will show you how to:
Every new trial account comes with free testing credit, which you can use to send approximately 10 texts or explore features of your choice.
1. Configure your account and get started
Time required: 3 minutes
You can set up your trial account in under three minutes. Simply verify your email and complete the quick setup wizard.
If you reside in the US or Canada, we will provide you with a dedicated local number for 30 days, free of charge. If you're from another country, you can use toll-free numbers for testing.
After selecting the number you want to use, you can personalize your experience by choosing what to do next:
Send your first text message;
Configure email to SMS;
Create a distribution list;
Invite team members;
Download our mobile apps;
Integrate your existing tools;
Create an API key.
Each feature comes with 2-3 minute tutorials to help you get started. Choose exactly what you need and skip any unnecessary or long reading materials.
2. Import your contact list and send your first text
Time required: 3 minutes
Import your contacts list in seconds to send mass text campaigns and avoid manually adding recipients every time.
You can add lists with the following extensions: csv., .xls, .xlsx, or simply paste a list of numbers from your clipboard. Contacts can also be organized into lists or segments, allowing you to target text campaigns to different audiences.
TIP: Don't waste credit on numbers that no longer exist. Instead, validate numbers while importing your list. Carrier validation only takes a couple of seconds and costs $0.04 per number validated.
Once you've added your Contact list, you're ready to send your first text. Here's how:
Use default Sender settings or pick your preferred settings from the dropdown menu.
Schedule texts for later, at a time and date of your choosing – these can be sent one time or repeatedly (hourly, daily, weekly, monthly, or yearly).
Attach files to your texts in the following formats: .jpg, .gif, .png, .pdf, .txt, .csv, .doc, .docx, .xls, .xlsx, .ppt, .pptx & .vcf.
Add custom fields to personalize each mass text based on your contacts' unique information.
Simplify your messaging and save time with templates you can reuse.
Preview the cost in real time before you hit Send.
Every SMS reply will appear in the "Chats" section, where you can easily have two-way conversations with your contacts.
3. Save time and personalize texts with SMS templates
Time saved: 2 minutes for each text you send
SMS templates will save you a lot of time and effort every time you need to send texts with similar content to different contacts.
TextMagic provides you with a dedicated template library, from which you can choose those that fit your business profile, or create your own from scratch.
Custom fields empower mass text personalization – if you need to send a large volume of texts and dread the manual, repetitive work involved, you'll be able to send the same message to 1,000 people but with personalized details that match each customer's particular info (name, company, etc.).
4. Create automatic responders for incoming texts
Autoresponders enable you to send instant replies to common questions. The replies are sent based on the content of the texts you receive: you can select keywords that are present in your client's text and these keywords will trigger a predefined response.
Every time a client sends a text containing the keyword you specified in the automation rule, they will receive an automated reply.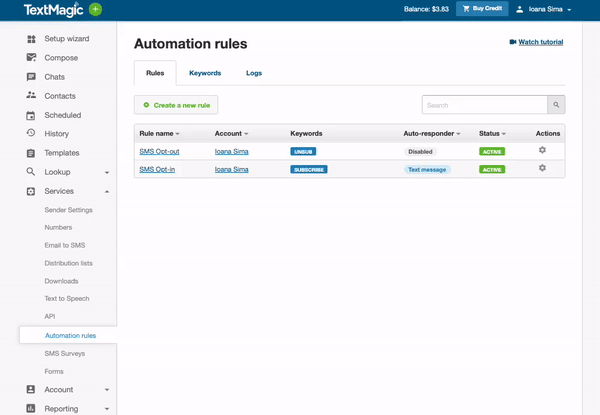 Every automation rule you create can be assigned to numbers of your choice or to entire lists.
You can easily create an automation rule by accessing the Services section, then the Automations Rules section submenu.
Adjust your settings, choose the auto-response type (text, text to speech, voice broadcast, 0 automatic replies), then type in your message.
If you want to place contacts in specific lists after they send a message, you can do so in the Additional Settings section.
Simply choose the list to which you want to add a number of your choice or add another action (e.g.: Remove contact from list). Click Continue to complete the process.
Congratulations, you have just created your first automation rule!
Here are some common use cases for automatic text responders:
Out-of-hours texts;
Automatic rules for unsubscribing;
Sharing discounts and promotions;
New subscriber welcome messages;
Instant reply to common sales and support queries;
Customer reminders, updates, and alerts;
Survey creation;
File and content sharing.
5. Connect your inbox and send email to SMS
Connect your preferred email account, and then compose and send texts directly from your preferred email app.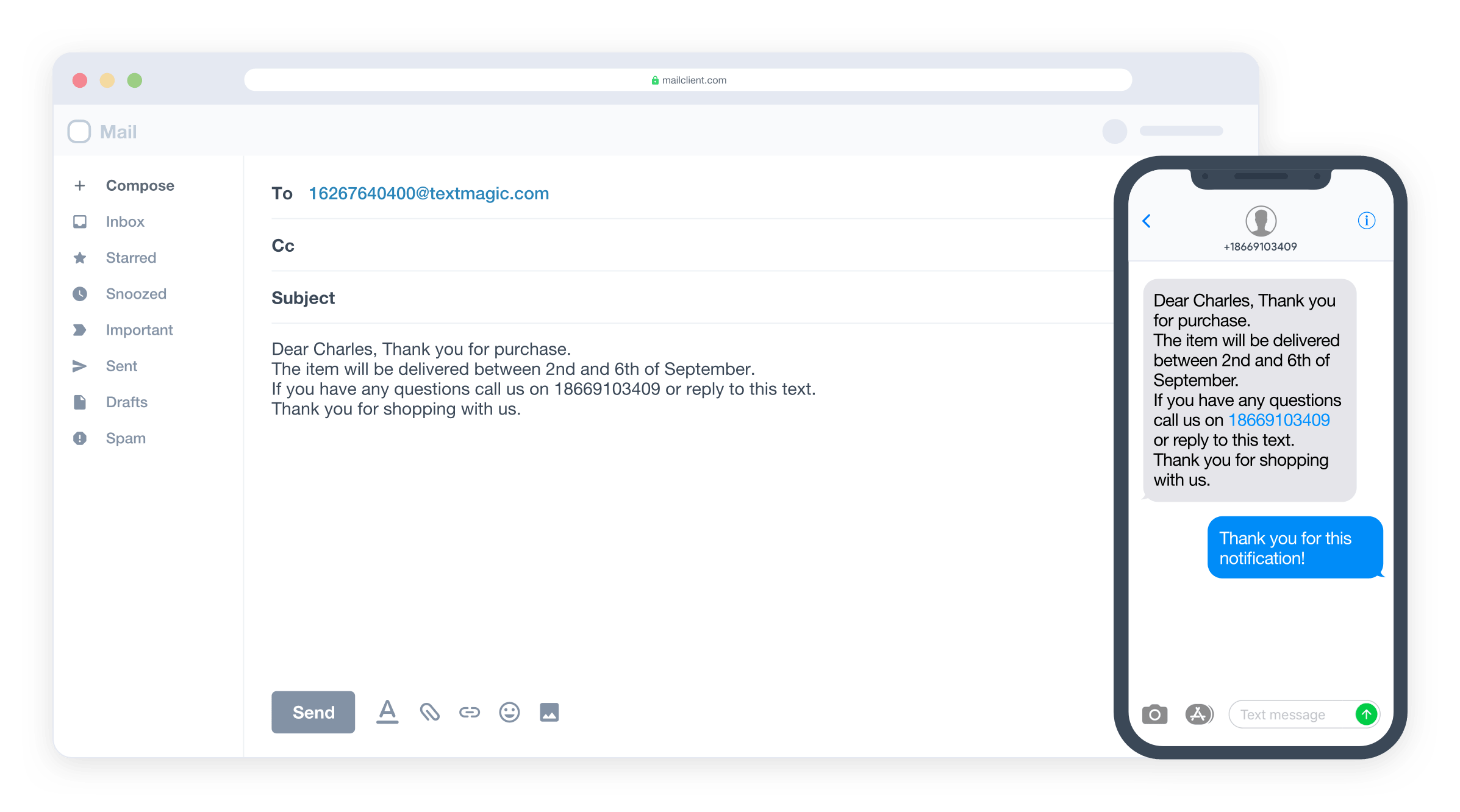 Typing lengthy texts on your mobile screen can be time-consuming, but this way, you'll be using your PC's keyboard instead, which will save you a lot of time and manual work.
The replies will also arrive in your inbox as emails. You will benefit from zero integration costs, less risk of typos, and real-time replies to client queries.
Pro tip: Download our mobile apps to keep track of every client communication on your preferred mobile device:

Wrapping up:
These are only a few of the helpful features you will have full access to during your TextMagic trial. If you want to see for yourself how easy it is to communicate with your customers at any time on their preferred devices, sign up and test our tool for yourself!
Send your first text in minutes.
Sign up for TextMagic today!
---