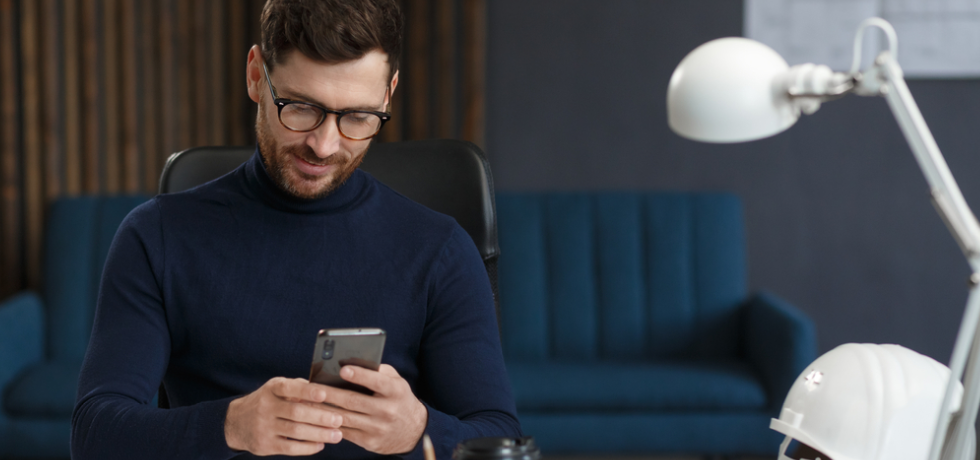 An SMS autoresponder is an important part of SMS marketing and customer service. They are one of the simplest and most flexible text automation tools. Making use of them offers major benefits to businesses and their customers.
So, what is an SMS autoresponder, and how do they work?
What is an SMS Autoresponder?
An SMS autoresponder is a text messaging feature that sends automated replies to texts.
Besides sending pre-written responses, automatic text responders can also help manage your mailing lists. As a result, they are a flexible tool with many uses for marketing, customer service and lead nurturing.
Businesses can use an SMS autoresponder to:
Share discounts and promotions
Welcome new subscribers
Respond instantly to sales and support queries
Provide customer reminders, updates, and alerts
Create surveys
Share files and content
How It Works
An SMS autoresponder only replies to texts sent to your business's dedicated SMS number. The action they take is chosen by automation rules. These can apply to multiple virtual numbers.
Automation rules use a contact's mailing list and the keyword in their message to pick a response. A keyword is a word or phrase users put at the start of their text. They can also apply to multiple virtual numbers and rules.
Based on the keyword used, which mailing lists a contact is in, or if they are a new contact, these rules can apply any combination of the following actions:
Send a text message
Add the contact to new mailing lists
Send a text-to-speech call
Send an audio recording as a voice broadcast
Remove the contact from mailing lists
Text-to-speech calls and voice broadcasts send as a voicemail if unanswered.
How to Set Up Automatic SMS Responses with TextMagic
You can set up automated text replies in 3 easy steps, starting by going to Services; Automation rules; Create a new rule in the TextMagic app. You will also need to buy a virtual SMS number if you don't already have one.
Step 1–Create Rule Filters
Rule filters decide which texts your automation rules apply to.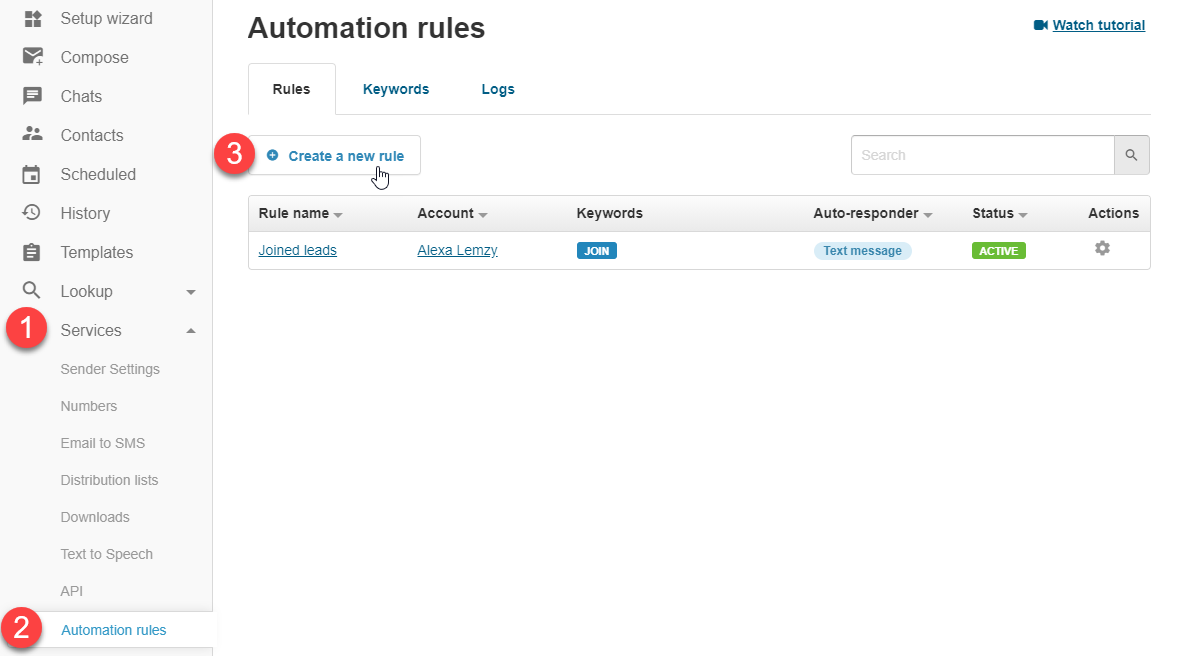 Use the form fields to name your new rule and pick the virtual SMS numbers whose incoming texts you want to reply to. Enter the countries the rule will reply to and the keywords which will activate the rule. You can also click add to create new keywords.
Click Continue once you have done this.
Step 2–Create a Reply
Next, you need to create the message itself, starting by picking the type of message. You can also choose not to send a message.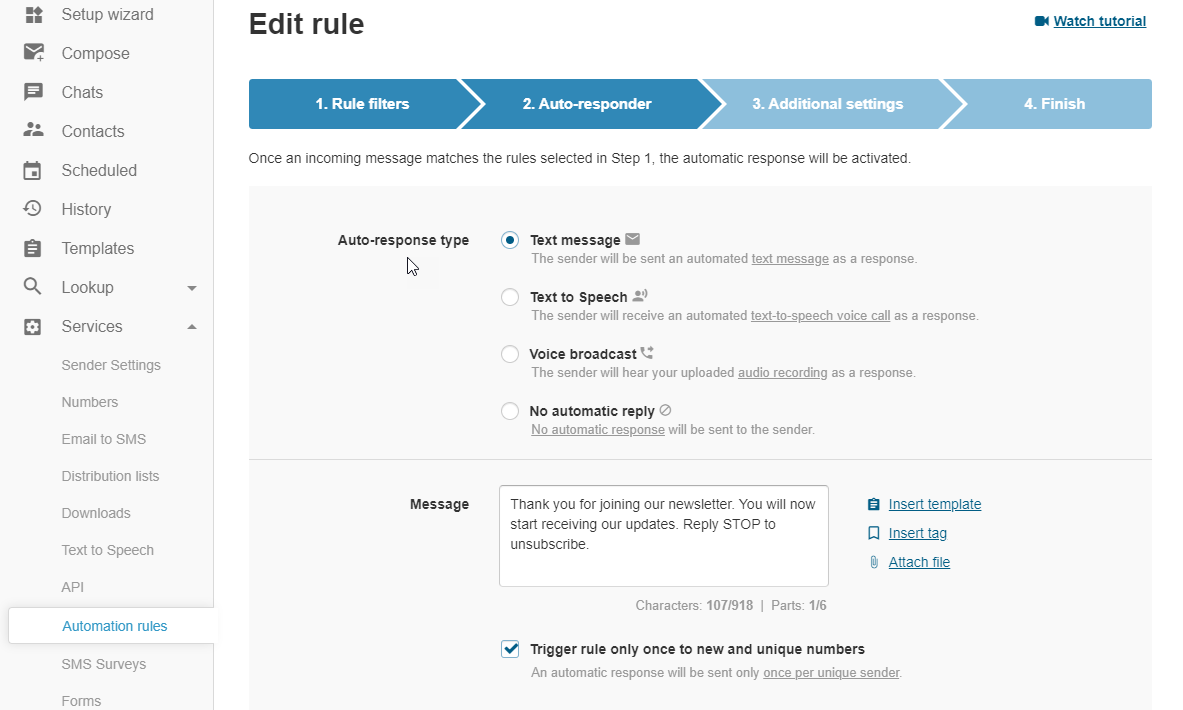 For text and text-to-speech replies, write your message in the text box or click Insert template to use a pre-written message. Click Insert tag to personalize the message with mail merge tags, or Attach file to include any images, videos or other files you want to send.
For voice broadcast replies, you will get the option to select an audio recording you have already uploaded, or to record or upload a new one.
If you click Trigger rule only once to new and unique numbers, the same number cannot activate the rule twice. Click Continue when you are done here.
Step 3–Other Actions
To add or remove a contact from a mailing list when the rule applies, click Add a new action. Then use the drop-down boxes to add a mailing list to the rule and choose whether to add or remove contacts from it.
To apply more than one action, click Add a new action and repeat the process for each additional action.
Once you have added all additional actions, click Continue. The next page will show you a summary of the rule you just made.
If anything is missing or incorrect, click Finish then click the cog icon and select Edit rule.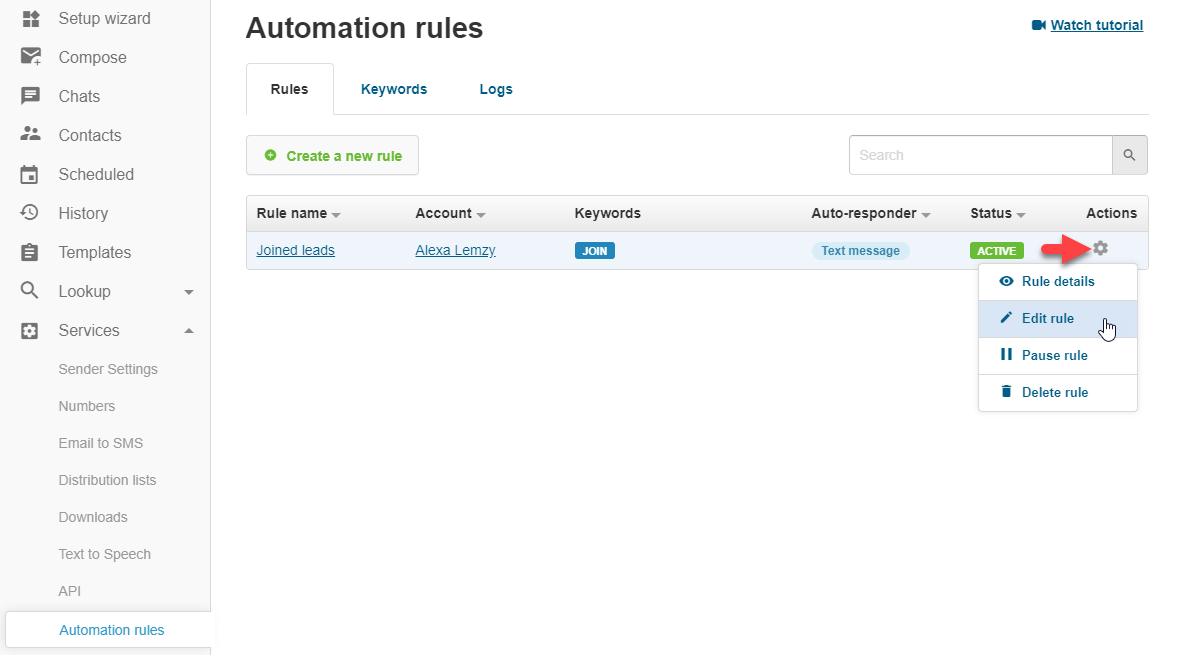 Potential Uses for an SMS Autoresponder
The simple options available through automation rules enable a range of potential uses, especially when combined with other forms of automated texting:
Subscribing to Your Newsletter
Enable users to join your SMS subscribers by texting a keyword such as JOIN, prompting a welcome text and adding them to your newsletter mailing list. In the same way, a keyword like STOP can take a contact off your mailing lists when they want to opt-out. In most countries, you must provide an opt-out keyword when using SMS marketing.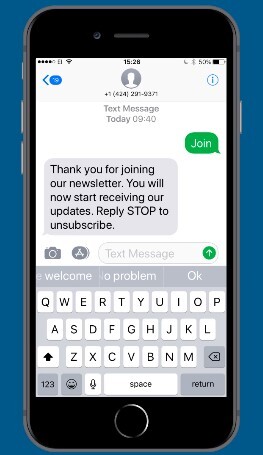 TextMagic provides several built-in keywords that you don't need to set up. The keywords to subscribe are JOIN, SUBSCRIBE, RESUBSCRIBE, OPT IN, OPT-IN, OPTIN and UNSTOP.
The keywords to opt-out are STOP, STOPP, STOPALL, UNSUBSCRIBE, END and QUIT.
SMS Surveys
An SMS autoresponder can be used to ask multiple-choice questions, using a different keyword for each answer.
By choosing the next question based on the previous keyword, you can create branching surveys. Besides enabling you to dig deeper into their answers, this keeps surveys short by avoiding irrelevant questions. Reducing the number of questions can help increase SMS survey responses.
For more complex surveys and feedback, use the TexMagic SMS survey tool instead.
Out-of-Hours Responses
Send an automated reply to messages letting them know when your texts are checked.
For customer support numbers, you can provide some offline support by suggesting keywords for common issues. These keywords could lead to troubleshooting questions or further information and keyword options. Alternatively, they could add the customer to your support mailing list for the attention of a live agent.
Sending Reminders
An SMS autoresponder can let customers request a reminder about your services. For example, a beauty salon could send clients the times for their next visit in response to the keyword REMINDER.
With 62% of people checking their phones when they wake up, SMS is a highly effective way to send reminders and reduce missed bookings.
Status Updates
Enable customers to request updates via text. For example, checking the progress of their delivery or getting the latest update on service outages. 75% of millennials say texting is their preferred way to get delivery updates.
Using automated text responses for these queries guarantees customers a near-instant response at any time and reduces the load on your live support teams.
Schedule Live Contacts
Enable users to request the help of a live agent by texting a keyword like HELP to move to your support mailing list. Autoresponder logs include the user's full text, so they can include further information about their query along with the keyword.
Besides customer support, this can also be useful to follow up with new leads by giving detail about their needs when they request contact.
Requesting Further Information
Automated text responses can let users get more information about a text you sent them.
For example, real estate clients could reply with a keyword if they are interested in a property. This lets you keep your initial message simple, only sending the full details to people who want them. Since images cost more to send than text-only messages, this also makes your texting more cost-efficient by not sending images to clients who aren't interested.
Furthermore, you can also use this to attract new leads by including your SMS number and keyword on signage:
This is ideal when you need an urgent response from clients, as texting has a response rate 209% higher than phone calls, email or social media.
Providing Media and Other Files
Not only is sending images and files a little more expensive, but it may also not be covered by your SMS opt-in form.
However, there can be plenty of situations that can benefit from being able to offer this option via a keyword. You could use this to send leads a demo video or PDF, or to assist tech support with a video guide.
SMS Autoresponder Benefits
Automatic SMS responders offer several benefits over other communication methods in these situations:
Instant responses to every message make life easier for you and your customers. Even when it is just to confirm their text arrived and a full response is on the way, this gives contacts assurance their query is being dealt with.
Save time by automating responses to frequent queries, resulting in faster resolution for users and more time to focus on issues you can't automate.
Improve follow-up and contact resolution, by ensuring users always have a simple way to start the next step through a keyword.
Personalize automated conversations using branching keywords, sending more relevant variations of responses according to mailing lists and including mail merge tags in reply templates.
Why Use TextMagic for Automated Text Responses?
Automatic SMS responders enable you to offer an improved SMS experience with less effort.
Using TextMagic to automate text responses enables fast, reliable responses to contacts and provides automatic mailing list management, along with built-in keywords to ensure your texts comply with opt-in regulations.
---