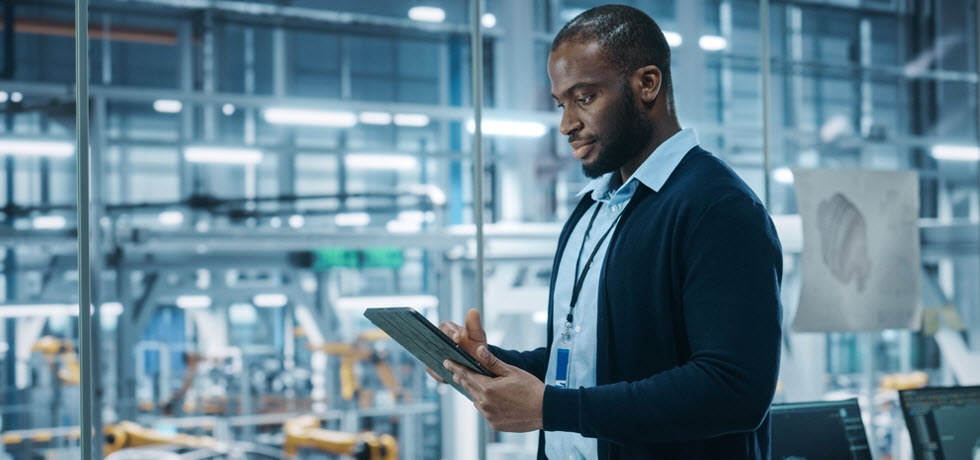 Let's face it, automation is the ever-ruling king. It reduces workload, prevents human errors, and boosts productivity. Automation saves 22 hours per week that are otherwise eaten by repetitive mundane tasks.
Text message automation brings plenty of benefits, ranging from avoiding the stress of dealing with messaging manually to ensuring outstanding internal and external communication that builds trust and loyalty. Given the fact that nine in ten consumers prefer text messaging as a means of communication with brands, automation is an effective strategy to cater to customer needs and expectations.
In this article, we'll discuss the advantages of adopting text messaging automation. You'll also learn how to implement it, and when to use it.
Ready to dive in? Let's start with the basic concept.
What is text message automation?
Text message automation is part of marketing automation, ensuring the automatic sending of text messages to individual or multiple recipients with little or no human attendance. It can be used for various purposes, including customer engagement and marketing, promoting numerous products and services, notifying users about new updates and alerts, sending reminders, and encouraging engagement.
Picture it. You've planned to send those welcome text messages to your new customers. But Monday is in its usual full swing and after the regular weekly meeting and the unexpected visits, you've completely forgotten to send out those "Welcome to our community" messages.
Automating text messaging will end such communication failures for good. The best news is that it involves no extra costs. Also, automated texting services come as an offering of full-fledged SMS solutions.
Who can benefit from automated text messaging?
Text messaging automation can help any organization improve customer and team communication. Potential users of automated text services are:
Businesses of any size across industries that need a reliable means of communication with customers, employees, contractors
Organizations that want to provide outstanding customer experiences through improving support, sales, and marketing communication. This is a great solution for restaurants and hospitality businesses, and beauty salons.
Companies that need to improve the efficiency of their recruiting and team collaboration. Its outstanding open rate of 98% makes text messaging an effective, instant, and immediate way to contact talent globally. With automated text messages, you can make sure that no one in your team is left behind uninformed on any important company news and updates.
Why should you opt for automated messaging?
Marketing has evolved and text messaging automation is one of the ways to work smarter, not harder. Here are four main reasons to embrace this modern trend.
Effortless, hands-free, and instant communication
You don't have to type and send out each message manually. Automation does all the work for you. In addition, this is an efficient way to avoid sending messages while driving and hence, improve safety.
Texting and driving statistics indicate that texting behind the wheel is the reason for every fourth car accident and significantly increases the risk of getting into an accident due to distraction. So, text messaging automation is a game-changer when you're looking to ensure your team's safety and well-being.
Easy-to-implement solution
Text messaging automation is a feature that is offered by SMS platforms. This means you don't need any additional hardware or complex software to take advantage of this functionality.
Timesaving and effective means of increasing team and customer engagement
You can send multiple automated messages at different times of the day like morning and evening greetings. This will help keep your prospects warm and build a relationship with them. In addition, regular communication is vital for building a company culture, so text automation can go a long way in consolidating your team and avoiding employee disconnect.
Consistent and flawless communication
Text message automation allows you to send out texts to your customers, prospects, and employees on a schedule that you determine. This can help you avoid any gaps in communication with them, allowing them to stay up-to-date on important information related to your business.
How does text message automation work?
Automation allows you to schedule the automatic sending of your messages or reply instantly to inbound messages by sending automatic responses. What's more, responses can be delivered as text messages, audio recordings, or text-to-speech calls.
How to schedule automated messaging
You can schedule texts to be sent just once or at certain times each day, on certain days of the week, or in a certain month of the year. Thus, scheduling texts allows you to create automated campaigns that take place at specific times each year like Christmas or for longer periods of time, such as monthly newsletters.
To schedule a text message, you need to select the time and date when you want the message to be sent. A good rule of thumb is to make sure that you've aligned your scheduling with the local timezone.
If you want to schedule recurring text messages, you need to identify the frequency and the ending of your campaign. With the TextMagic automation functionality, you can set an end date, a specific number of sends, or a "Never end" option.
The video below shows exactly how text message scheduling works.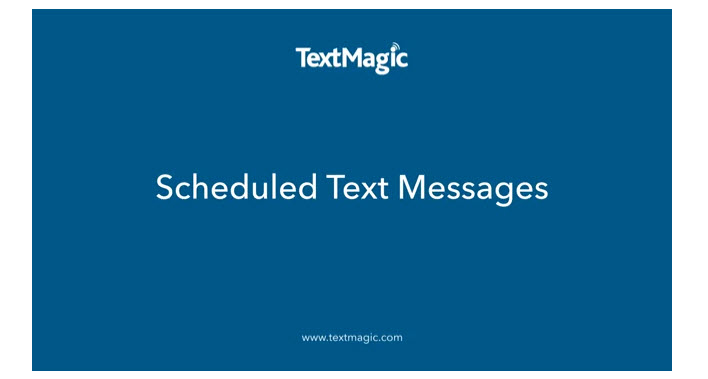 Also, remember to preview your message before saving it to avoid any mistakes and inconsistencies.
How to reply instantly to senders
The autoresponder process works like that:
You set up keywords and define automation rules
A customer sends a text message to your virtual number
The customer gets an immediate automatic response triggered by the keyword in the text message they sent
The customer is added to the right list depending on the keywords and the rules defined
Implementing text message auto-responders involves the following steps:
Setting up keywords
Keywords are part of the incoming messages that trigger an activity determined by your automation rule. Such automated activities are sending a ready-to-use response to an incoming text or adding the sender to the respective mailing list based on the content of the message.
In any case, you need to add your keyword to your automation rule. With the TextMagic solution, you can easily select Automation rules from the main menu, locate the Keywords tab, and select Add a new keyword. Now, you just have to type your keyword and confirm it.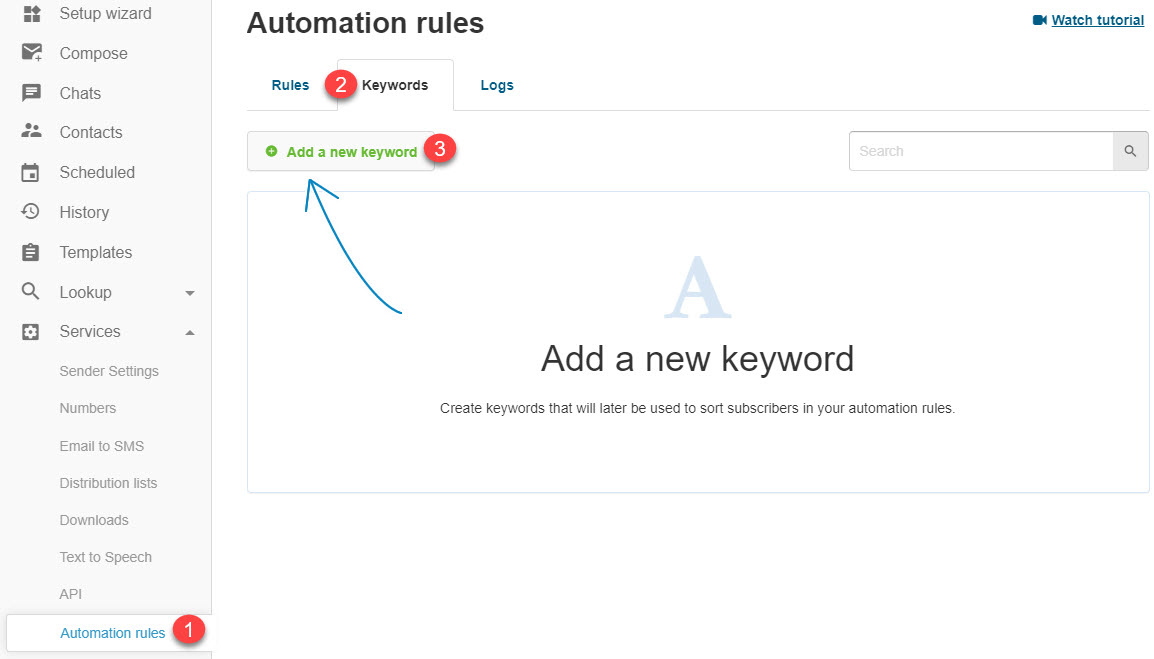 A keyword campaign can help expand your contact list. Offer extra information, added-value content, or limited subscriber-only offers and encourage people to send an incoming text message containing a keyword. For example, you can use other channels like social media to share a post like "Text JOIN to [your dedicated virtual number]."
Detecting the keyword "JOIN" in the incoming texts will trigger an automatic response saying, "Thank you for joining our group of newsletter subscribers," for instance.
Automate list management
You can automatically add or remove senders from lists, based on the keywords in their messages. Let's take the keyword "JOIN" above. Upon sending the automatic welcome responder, the corresponding contact will be automatically added to your Subscriber list.
Monitor and review automation rules
A modern text messaging solution will allow you to set and update your automation rules and associated actions. You can personalize your replies and specify the time of their sending and any further actions that will be automatically triggered.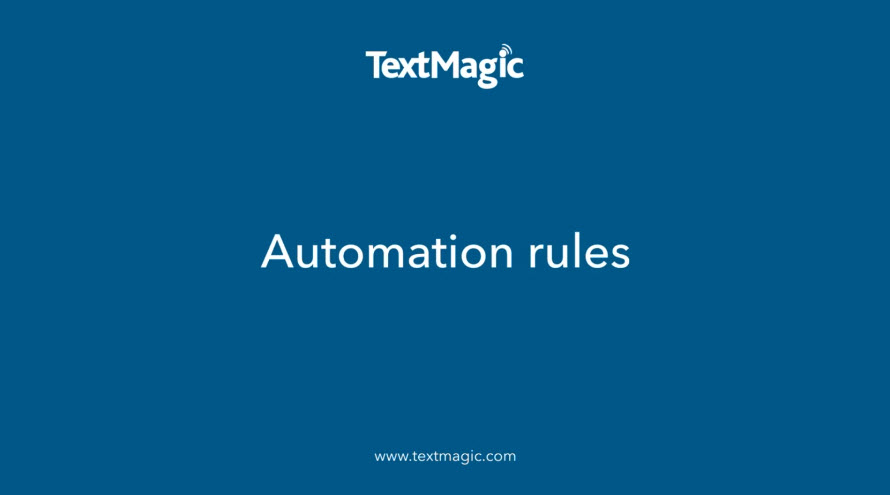 Text Message Automation: Reply Instantly to Senders
Now that you know how to set your text message scheduling and automation rules, let's look at some use cases of text message automation.
What is the automated texting service used for?
Businesses are increasingly using text message automation as a way to interact with their customers in real-time. It streamlines your customer and team communication and allows you to:
Send autoresponders
You don't have to worry about missing messages or forgetting to respond quickly enough because they'll all be handled by our system automatically.
Schedule texts and notifications
You can use scheduling automated messages for a variety of purposes, including:
Sending appointment and booking reminders
Reminding customers about their purchase history
Updating your customers about new products or discounts
Notifying them about an upcoming sale or event
Sending purchase and delivery notifications
Sending automated birthday texts, which is a great way to engage with your customers and team members and build relationships that last and thrive
Automate bulk messages
A full-featured text messaging platform like TextMagic allows you to save time and streamline your marketing SMS campaigns by scheduling and sending automated bulk messages. You can text your whole list of contacts or segment them by various criteria.
For example, if you have a clothing store, you'll be able to remind all your customers of the upcoming sale. Or, if you're running a SaaS company, bulk message automation allows you to send monthly tips or updates to your list of new clients. You can even set them for 11 a.m, local time on the first Wednesday of the month. Bulk message automation is an option that will make sending mass one-time and recurring messages a breeze.
Send automated text surveys
SMS surveys are a great strategy to collect feedback and feel the pulse of both your customers and employees. When combined with the power of automation, surveys are easily set and scheduled so that you can rely on regularly collected feedback. You can build your surveys using customizable predefined templates and flows.
Conclusion: Get your foot in the door of automated text messaging
Text messaging is growing in importance and popularity both as a marketing channel and as a way to ensure unobtrusive yet reliable internal and external communication. Automation allows businesses to tap into the immense potential of SMS. Whether you need to send a welcome or thank you message, a special offer, a reminder, or any updates, SMS autoresponders and scheduled automated texts make the messaging fast and effortless. Combining text message automation with ready-to-use SMS templates will further boost the efficiency of your communications and mobile marketing.
---