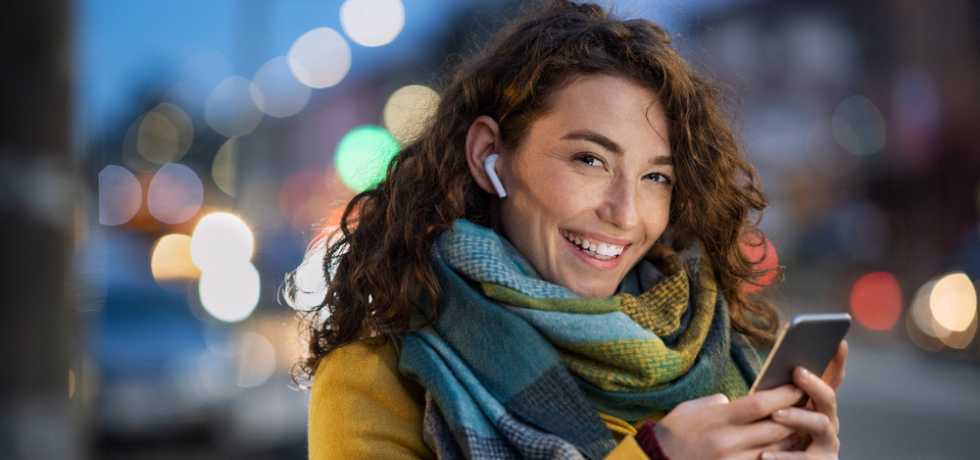 With rising customer acquisition costs and today's uncertain economy, it is becoming more difficult for businesses to stand out amidst all the advertising messages people receive.
Companies are seeking cheaper, more impactful alternatives like direct marketing and business texting. To increase the likelihood of people taking action, monitoring your SMS conversion rate is essential.
In this blog post, we list some useful tips and strategies to help you ensure that people not only open your marketing texts but also engage with them.
What is SMS conversion rate
SMS conversion rate is the percentage of recipients who take a desired action after receiving a business text message. It is a metric used to measure the effectiveness of SMS marketing campaigns. It can give a business valuable insights into the engagement levels of its audience.
Knowing your average SMS conversion rate can help you to evaluate the success of your text message marketing campaigns. A low conversion rate may indicate that your message was not sufficiently compelling or that it was sent at the wrong time.
By tracking your conversion rates over time, you can experiment with different approaches and strategies to see what best suits your audience.
How to measure SMS conversion rates
According to research, most people — over 85% — prefer to text as their primary mode of communication, compared to other methods, such as e-mail.
This preference indicates that they may be more inclined to act on texts than on messages received on other communication channels. Note, however, that the frequency with which messages are opened is also affected by factors such as their content and timing, and the sender's reputation.
Overall, the conversion rate of a marketing message depends on the channel being used and the message's relevance to its recipients.
Here are a few ways that you can measure SMS conversion rates:
Track the links you share via text. If you include links within your SMS campaigns, make sure you also use UTMs or link-tracking tools to measure the clicks and engagement you receive.
Use unique promo or discount codes. Another easy way to track SMS conversion rates is using codes unique to your SMS campaigns.
Define how you will measure offline or unique conversions. For example, if you promote events, you can monitor any changes in RSVPs or attendance confirmations during the window in which you send your texts.
Integrate SMS with other tools to measure conversions. Textmagic offers quick Zapier integrations with over 750 software, like CRMs, email marketing tools, etc. This makes it easier to measure SMS conversions through your connected app.
How to improve the conversion rate of your SMS campaigns
To improve the conversion rates of your SMS marketing campaigns, concentrate on personalization, timing, and trust.
1. Apply for a Sender ID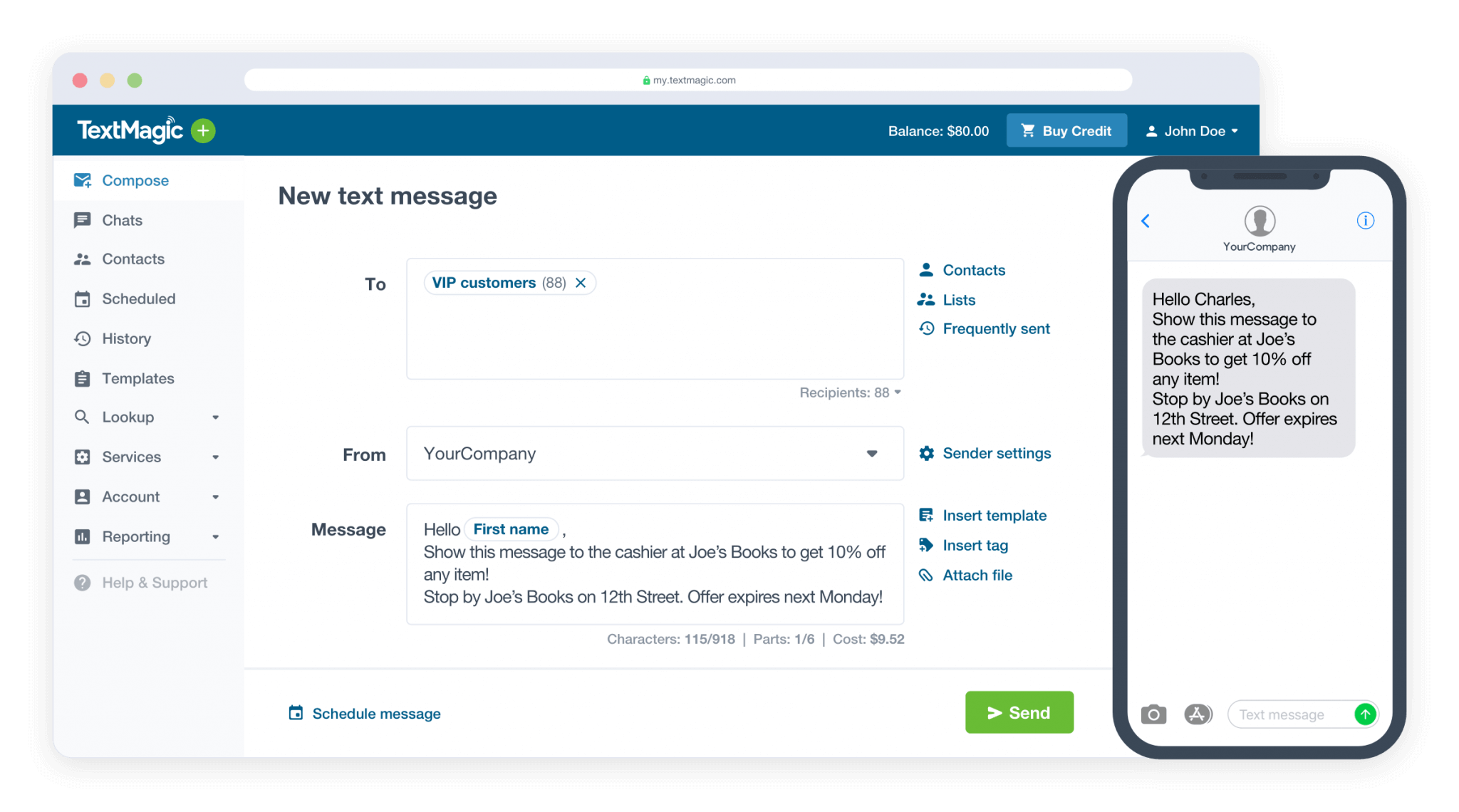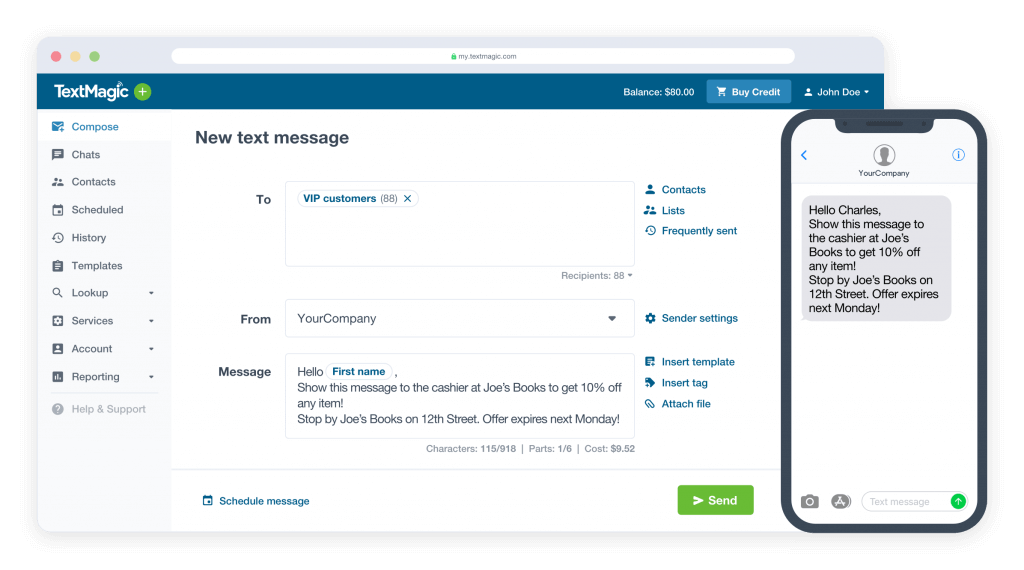 A sender ID is a unique identifier that appears as a text message's "From" field. Recipients see the name or number when they receive a message.
Messages from a recognized brand or company inspire trust and familiarity in recipients, making them more likely to open and read a message.
Think about it. If you were to receive an SMS from a number you didn't recognize or a company you had never heard of, you might hesitate to open it. But if you received an SMS from a well-known brand or company, you'd be more likely to open it because you would know it's from a trustworthy source.
With Textmagic, you can turn your phone number into a powerful branding tool. Apply for an SMS sender ID and activate it in five minutes from our dashboard. This will increase the conversion rate of your SMS campaigns and improve the success of your marketing efforts.
2. Get permission
SMS spam laws are put in place to protect consumers from receiving unwanted messages. In most countries, sending unsolicited text messages for marketing purposes is illegal. To comply with the law, you must obtain consent from your recipients before sending them any messages.
One way to obtain consent is by using an opt-in message. This is a request for permission to send messages to a recipient's phone number.
Your opt-in message should be clear and concise, explaining what kind of messages the recipient can expect to receive from you, and how often. It should also explain how to opt out of receiving messages.
Once a recipient has opted-in, you should send a confirmation message, acknowledging their consent and explaining again how they can opt out at any time. Opting out typically involves sending a text message with the word "STOP" to a designated number. SMS opt-in and opt-out makes it easy to keep your list clean and send messages to users that are most likely to take action.
3. Start with the most important information
To make your message compelling, start with a short statement of your campaign's key message or offer. This will increase the likelihood of recipients becoming interested in it.
For example, if you're sending a sales message, you could start by stating the discount percentage you're offering.
This tells your recipients immediately what the message is about and how they can benefit from it. Or, if it's a message about an upcoming event, you could start with the date and time of the event. This tells your recipients what they want to know and can pique their interest in attending.
Starting with the most important information will increase the chances of your recipients opening your message and engaging with your marketing efforts.
4. Send out texts at the right time
Understanding your audience and their daily routines helps you to send texts at the right time. If you know the general profile of your recipients, you can make an educated guess about when they would prefer to receive your message.
For example, if your audience is mostly busy professionals, you may not want to send messages during office hours and instead send them at lunchtime or after work.
You can experiment with different times of day and review your SMS conversion rates to determine the best time to send your messages for maximum engagement.
A/B testing is a valuable method of figuring out the right time to send text messages to your audience. It involves sending messages at different times of day and analyzing the response rates to find the most effective periods.
5. Make sure SMS is the right channel
SMS is generally best for time-sensitive messages requiring immediate action, such as flash sales, appointment reminders, or event invitations. If your message is not time-sensitive or needs more explanation, an e-mail or social media may be more suitable.
Additionally, it's essential to consider your audience's preferences, and whether they will respond well to receiving messages via SMS.
To determine whether SMS is the right channel for your marketing campaign, conducting surveys or gathering data on your audience's communication preferences can be helpful. You can also look at engagement rates of previous SMS messages to see if it's been an effective channel for your brand in the past.
6. Personalize every message
When your audience receives a message tailored to them, they're more likely to pay attention and engage with your content. This can increase the conversion rates of your SMS marketing campaigns, improve sales, and boost brand awareness.
There are several ways to personalize your messages. Here are four:
Use merge tags to insert a recipient's name automatically.
Incorporate details from a customer's past interactions with your brand.
Send unique messages, using (for example) your knowledge of a customer's behavior on your website, or their location.
Use dynamic fields to customize messages based on customer preferences, interests, or purchasing history.

Textmagic provides several personalization options to help you to craft successful SMS campaigns. Merge tags can automatically add the receiver's name or other pertinent information to your message.
7. Automate your SMS campaign
Automation is essential in today's fast-paced business environment, and SMS marketing campaigns are no exception. With the right automation tools, businesses can save time and resources while delivering effective, targeted messages to their audiences.
An SMS marketing platform can help businesses to manage customer communications more efficiently by responding quickly to common queries and requests.
Textmagic's automation rules also enable businesses to automatically add people to lists, based on keywords in messages received. This can help them to segment their customer base, and target groups of them with tailored messaging.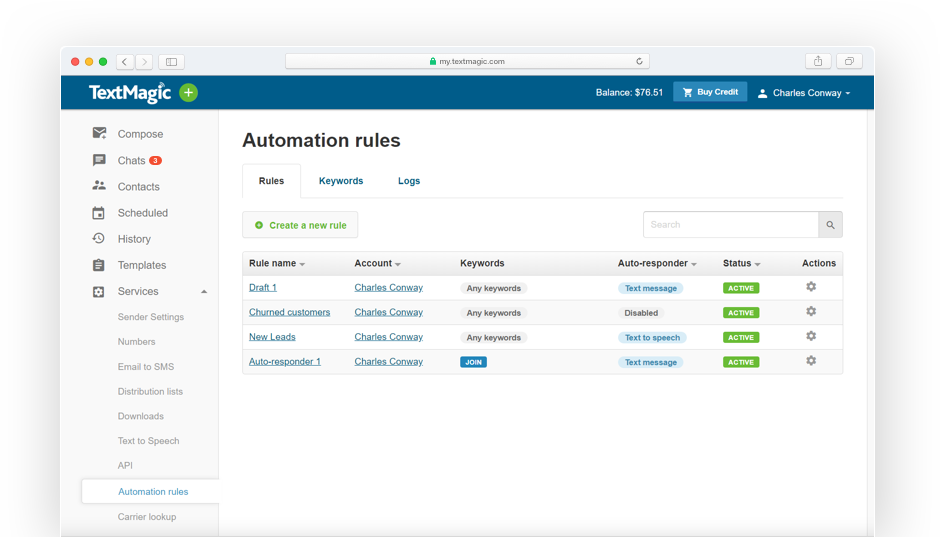 Use Textmagic to improve your SMS conversion rates
A reliable text message marketing service can significantly improve the effectiveness of your SMS campaigns.
If you choose Textmagic as your text message marketing software, you'll gain access to the features above, and more, to help you increase SMS conversion rates and achieve your marketing goals.
Don't let your marketing texts go unread. Sign up for Textmagic today and start engaging your audience with personalized, targeted messages that will grab their attention.
Improve your SMS conversion
rates with Textmagic.
Iustina Gherca
Iustina is a curious writer with an analytical mind and a demonstrated history in the advertising industry. She likes mixing words with data and is passionate about human behaviors. When she's not at her work desk, you`ll probably find her enjoying refreshing tea flavors, spilling stories on paper, or binge-watching true-crime documentaries.
Get the latest news from us
Subscribe to our newsletter to get all updates to your inbox.
Related articles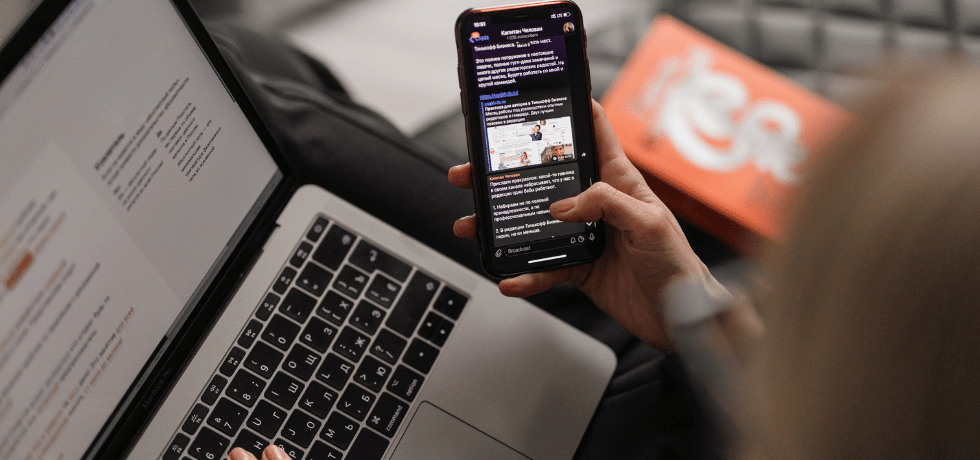 ---
---
---
---
---