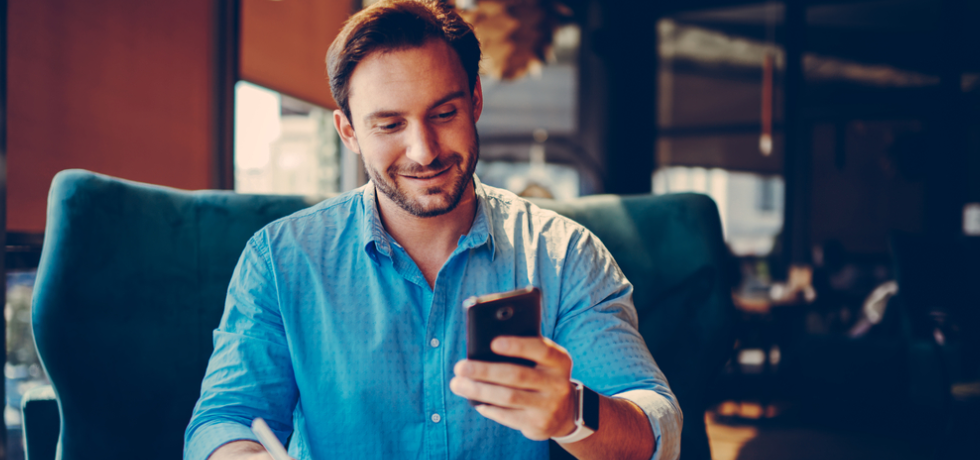 Small businesses are always looking for ways to improve their marketing at reduced costs. SMS marketing is the ideal tool to reach customers with personalized communications. Texts trigger immediate actions and are noticed by most users.
In this article, we'll discuss the following:
As people become more and more connected, they want to simplify communication and avoid information overload. SMS marketing is cost-effective, easy to use, and more engaging. Use our guide to find out how to integrate SMS into your marketing strategy.
What is SMS marketing?
SMS marketing is the process of sending promotional texts to customers who have opted to receive your written communications.
The promotional texts inform customers about future sales or new product launches. Transactional texts are sent after a customer interaction (e.g., purchasing or creating a support ticket). As a result, text message marketing has a wide range of potential uses.
Make sure to check local legislation before setting up your campaigns. In most countries, businesses have to ask for user consent before they can send any marketing material.
How SMS marketing works
First, you need permission to send SMS marketing messages via opt-in. Then, you can send promotional messages to your clients' mobile phones as text messages. Text message marketing can still reach offline customers, unlike other digital contact methods.
Using a business texting app, you can schedule messages and SMS promotional texts to send to your mailing lists. A texting app enables two-way chats with customers and automated customer contact management.
Why is SMS marketing so popular?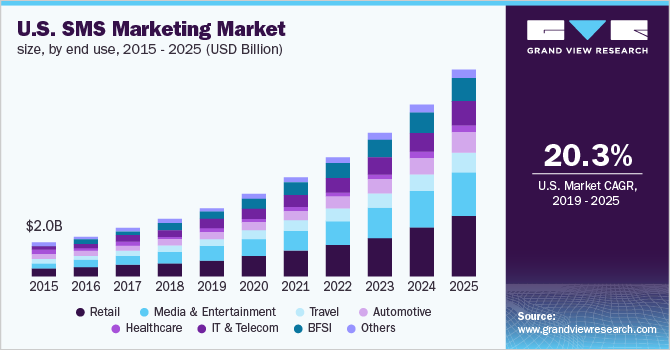 Image source: U.S. SMS marketing market size, trends, and analysis by industry – GrandViewResearch
There are a number of factors at work behind SMS marketing's growth in popularity:
For example, Dakota Financial works with many clients in areas with poor data coverage. In these cases, text messaging is vital to sustain the communication.
Advantages of using SMS marketing
The main advantage of SMS marketing is its capacity to both reach clients instantly and capture their attention. If the text you send is relevant to the user, the frequency is right, and they opted in to your campaigns, chances are they will respond positively.
Here are some other reasons that make digital marketers all over the globe turn to SMS as their go-to communication tool:
1. Quick and easy to set up
SMS promotional messages and templates can be created and sent in seconds. As a result, there is no need to come up with lengthy marketing copy and media content.
A business texting app can manage your company's texts from any device or browser.
2. Instant delivery
Texts reach clients instantly. When you send a text to customers, they receive prompt notifications on their phones. This means that an SMS gives clients access to content in seconds.
Any other type of communication would require that clients take an additional step, like opening their email or social media app.
3. Highest open rates
An estimated 60% percent of customers read texts within 1 to 5 minutes of receiving them, which is a better open rate than any other channel. And your marketing tactics will be even more successful, especially if they include a sense of urgency – e.g. "flash sales".
Owing to its high open rates, SMS marketing also provides a reliable way to send updates or get fast responses.
4. Above-average reply rates
Text messages are almost six times more effective than emails when it comes to response rates. This makes SMS the most engaging communication tool on the market, which you can use to collect more info on your target audience.
To increase brand loyalty and company visibility, all you have to do is create optimized client communications. SMS marketing provides all that, and more.
5. Cost-effective
Low cost per message and high response rates give SMS promotional messages a high return on investment. In contrast, contacting thousands of customers quickly can be expensive if you use other communication methods.
6. Easy to manage
You can manage multiple SMS campaigns from a single dashboard. TextMagic allows you to send texts in bulk and both automate and personalize campaigns. You can also integrate your favorite apps into the platform, which helps boost client engagement rates.
What is SMS marketing used for?
SMS marketing has a wide range of applications besides promoting your products.
It can upgrade your customer service, improve your communications, and help gather feedback to grow your business. Here are the main use cases of SMS marketing:
1. Discounts and promotions
SMS marketing can help keep subscribers engaged with your business. This is achieved by setting up SMS-exclusive offers and giveaway contests. Other types of promotional campaigns include the following:
2.Company updates & notifications
New product or campaign notifications – keep clients up to speed with your latest product launch and create unique campaigns that include their favorite items.
Item back-in-stock notifications – you can quickly re-engage lost customers and gain potential revenue using this type of notification; clients will appreciate not having to periodically recheck stocks online, and your conversions will significantly increase.
3. Referral campaigns
SMS referral schemes help grow your brand awareness and reputation through word-of-mouth marketing. When you create a referral campaign via SMS, the details matter the most: emojis, your company's link, images, and even memes.
Clients enjoy non-formal texts, but make sure not to overdo it; keep it professional and don't make it look like an advertisement. Offer a value proposition, include your link, and provide an incentive. Here's an example of how a referral text should look: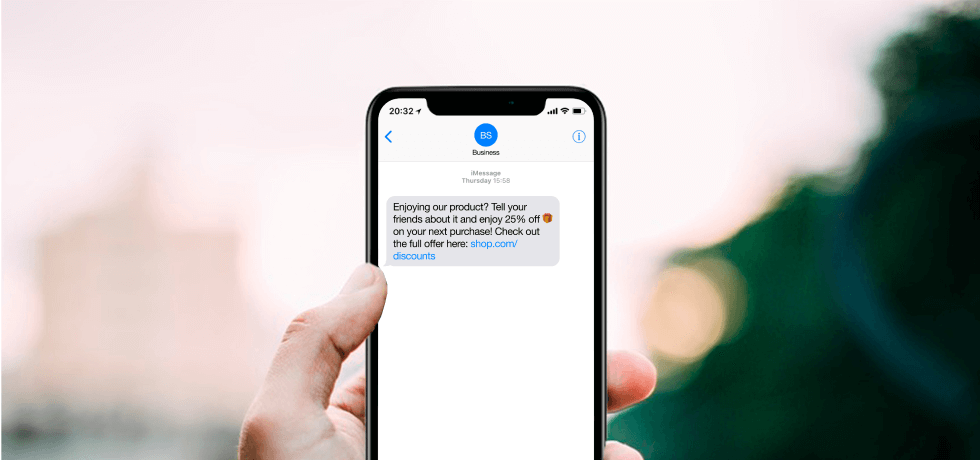 4. Shopping cart abandonment
Most retailers pinpoint abandoned cart rates as one of their biggest challenges. SMS marketing presents an affordable and effective way to recover abandoned carts using single or sequential auto-reminders. Free shipping bonuses also help reduce cart abandonment rates, and they work best if your clients have been inactive shoppers for a while;
5. Gathering feedback
SMS surveys
are a great way to collect large amounts of feedback quickly. As a result, they are highly effective at getting customer ratings for specific features and processes, as this approach elicits a
higher response rate
.
Market researcher Solvero found that SMS marketing was the perfect tool to survey narrow target groups for their projects, thanks to its high response rates and convenience for survey respondents.
6. Lead follow-up
Text message marketing is an instrumental communication channel for following up fresh leads. The sales journey is only sometimes seamless; occasionally, it takes an extra push for customers to engage and make the purchase decision.
Following up with leads is a great and simple way to increase your sales with personalized communications: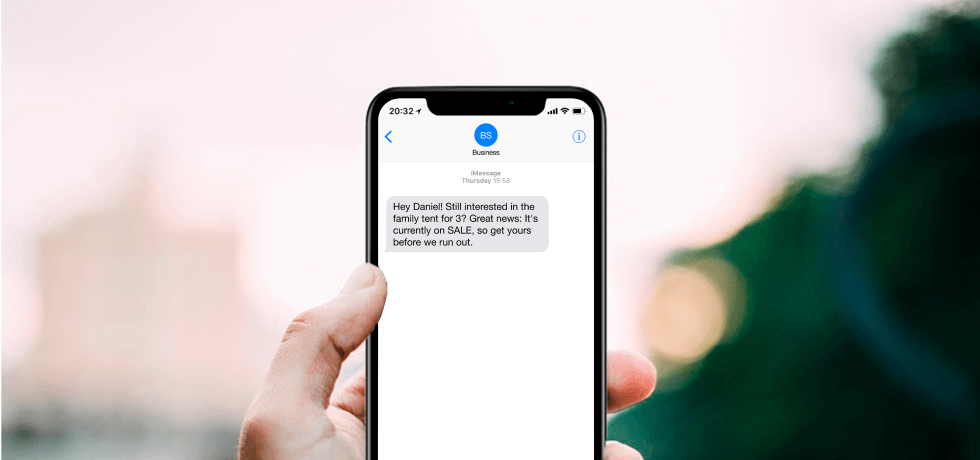 SMS marketing best practices
While specific regulations differ from country to country, there are best practices you should always follow. These are vital when you want to respect your customers' privacy and will ensure you get the desired response from your marketing campaigns.
SMS marketing mistakes to avoid
The wrong approach to SMS marketing can limit the number of responses you get to your messages. Here are 3 common mistakes that could lead to a negative response from customers or to a lack of response:
Low-value messages
Texting is a personal contact method; customers want to keep their inboxes free from spam. Make sure you only send marketing messages that have value to each customer and
segment your audience
to avoid sending generic messages to everyone on your mailing list.
Inadequate texting frequency
Similarly, even if you only send high-value offers, ensure your texting schedule won't exhaust or overwhelm your audience. Reduced texting frequency is also a problem because clients will lose touch with your brand and even find your texts intrusive after long inactivity.
Jargon and textspeak
Customers won't engage with your text if they can't understand it. Textspeak doesn't sound convincing and can appear lazy. Stick to using well-known and accepted
text abbreviations
.
Which businesses need SMS marketing?
Any business can benefit from including text message marketing in its strategy. However, for some industries, this technology is vital for growing the business and providing a top-tier service:
Summing up
SMS marketing offers multiple benefits to businesses in any industry.
Texting has many uses and offers a low cost per message, making it scalable for growing and already established businesses.
Including SMS marketing in your growth strategy improves your customer experience. It will also provide a very effective and reliable communication channel to promote your brand.
Get started with SMS marketing.
Sign up for TextMagic today!
---