Text Messaging App for iOS & Android
With the TextMagic text messaging mobile app you can quickly send and receive SMS texts, save contacts, create lists and manage campaigns.
Send personalized texts to your lists
Send SMS blasts to your entire contact list & personalize your SMS messages using custom fields.
Manage your contacts on the fly
Customize and import your favourite contacts, create lists, or leave useful notes with a few simple taps.
Encourage two-way communication
All your texts display as chats, making it easy to perform two-way communication and pick up where you left off.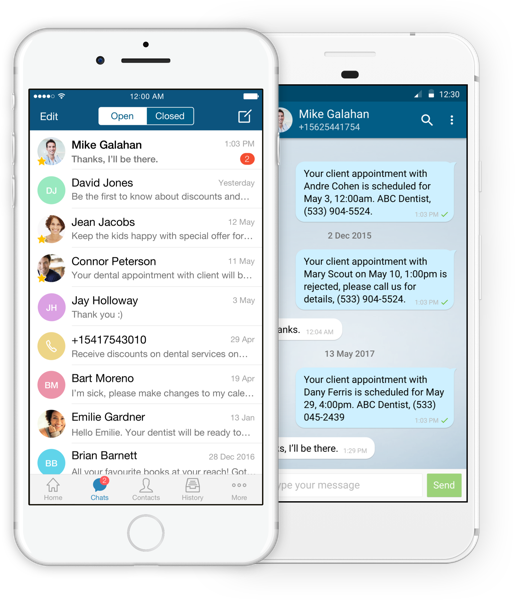 Send Text Messages on the Go with our SMS Mobile App
Find out how the TextMagic mobile app can improve your SMS strategy:
Never miss a single text
Receive push notifications for every incoming message and reply directly from your phone.

Manage multiple business numbers
Sync your business number with the mobile app and answer customers in real-time.
Fully sync with the Web App
Control all your conversations, campaigns, and contacts by synchronizing with the Web App.

Improve your SMS strategy
Segment your audience with lists and reach out at the right time with scheduled SMS messages.
Download Our Text Messaging Mobile App
We incorporated the best features of the TextMagic SMS software to create our new, robust mobile app. The new app allows you to send bulk SMS messages with a few simple taps, monitor delivery rates, import contacts instantly, personalize bulk SMS messages with custom fields, create templates, and much more.
Manage All Your Contacts & Conversations from One Mobile App
Our mobile app fully integrates with the desktop software. Here are a few things you can do with it:
Manage Contacts More Efficiently
Send or receive texts, get an overview of your contacts and edit sender settings from the intuitive dashboard.
Communicate with Your Staff
Create lists for staff members. Send SMS blasts to quickly resolve tasks & improve productivity.
Reschedule Missed Appointments
Send appointment reminders via mobile and instantly check replies to reschedule cancelled appointments.
Improve Customer Support
Auto-responders cannot solve all your customers' problems. Offer non-stop customer support with the live chat feature.
Send Promotional Text Messages
Use custom fields & lists to send personalized bulk SMS. Insert links and attach images with a few simple taps.
Manage Multiple Phone Numbers
Change your Sender Settings instantly and manage multiple phone numbers at the same time.
Frequently Asked Questions about the TextMagic Mobile App
Below are answers to frequently asked questions regarding our mobile app.
---
---