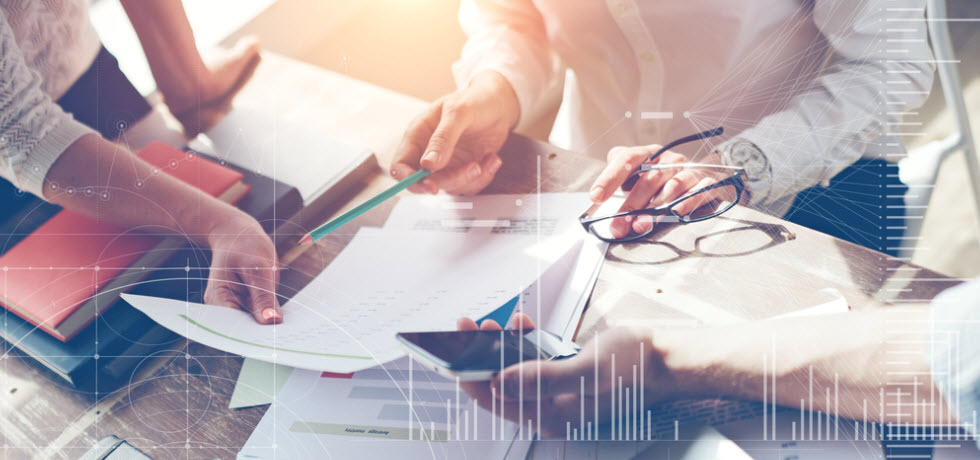 If you're looking for a game-changing marketing strategy that cuts through the noise and delivers unparalleled results, investing in SMS is not just an option—it's a necessity.
Text messaging and SMS marketing have emerged as the undeniable powerhouses of customer engagement, and the statistics we included in this article speak for themselves.
Join us as we delve into the latest and most captivating SMS marketing statistics of 2023, and discover why this dynamic medium should be at the forefront of your marketing arsenal.
Overview of SMS statistics in 2023
The global expenditure on SMS marketing amounts to $327.1 billion, with the United States leading as the largest market. Projections indicate that this figure will increase to $339 billion by 2023.
The market size for SMS marketing will double by the year 2024.

90 seconds on average is the typical SMS response time.

6.92 billion – current global population of smartphone users, indicating that approximately 86.29% of the world's population possesses a smartphone.

6 billion people own mobile phones, meaning 65% of the global population, etc.

23 billion texts are sent on average at a global level each day.

Only 39% of businesses have incorporated SMS into their digital marketing strategy.
Many business owners are missing out on this significant opportunity to connect with their target audience.
SMS usage and adoption trends
SMS remains a dominant form of communication globally, especially in regions where smartphone accessibility is relatively low or Internet connectivity is limited. Here's the data to support it:
US$ 101.77 billion is the expected value for the A2P SMS and CPaaS market by 2028. In 2022 it only reached US$ 71.07 billion.

6.2% is the The compound annual growth rate (CAGR) forecasted for the A2P SMS and CPaaS market by 2028.

67.2% of CPaaS users experienced a significant boost in their revenue, with an average 28.5% increase.

75% of consumers express a clear preference for text-based customer support interactions over traditional phone calls or social media interactions.

7.13% is the average reply rate for B2B messages out of 21 million texts sent every month.

50.17% is the average reply rate for businesses engaging in two-way conversations. (Source: TextMagic)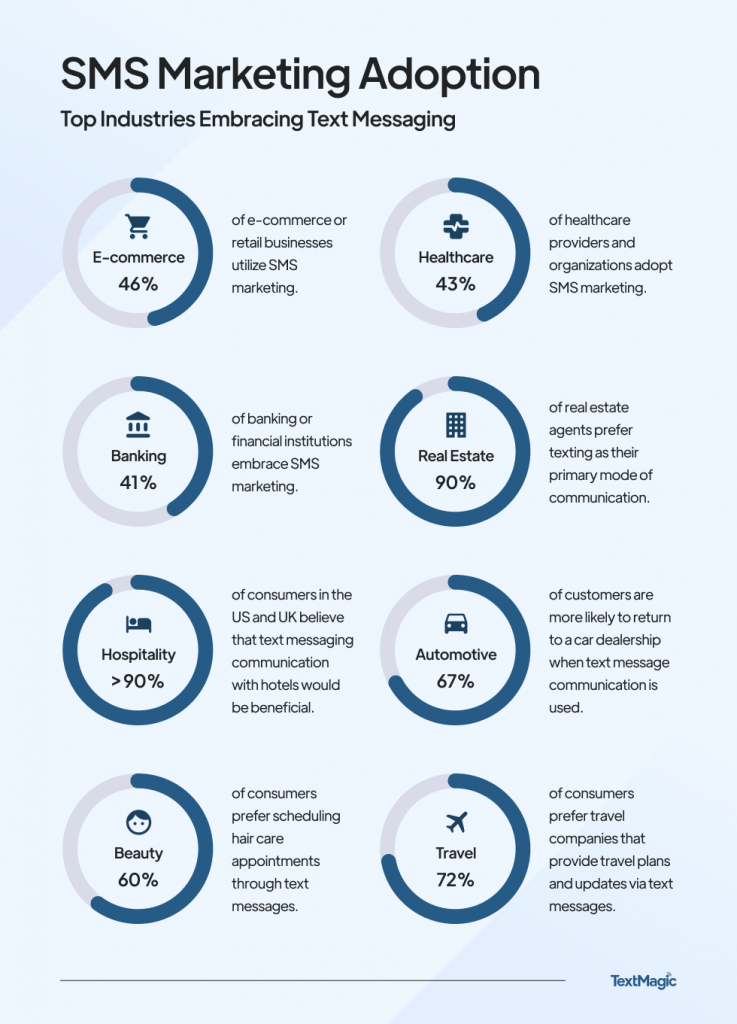 SMS adoption across different industries
From retail and healthcare to finance and hospitality, industries across the board have embraced SMS as a powerful tool for delivering important updates, engaging customers, and providing convenient service interactions:
Three prominent industries show a higher inclination to opt-in for text messages:

E-commerce or retail (46%),
Healthcare (43%),
Banking or financial institutions (41%).

67% of consumers express a firm intention to revisit a car dealership for paid service work when text message communication is used compared to phone contact.

Over 90% of consumers in the US and UK believe that text messaging as a means of communication with hotels would be either "very" or "somewhat" beneficial.

90% of real estate agents chose texting as their preferred mode of communication.

60% of consumers would rather schedule hair care appointments via text messages.

72% of consumers express a preference for travel companies that offer travel plans, reminders, and updates through text messages.

65% of individuals express a preference for companies that utilize text messaging to communicate important account details, send bills, and provide payment reminders.
Growth of SMS as a communication channel
Next, let's compare text messaging to other marketing channels and see how they stack up next to each other:
Text messages exhibit an impressive response rate that surpasses phone calls, emails, and Facebook messages by 209%.

An estimated 60% of customers read text messages within 1 to 5 minutes of receiving them.

63% of U.S. customers prefer texting with businesses rather than voice communication.

26 minutes are spent on average each day by Americans for texting activities, while their phone calls account for approximately 21 minutes per day.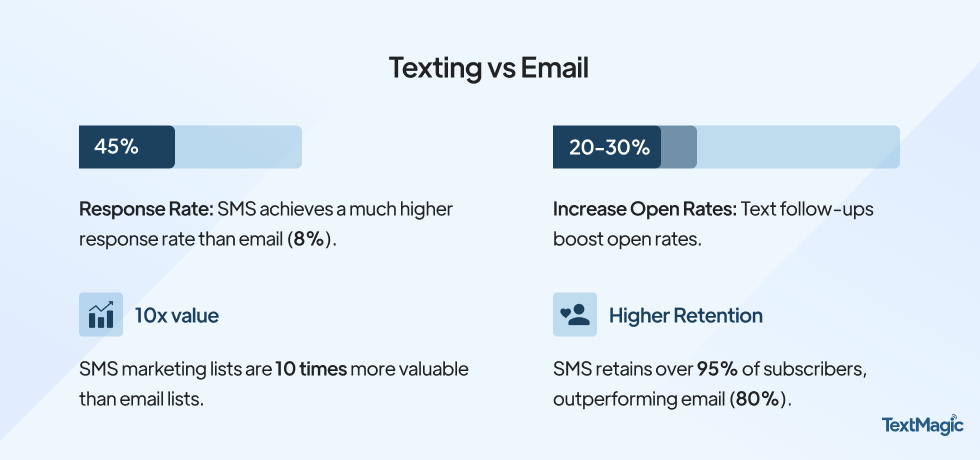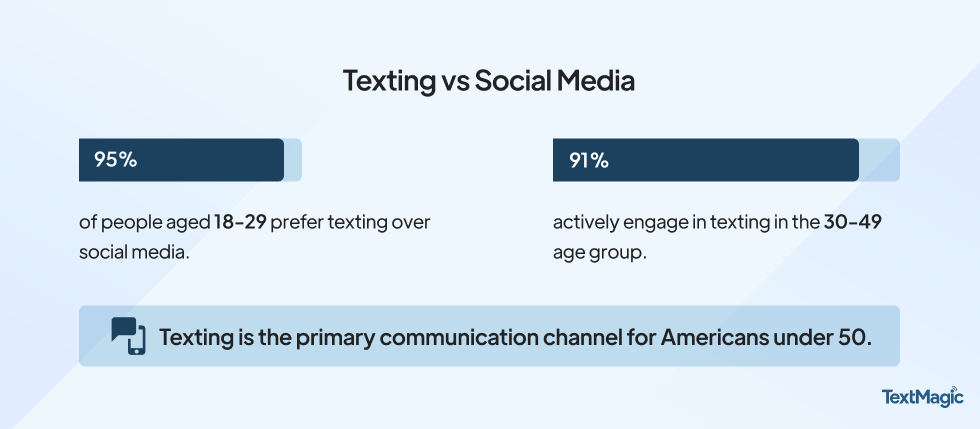 95% of people aged 18-29 chose texting as their preferred mode of communication, while social media engagement stands at 90%.

91% of people aged 30-40 actively engage in texting, whereas their social media usage is at 82%. It can be concluded that texting is the primary communication channel for Americans under the age of 50

33% of American adults express a preference for text messages over any other forms of communication.
Effectiveness of SMS marketing
SMS marketing is highly effective due to its high open rates, immediate delivery, personalization capabilities, high conversion rates, cost-effectiveness, and permission-based nature.
Conversion rates and ROI of SMS campaigns
29% is the average conversion rate of SMS marketing, surpassing email marketing's average conversion rate of approximately 18%.
Open rates and engagement levels of SMS messages
Mobile and SMS consumer behavior
Let's explore some key aspects of mobile consumer behavior and its impact on SMS communication.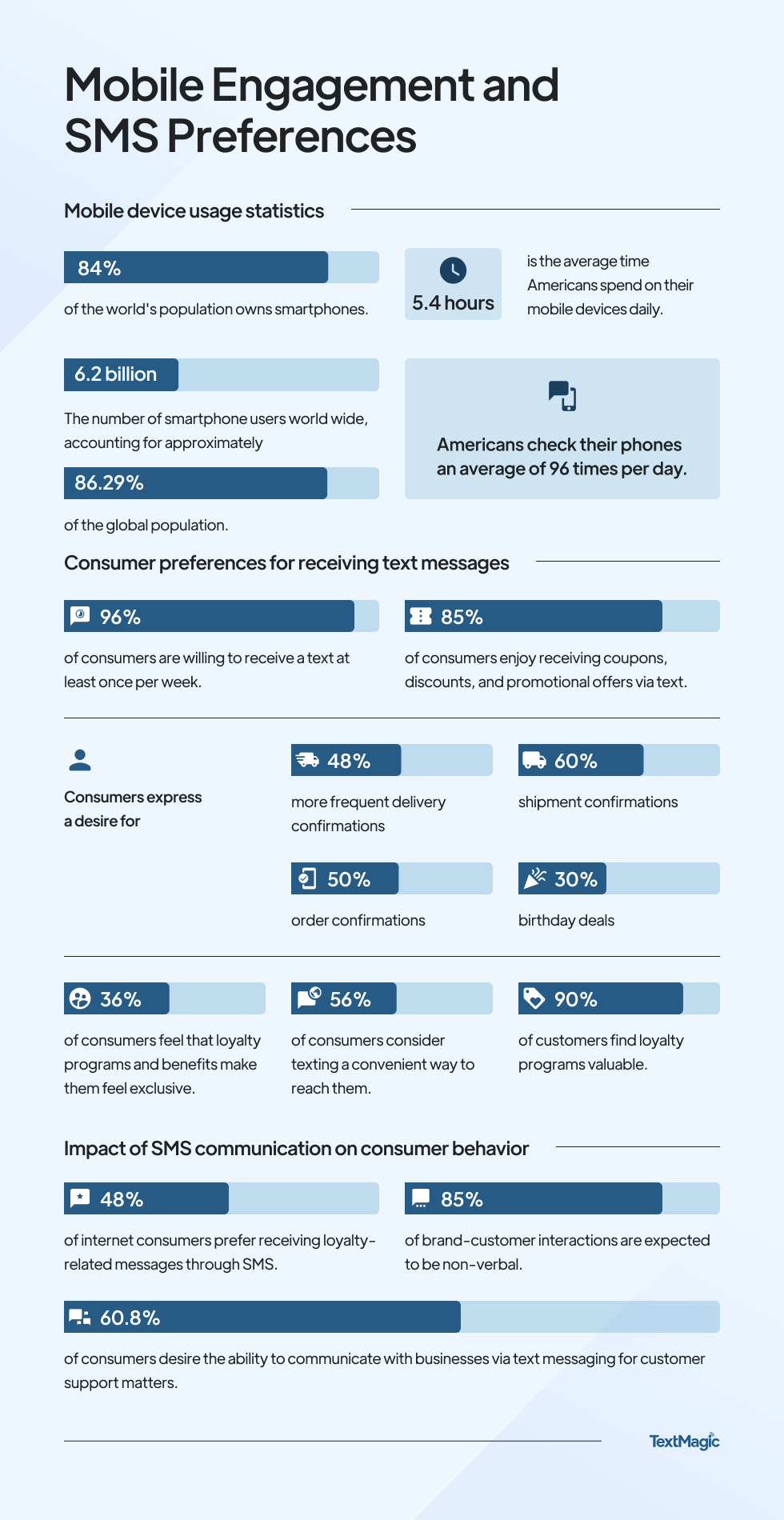 Mobile device usage statistics
Consumer preferences for receiving SMS messages
96% of consumers reported willingness to receive a text at least once per week, according to a study conducted by Klaviyo.

48% of consumers enjoy coupons, discounts, and promotional offers via text.

64%would like to receive delivery confirmations more often,

60% would like to receive shipment confirmations,
50% would like to receive order confirmations,
39% of responders would enjoy receiving birthday deals.

36% of consumers feel that loyalty programs and benefits make them feel part of an exclusive group.

56% of consumers consider texting to be a convenient way to reach them, regardless of their location. This indicates that SMS messages can effectively reach customers on their preferred communication channel.
90% of customers find loyalty programs valuable, highlighting the positive impact of SMS-based loyalty initiatives.
Impact of personalized and timely SMS communication on consumer behavior
Personalized and timely SMS communication has a profound impact on consumer behavior. It fosters engagement, builds relationships, drives conversions, improves satisfaction, boosts brand recall, and serves as an effective channel for urgent communication.
48% of internet consumers have expressed a clear preference for receiving loyalty-related messages through SMS.

85% of brand-customer interactions are expected to be handled without the need for verbal communication

60.8% of consumers express a strong desire for the ability to communicate with businesses via text messaging for customer support matters.
More text messaging stats from TextMagic customers
Below are some relevant stats from TextMagic users, that show the high-engagement of two-way text messaging. It also shows more opportunity for businesses to implement personalization features into their SMS marketing campaigns.
| Parameter | Value |
| --- | --- |
| Average reply rate for users engaging in 2-way communication | 50.17% |
| Average reply rate for all B2B text communications | 7.13% |
| Outbound texts with SMS links | 26.9% |
| Outbound texts that use personalization | 7.9% |
| Average monthly texts volume | 21 million |
Future trends and predictions
The SMS industry continues to evolve and adapt to changing technological advancements and consumer preferences. Several future trends and predictions can be anticipated for the SMS industry. Let's explore some key insights:
Emerging technologies shaping the future of SMS
SMS remains a versatile and essential communication tool, enabling businesses to engage with customers, deliver important information, and facilitate various interactions in an increasingly connected world.
Here are the main technologies that contribute to it:
Artificial intelligence: AI-powered chatbots can handle customer inquiries, provide support, and even facilitate transactions through SMS.

IoT devices (Internet of Things) can send SMS notifications, alerts, or updates to users, providing real-time information and enhancing communication between devices and individuals. For example, SMS can be used to send security alerts from smart home systems or notifications from connected healthcare devices.

Mobile payments: with the rise of digital wallets and mobile banking, SMS is used for secure authentication, transaction alerts, and verification codes. It enables businesses to provide convenient and secure payment experiences to their customers, reducing friction and enhancing security in financial transactions.
Predictions for the growth and evolution of SMS in the coming years
Beyond Market Insights predicts that the market for application-to-person (A2P) SMS messaging will experience substantial growth, rising from 62.2 billion in 2021 to 89.2 billion by 2030. This represents a compound annual growth rate (CAGR) of 4.1% between 2022 and 2030.
$12.6 billion – how much the SMS marketing industry is projected to be worth by 2025, indicating its growing significance in the marketing landscape.

60% of business owners have intentions to boost their budget allocated for SMS marketing.

75% of customers continue to express their desire to receive marketing offers through SMS.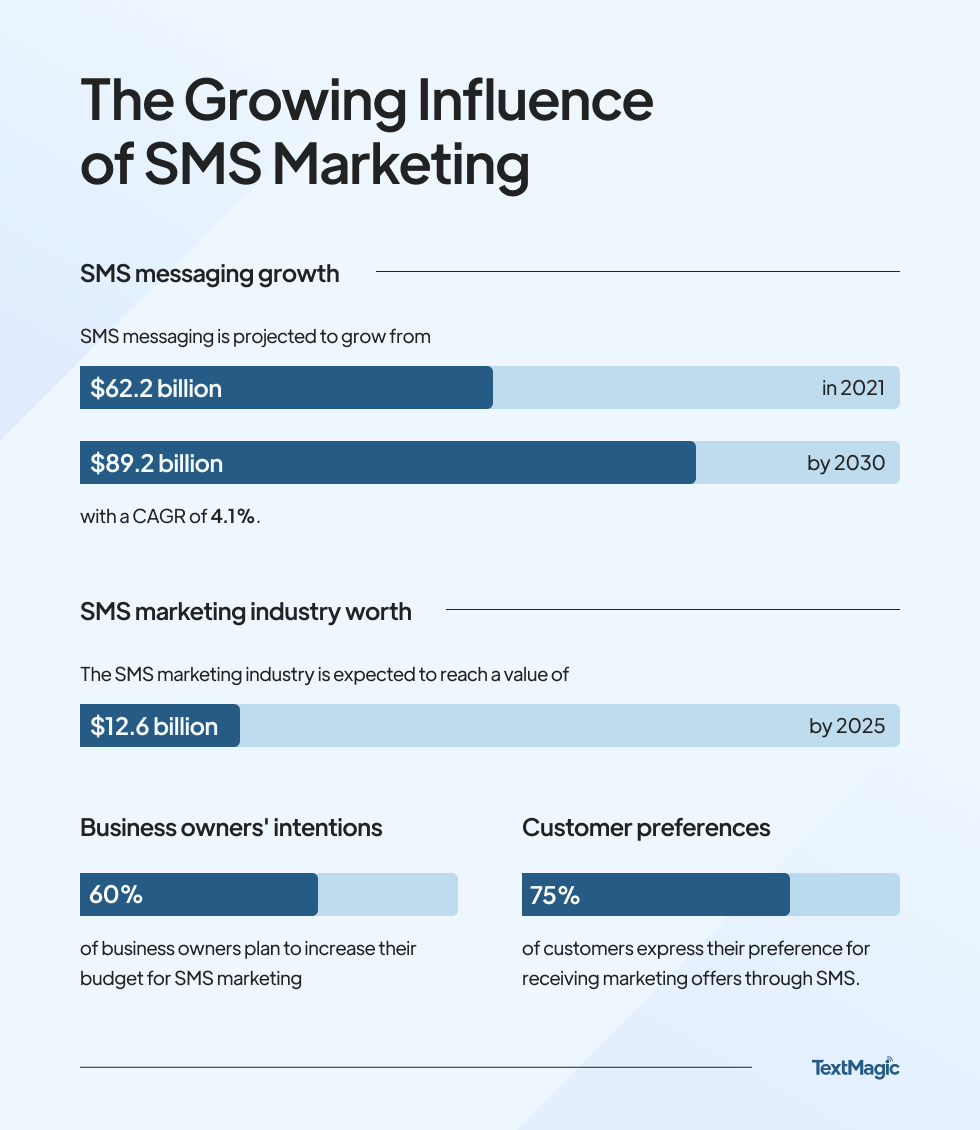 Conclusion
Leveraging SMS in business communication offers a powerful and effective way to reach a broad audience, ensure message delivery, personalize communication, facilitate instant and interactive conversations, and do so in a cost-effective manner. Here's a short yet compelling recap of the facts:
90 seconds: on average, how long it takes people to reply to text messages.

9 in 10 people open text messages.

86.1% of recipients promptly open SMS messages within 30 minutes of receiving them.
This is yet another proof that, by incorporating SMS into their communication strategies, businesses can enhance customer engagement, streamline operations, and drive overall success.
---