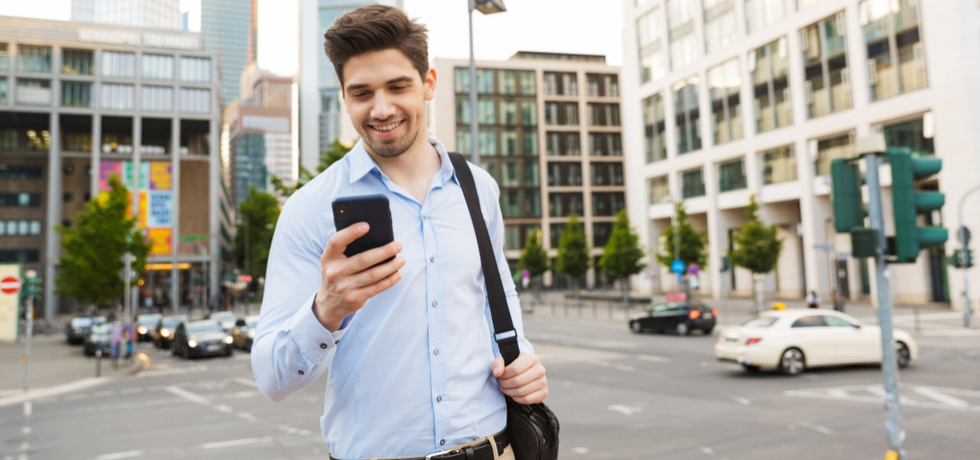 Are you ready to make no-shows a thing of the past? We're here to introduce you to appointment reminder texts and help you save time and money.
Research shows that 80% of Americans check their phones within fifteen minutes of waking up and go through their phones, on average, 150 times per day.There's plenty of opportunities to get through to your customers.
Appointment reminder texts give busy clients a friendly reminder, significantly increasing their chances of showing up on time.
Below, we will go through text message strategies and stats, what you should be mindful of when composing your text, and show you a few templates and an example of an appointment texting flow and when you can use it.
Personalized appointment reminders
The essential parts of a reminder include the contact's name and details of the event. The contact's name adds personalization to your appointment confirmation message, a proven strategy to increase sales.
According to a survey by Infosys, 74% of businesses that implemented personalized marketing saw increased sales. The same study also revealed that 61% of those businesses also saw an increase in profit, and 55% saw an increase in loyalty.
Additional research also shows:
91% of consumers are more likely to shop with brands who provide relevant offers and recommendations.
72% of consumers in 2019 only engage with marketing messages that are customized to their specific interests.
80% of frequent shoppers choose brands that personalize the shopping experience.
Something as simple as adding your attendee's name at the beginning of your text reminder can go a long way in improving your attendance rates.
Once you've addressed your attendee by their name, you need to think about what other information would be helpful to make the upcoming appointment go smoothly. Keep in mind that your messages should be clear and concise.
Craft an appointment texting flow
Keeping your customers updated about their appointments will increase engagement and satisfaction. This will help your business have a higher client retention rate and increase the chances that your services will be recommended to new people by existing clients.
A texting flow is beneficial when a missed appointment would throw off your whole schedule for the day and lead to losing time and money. Medical field businesses should consider this strategy.
We wouldn't recommend an appointment texting flow for a busy restaurant or beauty salon. It might feel like spamming to your clients, and it's also unnecessary, as the empty spot left by a no-show will be filled up immediately by another client.
When crafting an appointment texting flow, we recommend touching on these points:
send an appointment confirmation text right after booking your client
to cancel or reschedule; this will give you extra time to fill that empty slot.
send a reminder message on the scheduled day, where you offer all the information a client might need to honor the appointment.
We also recommend sending a follow-up text to suggest booking again and to ask for short feedback:
how would you rate our services?
are you pleased with the appointment flow/ business location/ customer service?
link to your reviews page where your client can offer extensive feedback
Appointment reminder texting flow example
*Client books appointment with a doctor*
*One day before the appointment*
*Morning of the appointment day*
*Day after the appointment*
*In Case of Positive Feedback*
*In Case of Negative Feedback*
Ready-to-Use appointment reminder templates

Salon appointment reminder templates
Doctor appointment reminder templates
Dental appointment reminder template
Veterinary appointment reminder template
Chiropractic appointment reminder templates
We encourage you to get creative and modify these templates to fit your business model and brand voice.
Offer convenience in your appointment reminder texts
Any SMS reminder for an appointment has to include the date, time, location, and an option for cancelation. If there's a desk check-in requirement at your business location, do let your clients know.
The point is to include everything they need to know to get to your appointment easily and on time.
In addition, you can include a link where users can quickly reschedule their appointments or encourage them to call. Your clients are also busy people. So if something comes up, you want to give them a quick way to reschedule without having to go through a complex process.
Another thing to remember is that you can use other channels in addition to text messages. For example, you can send email reminders.
As you experiment with different reminder text messages, you'll also discover the best time to send an SMS. This will help you increase your attendance rates and also reduce the number of unsubscribes from your messages.
Main Takeaways about How to Text Appointment Reminders
Whether you're a local business or a large enterprise, SMS appointment reminders will help you keep customers engaged and increase your attendance rates.
Personalizing your text messages or crafting texting flows will improve business-client communication and help you attain your goals.
Keep messages short and clear, and make sure not to leave out any essential information.
Using a texting platform allows you to schedule automated appointment reminders and keep track of the performance of your text messages.
Feel free to bookmark this article and come back whenever you need some guidance or inspiration about how to send a reminder text!
Send your first text in minutes.
Try out our SMS templates today!
---