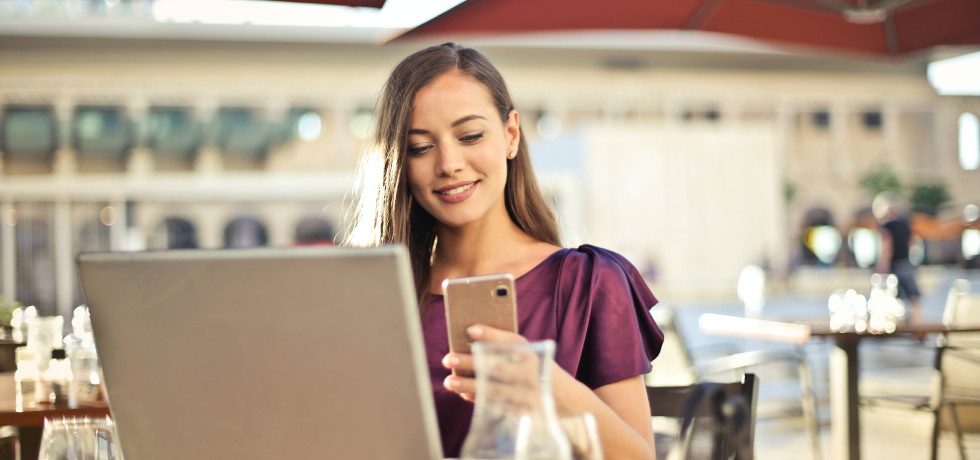 In today's dynamic business ecosystem, keeping up with communication demands is crucial. Hence, the need for businesses to utilize a communication platform as a service (CPaaS).
CPaaS is a cloud-based framework that enables organizations to seamlessly integrate real-time communication capabilities into their existing system, applications, or websites. The beauty of it lies in its customization, scalability, and cost-effectiveness, catering to businesses of all sizes.
However, that is not all. In this article, we'll delve into CPaaS, exploring its abilities to transform your business communications and take your A2P (application-to-person) messaging from zero to a hundred.
Understanding Communication Platforms as a Service (CPaaS)
At its core, the concept of communication platforms as a service revolves around delivering and managing multiple business communication services through a single API.
A typical CPaaS provider offers these essential components:
Application programming interfaces (API)

Software developer kits (SDKs)

Analytics and reporting features

Add-ons and integrations

Text, video, and voice or audio messaging services.
By adopting CPaaS, you can integrate basic communication technologies into one system, transforming how you interact with your customers and employees. CPaaS also provides valuable insights into your communications performance.
Furthermore, CPaaS promotes business continuity and recovery in unplanned situations. With a cloud-based communication platform as a service, hardware failures will have little or no effect on business operations, minimizing downtime and potential revenue loss.
Advantages of CPaaS for businesses
CPaaS offers several benefits that make it an invaluable tool for improving business communications. Here are some of them:
Enhanced customer engagement and experience: CPaaS enables businesses to integrate real-time communication features, such as voice and video calls and SMS messaging, into their applications or websites. This facilitates prompt and personalized customer support via preferred channels, improving engagement and customer experience.
Streamlined internal communication and collaboration: With CPaaS, businesses can enjoy cohesive internal communications—courtesy of APIs—without juggling multiple platforms and services.
Employees can connect and collaborate through video conferencing, file sharing, and instant messaging. Thus, fostering teamwork and increasing productivity.
Scalability and flexibility for business growth: CPaaS enables businesses to easily add, remove, or modify specific communication features to improve operations. Such flexibility enables them to remain agile and swiftly adapt to the changing business landscape.In addition, businesses can scale up their communications services as they expand, eliminating the need for complex system overhauls.
Cost-effectiveness and efficiency in communication processes: CPaaS solutions are cloud-based, saving businesses money on hardware maintenance and support. Moreover, cloud services offer flexible payment plans based on the "pay-as-you-go" model.
Use cases and applications of CPaaS

CPaaS has many use cases and applications in businesses across diverse industries. Below are a few of them:
1. Integrate CPaaS in customer support and service
You can use a CPaaS provider's call API to integrate voice and video calling capabilities into your customer support applications. This eliminates the need for external contracts with phone service providers and enhances communication between agents and customers.
Furthermore, you can augment your bulk SMS marketing framework with the messaging API of a communication platform as a service. You can send transactional and promotional messages at scale to different people across multiple platforms.
2. Enable real-time communication in applications and websites
With CPaaS, you can integrate messaging features, such as chatbots, into your websites and applications to facilitate real-time communication. Customers can interact with chatbots for prompt responses to their queries instead of waiting on a live agent for support.
Furthermore, embedding browser-based voice capabilities into your websites and applications provide text-to-speech services to enable customers with special needs to access your products and services.
3. Automate communication workflows and processes
Automate text message notifications to keep customers abreast of their orders, promote your products and services, or send meeting reminders to employees. In addition, you can use CPaaS to set up an automated voice system with Interactive Voice Response (IVR) technology.
The system can handle common customer queries via calls or redirect the customer to the right department for comprehensive support. This simplifies customers' communication processes and promotes self-service.
4. Connect with existing business systems and tools
CPaaS seamlessly integrates with existing business systems and tools—such as CRM, productivity tools, and messaging apps—allowing for unified interactions with customers and employees.
The CPaaS and A2P messaging synergy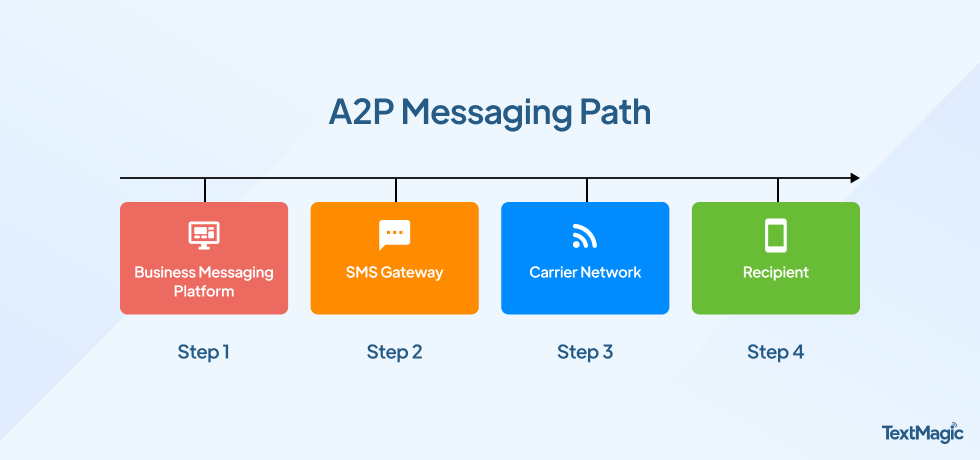 CPaaS empowers A2P (application-to-person) messaging capabilities by:
Managing connectivity between various messaging applications through tools and APIs.

Eliminating the need for businesses to develop and deploy new communications platforms from scratch.

Providing a ready-to-use efficient, scalable solution for A2P messaging.

Ensuring the security of A2P messages via its cloud-based framework.

Facilitating large-scale, targeted delivery of A2P messages and automating messaging workflows.

Supporting various communications channels, including SMS, MMS, voice, and chat.

Providing analytics and reporting features to evaluate the performance of A2P messaging campaigns.
Moreover, with the CPaaS market projected to reach $45.3 billion in 2027, leveraging a communication platform as a service for A2P messaging is highly necessary.
Here's how to go about it:
Choose a reliable CPaaS provider that offers comprehensive communication APIs for A2P messaging.

Use the APIs to integrate A2P messaging into your already-existing communication stack.

Explore different communication channels – MMS, SMS, chat, and voice.

Utilize CPaaS capabilities to automate and personalize A2P messaging workflows.

Send large volumes of messages without limitations.

Monitor and evaluate the performance of your A2P messaging campaigns and make rational decisions.
Benefits of using CPaaS for A2P messaging
Utilizing CPaaS for A2P messaging has a lot of benefits, such as:
Enhanced message delivery and reliability: Most communications platforms as a service have intelligent routing algorithms that optimize message delivery paths based on network conditions and recipients' preferences.Additionally, they have strong partnerships with telecom carriers, allowing them to send messages globally through reliable channels.
Improved customer engagement and communication: CPaaS enables two-way A2P messaging with customers using their preferred channels. This facilitates real-time communication and improves customer engagement.
Streamlined automation and integration capabilities: CPaaS offers the necessary automation to facilitate A2P messaging across multiple communication platforms. These platforms can also be integrated into a single workspace to ensure unified and timely communications service delivery.
Scalability in messaging campaigns: With CPaaS, you can easily tweak your A2P messaging campaigns to meet diverse needs without overhauling your entire marketing framework or disrupting customer service.
Choosing the right CPaaS provider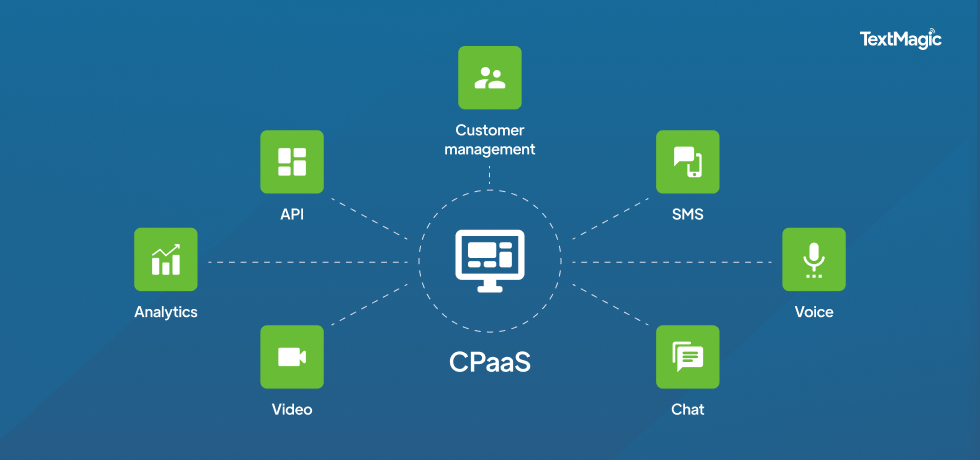 If you're contemplating trying a cloud-based communication platform as a service, here are some factors to consider to help you make the right choice:
Pricing models: Carefully assess their pricing structure and payment models to ascertain if they fit your communications budget well and align with your business goals. Most importantly, check if the provider offers a free trial to test their functionalities before committing.

Security and compliance with standard regulations: Verify if the provider adheres to specific rules, depending on your industry and geographic location. Furthermore, ensure they have comprehensive security frameworks like privacy protection and data encryption protocols.

Scalability options: Ensure the provider can accommodate your growing business needs and communications traffic without impeding performance or quality.

API capabilities and developer resources: Examine the CPaaS provider's developer tools and APIs to ensure they are customizable and can be easily integrated into your current systems and applications.
Meanwhile, it is advisable to opt for a CPaaS company that has comprehensive documentation, sample code, software development kits, and developer support.
Implementation and best practices
Planning and executing a successful CPaaS integration is not a walk in the park. Below are some best practices for leveraging CPaaS in business communication:
Determine integration goals: Clearly define your objectives for integrating CPaaS into your existing communication stack. This will help you understand the underlying value of CPaaS for your business and establish confidence in the technology.

Understand your target audience: Identify the touchpoints of your target audience and determine the specific communication channels (voice, SMS, video, etc.) you want to integrate.

Evaluate CPaaS providers to make a pick: Research and shortlist top CPaaS companies and evaluate them based on the factors we discussed above. Also, read reviews and compare offerings to make an informed choice.

Assess your existing infrastructure: Evaluate your current infrastructure to determine if there is a need for modifications to support CPaaS integration. Consider your security protocols, databases, and business rules.

Design an integration plan: This plan should include means of error handling, data synchronization, authentication, and other deets needed to facilitate successful integration.

Test and validate the integration: Thoroughly test the integrated solution to ensure scalability and identify and resolve any issues before deployment.

Train relevant stakeholders to use the CPaaS: Provide adequate training and support to specific stakeholders to enable them to use the CPaaS provider effectively. You can also document the integration process for future reference.

Prioritize continuous improvement: Once you have set up your CPaaS, do not leave it to chance. Regularly assess the CPaaS integration to ensure you're on the right track. Also, collect feedback as often as possible and use them to make changes where and when necessary.
Key features of TextMagic as a communication platform
TextMagic is a reputable business communications service provider that offers the following features:
SMS and MMS messaging capabilities for effective communication
TextMagic's CPaaS solution enables companies to provide effective communication for customers using text, images, videos, and audio.
Two-way messaging and interactive campaigns for customer engagement
With TextMagic, businesses can send messages and receive customer responses and vice versa. You can create interactive campaigns, such as polls and surveys, to gather insights from your customer base.
TextMagic will soon incorporate Email, WhatsApp, and Messenger as communication channels to help boost your customer engagement.
Advanced APIs for seamless integration with existing systems
TextMagic provides a range of APIs that allow businesses to integrate SMS functionality into their existing applications, systems, or websites. This enables automated text messaging workflows across different channels.
Conclusion
Communication technologies can be costly to implement and manage. However, CPaaS offers an affordable alternative for businesses looking to capitalize on A2P messaging. You can test, modify, and optimize your internal and external communications systems instead of investing in rote schemes you're unsure of.
---