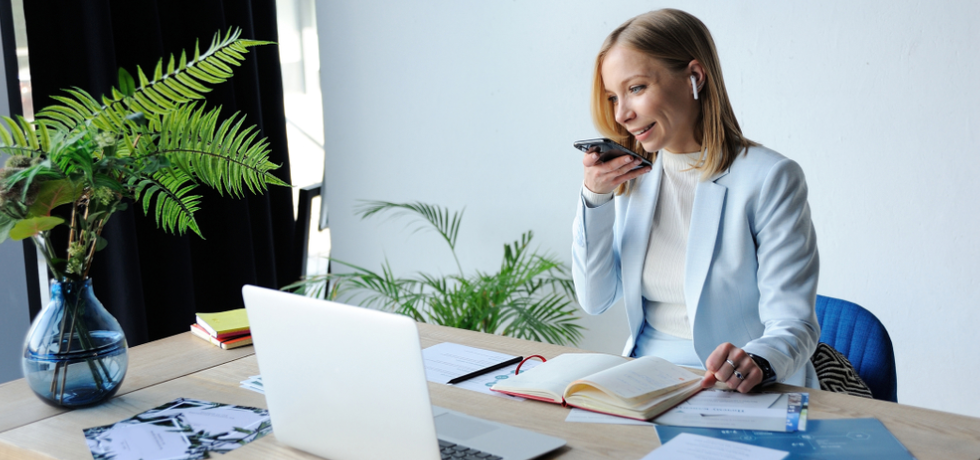 Voice messaging is an often overlooked business communication tool with a wide range of potential uses.
It enables businesses to quickly create audio messages and send them to groups of customers or employees. As a result, this technology can be useful for both staying in touch with your team and communicating with clients.
So how does it work, and how do you use it effectively?
How Audio Text Messaging Works
Audio text messaging lets you send pre-recorded voice messages and other audio to recipients' phones. Messages are sent as phone calls and left as an automatic voicemail if the call is not answered.
Additionally, audio text messages can be scheduled to contact lots of people at a specific time.
Types of Audio Text Messaging:
Voice Broadcast
Voice broadcasting lets you upload an audio file of up to 90 seconds. You can then deliver this as a voice message to recipients.
Text-to-Speech
Text-to-speech messages let you text an SMS message to be read by a text-to-speech program in a phone call or voicemail. As a result, it can send urgent audio messages even when you can't make a recording.
Audio Text Messaging With TextMagic
Using TextMagic to send audio text messages is simple and only takes a few steps:
Text-to-Speech
Select 'Compose' from the main menu.
Select 'Text to Speech.'
Enter your recipients or select your mailing lists.
Select the number you want to send the message from.
Type your message into the message box.
Additionally, you can personalise messages using mail merge tags.
Click 'Preview' to listen to your message.
Click 'Send' to deliver your message immediately, or 'Schedule Message' to send it at a specific time.

Voice Broadcast

Select 'Compose' from the main menu.
Select 'Voice Broadcast.'
Enter your recipients or mailing lists
Select a number you want to send the message from.
Click 'Select Audio' to upload the file you want to send. The audio file can have a maximum length of 90 seconds and needs to be in .wav or .mp3 format.
Click 'Send' or 'Schedule message.'
Audio Text Messaging Tips
We've covered some of the ways businesses can use audio text messaging, but how do you create an effective message?
Here are four rules to follow when creating audio text messages:
Avoid Jargon
Jargon and technical terms your recipient might not understand will only make your message more confusing. Recipients shouldn't need to get in touch to clarify, and using too many buzzwords can get on a lead's nerves.
Keep It Simple
Keep your messages short and to the point. As a result, your message will be clearer and easier to remember, and this also helps prevent you from speaking too quickly.
Practice Makes Perfect
Unlike a voicemail, you can record your audio text message as many times as you need to. Because of this, you should always take the time to get it right. Furthermore, if necessary you can hire a voiceover actor to record your voice messages for you.
Provide A Clear Next Action
By the end of your message, recipients should know exactly what the next step is to act on your message. A clear call to action is a vital part of any marketing message.
Audio Text Messaging Benefits Businesses
Audio text messaging offers a number of benefits to businesses. It can be used to improve communication with staff and clients, and also as a marketing tool.
Talk to Your Team
Busy team members who are on the move don't always have the time to stop and type out a text. As a result, being able to record and send a message quickly instead of calling in to update colleagues saves time for staff in the field and back in the office. Similarly, team members who don't have time to read a text or email can listen to messages and there's no need to look at their phones.
As audio text messages are delivered as a phone call, they are useful in situations where you need employees to get the message straight away.
For example, clothing retailer Bob's Stores needed to send out an alert during Hurricane Sandy to close their 35 stores in the region. Using voice broadcast, they could alert over 200 workers in a matter of minutes.
Additionally, voice messages allow you to communicate more personally with team members in other time zones.
For remote teams, communicating only by text and instant messaging can be impersonal. Instead, audio text messaging can add a more human touch when you can't be online at the same time.
Connect With Customers
Audio text messaging can support your communication with clients, for example sending voice message updates on project progress, appointment reminders, or booking confirmations.
Sending a voice broadcast or text-to-speech message increases the chance your clients get alerts and reminders. Consequently, this can make your service easier to use for clients.
Besides helping your customers remember their appointments, this also prevents lost profits because of missed bookings.
For example, dentists lose an average of $31,500 a year on missed appointments. Because of this, RevenueWell uses voice broadcasting to send 80,000 personalized appointment reminders a month.
Audio text messaging can give routine customer interactions a more personal touch compared to email or text. It also shows clients you can provide an extra level of care.
Convert More Leads
Audio text messaging can send audio marketing and voice messages to your leads and mailing lists. As a result, you can get in contact with leads in any time zone through scheduled messages.
By creating and personalising audio files for every stage of interacting with a lead, audio text message enables more consistent follow-up contacts.
If you can respond to a lead in the first minute of them requesting information, you are are much more likely to get a sale. Despite this, only 7% of businesses can respond within 5 minutes. In contrast, automated audio text messages enable a near-instant response time to leads. Because of this, your sales team can get more conversions from existing leads.
Besides responding quicker, audio text messaging also ensures your live agents can spend more time talking to qualified leads, and less time waiting for leads to pick up the phone.
Audio text messaging can benefit many aspects of your business, from improving your customer experience and marketing, to making your team correspondence more productive. TextMagic offers a simple, easy-to-use audio text messaging service that lets you create and send voice broadcasts within minutes.
---