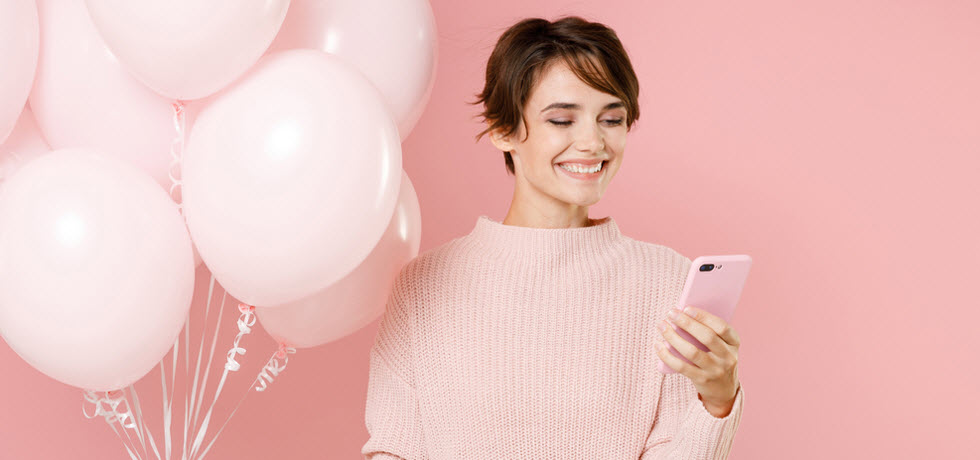 Sending customers and employees a text on their birthday is a great way to show your appreciation for your employees and reward loyal shoppers with a birthday treat. Birthday text messages to customers also boost sales at the same time. Birthday texts provide benefits to both you and your customer. And with a few tips and tricks, they are easy to do effectively.
Why Do Birthday SMS Messages Matter?
A birthday text is a personalized message that a business can send to celebrate a customer's or employee's birthday. Besides wishing them well on their birthday, a birthday text often also includes an extra treat to celebrate their day.
For customers, this can take the form of a coupon or link for a discount or free shipping or allow the customer to redeem a free item.
Happy birthday text messages to employees might contain a reward for your employee's hard work, like adding points to their perks scheme.
If you know your customer's date of birth, you can schedule a birthday message for them every year. Otherwise, you can set up a birthday keyword that customers can text to receive a promotion once a year.
Why Send a Birthday Text?
To start with the obvious, wishing your people well on their birthday is just a nice thing to do. Most people will appreciate that you took the time to do it and think better about your business. It's a simple and easy way to boost customer loyalty and employee engagement.
In fact, 82% of employees say they don't feel they get enough recognition from their employers, with 40% saying they think they would work harder if they did. This is especially important for companies with large numbers of employees, such as a call center, where it is easy for individuals to feel like their efforts go unnoticed.
There are other benefits to sending birthday texts too. People usually feel more willing to splurge a little to treat themselves on their birthday. This makes them more likely to take you up on the offer than at other times.
As a result, messages sent on a customer's birthday get an average of almost a 500% higher transaction rate than other promotional messages. This leads to over 300% higher revenue.
7 Happy Birthday Texting Tips with Examples
Birthday texts are more likely to get a response than other types of promotional messages. You can increase that chance even further with the right message. Follow these 7 tips to ensure your customers will love every birthday text you send:
1. Personalize Your Message
Birthdays are personal events, so your birthday message should also be personal. Show how well you know your customer by focusing on products and services you know they have an interest in.
Use their previously bought and viewed items, as well as their wish list, to offer a relevant discount. Alternatively, you can present your customer with a store-wide coupon instead. Include a couple of relevant product suggestions in your text. This will help inspire your customer to think about how they can use the discount. Even if none of your ideas appeal, it could remind them of something else they had their eye on.
Sample Text:
Using customer wish lists as a basis for birthday promotions has the added advantage of encouraging customers to use the wish list features with the chance of getting a steep discount on one of their desired items. Getting more people using the wish list helps you know your customers and their interests better, enabling better personalization for all your promotions, not just birthday texts.
2. Celebrating Birthdays in Large Companies
In large companies with 1000+ workers, such as a factory or call center, SMS can help your business keep track of and celebrate every employee's birthday.
Besides setting up automated texts directly to your employees, which might feel a little too impersonal, you could also use SMS to remind team leaders and managers of upcoming birthdays within their teams each week.
This ensures a team member's birthday always gets remembered and allows team leaders to send a more personal message.
This can also be a great way to give your employees a gift on their birthday, such as by adding points to their employee perks scheme.
For example, you could send an automated message letting them know about the added points in addition to a text from their manager. Alternatively, send team leaders a template containing the perks discount code that they can edit and personalize before sending it on to the employee.
3. Use Text Art
Whether you are texting employees or customers, including some text message art in your message can help it stand out and put a smile on the recipient's face. Unlike images and GIFs which are sent as MMS, text art can still be sent as an SMS which means everyone can receive them, and they won't be charged for opening it, which may be the case for MMS depending on their network provider.
Sample Text:
4. Don't Send a Sales Pitch
Avoiding an overly sales-y tone is excellent advice for most text messages to customers, but especially a birthday text. This could undermine the gesture of goodwill that a birthday text should represent.
Sample Text:
There is no need to sell a product here. If your customer is interested in the offer, they can check out the product description for themselves. Just focus on including a personalized message and explaining the promotion you are giving them.
5. Send a Reminder Later
Your customer may not act on the offer straight away. This is hardly surprising. It is their birthday, and they might be busy with celebrations. Because of this, send a reminder a day or two before their offer expires.
Sample Text:
This helps your customer take advantage of an offer they might have forgotten about and ensures you don't miss out on the sale.
6. Write Texts to VIP Customers Yourself
So far, you can achieve all the above tactics using automated personalized texts. For your VIP customers, though, consider going beyond a customized template and writing a direct and personal text yourself, and handpick the most appropriate gift or promotion to go with it.
Sample Text:
Adding this level of personal touch is time-consuming to do for every customer, but it is a great way to acknowledge and show gratitude for the loyalty of your large or long-term customers.
7. Offer an Opt-Out
Most people like to receive birthday messages from businesses, especially when they come with an appealing offer or discount. However, some people prefer not to hear from businesses on their birthday and may wish to opt-out of receiving them.
To accommodate these customers, always include an opt-out keyword in your birthday texts, the same as any other SMS promotion you send. Some businesses avoid sending even the first unwanted birthday text by offering a separate opt-in for birthday messages, seasonal greetings, and other celebrations.
Some cultures and religions do not celebrate birthdays, and some even feel that it is wrong to do so. If you do not find out whether an employee celebrates their birthday and whether they would like it to be private, then not only will you hurt their feelings, they could regard this as a misuse of their confidential information.
Send the Perfect Birthday Text to Your Customers
Birthday texts can be an unexpected treat for your customers, improving their perspective on your brand while also driving extra sales. As an effective promotion tactic that also makes your customer happy, birthday texts are a win-win for everyone involved.
---