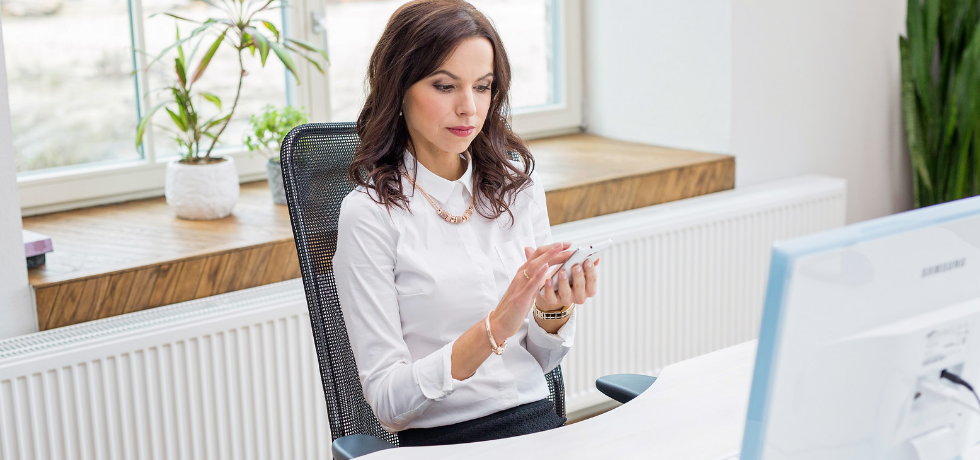 When you think of texting, no doubt you think about tapping out a message on your mobile phone. Most people end up using "txt spk" when typing on a mobile, because it takes too much time and too much effort to spell everything out in full.
That's fine – everybody does it. But if you're using SMS for business text messaging, for example for business marketing purposes, it's not such a good idea. In fact, for business texting, you should always use plain English, and no abbreviations or txt spk!
That can be a challenge if you're sending a lot of texts. However, did you know that you can type your text messages on a desktop computer and still send them out to people's mobiles? Most business SMS services include desktop software that offers a lot of advantages over texting from your mobile.
Here are ten uncommon benefits of online text messaging:
1. Typing is faster than pecking
It's no secret that you can type faster on a keyboard than you can tap on a smartphone. And as the quality and size of the keyboards on smartphones varies greatly, the average wpm on smartphones can be even lower. One experiment showed a typical speed of 58 words per minute (wpm) on a keyboard vs. 39 wpm on an iPad Mini 2.
A non-related study found that people type on average 2.72 times slower on a smartphone than they do on a computer. Given this, it makes sense to type your text messages on a keyboard than on a smartphone if you're looking to save time. And who isn't?
2. No autocorrect
Who hasn't laughed at hilarious autocorrect errors? The Internet is full of lists of the funniest autocorrect fails. However, when you're running a business, a major autocorrect blooper can cost you a lot of money and maybe even some clients. To play it safe, type your messages on your desktop to make sure you're sending out the message you intended.
3. No typos
The same goes for typos. It's more common for people to make typos on a smartphone than on a desktop. That's because smartphones have smaller keyboards and the screen size is smaller, so it's easier to miss typos when editing on a small screen. Sending your messages on a desktop reduces the chances of including typos in your text.
4. More convenient to organize work on a desktop than it is on a mobile
Mobile phones are incredibly convenient devices, but there's simply no comparison to a desktop when it comes to managing, merging and working with several tasks, documents and lists at the same time. Therefore, allow yourself the luxury of space when organizing, crafting and sending out your texts by using your desktop instead of your mobile.
5. You can get way more technical
Sending texts from your desktop allows you to use programs that give you access to a wide variety of tools and features, such as:
SMS Gateway API to send texts directly from your app.
Email-to-SMS tools that convert your emails to SMS and then send them out. This feature also allows you to receive text replies as emails.
Send and receive text messages in any language.
Set up automated responses.
Create segmented lists.
Access important metrics, such as the delivery rate, opt-in and opt-out rates, reply rate, failure rate and help rate.
6. Better customer service
Many businesses use SMS as a customer service feature. By texting from a desktop, you can send messages faster and have access to chat histories to find a specific message or to help solve a problem. This helps enhance your ability to serve your customer more efficiently and accurately. If it's an emergency situation, you can also track your messages online to make sure they're getting through.
7. Enhance team communication
Texting doesn't have to just be for customers. Many businesses use texting in-house to set up meetings, plan events or contact field staff. You can send text messages to employees online to communicate about any number of issues. The best part about texting is that you'll have a record of all communications sent and be able to track who's received them and you will also be able to receive the replies online.
8. Schedule texts in advance
Scheduling your future texts is a great idea, allowing you to plan and shape your marketing or messaging plans ahead of time. Things often just come up so that you may not always have time to craft your text on the date you planned to send it. However, you can write them in advance and easily schedule when to send the texts and send them online to save time and avert problems.
9. Save your phone's battery
Perhaps the biggest drawback of texting on a smartphone is that it drains your battery. If you're sending out bulk text messages, that process will drain it even more.
Also, imagine this situation: you're accustomed to sending out texts on your phone and you're planning to send a big batch of text messages today. However, you left your charger at home. That could be a problem and would delay your sending them. Of course, that's not a winning situation. That's why you should give your phone a break and save your battery for when you really need it. Use desktop to send your texts and economize your phone's battery power.
10. When in Rome, literally, your phone may not work
If you're travelling internationally, sometimes your phone can have trouble adjusting. Even though we are moving towards globalization, certain apps may not work like they do at home. Also, thanks to geo-locating, your provider may notice you're out of your normal range and ask you to provide some additional security information before granting you access to certain apps and programs. Why bother with this hassle? Instead, use your laptop to send messages and save your phone for taking selfies in front of the fountains!
As you can see, online texting has many advantages over texting from your smartphone. You can send better texts, faster and more efficiently with online text messaging. You can also take advantage of many tools and features that may not be available through your mobile.
Also, online text messaging allows you to keep a record of your texts, which is a great way to improve customer service to your clients. Furthermore, using online texting means you'll never have the problem of being unable to send or receive texts because your phone's out of battery. Why not give it a try and see all the benefits for yourself!
---