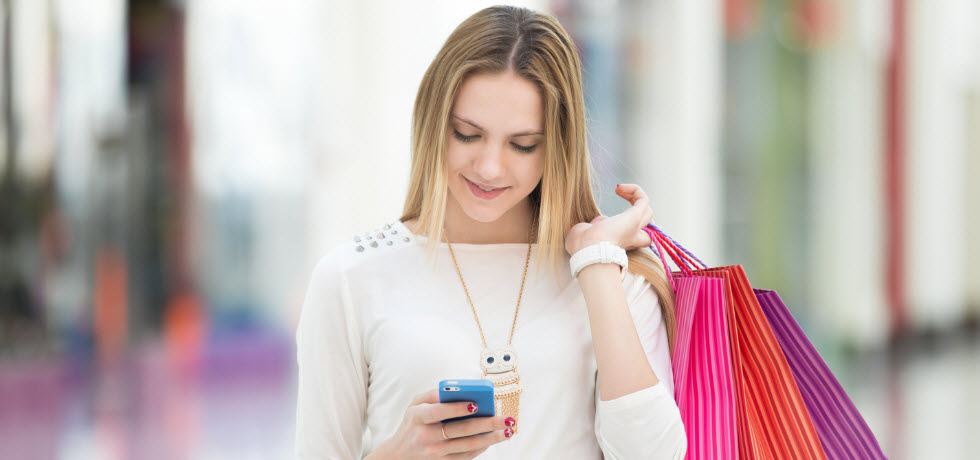 Have you ever questioned whether your acquisition and retention strategies are in balance? It's easy to assume you just need more customers, but customer acquisition is much more expensive than customer retention – 5–25 times more expensive, to be precise.
The reality is that your repeat customers are your most valuable resource. A loyal customer spends 3–5 times more per order than a one-time purchaser.
Here are 5 effective tactics to increase your focus on existing customers:
1. Re-Engage Lost Customers with an SMS Campaign
Running an SMS campaign will remind your old customers why they chose to shop with you in the first place. Your customers shop with many different brands, so your brand might not be the first one that comes to mind the next time they need to make a purchase.
The key to creating an effective text message is to pack it full of value. In this example, Joe's Books is offering their customers 10% off the entire store.
Putting this type of value upfront will maximize the number of customers who open the message and take advantage of the promotion.
To make these types of deals even sweeter, customers can text you back directly and get a personal response to any questions they have. This type of communication reinforces your relationship with the customer.
Each promotional text from you becomes a personal offer they can't refuse.
2. Ask for Feedback through Email
Get your customers to think about your business by setting up an automated email that asks for feedback on a recent purchase.
This ensures that a customer won't forget you the minute they receive their order. You can ask them to write a review of your business, rate the product, or answer a question.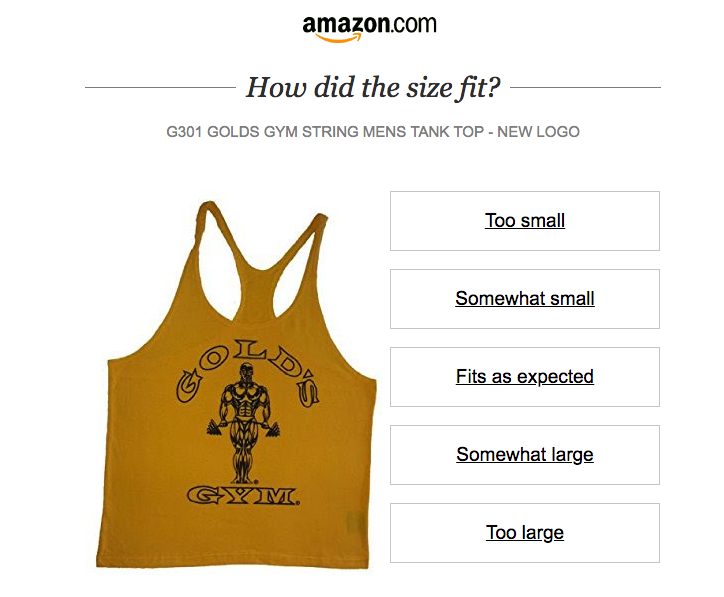 Amazon is infamous for its use of this tactic. This email showed up in my inbox after I received my new tank top in the mail, which prompted me to try it on and give my feedback.
This made me feel like a valued customer: my voice would be heard by other shoppers, and the business would be helped to improve their product.
Giving customers enough time to try out your product and then allowing them to voice their opinion gives you a second chance to put yourself in front of them.
This is a great strategy to strengthen the link between the amazing quality of your products and your brand, ensuring customers come back to you for their next purchase.
3. Give Customers More Bang for Their Buck with a Loyalty Program
Building your own loyalty program is easily one of the best ways to get your customers coming back again and again. By allowing customers to earn points to be redeemed on valuable rewards, you're injecting more value into every interaction a customer has with your brand.
Loyalty programs are effective for retaining customers because they establish a switching cost. Discarding these points to shop at a competitor seems like wasting money, making it an easy decision to stick with your brand.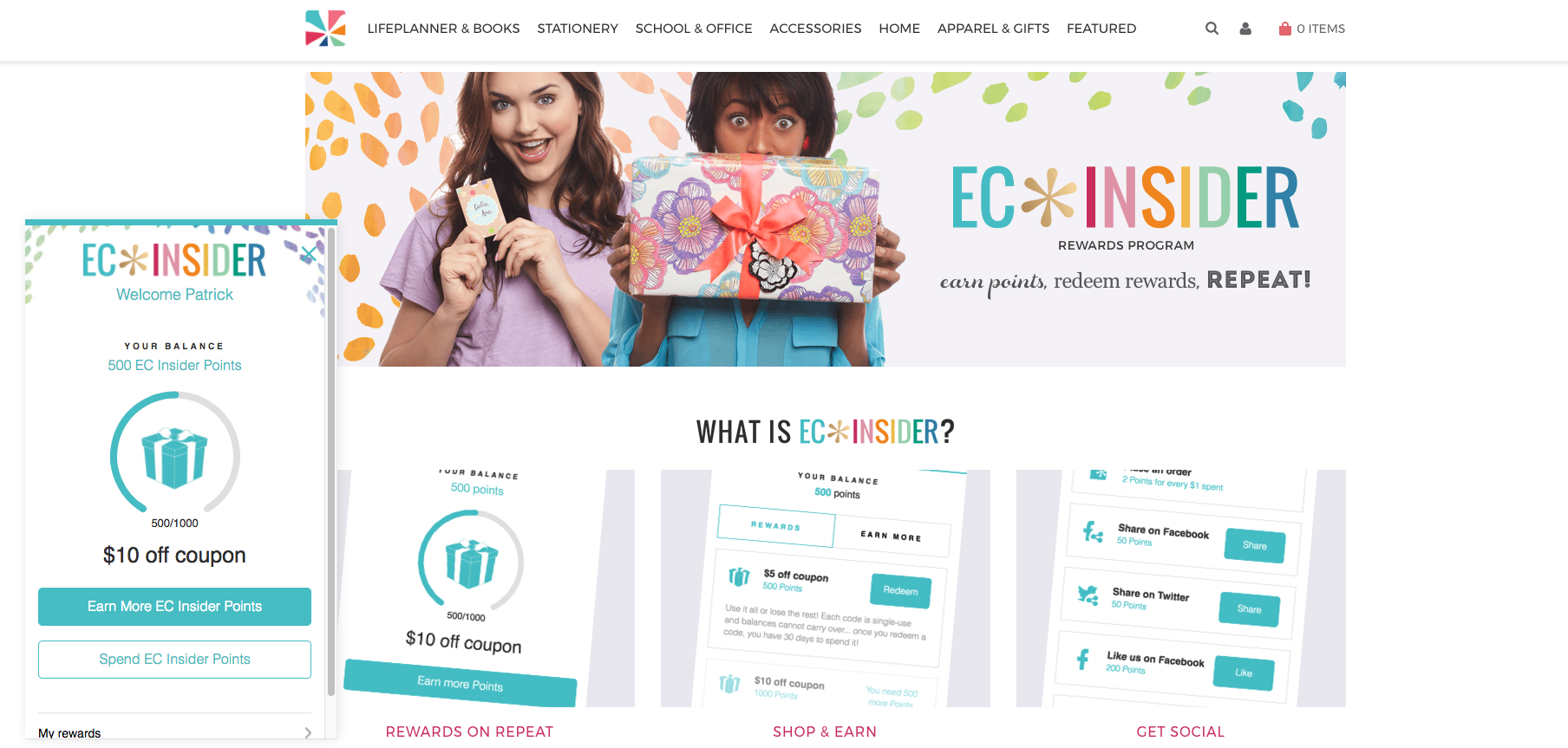 Erin Condren's rewards program allows customers to earn points by making purchases, sharing products on social media, and creating a store account. These valuable customer interactions are positively reinforced through their loyalty points program.
Points can then be spent on store discounts, motivating customers to redeem rewards to save even more on their next purchase!
A loyalty rewards program is a great addition to any business that is looking to amp up their retention strategy, especially since just a 5% boost in customer retention can generate up to a 95% increase in profitability.
4. Keep Your Customers Engaged with Social Media
Social media is not just a tool for customer acquisition – it can also be an effective tool for customer retention. Many of your loyal fans will be following you across Facebook, Twitter, and Instagram to interact with your brand and stay up to date.
This gives you the perfect opportunity to have real, human conversations with them that will establish a deeper connection with lasting effects.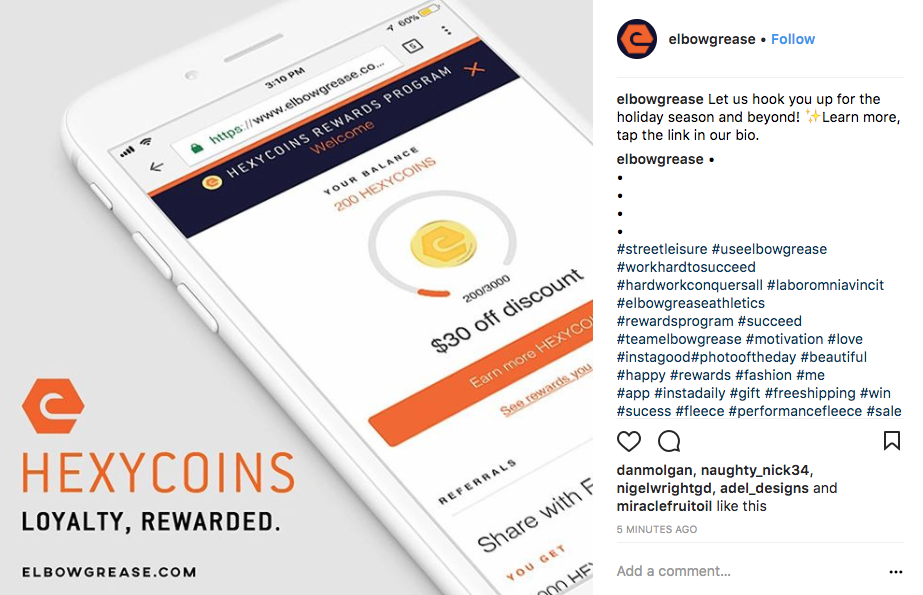 Customers who have a voice on your social media platforms feel like they're part of the community and this increases their brand loyalty.
Elbowgrease leverages their loyalty program in their social media posts by encouraging fans to share their excitement in the comments section.
When customers can chat with both the company and other fans, a community starts to form around the brand. The best part is that Elbowgrease rewards customers with points each time they share a product on social media. This creates an expanded network that the business would not be able to reach on its own.
A combined use of social media and a loyalty program creates a loyal group of people that are emotionally and quickly connected to your brand, making it a phenomenal way to keep customers coming back.
5. Reward Your Brand Advocates with a Referral Program
According to Texas Tech, 83% of customers are willing to refer a brand to their friends, but only 29% of them do. This is because most of your customers won't share their purchases unless there is something in it for them.
Building a referral program encourages your happy customers to tell their friends about your business.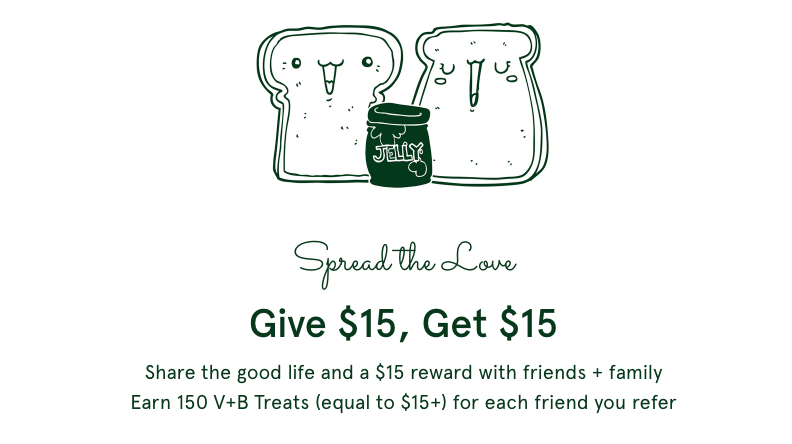 New and returning customers will be even more likely to engage if you reward both parties for participating. Vegetable and Butcher nudges customers to refer friends to their store by offering a $15 incentive.
They also extend this $15 incentive to new customers, making each referral conversation very easy. This reward also reduces the amount of risk associated with a first purchase.
A referral program creates a mini-army of representatives who go around spreading the word about your brand. This tactic calls on customers who already love you to spread the word and, more importantly, make them love you even more.
---