SMS Marketing Lists & Contacts
Manage an SMS marketing list with thousands of mobile phone numbers in just a few clicks using TextMagic's powerful control panel.
Create Private Lists
By default all lists are only visible to your own TextMagic account.
Share Lists with Your Team
If required you can share all your lists with other sub-accounts.
Add New Contacts Easily
It is quick and easy to import or manually add new contacts.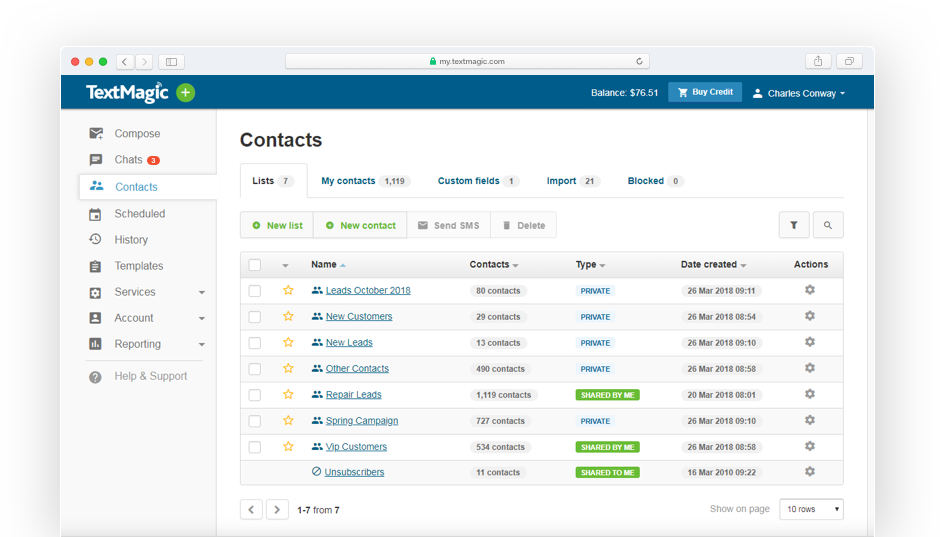 Create Lists & Send Text Messages in Bulk
Send bulk text messages at the click of a mouse by using a list. You can use lists to build successful text messaging campaigns.
Organise Your Contacts into Lists
Make life easier on yourself: sort all contacts in your database into different lists for sending targeted bulk text messages.

Store an Unlimited Number of Contacts
With TextMagic there are no limits to how many contacts you can store. You can create just one or even hundreds of lists for FREE.
Control Access to Your Lists
Use sub-accounts to provide different people within your organisation with access to different lists, while restricting access to others.

Add, Edit, Move & Delete Contacts
It is easy to move contacts between lists and even easier to add or delete your contacts. You can even bulk delete all your contacts at once.
How Contact List Management Can Improve Your Business
Contact list management will positively impact your businesses processes and marketing efforts. Here are the main benefits of using SMS lists:
Better organisation
All your SMS contacts will be neatly stored in relevant lists that you can quickly reach out to.
Less time consuming
Instead of manually adding contacts in your recipient field, you can simply import an entire contact list.
Campaign customization
SMS templates and tags will enable you to personalise bulk SMS messages sent to your contact list.
Frequently Asked Questions
Not quite sure how contact lists work in the TextMagic SMS software? Below are a few frequently asked questions that will help you:
---
---