Attach Files to Your Text Messages
You can attach almost any file: PDF files, Excel & Word files, pictures, videos and more. No need to send expensive MMS messages.
Better than MMS
Adding a download link to your text is more effective than MMS.
Pay Only for Texts
Adding an attachment to your text message costs nothing extra.
Share Files Quickly
Quickly deliver business files and promotions to your audience.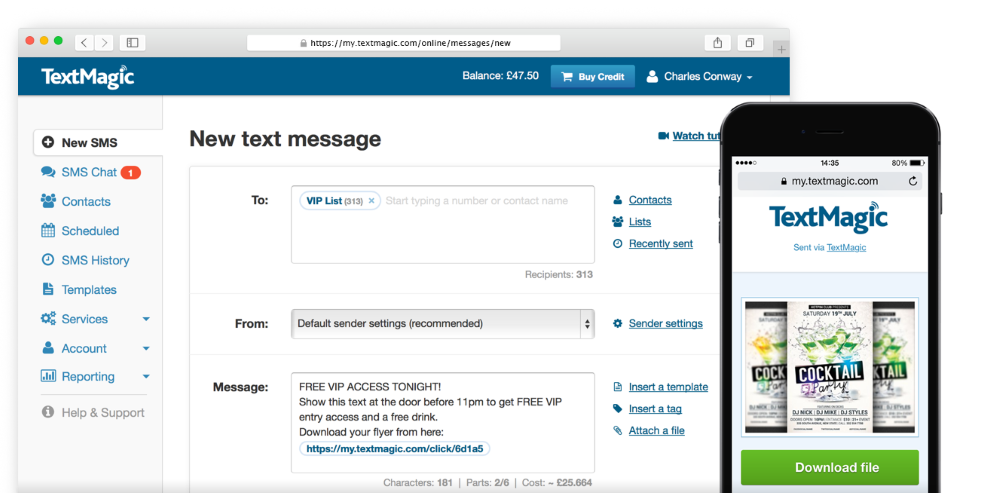 Send More Information with SMS Attachments
Take your SMS messages a step further by attaching images, videos, doc and PDF files – and send more info to staff and customers.
Photos & Images
Need to quickly send a photo or image to your staff members? Just attach them to your texts.

Event Flyers
Promote your nightclub and events with SMS marketing and include flyers as attachments.
Discount Coupons
When your business is running a discount campaign, why not distribute digital coupons as attachments?

Brochures & Materials
Distribute your company's promotional materials and brochures with SMS attachments.
---
Benefits of Sending SMS Files to Subscribers
This is where SMS attachments come in. With the help of SMS files, you can easily send brochures, menus, event calendars and other useful files to your subscribers. Below are the main reasons you should use SMS attachments:
Make your texts unforgettable
Text messages that only contain plain text are easily forgotten. Instead of simply telling your customers about a promotion, why not show it? Visual files will ensure that customers remember your company.
Attach files to SMS
No matter what industry your business is in, it can benefit from SMS files. Restaurants can send menus and offers via text. Events companies can send calendars, surveys and agendas. Dating sites can send links to matching profiles etc.
No extra costs involved
As we already mentioned, SMS attachments don't cost a penny. The only thing you will be paying for is the SMS. TextMagic allows you to attach PDFs, images and Word documents as large as 10Mb.
Frequently Asked Questions
Still not sure how SMS files work? Maybe our frequently asked questions will shed some light on the matter:
How to send & access SMS files using TextMagic's software?
Step #1: Log in to your TextMagic account or register for a trial account. From the dashboard, click on New Message. Fill out the three fields with the sender, recipient and message.
Step #2: To attach your desired file, simply click on the Attach a file option under the Insert tag. A pop-up screen will appear. Choose the file from your computer and click on the green button.
Step #3: Our SMS software will create a clickable link that recipients can access to view and download the attachment.
Tip: To access and download the file, your recipients will require internet access.
Where are my SMS files stored?
All SMS attachments are securely stored on TextMagic's servers, and they can be accessed by recipients with who have an internet connection or an active mobile data plan.
Can I send SMS files using the email to SMS or SMS chat features?
The TextMagic SMS chat does not support attachments. Files attached using the email to SMS feature will also not be sent. You can only send SMS attachments online from the TextMagic dashboard.
What types of SMS files can I attach?
With the TextMagic SMS software, you can send free photo SMS (.jpg, .png, .gif), doc file formats (.doc), and PDFs. Your attachments will receive a unique, clickable link that the recipient can access to download the file.
---
---