Create Sub-Accounts for Your Team
Manage your company's text messaging by providing your team with access.
Shared Account Credit
The parent account will share SMS credit balance with others.
Share Lists & Contacts
Import your contacts only once and share them with your team.
Track Activity & Usage
Monitor credit usage, SMS history and other sub-account activity.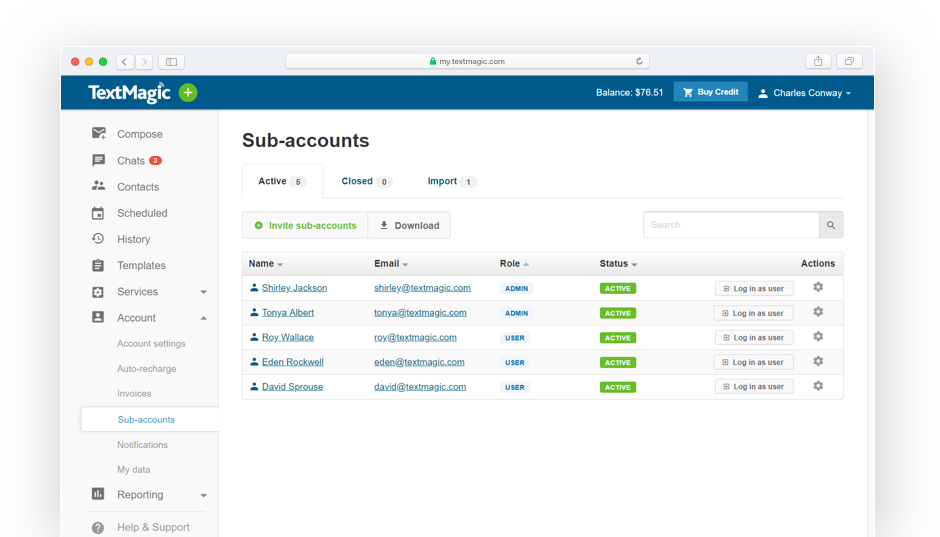 As a new business with multiple challenges at the set up stage, we found that TextMagic provided us with the daily pulse of our business by seeing every confirmed booking.
As a professional magician, I can communicate with my customers and let them know where I will be performing quicker than you can say Abracadabra. I highly recommend TextMagic!

Easily Manage Your Sub-Accounts
Add an Unlimited Amount of Users 
You can add as many sub-accounts as you need. There are no limits to how many users you can add. Add tens, hundreds or even thousands.

Permission Management for Sub-Accounts
Assign admin rights to certain users and let them help you manage all other sub-accounts. Admins can access thebilling area and messaging data.

Monitor Any Team Member's SMS History
Improve your staff´s communication skills by reviewing all their previous conversations with your customers and prospects.
Creating Sub-Accounts is FREE
There are no additional costs for adding sub-accounts. You only pay for outbound text messages - everything else is FREE.

Give or Revoke Access when Needed
Easily close or reopen accounts when needed. When a new employee joins your company, creating a new account takes seconds.

Check Team Statements & Control Costs
We show all costs per user as well as the total cost for the entire company, so you can always be sure you are not spending more than budgeted.
How Sub-Accounts Can Help You Improve Business Processes
SMS marketing campaigns require a lot of hard work and planning, even if you are using the TextMagic solution. Setting up and using sub-accounts will help you:
Follow-up in real time
Having multiple team members with access to the TextMagic platform will improve SMS management and ensure that you follow up with subscribers faster.
Target your SMS marketing efforts
You can delegate SMS marketing tasks to different team members to personalise messages more effectively.
Have more control
Collaboration with team members who have a deep understanding of different aspects of your company will significantly improve your business SMS efforts.
Frequently Asked Questions
Sub-accounts will help you increase SMS management with the text service. Below is a list of frequently asked questions that you might want to take a look at:
---
---