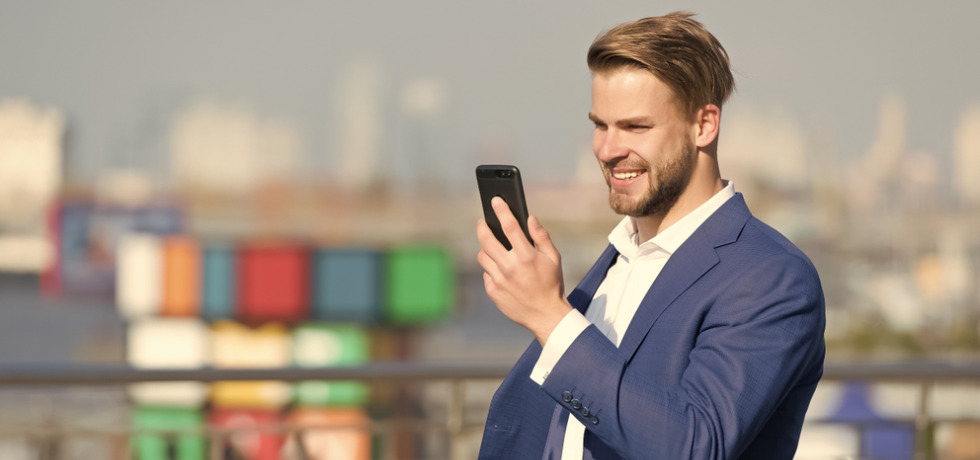 Today's home buyers and sellers want immediate updates. Busy clients need updates so they can check while at work or on the move.
Unexpected calls are inconvenient. Often clients can't answer during working hours. Voicemails and emails can go unnoticed for days. Text messaging is an ideal solution. About 82% of SMS messages are delivered and read within 5 minutes and don't require your client to go online. Here are 6 ways you can improve client communication with text marketing:
Here are 6 ways you can improve client communication with text marketing:
Send Urgent Info Quickly with Text Marketing
When your client needs to act quickly, texting is the ideal contact method. Your message will appear on their screen after sending it. This means your client can read your message by glancing at their phone without having to do anything.
You can send a wide variety of important alerts to clients using text marketing.
For example:
Create a button in your CRM or website that sends your client complete listing information with a single click.
Send a text the moment a property becomes available for lease.
Text clients, you haven't heard from in a few weeks.
Metrolina Realty Holdings LLC uses TextMagic to follow up online showing requests, reaching additional customers they couldn't respond to in person.
They saw a higher conversion rate from text marketing than any other channels and could grow thanks to the increased capacity for new clients.
Appeal to The Next Generation of Real Estate Clients
About 40% of home buyers already prefer to communicate with realtors via text.
Millennials and Gen Z are a growing source of clients for realtors. Their preference for texting is clear. Text marketing will be pivotal for realtors over the next few years.
However, that's not to say older generations don't want to text.
While a vast majority of generations Y and Z prefer to text, a majority of baby boomers (64%) also want businesses to text more: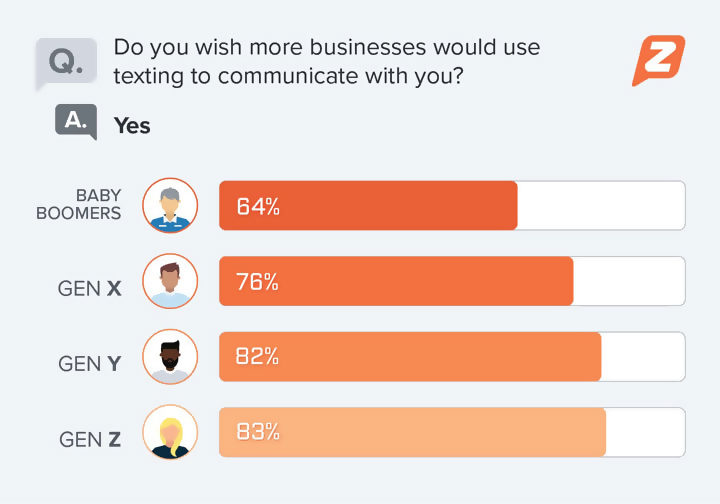 Reducing Lost Leads with Text Marketing
Calling to discuss every new property or potential buyer isn't convenient for you or your clients, and they often won't see emails in time to act. You could leave a voicemail but who even listens to voicemail anymore? Only 30% of us open a voicemail from a business contact. That drops to 18% if we don't recognize the number.
If you are relying on these contact methods to reach your clients, you've probably already seen clients miss out on their dream home because they couldn't respond in time. This can be a real disappointment that might see your clients going to a different realtor.
Wouldn't it be easier to just send a text with all the information they need? A text marketing app lets you know at a glance when you last messaged each client and what you said, and what responses you are waiting for.
Most people read a text within minutes of sending, so your client won't think they've already missed out by the time they realize you contacted them.
Appointment Confirmation and Reminders
Sending an immediate follow-up text when clients book viewings can prevent unnecessary contacts and no-shows.
It can be difficult to stay on top of sending confirmations and reminders on your own. This is important if you have a lot of clients or take online bookings. A text marketing app lets you send automatic reminders as soon as you make an appointment.
Missed appointments are a major problem for realtors covering a wide area, as can be seen with companies such as Flyde Property.
Long journeys to missed viewings cost Flyde Property hours every month. To address this, they used TextMagic to confirm viewings. This made it easier for their clients to show up on time, and rearrange or cancel ahead of time if needed.
As a result, Flyde Property could offer a better service to their clients and cut down on wasted journeys because of missed appointments.
Save Time Communicating with Clients
It's great to connect with your clients, but phone conversations can take up valuable time.
A simple text that provides information lets you alert clients to opportunities with just a few clicks without starting a lengthy dialogue: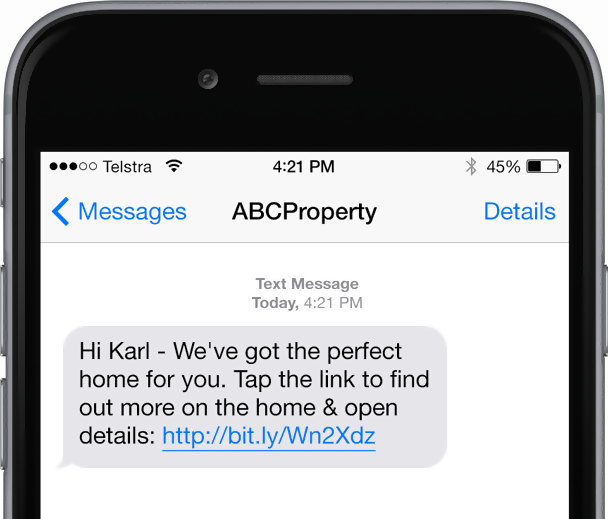 This isn't just about making your communications more efficient – it can sometimes be vital to ensure your client buys the property they want. In busy housing markets, clients might only have an hour or two to provide a letter of intent. A text makes sure you aren't derailed by chit-chat, costing your client their dream home.
For example if you're looking to buy a property in a good area but you have a limited budget, you will need to move quickly once a great apartment becomes available because it won't be around for long.
If you struggle to wrap up conversations quickly, it would be better if your realtor just texted the information so you can act without getting bogged down in unnecessary discussions.
Manage and Track All Communication from One Place
Keeping track of your conversations with every client can be a challenge, especially for realtors working with a large number of clients.
Text marketing lets you track all your messages to and from clients from a web app. In addition, it allows SMS to be integrated with email and team chat apps like Slack, allowing you to share conversations with your team and respond to questions. Besides providing a permanent record of all your conversations, text marketing can also export them to your CRM and other apps. This ensures your whole team stays updated on your latest contacts and provides a consistent service for each client.
Conclusion
Text marketing offers many benefits for realtors and their clients and will make your business more efficient and convenient.
Lose fewer leads and avoid wasting time on no-show viewings. Besides saving you time and leads, the potential to automate SMS makes it possible to stay in contact with more clients and grow your business. It adds convenience for clients and meets the growing demand for realtors to use SMS.
---