Send Bulk SMS Online
The Bulk SMS service keeps things simple. Send mass text messages to staff, customers, and prospects at scale.

Easy-to-Use Web Interface
Manage marketing campaigns and internal communications online.
Save Time & Send in Bulk
Stop sending texts one by one and send 10 or 100,000 bulk SMS instantly.
Fast, Secure & Reliable
All texts are delivered quickly via Tier 1 routes around the world.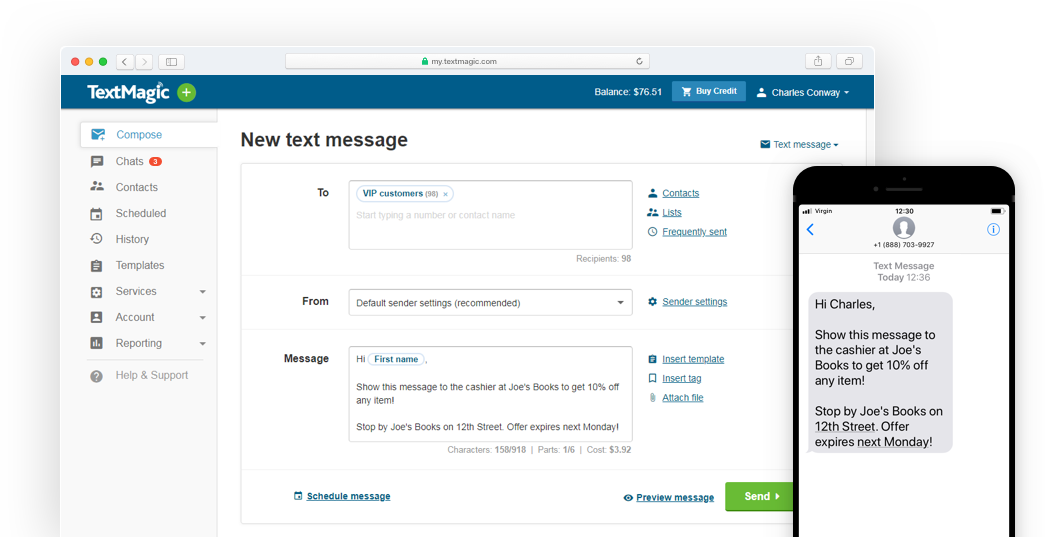 Grow your Business with Mass Text Messaging
Eight quick ideas on how you can improve your business with our mass text messaging service:

Send SMS Text Promotions
Send text message promotions to your entire customer base with just a few clicks.


Collect Feedback with Mass Surveys
Gather critical feedback and shape your business with bulk text messaging surveys.`


Communicate with Your Mobile Workforce
Contact your mobile workforce like taxi drivers or field engineers with our reliable mass text app.


Safety Alerts to Staff in Bulk
Send emergency or security alerts to your staff on important safety procedures.

Distribute Discount Vouchers
Reward customer loyalty by sending discount vouchers or coupons directly to their phones.


Text Message Notifications
Send notifications, alerts or company info around the world with our mass texting service.


Send Flyers & Attach Files
Attach menus, posters, flyers or other files and send in bulk to your customers or staff.


Promote Your Mobile Websites
Promote your mobile-friendly websites and landing pages with group texting.

How Bulk SMS Can Improve Your Business Processes
Bulk SMS is used to quickly send: promotional texts or offers, appointment or booking confirmations, and offer customer support to a large group of people instantly. Here are the main benefits of mass text messaging:

Increase productivity
With bulk messaging solution, you can instantly send a message to hundreds of contacts. Manually sending mass texts to your customers is extremely time consuming.

Low cost & high ROI
Most forms of advertising are cost prohibitive. Bulk texting is a great alternative that has low set-up and running costs. Bulk SMS also has a high ROI, making it an essential marketing tool for any company.

Instant deliverability
Sending a mass text means putting that message into your subscribers' pockets. This swiftness will greatly improve the results of your SMS marketing campaign.

Frequently Asked Questions
Do you have any questions regarding bulk SMS? Take a look at these frequently asked questions from our customers. If the answer you're looking for isn't here, contact one of our agents directly.

---
---