Send Bulk SMS Online
The TextMagic Bulk SMS service keeps things simple. Send mass text messages to staff, customers and prospects quickly, easily and effectively.
Easy-to-Use Web Interface
Manage marketing campaigns and internal communications online.
Save Time & Send in Bulk
Stop sending texts one by one and send in bulk instead.
Fast, Secure & Reliable
All texts are delivered quickly via Tier 1 routes around the world.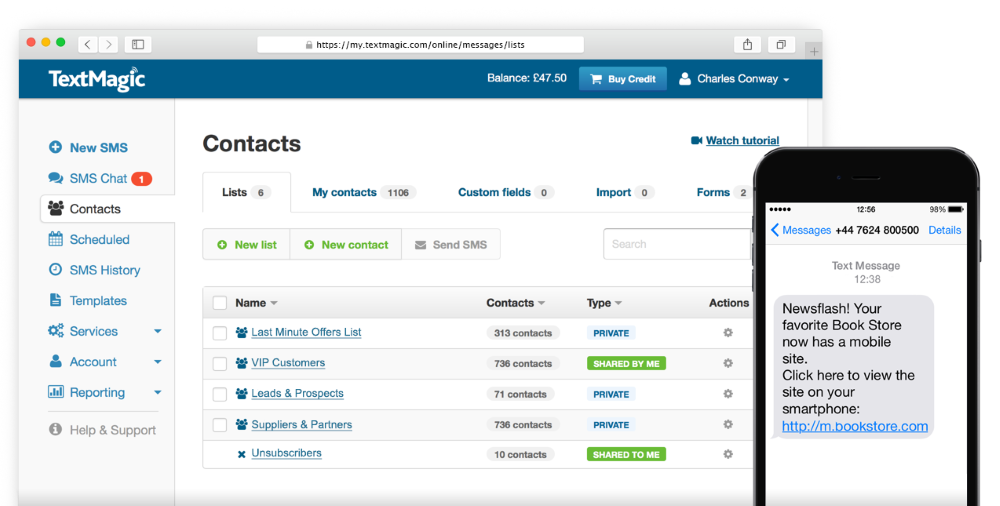 90% of Text Messages Are Read within Five Seconds!
Eight quick ideas on how you can improve your business with mass text messaging.
Send SMS Text Promotions
Send text message promotions to your entire customer base with just a few clicks.

Collect Feedback with Mass Surveys
Gather critical feedback and shape your business by sending mass surveys to customers.

Communicate with Your Mobile Workforce
Reliably and quickly contact your mobile workforce like taxi drivers or engineers on the field.

Safety Alerts to Staff
Send safety and security alerts to your staff on important safety procedures or events.
Distribute Discount Vouchers
Reward customer loyalty by sending discount vouchers or coupons directly to their mobiles.

Text Message Notifications
Send notifications, alerts or important company info to all staff members around the world.

Send Flyers & Attach Files
Attach menus, posters, flyers or other files and send in bulk to your customers or staff.

Promote Your Mobile Websites
Promote your mobile-friendly websites and landing pages and include links to your texts.

---
How Bulk SMS Can Improve Your Business Processes
Bulk SMS can be used to quickly send promotional texts, reminders, promotional offers, incentives, competitions and booking confirmations or even offer customer support. Here are the main benefits of mass text messaging:
Increase productivity
With bulk SMS software, you can instantly send a message to hundreds of contacts. Manually sending text messages to your customers is extremely time consuming and daunting.
Low cost & high ROI
Most forms of advertising, especially outdoor advertising, are cost prohibitive. Bulk texting represents a great alternative that has very low set-up and running costs. Bulk SMS also has a high return of investment, making it an essential marketing tool for any company.
Instant deliverability
Sending a mass text means literally putting that message into your subscribers' pockets in a matter of seconds. This swiftness will greatly improve the results of your SMS marketing campaign.
Frequently Asked Questions
Do you have any questions regarding bulk SMS? Take a look at these frequently asked questions from our customers. If the answer you're looking for isn't here, we would be more than happy to help. You can contact us here.
How to send bulk SMS using TextMagic?
You can send mass texts through the TextMagic SMS gateway from the web online, using the email to SMS service or the SMS chat or via a distribution list. We will take a closer look at all these methods to help you choose the best one for your business needs.
But before you begin, you will have to set up your contacts and lists.
Step #1 – Adding Contacts & Editing Lists on Your TextMagic Account To send mass text messages, you will first need to edit your contact lists. Log in to your TextMagic account or register for a new account and navigate to the My Contacts tab. You can add contacts manually (one by one), or you can import multiple contacts at the same time using .CSV, .XLS or .XLSX files.
For every contact you add, you must also select the contact list that it will be part of. This will help you segment your audience and send bulk SMS messages more effectively. You can edit your contact lists or add new ones from the Contacts -> Lists tab.
Step #2 – Configuring Distribution Lists Distribution lists are different from contact lists. They are used to immediately forward your desired text messages to the mobile phones on the list. Distribution lists offer more customisation features, including SMS content, maximum SMS length and sender preferences.
Step #3 – How to Send a Mass Text As we already mentioned, there are several methods for sending a mass text. We will present them briefly:
Method 1: Click the New Message button in the TextMagic web app. Write your message, configure your sender settings and select your recipients. You can add an entire contact list, manually select multiple numbers from your address book or type multiple numbers in the To field.
Method 2: You can send mass texts using TextMagic's email to SMS feature. This method is slightly inconvenient because you will have to add every number manually in the phonenumber@textmagic.com format. The good news is that, by creating distribution lists, you can automatically send your text to the assigned email for sharing. Go to the Services -> Distribution lists tab to view the email details.
Method 3: Send bulk SMS directly from your Contact Lists tab. Click on the grey wheel icon and select Send SMS to this list, edit your message and click on Send (or schedule for later).
How can I personalise bulk SMS?
Personalisation is essential for the success of your SMS marketing campaign. The TextMagic SMS platform allows you to customise your text messages using SMS tags. By default, you will be given the first name, last name, company name, phone and email tags, but you can also create your own with the help of custom fields. Inserting tags in your mass text messages will make them more personal.
Can I schedule bulk SMS messages for later?
Of course. After creating your text and adding the recipients, you can choose the 'schedule message' option. Mass text messages can be set to be sent once or on a given date, or they can be set to repeat on an hourly, daily, weekly, monthly or yearly basis.
Where can I view my bulk SMS history?
All your messages are displayed in the History section of your TextMagic account.
How can I calculate the costs of sending bulk SMS messages?
The TextMagic SMS software automatically calculates the cost of the bulk SMS service as you create your text. The cost can be viewed underneath the Message field, next to the number of characters and parts. You can also view detailed information about your account balance from the Reporting -> Statements tab.
When you send group SMS messages, your account balance is deducted in accordance with the following:
Text message length
Text message destination
Number of recipients
---
---