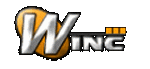 Östersund, Jamtland
Sweden
Founded in 2000
Data Analytics, Management, and Internet
About Winc
SQL expert and database solution technics at the highest level of Microsoft SQL Server. We provide Consultant and development skills for all Microsoft plattforms. Our knowledge base is very wide and we do work on both high and low level.
The Business Challenge
We had a customer that wanted to use texting service to send out critical alerts to a lot of people, so we were looking for a solution that would meet these needs.
How TextMagic Helped
We discovered TextMagic and started using it for sending out the critical alert notifications. The support from TextMagic has been excellent. Whenever we had issues, they provided us with a quick and excellent support.
The Results
The results with TextMagic have been perfect. We send out alert notifications, which for us means the stability of the service matters a lot. Also we like that TextMagic shows us who and how many people receive text messages.