SMS Affiliate Program 
Refer customers to TextMagic using SMS Affiliate Program and earn 20% revenue with every single purchase they make. Discover how to start earning stable revenue today.
Earn 20% Commission
TextMagic pays you 20% from the orders made by customers referred via SMS Affiliate Program.
Every Purchase Counts
Earn commission on any products or services that referred customers buy from TextMagic.
Earn Lifetime Revenue
Referred customers will bring you income forever and this offer has no time limitations.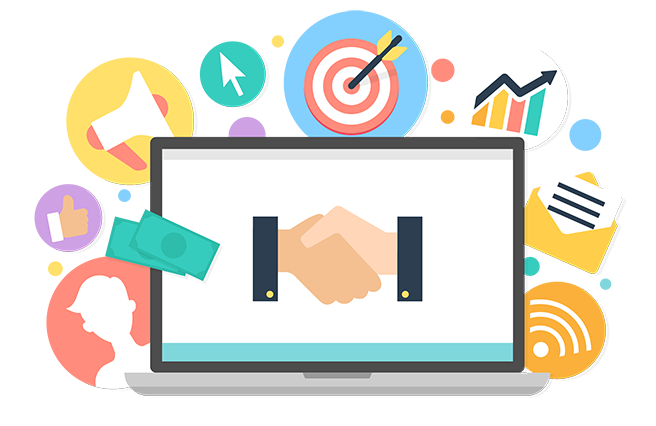 How Does Referring Customers Work?
In order to start earning revenue with TextMagic SMS Affiliate Program, you need to start referring customers to TextMagic using the special affiliate link.
Join TextMagic SMS affiliate program using Shareasale.com platform.

Follow Shareasale instructions and finish your account setup.

In the end, you will see a referral link that you should share with your customers via your marketing channels.

If a visitor clicks on your affiliate link in your email newsletter, blog sidebar, website, article, review link, etc., he will be redirected to TextMagic.com.

Whenever the referred customer makes an order, it is marked as your referred sale and you receive 20% of the revenue.

We only need to track the account registration via your affiliate link. Once your referred customer has signed up, we are able to track all purchases and credit them as your sales, even after user changes his device or clears browser cache.

You receive affiliate commission payouts via Shareasale.com platform.
TextMagic SMS Affiliate Program Rules and Requirements
Please read the below rules carefully. Joining the TextMagic Affiliate Program automatically means you have read and agreed to the below terms.
You cannot refer yourself via your affiliate link.
You cannot refer existing TextMagic customers via your affiliate link.
You can only receive payment via your Shareasale account.
Only customers from these countries qualify as referrals: USA, United Kingdom, Canada, Australia.
You are banned from bidding on branded terms such as 'text magic', 'textmagic' – or any obvious variations – in Google AdWords or adCenter. See FAQs below for more information.
You must not use spam as a method of promotion.
As our service is targeted to business users, TextMagic only accepts users with a valid business email address. Users with anonymous, disposable or free emails will not be able to create accounts.
Any TextMagic affiliate attempting to circumvent or violate these regulations will have their credit voided, will receive no more payments, and will be banned from our SMS affiliate program.
---
Why Our Affiliate Program Is The Best in The Business
Unique Features
TextMagic provides SMS features superior to other platforms.
Easy to Use
Our affiliate program is simple to set up and promote.
Flexible Plans
Our pay-as-you go system encourages customers to stay with us long term.
Accurate Reporting
View in-depth commission, click, and payout reports.
Competitive Pricing
The best text messaging rates in the industry attract referrals.
Great Reputation
We have helped over 50,000 customers since 2001.
TextMagic Customers and Their Orders Statistics
The numbers below are the latest stats from TextMagic. We do not guarantee these numbers, however, you can check them to get a better overview of your earning possibilities.
| Parameter | Value |
| --- | --- |
| Average order value | $64.5 |
| Conversion rate from trial to paid | 28.37% |
| Average customer lifetime value | $597.2 |
| The average number of lifetime orders per customer | 9-10 orders |
| The average period from initial order to second order | 12 days |
| Conversion rate from initial order order to second order | 51.75% |
TextMagic SMS Affiliate Program FAQs
How much money can I make with the TextMagic SMS affiliate program?
How much you make depends on the number of orders – but there's no limit. Most TextMagic customers stay with us for years – so you have the potential to earn constant long-term income.
For example, if a customer spends $5,000 on SMS credit while they are a TextMagic customer, you'll earn 20% of this: $1,000.
Remember that most customers make many purchases over many years, so you earn a continuous income – not just a one-off payment.
What do I need to do to become an affiliate?
Not much – you just need to join TextMagic SMS affiliate program and then include your affiliate link in your posts, emails, or website banners. If someone registers using your link you will earn 20% of the total value of that user's transactions.
Does a purchase have to happen immediately?
No! Shareasale.com uses API tracking and cookies to track referrals. Whenever a visitor registers using your affiliate link, that user is marked as referred by you and when they buy you earn 20%, even if the purchase happens later.
Can I promote your affiliate program through PPC (pay-per-click)?
Of course! PPC is a very popular means of promotion. Please keep in mind, however, that we do not allow our affiliates to bid on branded terms. These include: text magic, textmagic, textmagic.com, text magic messenger, www.text.magic.com, www.textmagic.com, textmagix, magic text, magic message, txt magic, textmagic messenger, www.textmagic.om, textmagic login, textmagic.co.uk, www.textmagic, magictext, magic SMS, http://textmagic.com, SMS magic, text magic home, text magic.com, text.magic.com and any other obvious variations.
If you are found to have contravened this rule, you will immediately be banned from our affiliate program.
How can I increase my earnings as an affiliate?
Besides PPC there are several other ways to earn more revenue with TextMagic Affiliate Program:
Provide a short Getting Started guide for your potential customers. This guide may include instructions on setting up a TextMagic account and buying credit. This strategy has dramatically increased conversion rates for many of our affiliates.
Create custom banners that will appeal to your audience.
Add multiple TextMagic buttons throughout your site or app.
Write comparative reviews highlighting why TextMagic is your choice for SMS software.
Ready To Join our SMS Affiliate Program?
Sign up for our SMS affiliate program today – it takes less than five minutes and your affiliate account will be approved instantly. Do it now and start earning money!
---