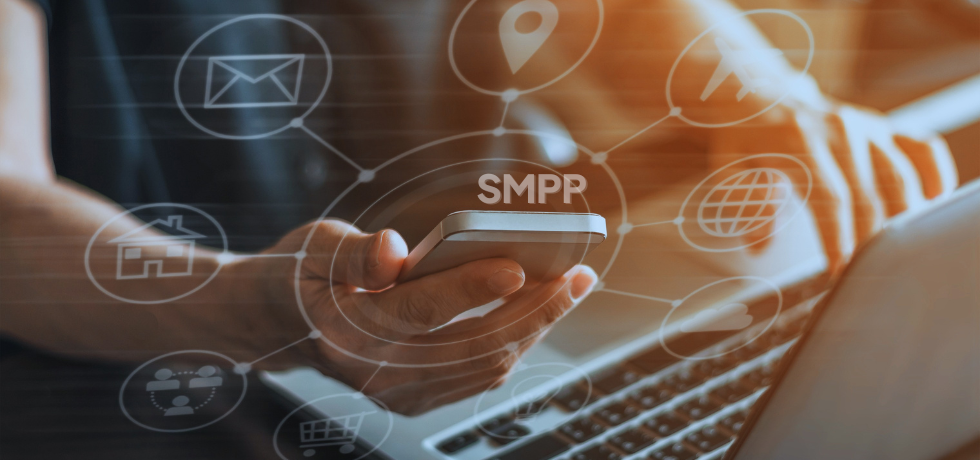 The Short Message Peer-to-Peer (SMPP) Protocol is a key component in text messaging technology. It serves as a critical link in the telecommunications industry, providing a standardized method for routing and managing SMS messages. Its adoption reflects a significant advancement in how text communication is efficiently handled and delivered across networks.
This article delves into the origins, architecture, and functionality of SMPP, offering insights into its enduring relevance in an era dominated by instant messaging apps.
As we unravel the layers of SMPP, we will explore how this protocol has adapted to modern demands, the challenges it faces, and the future it helps to shape in the telecommunications sector.
What is SMPP protocol?
The SMPP (Short Message Peer-to-Peer) Protocol is a channel enabling short message transmission between message centers and SMS application systems.
It is an open, industry-standard protocol allowing communication between Short Message Service Centers (SMSCs) and External Short Message Entities (ESMEs). In simpler terms, the SMPP protocol is a system for sending huge SMS message volumes reliably.
Fundamentally, the SMPP protocol tested the functionality of SMSCs to submit messages. However, as time went by, SMPP acquired more modifications, and its effectiveness only grew.
Now, the SMPP protocol has become the widely accepted Industry protocol for sending SMS messages. It functions as a means to send marketing campaigns, news updates, and business updates.
How SMPP works
Before we get to the complex things, let's go over the basics. People create SMS messages on mobile devices and computer systems. These devices use External Short Message Entities (ESMEs) and GSM networks to send the message.
The ESMEs are the starting and ending points of SMS messaging. However, they can't connect without a server, which is the Short Message Service Center (SMSC). The SMSC stores and sends messages between ESMEs.
Now, to complete the process of forwarding these messages, the system needs the SMPP protocol. As we've mentioned earlier, this protocol allows the system to effectively send multiple messages at once.
The SMPP protocol uses a client-server architecture to operate with the Short Message Service Center (SMSC) as the server. This server, in turn, waits for connections from the ESMEs to send SMS messages to the client.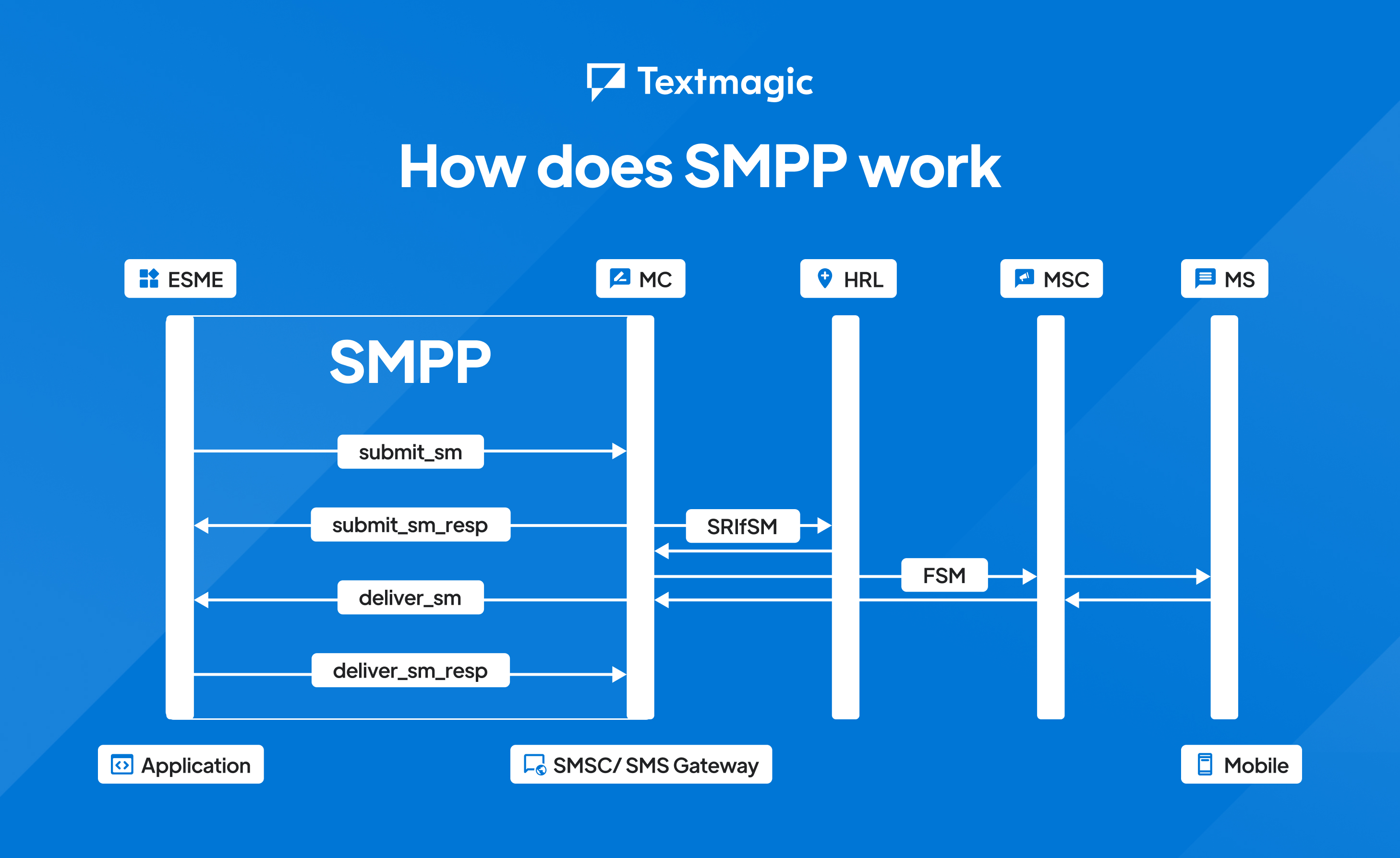 Here's what the process of message transfer with SMPP looks like:
An SMS-enabled device facilitates an SMPP session with the recipient's Message Center (MC).
During the session, the MC uses SMPP to send and respond to message requests from both the sender and recipient. These requests are called Protocol Data Units (PDUs).
If there is an error in the message transfer, an error code displays what went wrong. For example, specific error codes could signify an invalid request, wrong message ID, or exceeded message length.
Key features of SMPP
The SMPP protocol is an intricate channel that's trusted for its flexibility and efficiency in sending bulk messages. Here are some of the key features of SMPP:
Fast message delivery: The SMPP protocol allows you to deliver messages to multiple recipients simultaneously in no time at all. This fast message delivery is possible because SMPP allows for direct connection to mobile carriers.

Supported message types: SMPP also supports different message types, including text messages, binary, and unicode messages.

Delivery receipts and message status reports: SMPP allows for detailed recording of delivery receipts and message status reports. These records allow you to keep track of the number of clients your SMS messages reach.
Benefits of SMPP in SMS marketing
It's no news how vast the reach of SMS marketing is. In fact, about 60% of users read their messages within five minutes. Knowing this, you can already tell how beneficial combining SMPP with SMS marketing would be. Here are some perks of SMPP in SMS marketing:
High delivery rate: With SMPP integrated into SMS marketing, you can deliver SMS messages quickly to multiple clients at once. SMPP is also a reliable message transmission channel that ensures the messages actually get to the clients.
Scalability for large SMS campaigns: The SMPP gateway also allows for scalability when sending large SMS campaigns. With the bulk SMS SMPP protocol, you can send up to 500 messages per second, depending on your SMPP provider.
Real-time communication: SMS SMPP gateways enable companies to send messages to their clients quickly and get replies too. This means they can send time-sensitive information and get the needed responses.
SMPP versions and their evolution
As time goes by, the SMPP SMS gateway evolves. Because of this, you'll notice that there are older and newer versions. As expected, newer versions offer more features and efficiency than older ones.
Let's discuss the SMPP versions and their evolution over time:
SMPP 3.3: This is the oldest used SMPP version, which only supports GSM SMS technologies. Despite its limitations, entities still use the SMPP 3.3 version because it allows quick message delivery and generates an immediate response to messages.
SMPP 3.4: This version is a more improved SMPP 3.3. SMPP 3.4 has more tag length value (TLV) parameters (binary code) and supports both GSM and non-GSM technologies.

Additionally, SMPP 3.4 is faster since Protocol Data Unit (PDU) exchange can happen either synchronously or asynchronously.
SMPP 5.0: This SMPP version is the latest and most advanced yet. Although it's not as popular as the former two, it comes with some cool new capabilities. For example, SMPP 5.0 adds support for cell broadcasting and smooth flow control.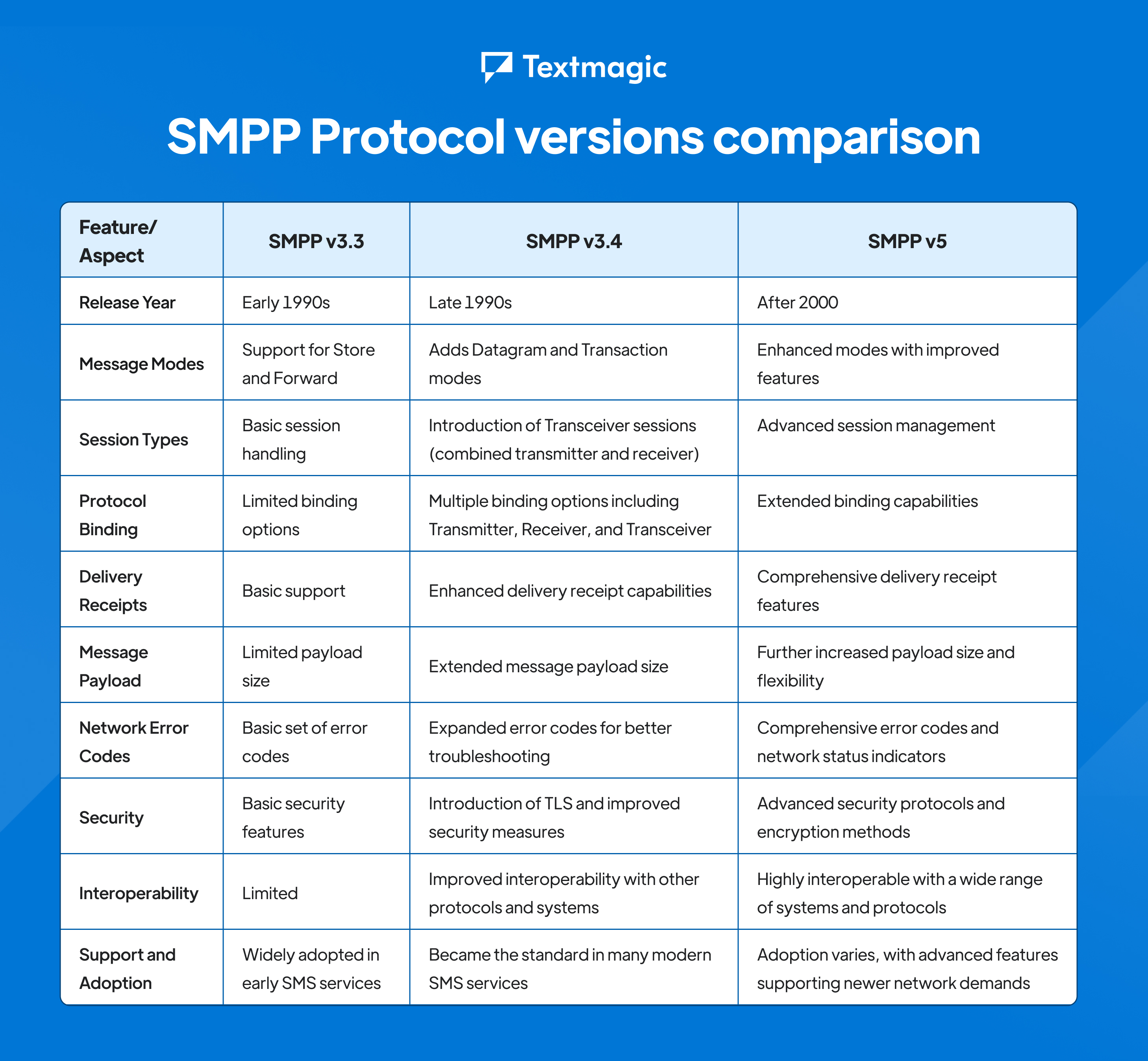 Challenges and considerations
Before you begin to harness the benefits of SMPP in SMS marketing, consider a few things. Using the bulk SMS SMPP protocol comes with some drawbacks. And you must be able to tackle them to ensure efficiency.
The following are some challenges you should take note of when using SMPP SMS gateways in your bulk marketing strategy:
Connectivity issues and errors: During message transmission from one carrier to another, there might be twists that could interfere with the process. These twists come in the form of errors like an exceeded SMS word count or an invalid recipient.

In addition, the SMPP protocol is not well-suited for a public connection. Using a public network to send SMS messages with the SMPP protocol prevents the level of security and control typically required for enterprise-level or mission-critical messaging applications.

To avoid SMPP errors, ensure you input the correct ID for the recipient and stay within the word count limit. Also, you should use a dedicated private connection when setting up your SMS SMPP protocol to ensure a stable connection.
Choosing the right SMPP provider: One of the common issues businesses face when using SMPP is choosing a good SMS SMPP provider.

This process is critical because, to a large extent, your provider determines how efficient the message transfer process will be.

As such, when choosing a bulk SMS SMPP provider, you should consider the version it uses and your budget. You should also consider the number of messages you can send using the bulk SMPP software per second.
Potential security concerns: Although the SMPP protocol isn't equipped with structures for security, you can set up means to ensure your messages are safe.

For example, you can integrate SMPP with Transport Layer Security (TLS), an encryption channel that ensures messaging privacy and integrity.

TLS includes a mechanism for server authentication, which helps SMPP clients verify the identity of the server they are connecting to. This prevents man-in-the-middle attacks, where an attacker impersonates the SMPP server to intercept or manipulate messages. Server authentication relies on digital certificates issued by trusted certificate authorities (CAs).
Unlock efficient SMS messaging with SMPP and Textmagic!
Looking ahead: SMPP's expanding role in marketing
SMPP has enormous potential for marketing. And as time goes by, we can only expect it to get even better. Studying the evolution of SMPP protocol versions tells you that as communication technology develops, newer versions will have more and more features.
For example, we can expect the SMPP protocol to get features for security and encryption. This would ensure that messages are confidential, safe, and protected from hackers or third-party viewing.
Furthermore, businesses would be able to send Rich Media Messages (RMMS), which would be integrated with audio and visual capacities. And with new technology, the SMPP protocol would deliver messages faster through a more straightforward channel.
Three more key areas stand out in this evolution: AI and Automation Integration, Cross-Platform Integration, and Enhanced Scalability. Each of these areas represents a leap forward in how businesses can leverage SMPP for more effective, efficient, and far-reaching marketing strategies.
AI and automation integration promises a future where personalized and automated communication becomes the norm, thanks to the fusion of AI technologies with SMPP. This integration is set to revolutionize marketing campaigns, making them more responsive and tailored to individual customer needs.

Cross-platform integration highlights the potential for SMPP to seamlessly work with various marketing platforms. The ability to integrate with social media, email marketing tools, and CRM systems points towards a more cohesive and streamlined marketing experience.

Enhanced scalability underscores the commitment to future-proofing SMPP for growing business demands. As companies expand their reach, the need for handling larger message volumes becomes critical, and SMPP is evolving to meet this need.
Together, these advancements position SMPP as a pivotal tool in the toolkit of modern marketers, ready to meet the challenges of an increasingly complex and dynamic digital marketplace.
Conclusion
Leveraging SMPP is thus more relevant and advantageous than ever. Not only does it allow you to send bulk messages, but it also allows for real-time communication with clients.
The SMPP gateway boosts your SMS marketing strategy by increasing its efficiency, scalability, and audience reach. At the end of the day, you can send targeted campaigns with no stress and expect a good conversion rate.
The integration of SMPP with other technologies such as RMMs, GSM, and advanced messaging security platforms further enhances its utility. This synergy not only ensures secure and dynamic messaging but also opens up new possibilities for innovative marketing strategies.
Cezarina Dinu
Content Marketing Manager at Textmagic, seamlessly integrating SEO strategies, UX, and data analysis for maximum audience reach.
Get the latest news from us
Subscribe to our newsletter to get all updates to your inbox.
Related articles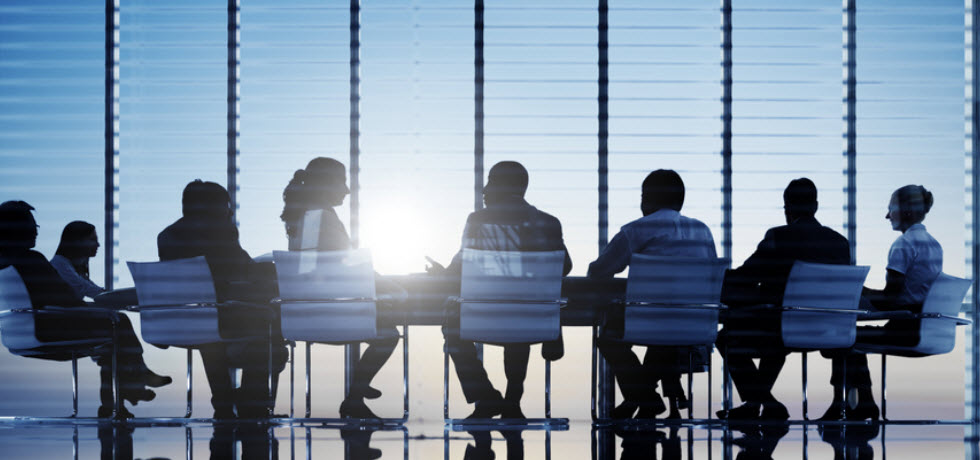 ---
---
---
---
---