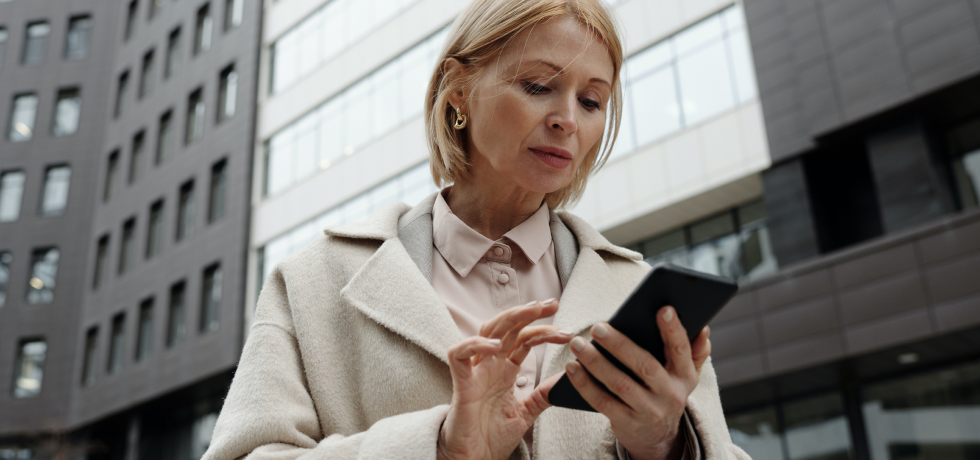 With the prevalence of smartphones and mobile apps, messaging has become a great tool for improving marketing and customer engagement.
It encompasses two distinct forms: application-to-person (A2P) and person-to-person (P2P). The former uses the one-to-many approach, while the latter focuses on one-to-one interactions.
Whether you're a business owner, communication, or marketing professional, leveraging these dynamic messaging approaches is important. This article will discuss A2P vs P2P messaging in detail, exploring their benefits, differences, and use cases.
Understanding A2P messaging
Before you opt for the application-to-person (A2P) messaging model, let's take a deeper look into its intricacies.
What is A2P messaging?
A2P SMS, or application-to-person messaging, refers to the targeted delivery of messages to individuals using an SMS mobile or web-based application or service provider. For example, using TextMagic for messaging can be considered A2P communication.
Businesses with a large customer base can use A2P SMS for bulk SMS marketing. It can also be one-way (when no response is required) or two-way (for transactional or conversational purposes).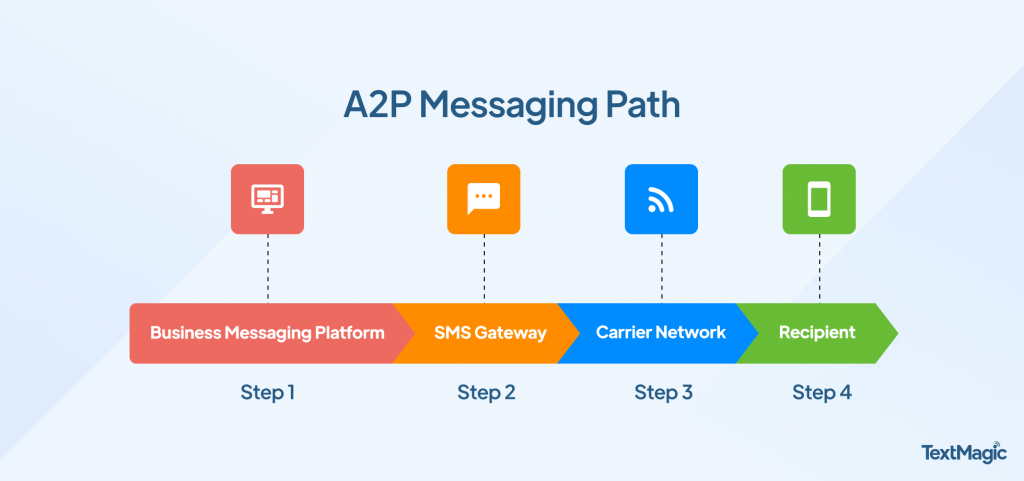 Moreover, A2P text messaging has significant applications in the following industries:
Healthcare: The healthcare industry uses A2P messaging for medical appointments, medication reminders, test results notifications, healthcare campaigns, and patient engagement.
Banking and finance: Banks and financial institutions use A2P SMS to send debit and credit alerts, OTP (one-time password) texts, account statements, and fraud alerts to customers.
E-commerce and retail: Businesses use A2P SMS for order confirmations, delivery notifications, shipment tracking updates, reminders, and specific marketing campaigns.
Travel and hospitality: Travel agencies use A2P communication for flight bookings, room reservations, and other itinerary updates.
Telecommunications: Telecom firms use A2P messaging for bill payment reminders, subscription updates, service notifications, and other special promotions.
Education: Learning institutions use A2P SMS for important announcements, school fee reminders, class and exam schedules, and overall communication with students, parents, and staff.
Media and entertainment: Brands in the entertainment sector use A2P SMS for event ticket bookings, promotions, reminders, and updates.
Logistics and transportations: Logistics companies use A2P messaging to send real-time alerts regarding shipment or delivery status and announcements.
Government and public services: Government agencies use A2P messaging to send tax payment reminders, public safety alerts, and political campaigns.
Utilities: Utility companies—like electricity, water, and gas providers—use the A2P text messaging model to send bill payment reminders and operation updates.
Different ways to send A2P messages
Below are three types of numbers or sender IDs available for sending A2P messages:
1. From 10DLC numbers
You can send application-to-person messages using a standard 10-digit long code, offering higher deliverables at affordable rates. To utilize it, you must register a 10-digit phone number for your business with the appropriate authorities through a text messaging service.
The service provider then provides the necessary tools for sending, managing, and tracking your A2P message campaigns.
2. From toll-free numbers
TFNs allow individuals to call or text without incurring charges. Similarly, you can send A2P messages through a text-enabled toll-free number.
Moreover, toll-free numbers are cost-effective and convenient, especially for two-way communication. Customers can initiate a conversation by sending a text message to your specific toll-free number, and you can respond with automated, personalized replies. To get started:
Contact a service provider that offers toll-free numbers and A2P messaging services.
Ensure their services align with your messaging needs and budget.
Provide necessary business documentation, then obtain and configure the number.
Afterward, test-run it to ensure all configurations are intact. Once satisfied, you can send your A2P messages using the toll-free number.
3. Using a dedicated short code
A short code is a five or six-digit number that enables businesses to have two-way text messaging with customers. An example is asking customers to text a specific word to a short code to opt-in or out of a certain service ("YES" to 43721 or "STOP" to 56430).
You can obtain a short code exclusive to your business or shared among similar establishments. Moreover, shortcodes are suitable for high-volume messaging needs. They are also convenient for recipients to respond on the go, increasing customer engagement.
Understanding P2P messaging
While automated mass texting is great, engaging your contacts individually fosters meaningful connections. Hence, the P2P messaging model. Let's explore it in more detail.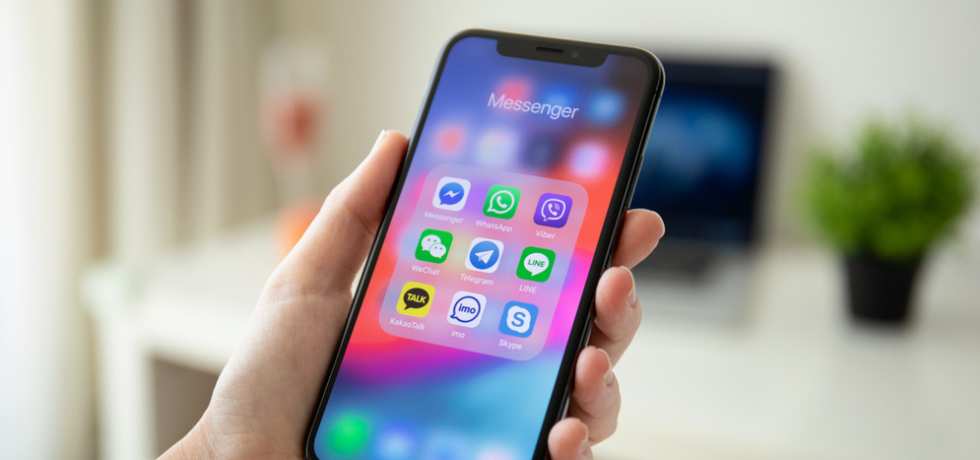 What is P2P messaging?
P2P (person-to-person or peer-to-peer) messaging refers to the direct exchange of text and multimedia messages between individuals using various communication technologies. Here, there is no need for a specialized or automated messaging service to act as an intermediary, facilitating the transmission of messages.
For example, a friend texting a friend or an employee texting another. Additionally, peer-to-peer messaging has several features that make it an ideal option for anyone seeking interactivity and convenience. They include:
Direct and instant communication: P2P messaging allows one-on-one conversations, similar to face-to-face interactions, ensuring real-time transmission and delivery of messages.
Message status indicators: In P2P messaging, you can see when the recipient has seen or read your messages.
Group discussions: Peer-to-peer messaging allows you to have multiple individuals participate in a single conversation at the same time, facilitating collaboration.
Emoticons and stickers: You can use emojis and stickers to express emotions and convey message tone and intent, which are not usually obvious via text alone.
Asynchronous communication: You can receive and respond to P2P messages at your convenience.
Multimedia sharing: With P2P messaging, you can send and receive photos, videos, audio clips, documents, and links alongside your text messages. This feature allows for more robust communication beyond plain text.
Non-automated: You can send P2P texts manually, one at a time. Hence, recipients don't need to opt in or out of receiving your message. Also, P2P SMS works through the default messaging configuration in any smartphone, with little or no need for additional integration or setup.
Advantages of P2P vs A2P messaging
Here are some advantages and benefits you can enjoy from peer-to-peer (P2P) messaging:
Cost-effectiveness: P2P messaging eliminates the need to procure a messaging system for distributing and managing text messages. You don't have to pay or subscribe to an SMS text messaging service to communicate with people.
Privacy and security: Since messages are exchanged directly between two specified parties, there is no need for a central authority or third party to read or store the message content. Most P2P platforms also employ encryption techniques to ensure end-to-end security.
Personalization: P2P SMS allows for message customization, enabling individuals to create and format their text messages according to their preferences. You can send and receive personalized texts at scale without limitations from service providers.
Real-time communication: P2P messaging facilitates instant communication, as messages are delivered in real-time, allowing for immediate responses. This makes it suitable for time-sensitive discussions or situations.
Reduced latency: Given that P2P messages are delivered directly to users in real-time and don't require a central server, there is little or no delay between message transmission and reception. This results in a smoother and more responsive text messaging experience.
A2P vs. P2P messaging: Key differences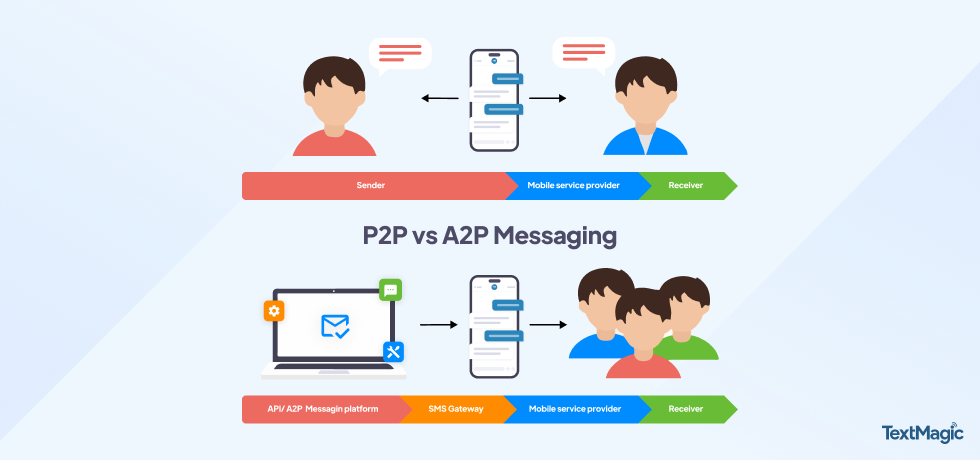 A2P (application-to-person) and P2P (person-to-person) messaging are two distinct forms of text messaging. Here are some key differentiating factors between them:
Message origin: A2P messages are created and transmitted by messaging applications or automated systems and sent to individuals. Conversely, P2P messages originate from an individual's device and are sent directly to others without a third party intercepting the messages.
Delivery channels: A2P messages are delivered through SMS, email, mobile apps, and chatbots. They are usually sent in bulk to a large number of recipients simultaneously. On the other hand, P2P messages are primarily delivered via SMS, instant messaging apps, or social media platforms.
Sender identification: P2P SMS messages are usually sent through an individual's 10-digit mobile number or username. However, A2P messages are sent from an organization (profit or non-profit). The sender ID can be a short code, 10DLC, or a toll-free number.
Regulatory considerations and compliance requirements: A2P communication is subject to specific rules and requirements from the service provider and industry regulating bodies. These may include obtaining recipients' consent, compliance with data protection laws, and adherence to the messaging regulations in your locale.

P2P messaging, on the other hand, is less regulated because it involves direct personal communication with individuals. Nonetheless, there are rules against harassment, illegal content, and unsolicited messages that you must adhere to.

Message volume: A2P messaging allows the transmission of high-volume messages to different people in varying locations. However, P2P SMS involves low-volume messages focusing on individual or small-group interactions.
Benefits of A2P messaging for businesses
Below are some benefits of A2P messaging—when utilized properly—for your business:
Enhanced customer engagement and communication: With A2P messaging, you can use customers' data to segment your recipient list—based on age, location, and gender. You can also send personalized, targeted messages, enhancing customer engagement and overall experience.
Scalability and automation: A2P SMS allows you to reach more customers simultaneously with little or no hassle. You can automate your SMS marketing campaigns from creation to delivery and tracking. This increases scalability while saving time and resources.
Streamlined business processes and efficiency: Utilizing A2P communication helps simplify various business processes without compromising quality. You can automate common customer requests and inquiries, minimizing the risk of errors and the cost of hiring customer service reps.
A2P messaging use cases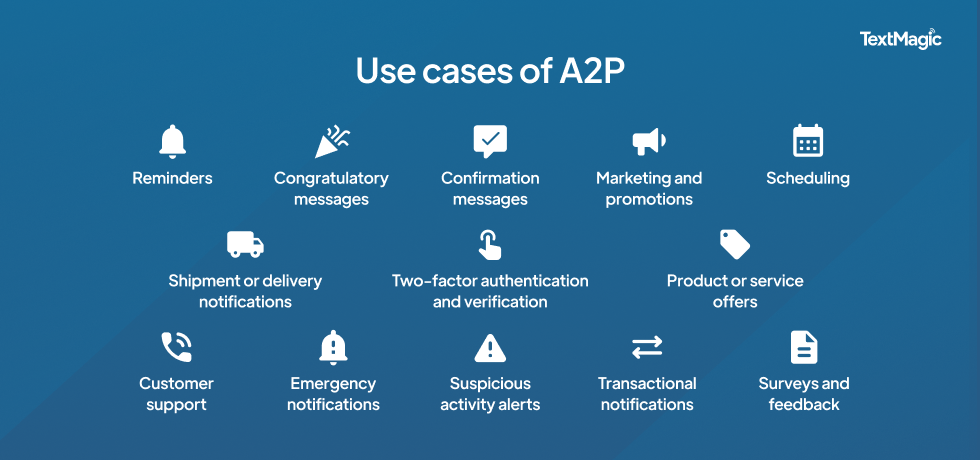 Application-to-person (A2P) messaging has various use cases across diverse industries, including healthcare, finance, education, and e-commerce. Here are a few examples of how you can use it for your business, irrespective of the industry:
Two-factor authentication and verification
Confirmation messages
Reminders
Shipment or delivery notifications
Suspicious activity alerts
Marketing and promotions
Product or service offers
Transactional notifications
Customer support
Emergency notifications
Scheduling
Surveys and feedback
Congratulatory messages
Benefits of P2P messaging for individuals
Besides businesses, individuals are also leveraging P2P messaging because it provides the following:
Seamless and instant communication with friends, family, and contacts: P2P messaging enables individuals to interact with their friends and family on the go, in real time. You don't have to consult a messaging service or go through any formalities before you can communicate with your contacts.
Personalized interactions and rich media sharing capabilities: Peer-to-peer texting allows individuals to control every aspect of their text messaging experience, including charges, interface customization, and contact management. You can also use stickers and emojis to express yourself better and share high-quality images, videos, voice messages, and documents.
Privacy and security features of popular P2P messaging apps: Most known P2P messaging apps, like WhatsApp, offer end-to-end encryption for all messages. This gives only the sender and recipient access to the content of the conversations. Additionally, these apps give users autonomy over their privacy and security settings. For example, you can tweak your display info, password, and other details anytime. Notwithstanding, the level of privacy can vary across different messaging platforms.
How to choose between A2P and P2P
Choosing between P2P and A2P messaging requires considering several factors and their use cases. These factors include:
Speed
Scalability
Compliance with stipulated messaging regulations
Automation
User experience and customer support
Personalization
Pricing
Analytics
Security
Marketing needs
For best-case scenarios, A2P messaging is great for service notifications, marketing campaigns, and customer support. You can use it to send delivery updates and reminders, transaction alerts, and automate responses to frequently asked questions.
Conversely, P2P messaging is suitable for personalized communication, group discussions, real-time brand engagement, and offline communication. Additionally, you can use it to add a personal touch to your customer service while maintaining cost-effectiveness and security.
How TextMagic can help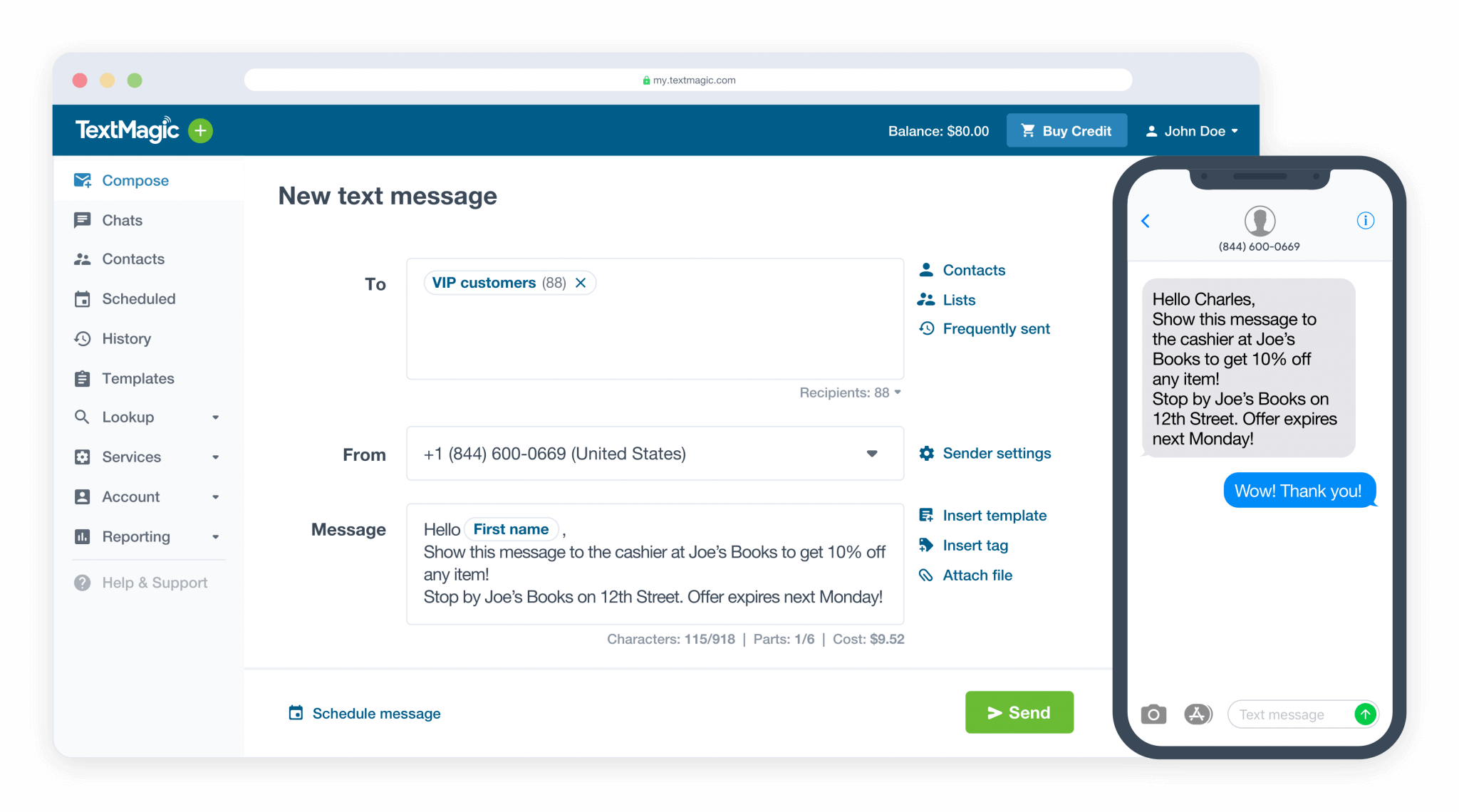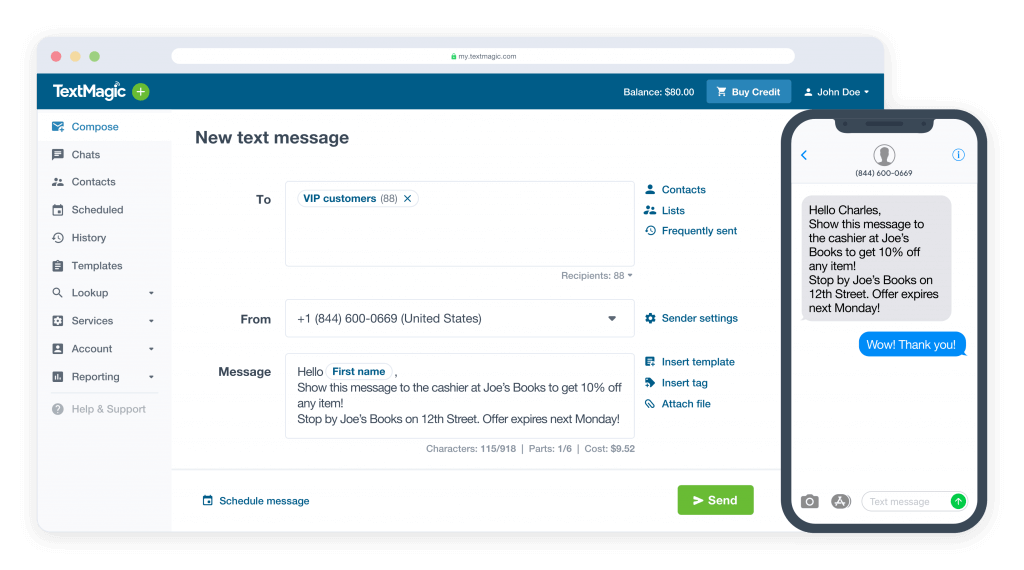 TextMagic is a versatile messaging service provider with robust features for businesses in different sectors. Whether you're a small, medium, or large-scale business, TextMagic has something for you. Below are some features you stand to enjoy:
Mass texting service to help you reach your customers at scale across different mobile networks and countries.
Automation features that enable you to streamline and maintain consistency across all your communication processes.
Analytics support that allows you to track and evaluate your SMS performance based on key metrics—delivery, open, and conversion rates.
Seamless integrations that allow you to have a unified SMS marketing and customer management system.
Enhanced security for all messages, ensuring your communications remain private and confidential.
Secure and flexible payment options with a money-back guarantee.
Furthermore, TextMagic supports A2P messaging, enabling users to send automated and personalized messages. It also offers dedicated virtual mobile numbers in various countries for A2P SMS to enhance your local and global presence.
Conclusion
A2P and P2P messaging are essential in today's digital communication landscape. They shape how businesses interact with customers and how individuals interact with one another. However, you must adhere to all industry and general SMS regulations to maximize their benefits.
You must also understand how and when to use either of the messaging approaches. And if you need assistance with building a text messaging strategy that will greatly impact your business, TextMagic is here to help. Connect with us today to learn more about our services.
Send A2P texts from your
computer with TextMagic.
---