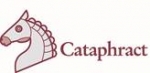 Totteridge, London
United Kingdom
Founded in 2002
6 Employees
HR and Recruiting Services
About Cataphract
Cataphract provides a fully outsourced service which ensures that verification of criminal records, work permits, visas, employment history and references are all carried out by trained and experienced personnel. Our operatives are former police officers and HR professionals, well versed in all aspects of personnel vetting. All staff have Government security clearance to Counter Terrorist Checked (CTC) which is renewed every 5 years. Our office systems are inspected every year to ISO 9001 and our information security is inspected to ISO 27001. We are registered with the Information Commissioner. Cataphract is responsible for managing the Government Security Clearance for over 1000 staff employed in Immigration Removal Centres in England and Scotland. We are trusted to hold their data safely and securely on behalf of the Home Office.
The Business Challenge
The challenge of maintaining quick time contact between our applicants for Criminal Record checks and our Vetted staff is particularly challenging. Email contact is often slow and when you really need a quick response from them, then text messaging is the solution.
How TextMagic Helped
Emails sent to clients that need an urgent response are backed up by sending a text message to bring the email to their attention or a request to call us. Text messages sent with TextMagic are embedded in each client's electronic file which gives us a complete audit trail of messages sent and responded to. Clients respond quicker to text than they do to email.
The Results
Use of TextMagic has saved us considerable time by ensuring that clients respond in a timely manner to requests for information that affects their work, licences and potentially their career.